Lucie Clark on Art and its Power to Heal
Painter Lucie Clark, also known as Lucie in the Sky, is proving that art has the power to heal
Painter Lucie Clark, also known as Lucie in the Sky, is proving that art has the power to heal.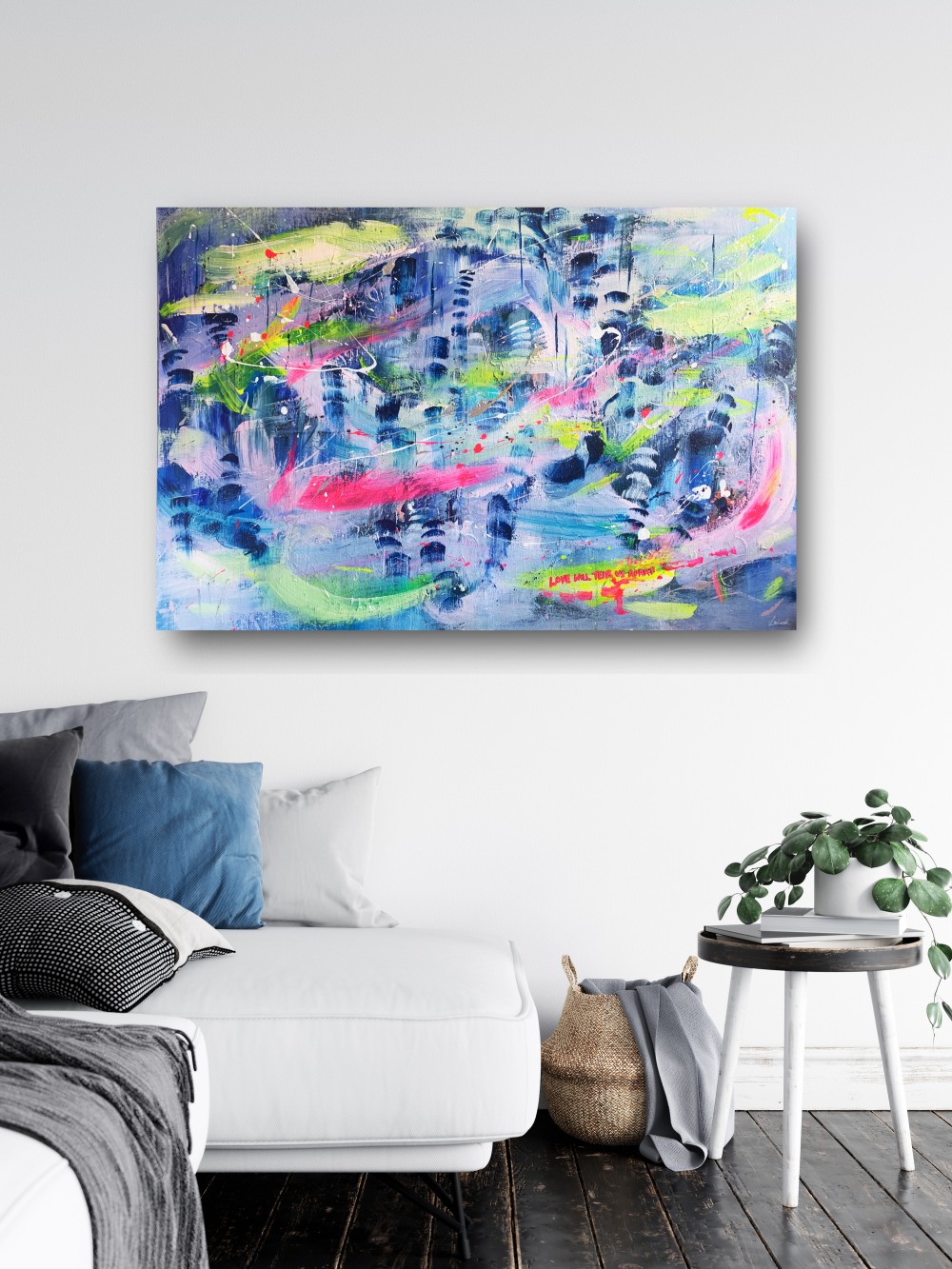 Tell me about yourself and your background.
I was born in Newcastle and have lived in Ponteland all my life. I still live here today, in the same cottage that my eccentric late grandma painted pink back in the 70s. I have grown up in a family full of creatives with my grandma being a dressmaker, my dad a photographer, my late mother a painter and knitter, my sister a graphic designer and brother a musician. It was only natural for me to go down the creative route.
I studied Art and Design at Newcastle College and then went on further to complete a degree in Surface Design where my love for colour, pattern and texture began, and I continue to explore ways of using all three together in my work with a mixed media approach. Since college, I have been selling my illustrated art prints and paintings online and working alongside my sister running our online graphic design platform Designsta.
How did you get started in art?
It all started at the kitchen table when I was two years old with my mum teaching me. Since then, painting and drawing have become a part of my daily routine. Travelling and experiencing the wonders of nature plays an important role in fuelling my inspiration.
Can you describe the techniques you use?
A mixture of loose and intricate brush strokes create an energetic feel throughout my work. Vivid colour palettes set the dreamy tones of each piece whilst the fluidity of the paint and contrast between the mixed media makes them come alive. Most of my paintings are made up of acrylic paint, ink, spray paint and sometimes pastel.
Why paint?
I have explored many mediums on my art journey, including digital illustration which I still do today. For that I like to use Procreate on the iPad. However, painting original artwork is where my heart is at and it naturally feels like what I'm supposed to be doing.
Do you find that your work changes to reflect the seasons?
Yes, but it's more to do with the colour palettes I choose to use. For example, in autumn/ winter I tend to use more warm and dark tones, and in spring/summer go for lighter and brighter colours.
What are you working on at the moment?
A couple of large-scale canvas commissions and a few small ones. I am also building up my collection of one-off paintings and art prints which I will be selling at Living North's Christmas Fair.
How have you found running an art business in the North East?
I have found it challenging at times, especially in the beginning when I was just starting out. Social media has been a huge accelerator for my business and I have met loads of other local creatives on Instagram and through Facebook groups. It has been a great tool for online networking and generating sales in the North East and across the world. People have been really supportive and I like to keep in touch with anyone who buys my art. It's so nice when I can connect with people on Instagram and they tag me in their photos of my art on their walls.
What do you love most about the North East?
I absolutely love the North East coastline and Northumberland hills. I'm a keen walker and feel so lucky to have both not far from my doorstep. Bamburgh is possibly my favourite beach – but they're all amazing.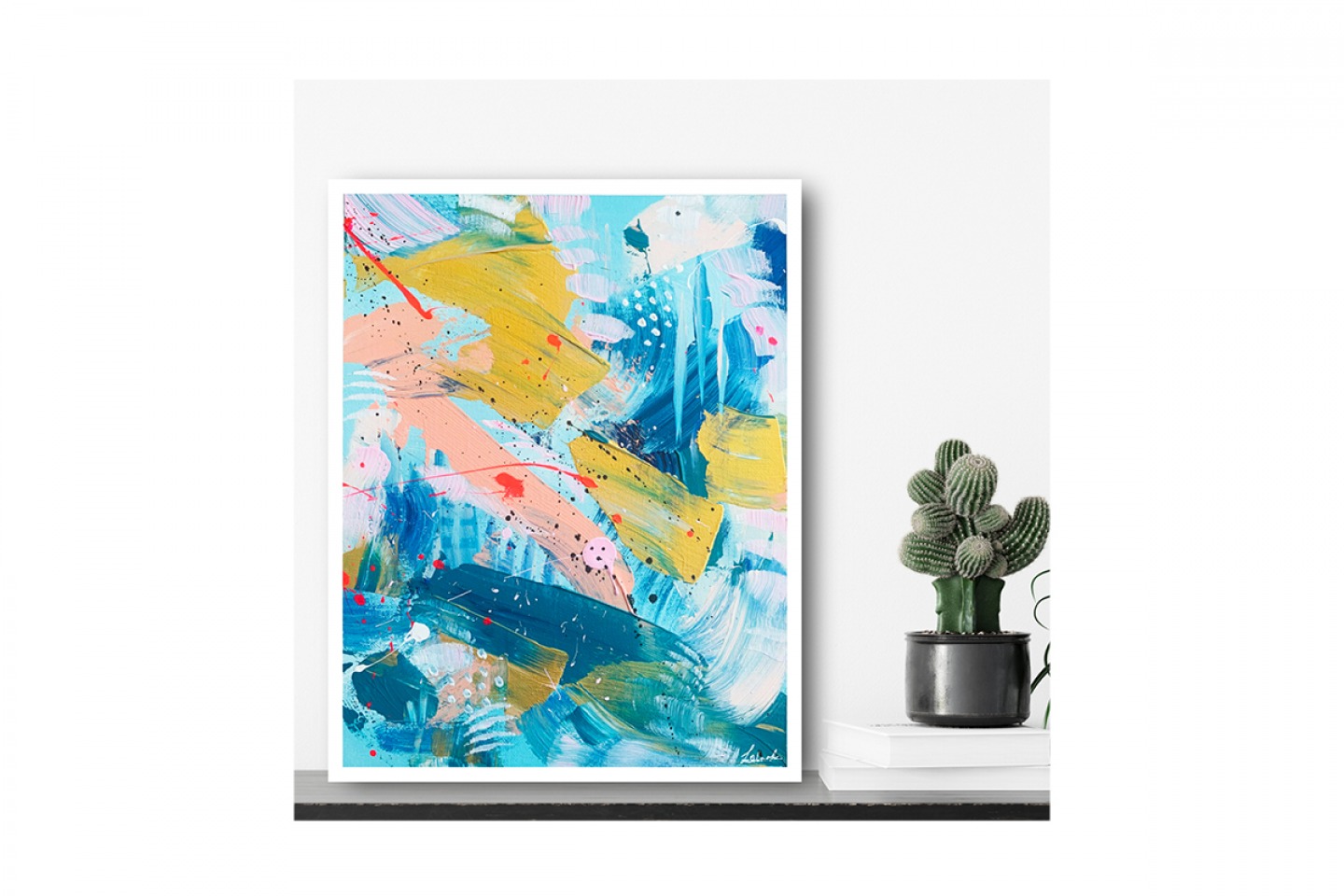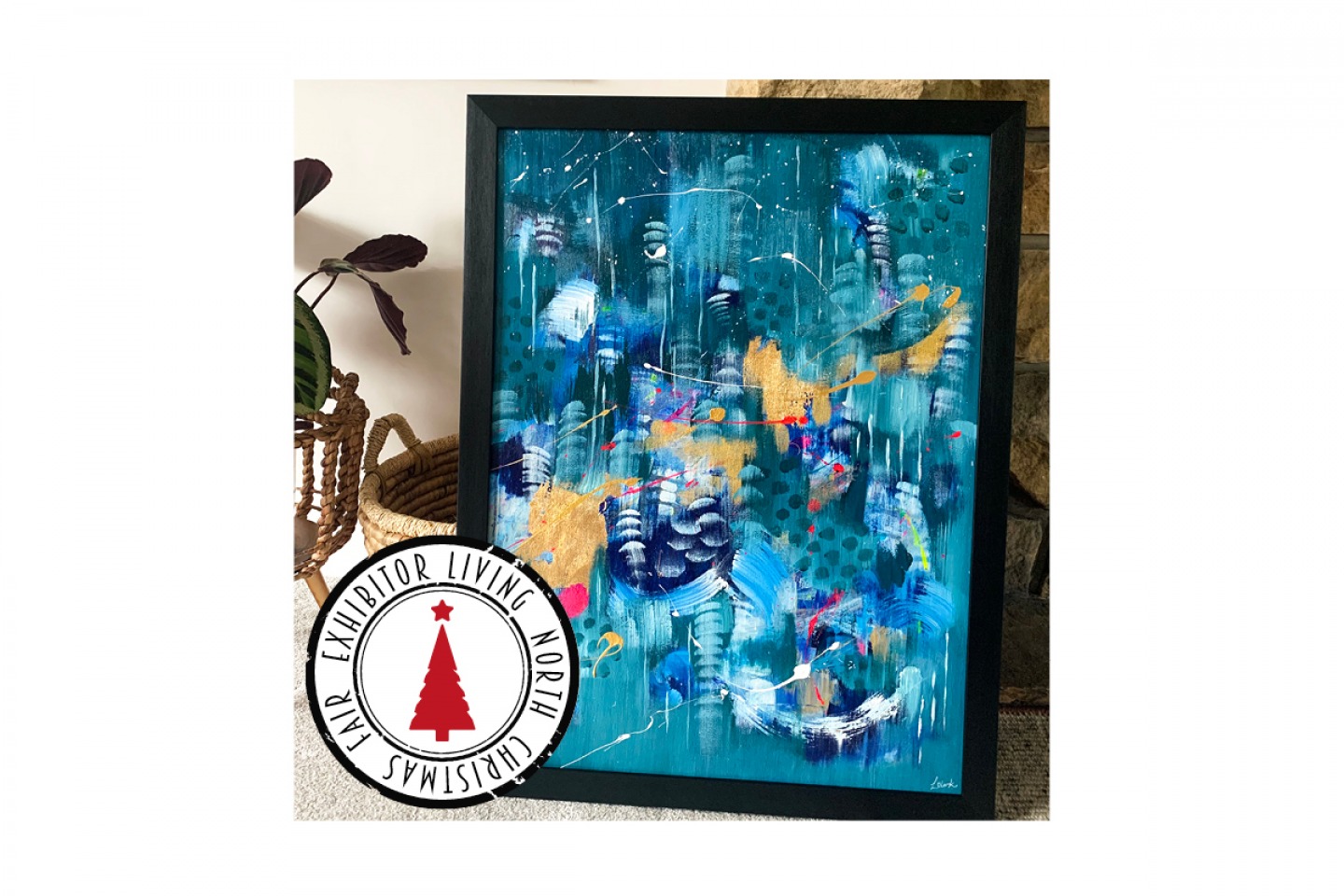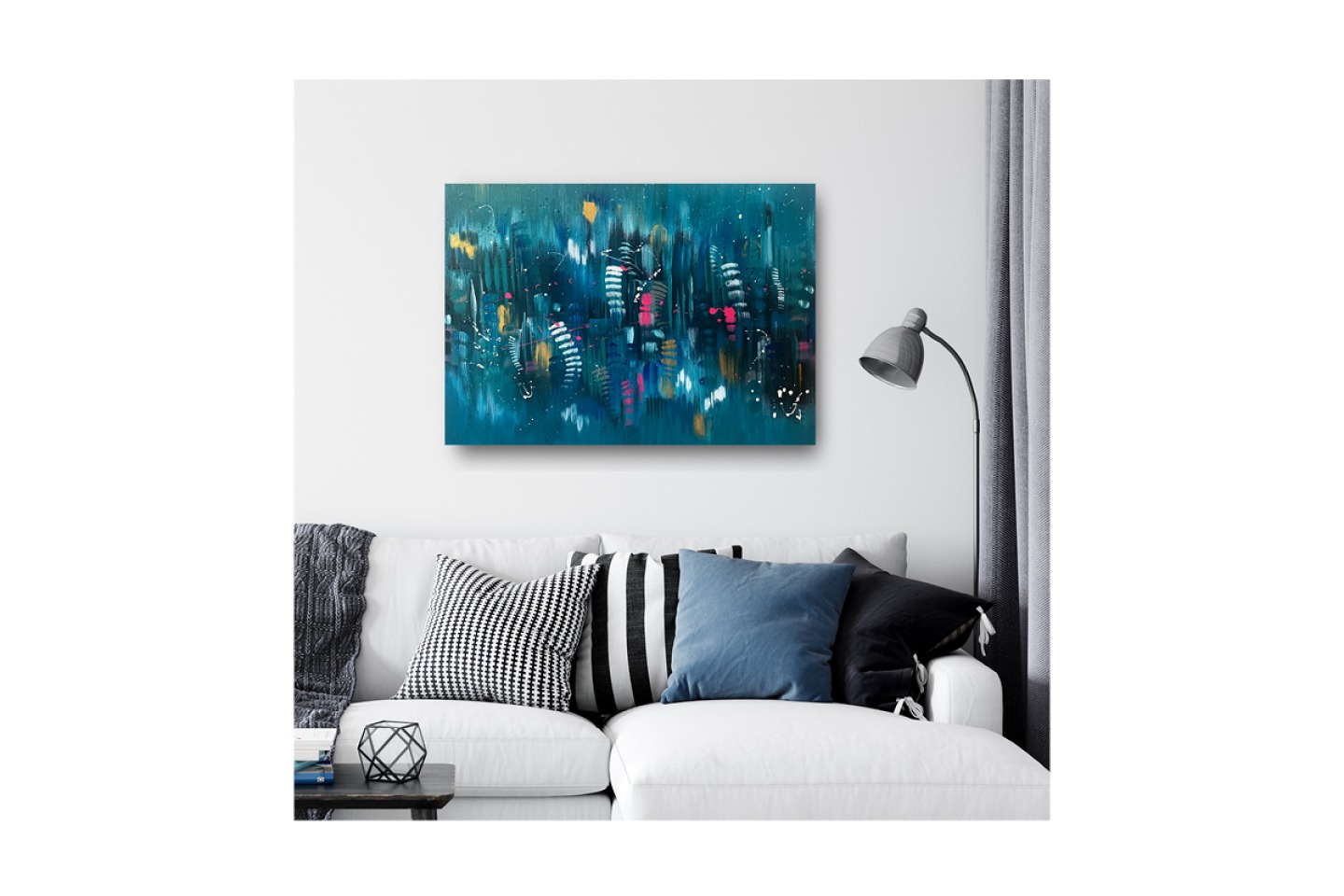 Why Lucie in the Sky? Are you a Beatles fan?
Yes, I am absolutely a Beatles fan! My mum was a Beatles fan too and I heard them a lot growing up. The name was originally Lucie in the Sky with Sequins because in college I loved to use sequins in my textile work. The Beatles song 'Lucy in the Sky with Diamonds' is one of my favourites! The name was a good fit for that time in my life and has somewhat grown alongside me. I may not use sequins anymore, but I'm completely sentimental about the name.
Talk me through your typical day.
My typical day sees me up at 8.30am to make a coffee. Then I'll take my dog Rufus for a walk along the river near where I live. I work from home every day so he is mostly by my side. In the mornings, I make new graphic design templates for Designsta, engage on social media and answer customer questions. Then in the afternoon I will paint and work on any commissions. I don't think a day goes by where I don't draw, paint or design something digitally. In the evening I like to wind down with some yoga and meditation.
What are you most proud of?
I am proud of myself for continuing with my art after going through a very difficult time after losing my mum to cancer in 2017. My creativity disappeared and I felt like giving up on everything. Luckily my creativity came back to me almost like a saviour and I have learnt to live with my grief. I became more determined than ever to give myself a life doing what I love to do most. I've learned life is too short and you have to do what makes you happy in this world. Art is a healer for me, as well as my job.
What is your favourite quote?
'Barn's burnt down – now I can see the moon' – Mizuta Masahide, a 17th century Japanese poet and samurai. To me the barn represents struggles and loss and it being burnt down is the clearing to the light.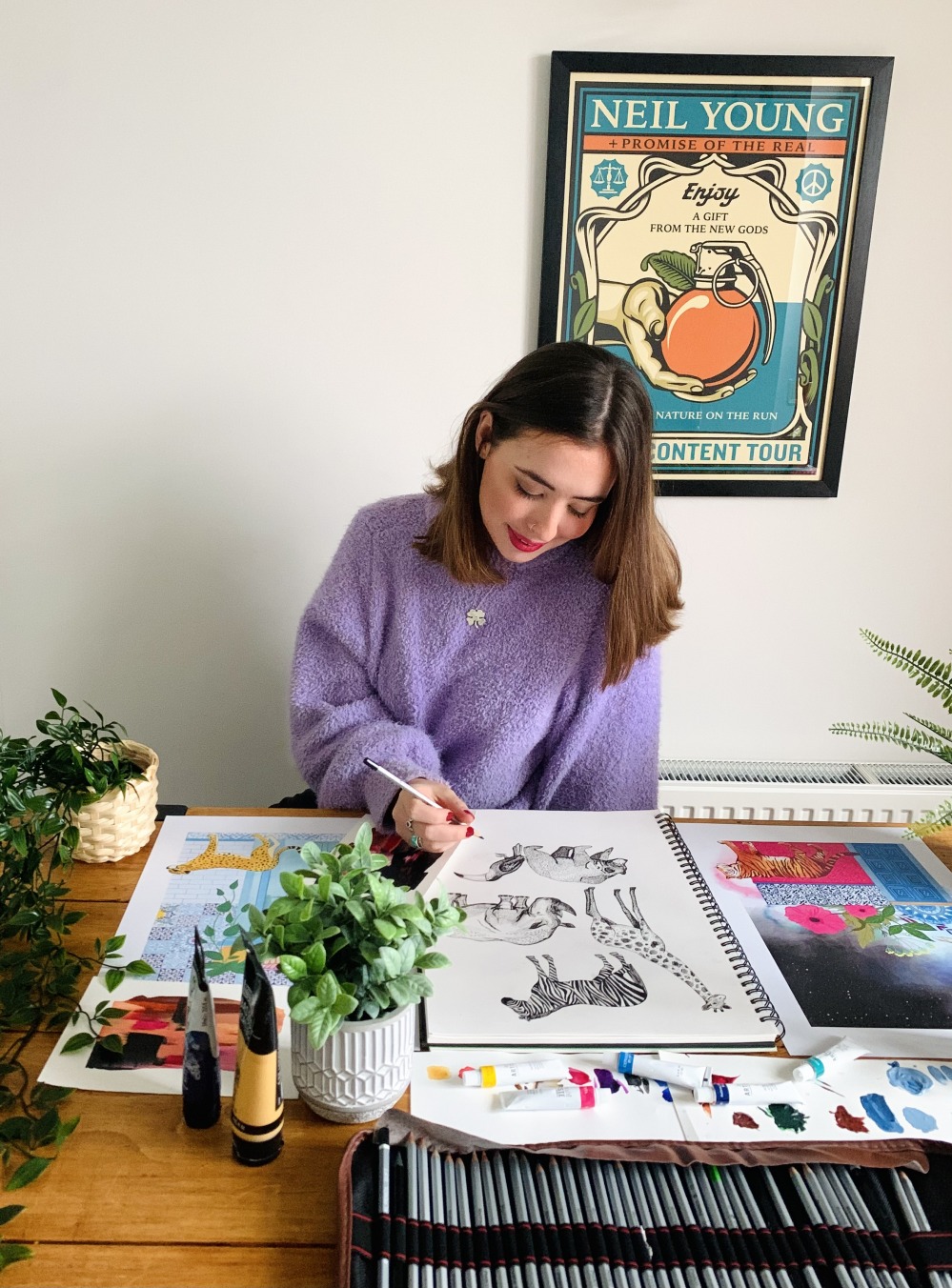 Who inspires you?
My mum was and still is my biggest inspiration.
Favourite artist?
Too many to mention... Salvador Dali, Frida Kahlo and Andy Warhol are a few of the classics.
Favourite piece of art?
One of my all time favourites is Dream Caused by the Flight of a Bee Around a Pomegranate a Second Before Awakening by Salvador Dali. I absolutely love the wackiness and detail of that piece.
Favourite book?
It's not art related, but one of my favourite books is What I Know For Sure by Oprah Winfrey. I'm currently reading a book about Angie Lewin, a British printmaker, which I'm also really enjoying.
Plans for the future?
To keep building up my collection of paintings and showcase my work at galleries and exhibitions. I hope to get my work abroad too and exhibit in different countries. I plan to explore more of the world and take my paints with me.
Meet Lucie at Living North's Christmas Fair at Newcastle Racecourse 28th–31st October 2021.
Etsy: Lucieintheskydesign
Instagram: @lucieintheskyart