Meet the 21-Year-Old from Newcastle Who Created a Revolutionary and Fashionable Skiwear Brand
Newcastle-based Renee Fraser-Shepherd is a passionate skier, but grew sick of the limited choice of base layers available. Now, at just 21 years old, she has taken the matter into her own hands by launching Sloobie
As a fashion-obsessed skier, Renee always wondered why there was so much emphasis on poolside couture, with winter-wear left by the wayside, and plenty of unflattering options on the market. 'I go skiing every year with my boyfriend and always wanted to look good, but I really struggled to find an outfit that kept me warm and looked nice,' she explains.
'There was a lack of choice for those of us that want to be insulated on the slopes but still look and feel our best. I couldn't find one company that specialised in fashion-focused base layers anywhere! If you're not looking for iridescent 80s gear or plain old frumpy thermals, then you're kind of stuck and I didn't want my next winter wardrobe to be a lesser of these two evils.

'Working in retail, I found that customers were expressing the exact same concern as me and after a large amount of market research I decided to take the plunge and do it myself – but with a twist – and for the past two years I've been working tirelessly to create something that is simple, striking and above all flattering. An outfit where you can feel strong, sexy and comfortable all at the same time.'

Renee's solution to the problem was to start Sloobie, a revolutionary brand all about bringing the best qualities of skiwear into one product; tech, style and shape, and with the benefit of comfort. She has done this all while studying for an undergraduate degree in Entrepreneurial Business Management at Northumbria University.

'My course is designed for people with businesses, so it's really great in that part of the assignment is how you perform in your business. This means most of my modules are based around things like campaign strategies or KPIs, and everything is targeted towards the efficient running of the business.
'This helps with time which is great because when you're running a business time is quite short anyway, but also it's more efficient in the sense that my business and degree go hand in hand, they're not two separate entities.'

She continues: 'The support, both financially and practically, from Northumbria Uni has been incredible. Each year they bring in investors who we pitch to, and if they think your pitch is worthwhile they give you a grant which you don't need to pay back and doesn't require giving up a percentage of your business. I've pitched to them and been successful twice now so I've had a total of £3,500.

'I'm also part of the NED project and they give you an office space which you can use whenever you like, all the way up to five years post graduating, and they also have a collective of mentors across a variety of areas if you want to have a consultation or something like that. When you run a business by yourself that support system is so vital, and especially when you're young trying to navigate so many things at once.'
'I always hated the way base layers made
me look and feel, especially given they
are exposed a lot of the time while you're skiing'
Each of Sloobie's products is hand drawn by Renee and through her innovative designs Sloobie are the first skiwear company to integrate shape-enhancing technology. 'I always hated the way base layers made me look and feel,' Renee continues, 'especially given they are exposed a lot of the time while you're skiing, whether it be at après, a quick lunch or even skiing itself.
'I always felt frumpy, so I made it my mission to change this by creating the first base layer collection with integrated shapewear technology. Creating a skiwear brand was not just about providing a needed solution to this hole in the market, but also about ensuring that each piece of the collection was meticulously planned out and curated.

She goes on: 'The shapewear technology is created with a technical fabric that uses compression at its core. We've done this by creating a hybrid fabric which is designed to complement the body whilst also allowing for a 360 degree stretch, and this means that our products can range from a size six to 16 whilst also shaping you.'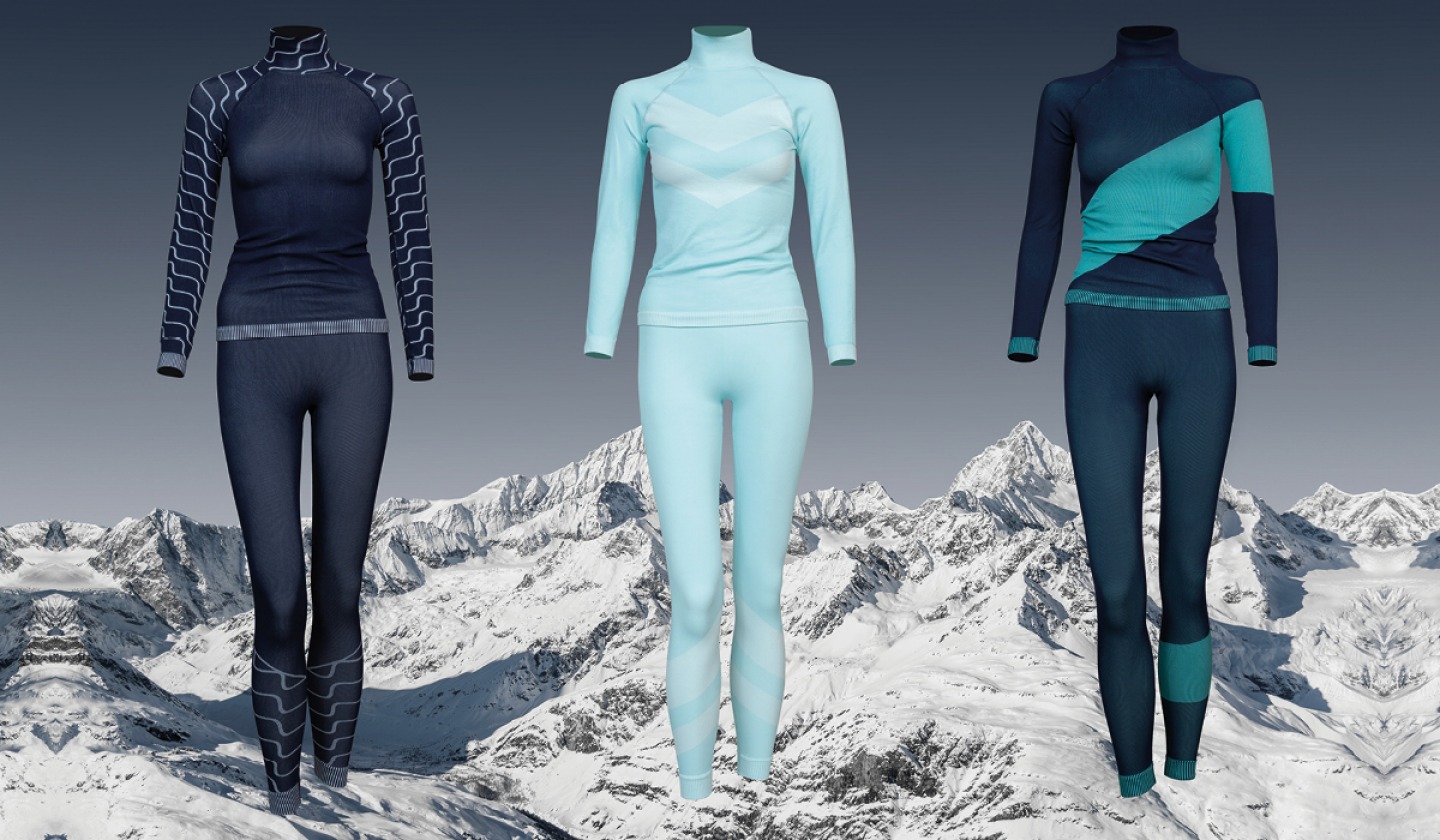 'Through uniting the worlds of thermal skiwear and integrated shapewear technology, we plan to take the ski industry by the poles and provide an outfit as fitting for après ski, as cheese and wine nights, or even your midday coffee outing. Sloobie is not just for the slopes!'
Another thing which makes Sloobie different is their focus on making their customers feel good as well as looking good, with female empowerment at its heart. 'Apart from our integrated shapewear technology, which is the first in the industry, we are also here to challenge unrealistic beauty standards,' says Renee. 'At Sloobie we have a no-airbrush policy meaning that we do not retouch any of our own content. We want to embrace real beauty and be sexy doing it!'

And it seems Sloobie's strategy is paying off as people are loving the brand, with their base layers featuring in Glamour Magazine just a month after launching. 'I have been absolutely amazed at the feedback,' says Renee. 'We had done some trialling in the Alps pre-launch that was super-positive so I knew that everyone was going to love them, but I did not expect anywhere near the support that we have received so far!

'We have lots of plans for our brand in the future and the first one is that we plan to expand to Europe and the US extremely soon, as we're receiving a lot of interest from there.'

Watch this space!
Sloobie will be holding a pop up in Fenwick, Newcastle over February. For more information head to their website sloobieskiwear.com or follow their Instagram page @sloobieskiwear.

Favourite place to ski?
Megève.

An item you couldn't live without?
It's quite a difficult question – maybe my passport.

Best place to eat or drink in Newcastle?
I love Cook House. It's so nice, everything is made based around the seasons. I'm obsessed!

A podcast you recommend?
I have to be basic here and say Diary of a CEO, but it's so good.

A hidden gem in the North East?
It's not a location but just the people. People are super friendly here but they're also really business-driven and a lot more ahead of the game than others might think.