Meet the Entrepreneur: Isobel Procter of PI London
After struggling to find contemporary brands selling antique jewellery Yorkshire born Isobel Procter set up online jewellery business PI London
She sources and sells personally-curated collections of quality pieces with a sustainable twist.
Tell me a little bit about your background?
I grew up in East Yorkshire, near Beverley, and went to school in Cumbria. I studied Graphic Design at Manchester School of Art and after graduating I moved to Paris for a couple of years before eventually making the move to London. My interests are antiques, art, and I love the outdoors and travelling.
What led you to set up PI?
My Mother is an antique's dealer herself, and she instilled a great appreciation for unique pieces in me from a very young age. So I kept getting really frustrated with mainstream brands selling gold plated jewellery at expensive prices, that would only last a few months. I kept looking for a website with affordable, one-of a- kind antique jewellery that would last forever. I couldn't find anything, so I decided to create something myself. I quickly realised there weren't any antique websites out there that used the kind of branding and imagery we are used to today. Antique websites tend to look old fashioned. So, when it came to designing my website and brand, the look of it and all the imagery was really important to get right. I wanted PI London to look like a modern site to attract the modern consumer and bring antiques into the 21st century. There's always something about the antique jewellery industry that feels a bit inaccessible. It's often associated with dusty old shops or elitist auction houses and I wanted to change that.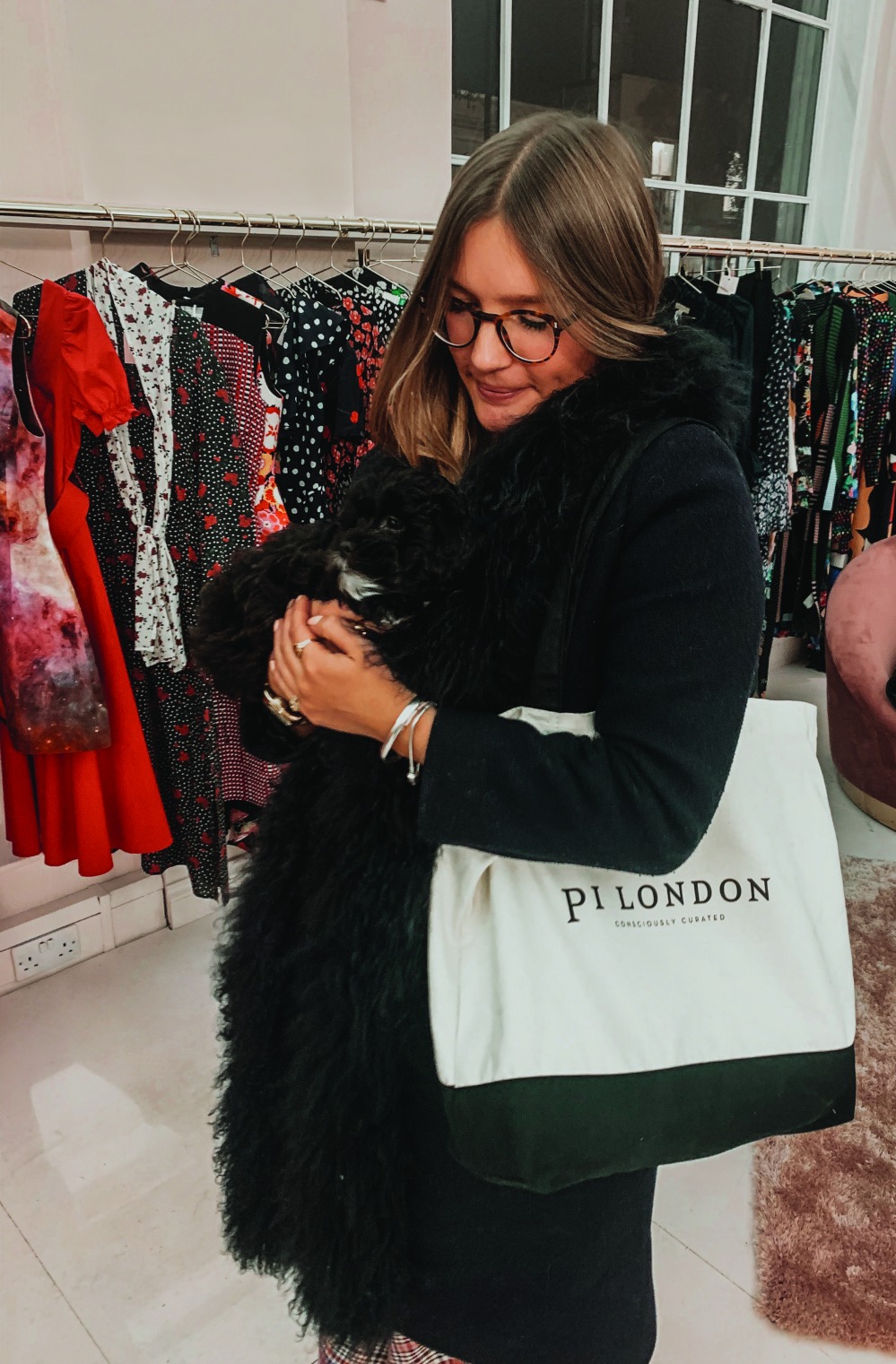 How did you go about launching the business, what did it involve?
Firstly, I had to curate my first collection and scour the country for unique pieces. This was definitely the most exciting part. Then I had to design all my branding to make PI London look and feel like a fresh contemporary brand. I luckily had the help of Macki at Studio Macki, who really took my branding to the next level and she helped me achieve what I was looking for. I also did a campaign photoshoot, something that was really important to me to ensure PI looks like a current, established brand and make us stand out from other antique websites. Once I had all my beautiful branding and imagery I launched the website. Then the tricky part of getting PI London's name out into the world began.
What is different about PI London compared to other jewellery brands?
PI London is different because the collections have been curated by me and really are an extension of myself and my style. The pieces I choose are all completely unique, which is why I love antiques so much.
Tell me about your products – how do you source them, where do they come from, what is your criteria?
All of our products are solid gold or silver, and will last a lifetime. I source them from all over – I'm on the lookout wherever I go. I'm lucky to have my Mother, who has been selling antiques for years, on hand – she knows the best places and people to buy from. I like to go to dealers that I have a good relationship with so I know I'm getting the best quality. I also love to choose pieces that have a special story or an intricate design.
Tell me about how/why sustainability is important to you and your business.
It's one of the reasons I'm so keen to disrupt the current interpretation of 'antiques' because, given the chance, I really believe they can answer some of the most timely needs of both the people and the planet. It makes me proud to be able to say we are a fully sustainable brand, as all our jewellery is antique or vintage, so we are not producing anything new and we are able to prolong the life of these beautiful pieces that were lovingly created 100s of years ago. We've also tried to be as conscious as possible in our packaging and have gone away from the traditional jewellery boxes and instead created a necklace stand and ring box out of Kraft paper; a 100% biodegradable natural product. No part of our packaging contains any plastic. We have also collaborated with artists to have their work on our paper bags, as we're trying to encourage people to keep the bag and frame it and not just throw it away. This artist collaboration was something I was really passionate about from the start as I really want PI London to not only be an antique jewellery brand but also a community of like-minded people; which is also why I have my PI People section on my website.
How have you found setting up your own business? Have you had any support from anyone?
Setting up PI London has been an incredible experience. Of course, like with anything there are good days and tough days, but working for myself is something I've always dreamed about. It still amazes me that I am actually able to have my own company, selling antique jewellery which has been my lifelong passion. I have had so much support from my family and friends and it's been amazing to see how much people are willing to help, especially other people who have set up their own businesses.
What is your favourite thing about Yorkshire?
The countryside, of course.
Your favourite restaurant?
I'm a real foodie so there are a few! If I were to choose my favourite in Yorkshire, I love the Pipe and Glass and The Westwood. My friend has an amazing pizza restaurant called Bert's Pizzeria too.
Favourite jewellery trend?
I don't really follow jewellery trends, but I do love the chunky gold chain look. We have some really cool chunky Albert watch chains that look great as necklaces.
Most worn piece of jewellery?
My Victorian buckle ring – it was a present from my Granny for my 21st Birthday.