Reviewed: The Guardsman and Middle Eight, London
London calling
Kate Foley argues that there's never been a better time to visit the capital – and tries out two new, very different hotels.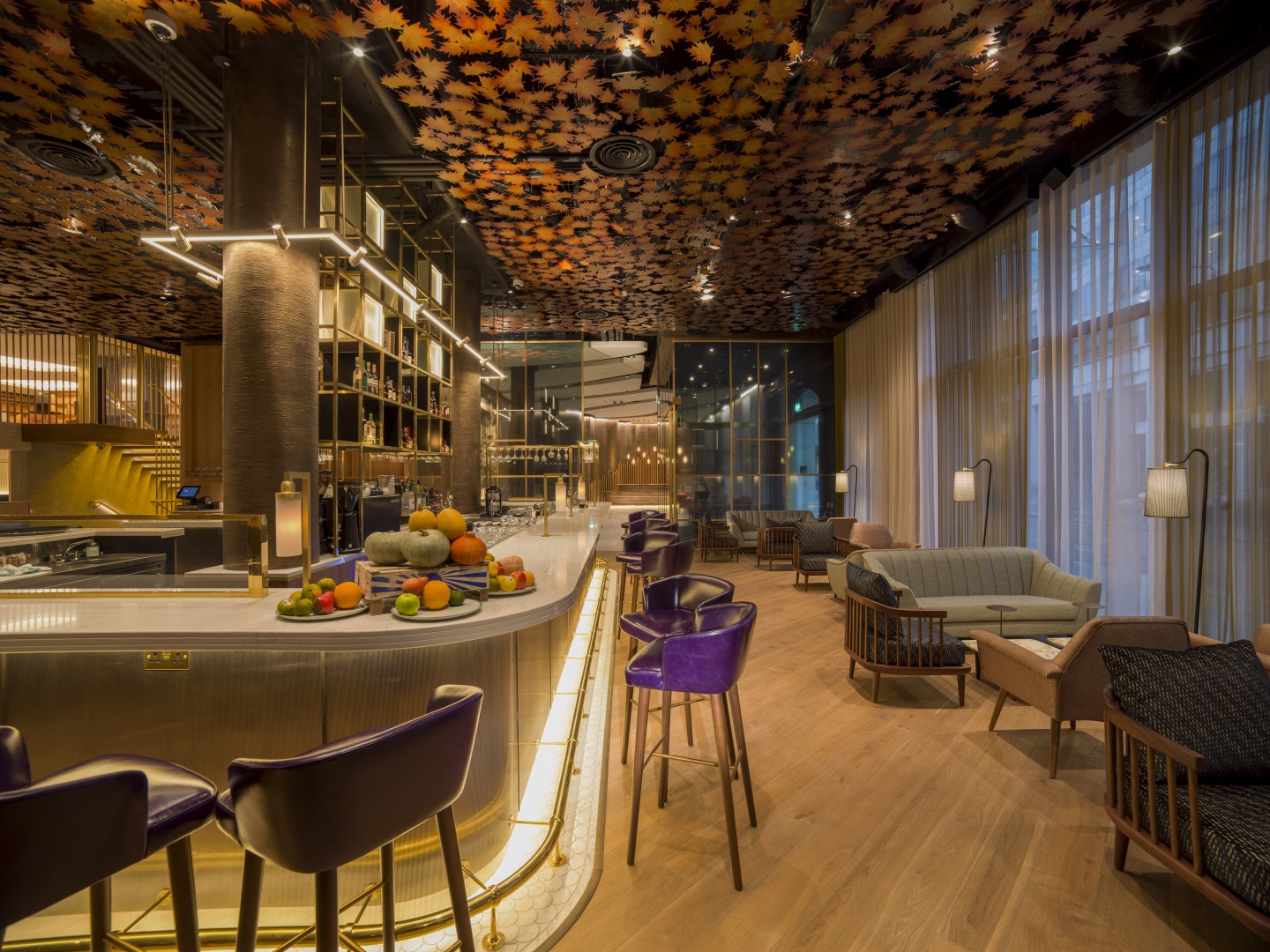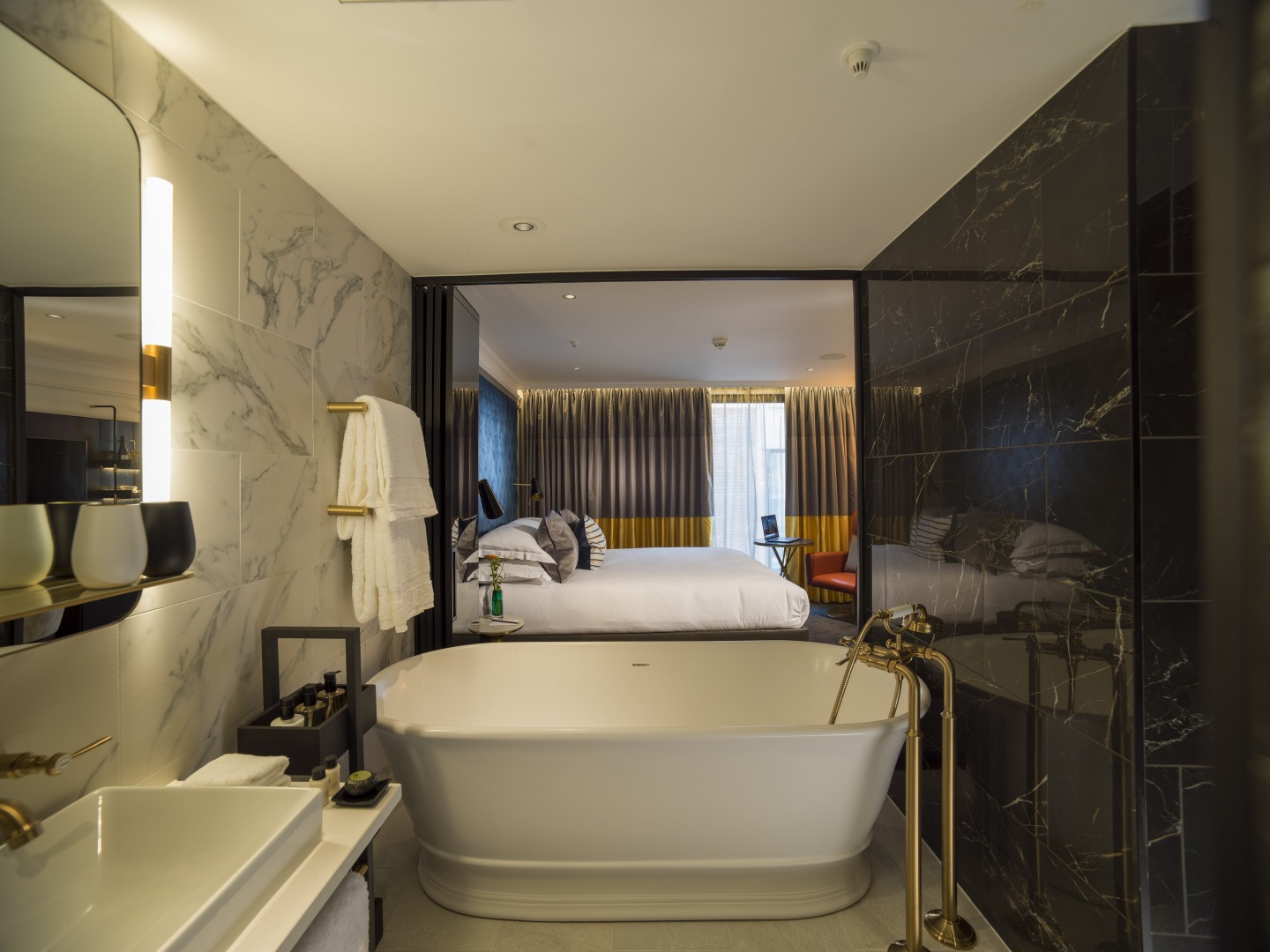 We arrive at Kings Cross at rush hour on a blisteringly-hot Monday and head straight for the Victoria Line, to take a tube down to Victoria. The half-empty carriage, with plenty of free seats and ample space between us and our nearest fellow travellers, is a sign of things to come.
A short walk from Victoria we find the discreet entrance to The Guardsman Hotel, where someone buzzes us in. From the cool, understated front entrance, opened with your key card, to the drawing room which takes up most of the ground floor here (think deep-buttoned sofas, comfy armchairs and carefully-curated books and objet d'art), the hotel has the distinct feel of an exclusive member's club, rather than a hotel. It had been due to open just as lockdown hit in 2020, so everything is smart and new.
We're promptly shown to our room (a Guardsman room, one of the hotel's larger options) and it's certainly spacious enough, with a luxurious bathroom and a sliding wall which reveals the deep, freestanding tub. More luxurious touches greet you wherever you turn – from the fully-stocked personal bar to the Noble Isle soaps and the subtle mood lighting.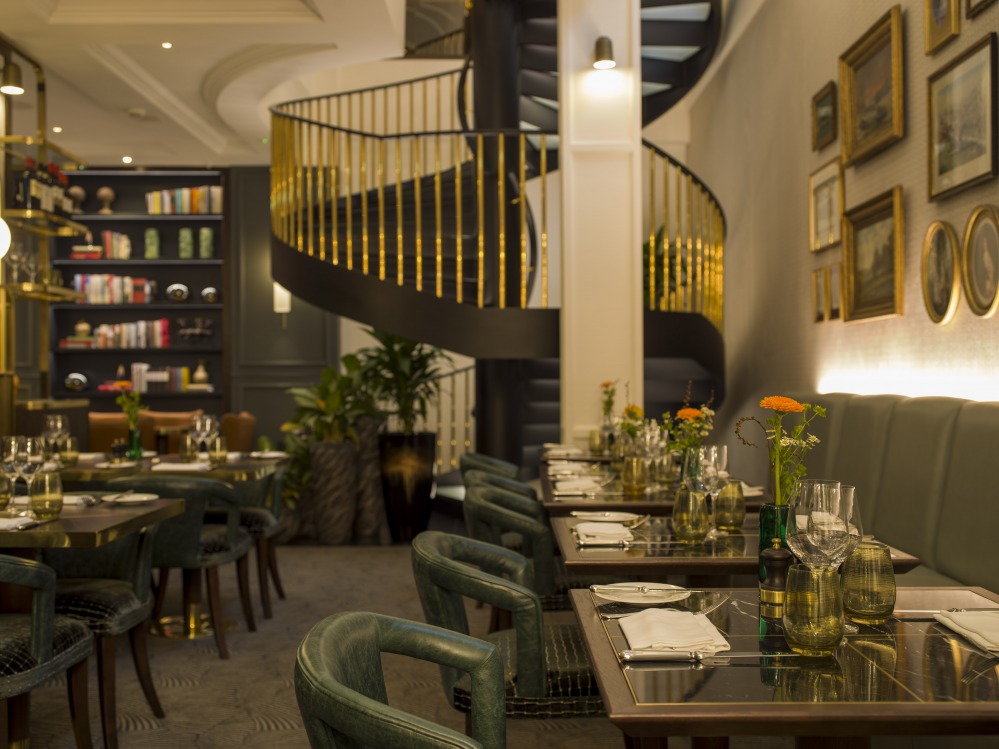 This quality is only right when you consider the hotel's location, a short stroll from Buckingham Palace. Taking an early evening constitutional in the sun, we pass its front gates before looping around to Westminster Abbey and the Houses of Parliament, where our planned route past Downing Street is derailed by a noisy crowd of protestors with large placards. We make a swift turn and head over the river instead.
Back at The Guardsman a short while later, we head to the Drawing Room for pre-dinner drinks. The helpful barman is happy to make recommendations, and we very much enjoy the hotel's signature cocktail, the Queen's Bee (which is something like a gimlet, but with honey instead of sugar syrup). The Dining Room is on the lower floor, and the clever design evident throughout the hotel continues here, with plenty of natural light falling into the space from high windows, marble-topped tables and eclectic artwork lining the walls.
To start, we choose Goldstein Scottish salmon with caper berries, shallots, creme fraiche and toast (for me) and crispy duck with toasted cashews, watermelon, beansprouts, pickled ginger and five spice (for my partner). Both dishes are fabulously light and carefully-flavoured – perfect for the hot weather, which always seems to do a number on my appetite. To accompany, we've chosen a bottle of Pebble Dew Marlborough Sauvignon Blanc – a good choice, which turns out to be much rounder and less cutting than many New Zealand SBs.
To follow, it's pan-fried east coast cod fillet with garden peas and smoked pancetta – this goes down a storm with my partner, who insists I try a bit of everything across the table. By now, the heat of the day has got to me and even having chosen a light dish (a Caesar salad with plump tiger prawns) I can't manage much of my main course. My partner, never one to see good food go to waste, gladly eats the rest of my prawns.
We decide to skip dessert (although we're sorely tempted by the pineapple carpaccio) and head back upstairs to finish our wine, ensconced in a deep sofa in the Library, just off the Drawing Room.
After a good night's sleep (thanks in equal parts to the supremely comfortable bed and to the efficient air conditioning in our room) we head back to the Dining Room for breakfast. There are delicate pastries warm from the oven, fresh juice and pots of tea, before we're presented with eggs Royale and an English breakfast, featuring some fabulous homemade beans. This sets us up nicely for the day.
After the year (and then some) that we've all had, it's important to celebrate the small wins where we can. One of these is the chance to look around London without hordes of fellow tourists blocking the views, walking in front of you and generally getting in the way. What we suspected on that quiet stroll the previous evening turns out to be true – the city is quiet. Don't get me wrong, there are people around, tourists and Londoners… just not that many of them.
By way of example, during a wander along the South Bank we pass the London Eye. There are approximately eight people waiting to enter a pod. Behind them, a maze of queuing areas stands empty. Thinking that we're unlikely to ever get a chance like this again, we hurry into the ticket hall (there are another eight people in here) to buy passes, and within 10 minutes we're in a pod ourselves.
It's the same story when we head up to Covent Garden (on another mostly-empty tube). There are a few more people around here, and a nice atmosphere as we explore the streets, but when it's time to stop for a drink we have our pick of tables, and choose one in the shade, far away from our fellow diners, and with a good view of the market.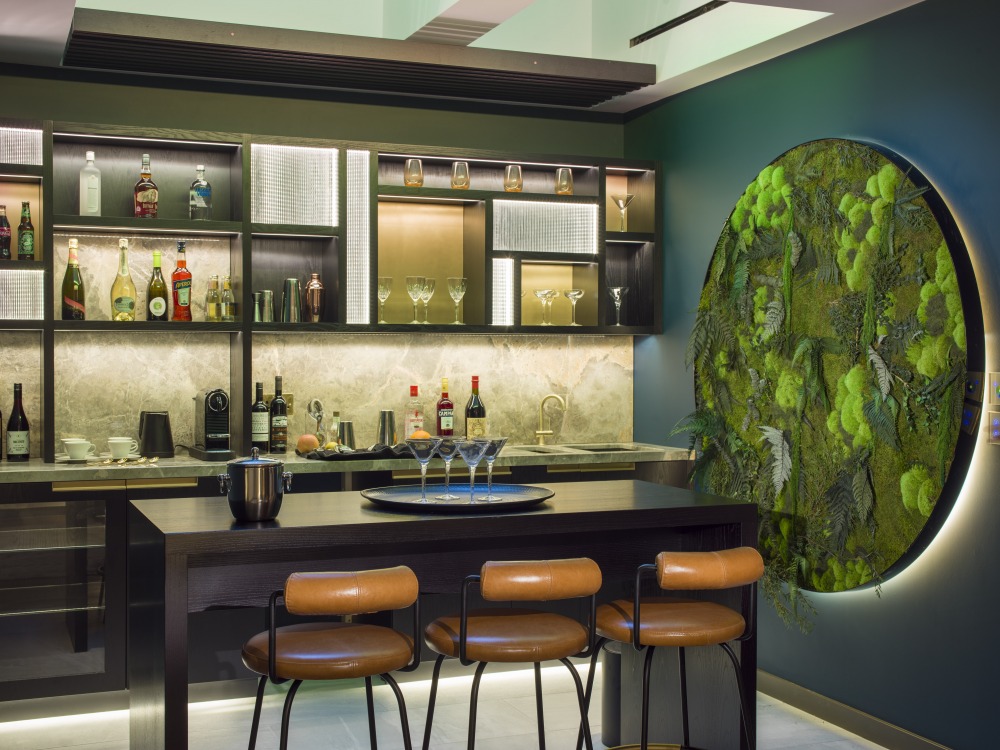 We've been gradually heading north east all day, because tonight we're staying at The Guardsman's sister hotel, Middle Eight – not that you'd know the two hotels were connected, as they're completely different. Middle Eight is on Great Queen Street (just steps from Holborn tube) and has a grand, high-ceilinged reception area, a large and welcoming bar, and a spacious restaurant on the ground floor. Upstairs, there are 168 rooms and 12 suites. It's a world away from the private-club atmosphere of The Guardsman.
In keeping with the hotel's name, the suites are named after songs with a middle eight bridge – ours is called Changes, and there's even a Bowie-themed password for the free WiFi. There's a super-king size bed, separate seating and dining/bar area (complete with cocktail making paraphernalia), a disc of greenery on the wall and a mini-bar packed with treats. Once again, a wall next to the freestanding tub in the marble bathroom slides aside to open up the space.
When we head down to the hotel's Sycamore restaurant for dinner, we find a sprinkling of other tables occupied and a nice buzz to the place. Taking a seat in the bar first, by a huge window onto the street, a bowl of fat green Puglian olives tides us over while we enjoy a couple of cocktails. The barman is helpful and knowledgeable, and happy to make recommendations – including from their wide selection of negronis. A mezcal negroni isn't quite for us, but their rosemary and classic options are expertly made and perfectly smooth.
Through in the restaurant, we share a bottle of South African Chenin Blanc and choose from the upmarket Italian menu. Tonight I've decided to be cautious and go for two starters – grilled prawns, with warm potato salad and cornichons, followed by a small portion of linguine alle vongole, which is packed with fresh south coast clams. My partner meanwhile starts with pasta (a perfect cacio e pepe) and then orders his favourite – lamb rump – with fava beans, grilled courgettes, parsley, and a side of crushed potatoes.
Tonight we do manage dessert – and can highly recommend the creme fraiche panna cotta with fresh mixed berries, and the cheese selection, which comes with a fabulous apple and pear chutney and some really special fennel seed crackers, as well as the best gorgonzola I've had in a long time. We head out into Covent Garden to explore after dinner, and by the time we return from the sticky-hot streets we're extremely grateful to get back into our cool and spacious suite.
Breakfast is served with quite the best lattes we've found in London. We share bircher muesli with fresh apple and toasted almonds, as well as a selection of cheeses and cured meats, before we move onto the 'Eggs' section of the menu. Homemade focaccia, topped with smoked salmon, perfectly-poached eggs and warm butter sauce is my choice, while my partner chooses thick cut pancetta, salsiccia, poached eggs and tomatoes on sourdough toast.
We're loathe to take our leave. Usually two days in London is enough for us – we enjoy the city, see what we want to see and head back North without delay – but this time, we'd be happy to stay longer. Especially if we got to stay at The Guardsman or Middle Eight.
The Guardsman, 1 Vandon Street, Westminster
guardsmanhotel.com
Middle Eight, 6 Great Queen Street, Covent Garden
middleeight.com