Meet the Foodie: Boxed Charcuterie
Cheese fanatic Meg Wicks and her business partner Adam Winterburn decided to challenge their creativity to offer a tasting experience that would bring people together
We caught up with the duo to find out how the charcuterie business came about, and what we can expect from them when they join us at Living North's Christmas Fair.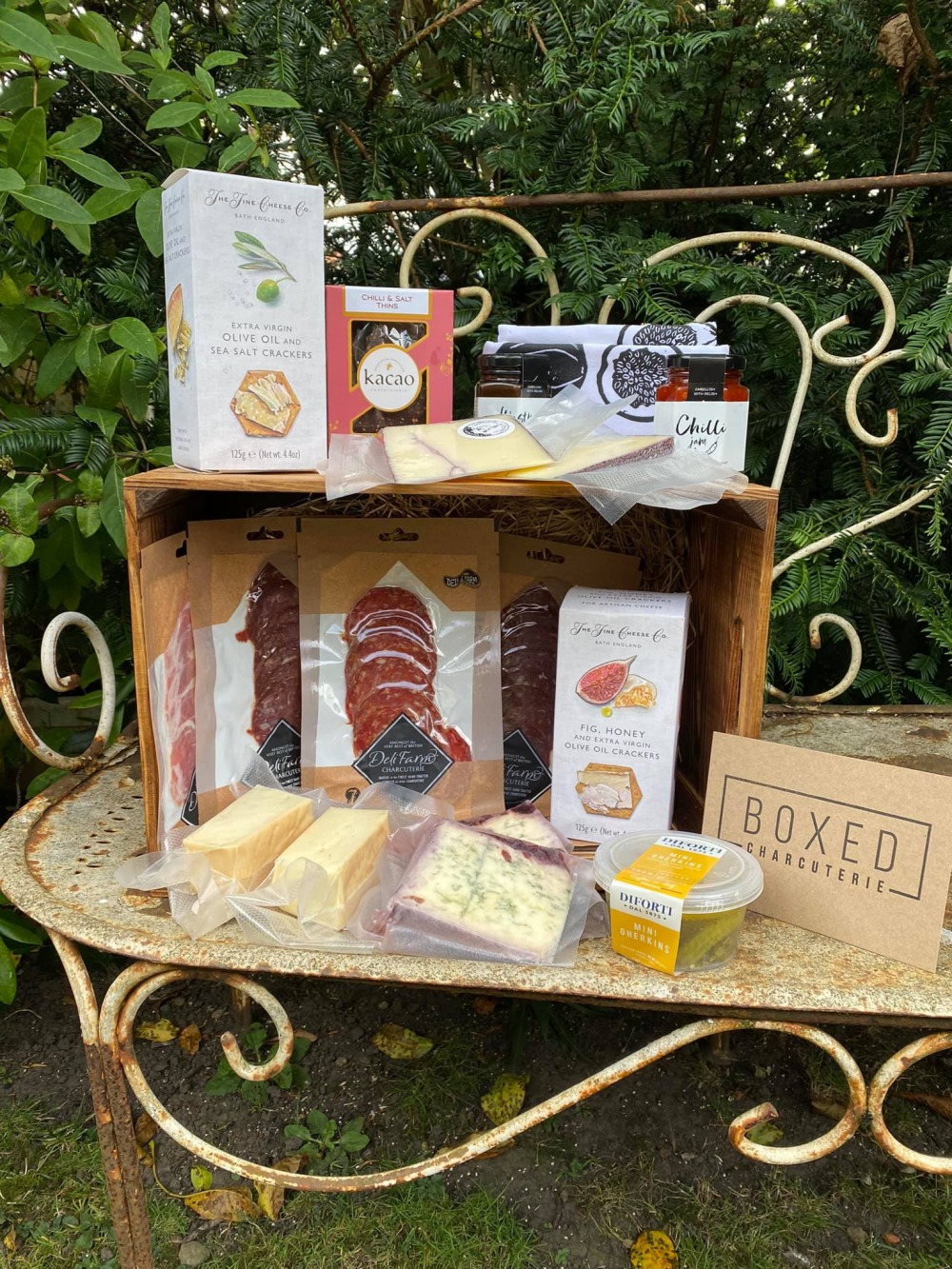 Tell us about your background.
Meg grew up in France and has a love for great cheese and meat, so we thought it would be fun to bring our appreciation for cheese and charcuterie to our hometown, Newton Aycliffe, and the surrounding area. Although our day jobs in finance and engineering couldn't differ more from the food and drink industry, we wanted to focus on something that would test our creativity and offer something that could bring people together after many months of isolation and lockdowns. Charcuterie is the perfect excuse to bring people closer together – it's designed to be shared between friends and family.
Talk us through Boxed Charcuterie and what exactly it is that you do.
We source great quality cheeses and meats from various small businesses across the UK and pair them together to bring a great mix of flavours all in once place. We offer a variety of hampers which are perfect to have on the go, or for a cosy night in. We have just set up a local delivery takeout service where we offer sharing platters available to pre-order via social media, and we're also hoping to cater for events and weddings, offering giant grazing tables and wedding favours.
How did the business come about?
Meg had a commission for a local holiday let designing maps and custom merchandising. The holiday let was planning on creating a car hire service for their guests to explore the area and wanted someone to provide the picnics for the experience. Immediately we knew this was something we would love to get involved with, so we researched long and hard for the best products that could fit into what we wanted our brand to be. It was a bit of a whirlwind, but we've enjoyed every step of the journey so far!
'The environment is an ever-growing focus for our business and from the outset we knew we wanted to ensure our stock was presented and sourced in the greenest way possible'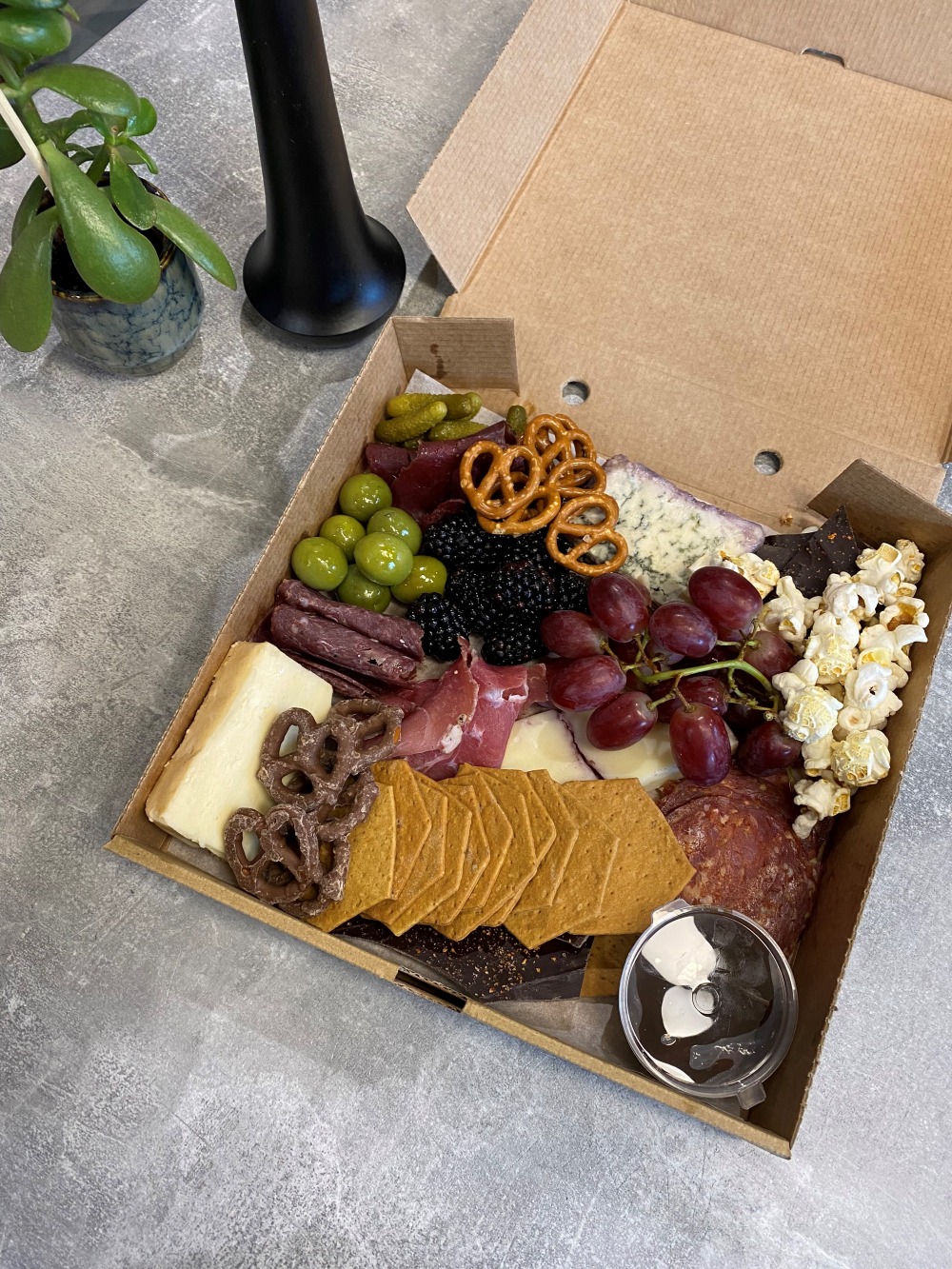 What inspires your boxes?
The environment is an ever-growing focus for our business and from the outset we knew we wanted to ensure our stock was presented and sourced in the greenest way possible. We upcycle our hamper boxes and offer a discount for those who return them to us in good condition so that we can reuse them. All the packaging we use – such as our cardboard sharing platter boxes and our cones – are recyclable, and our plastic tubs for our chutneys are compostable too. We're keen to think green.
We really wanted to do something a bit different to your usual supermarket graze box, so we searched high and low for quality, artisan products. We were in London visiting some friends and by chance ended up in Borough Market where we came across some great small businesses. For instance, our cheese is sourced from a Spanish couple, Max and Pam, from Drunk Cheese – all their cheese is infused with alcohol in some way, which makes our products feel more fun and unique.
What's your plan for the business going forward?
We have been in touch with local wedding planners as we would love to cater for weddings. We've got some huge grazing boards that would be perfect for events and big celebrations which we can easily tailor to customers' requirements. We also want to be able to cater for all dietary requirements in the future and have some vegan suppliers lined up – once we get more of a demographic, we will easily be able to roll our vegan alternatives out. We're currently able to do deliveries ourselves in and around the North East, but we are also getting a contract drawn up with a courier service so that our produce can be sent UK-wide, so keep an eye out for that.
What can we expect from you at Living North's Christmas Fair?
We will be bringing our hampers which can be bought on the day, or you can pre-order some to receive in the lead-up to Christmas. Those who pre-order will get a discount as a little Christmas treat! We'll also be offering some takeaway boxes which will be ideal to take home and enjoy after a mooch around the Fair.