Celebrate World Pasta Day at these Living North Favourites
Today is world pasta day, and what better way to celebrate this important occasion, than by going out and getting your carb-filled-fix
Here are our picks of the best places to eat pasta across the North East and Yorkshire.
Francesca's
If you know, you know. Francesca's is an absolute favourite with locals who know exactly what to expect each time they visit – the same great staff (all Italian of course) and the same great food, at unbelievable pocket-friendly prices. It may be World Pasta Day but we won't blame you for getting a bit of pizza too, as we're sure you're going to want their classic half and half, because that's just what you do when you visit here.
130–140 Manor House Road, Newcastle NE2 2NA
0191 281 6586
francescasjesmond.co.uk
San Marino
Eat your weight in pasta under a blossom tree and chandeliers at San Marino in Sunderland. You can expect to see all classics on the menu, and best of all they're super-generous with the portions, so your pasta cravings will be well and truly satisfied. We recommend getting two courses for £12, and trying Italian spiced Scotch egg with fennel, garlic, parsley and lemon, followed by linguine scogliera with tiger prawns, mussels, Greenland prawns, white wine, garlic and tomato.
Hanover Place, Sunderland SR4 6BY
0191 565 3845
san-marino-restaurant.co.uk
Zucchini Pasta Bar
It's all about fresh pasta handmade daily on-site here – and it shows. By keeping practices traditional, the menu concise and their flavours simple, they serve delicious yet affordable plates of pasta for veggies and meat-eaters alike. The Big Sharer is a must-try with spaghetti beef shin bolognese, sausage and mozzarella, sourdough garlic bread, lemon rocket and fried truffle potatoes – the definition of Italian soul food!
55 Degrees North, Newcastle NE1 6BL
07921 919798
zucchinipastabar.co.uk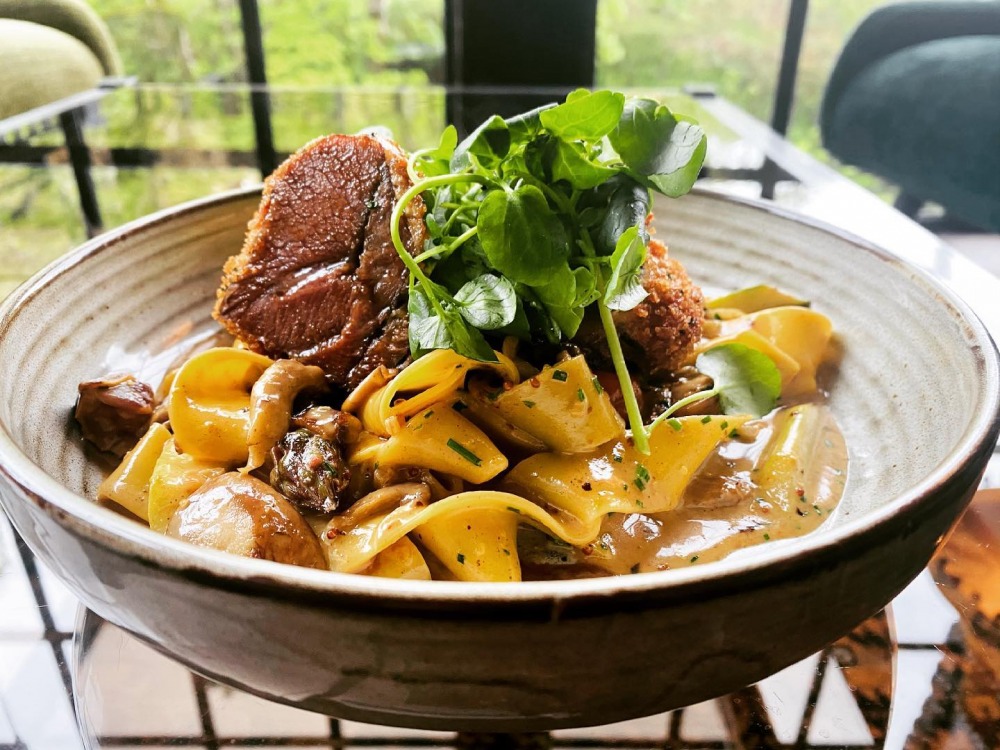 Devour at the Dyehouse
This Holmfirth favourite offers riverside dining combined with a British take on Italian food. They have so much to choose from you won't know where to start, but to truly celebrate we recommend a the herb-crusted cod loin, tossed with handmade spaghetti, mussels, king prawns and clams, all drizzled with creamy saffron lobster bisque, as well as a 'cicchetti' of 12-hour braised ham hock, handmade gnocchi, mixed three cheese and parmesan herb grattato. You can thank us later!
Luke Lane, Holmfirth HD9 7TB
01484 684793
devour.co.uk
Scrann
There's nothing better than the firm bite and rich flavour of fresh pasta, and at Scran theirs is homemade daily by their chefs. Pappardelle, conchigle, linguine, spaghetti and tagliatelle, combined with the likes of beef stracotto ragu, chicken 'nduja, smoked salmon with chilli and lemon, wild mushroom and truffle oil, and don't even get us started on the 12-hour smoked beef brisket lasagne – what else could you want?
449 Norton Road, Stockton TS20 2QQ
01642 641 589
scrann.co.uk
Fratelli
There's few places as good as Fratelli for experiencing the true authentic taste of Italian and Sardinian cuisine. Serving an extensive menu, from family favourites to speciality dishes, it's the perfect place to dine which offers something for everyone. The lasagna al forno is legendary while the Malloreddus alla Campidanese is a Sardinian classic, but if we were you we'd get the penne Fratelli, which comes with chicken, basil, pesto, toasted pine nuts, mascarpone and a touch of cream.
2 Bell Villas, Ponteland NE20 9BE
01661 872195
fratelliponteland.co.uk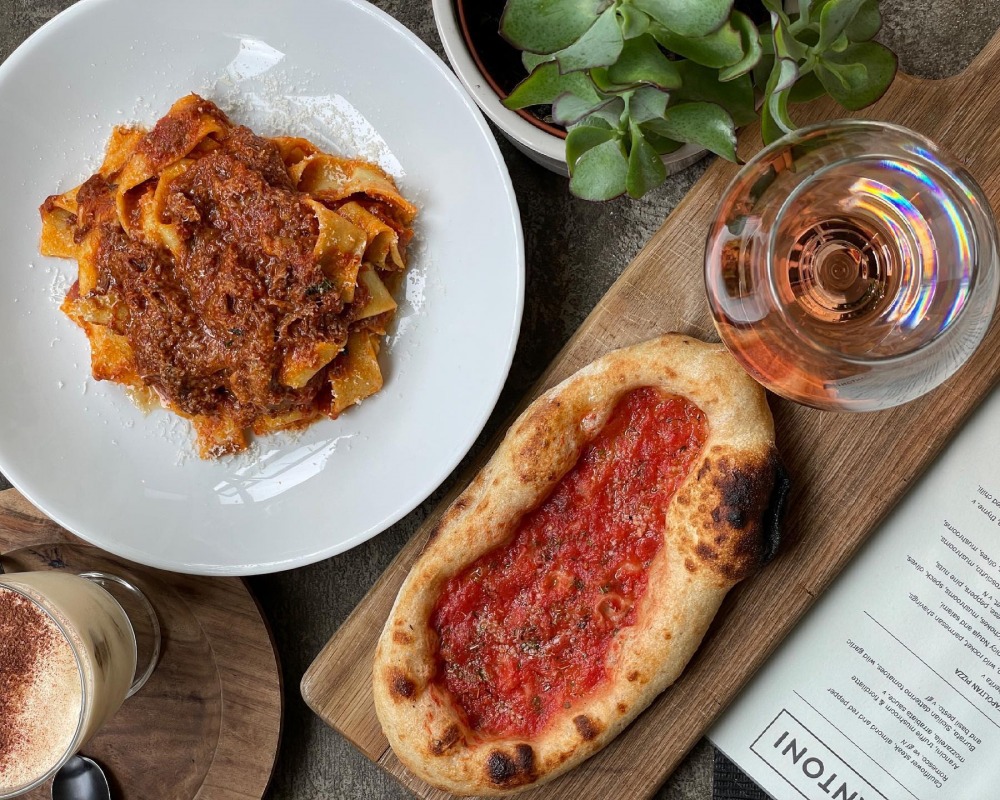 Santoni Osteria
Santoni is a modern yet rustic osteria with a focus on provenance. Fresh seasonal Italian and Yorkshire produce is served in a relaxed and informal setting, while their seasonally-changing menu consists of a selection of plates that reflect a genuine Italian osteria. From the current menu we recommend their eight-hour braised shin of beef ragu served on pappardelle, or the rigatoni with spinach and basil pesto and Bradley's Yellison goats' curd.
23 Airedale Road, Keighley BD21 4LW
01535 601792
santoni-osteria.com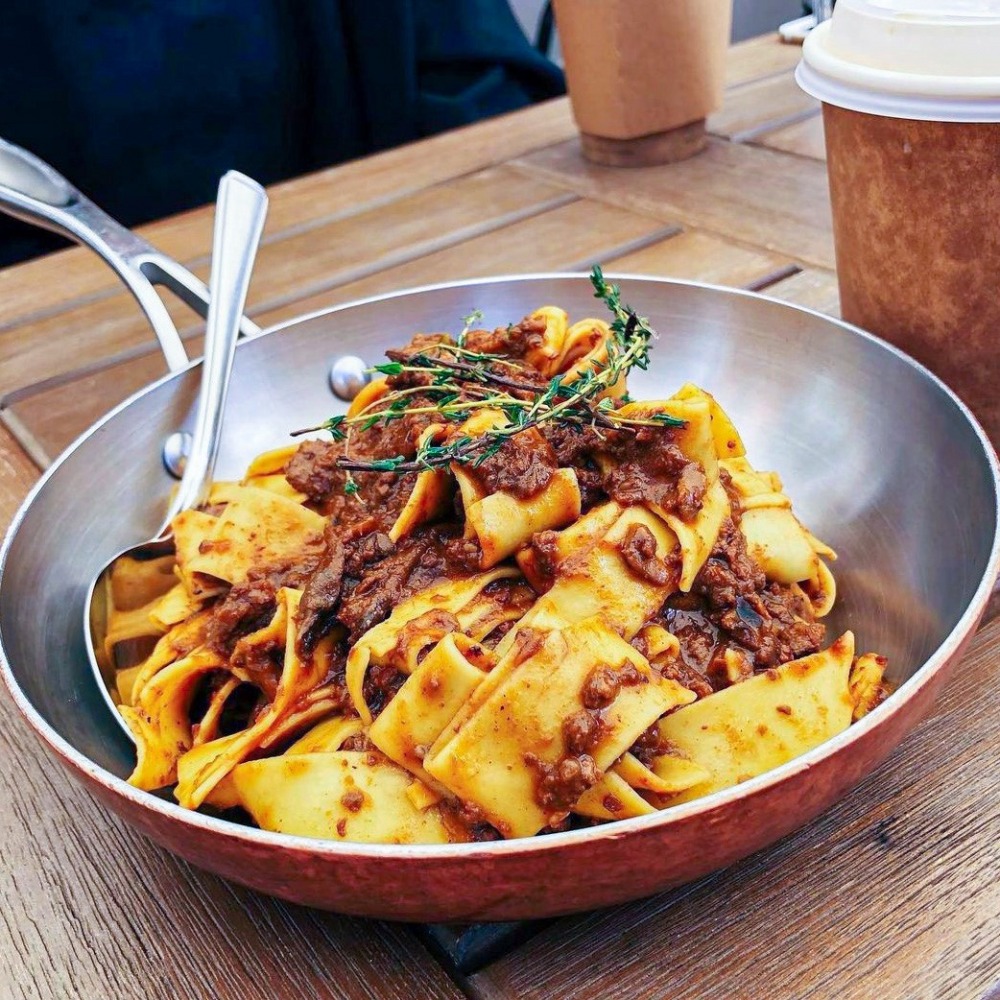 LIVIN' Italy
A family business started in 1980s Milan, at LIVIN' Italy their values go beyond business, to an honest representation of Italian living. From inherited family recipes to speciality ingredients flown in, this is as authentic as it gets. Expect classics like cacio e pepe troccoli – a cream of Pecorino, freshly ground pepper, toasted walnuts and herb breadcrumb, as well as specials such as spicy pappardelle – 'nduja in rich cherry tomato, buffalo mozzarella, fried basil and salame spianata crisp.
Granary Wharf, Leeds LS1 4BR
0113 243 0090
livinitaly.com
Domo
Domo's menu showcases a variety of dishes made with fresh produce from local independent retailers, as well as specialities direct from Sardinia, and the family-run restaurant brings a much-welcome touch of Italian sunshine and spritz to the city. For a real taste of Sardinia, order gnocchetti alla Campidanese – shell-shaped pasta with fresh Sardinian sausage, in a rich tomato sauce with a touch of saffron and grated smoked ricotta.
Eagle Works, Sheffield S3 8DH
0114 322 1020
domorestaurant.co.uk
La Vecchia Scuola
Exciting, inventive and varied menus are La Vecchia Scuola's distinguishing – and distinguished – culinary feature, and they serve only the very best in contemporary Italian cooking. Enter their 300-year-old building, choose from the huge selection of pasta, add a fine wine from the cellar and you're in for an unrivalled relaxed dining experienced. Our favourite has to be tagliatelle alfredo with chicken and mushrooms in a creamy garlic sauce, topped with crispy oyster mushrooms.
Eagle Works, Sheffield S3 8DH
0114 322 1020
domorestaurant.co.uk