Meet the Holy Island Gelato Company Cutting Out Plastic Waste
Offering vegan gelato which is free-from everything but the flavour, Charlotte Thompson and her cousin and business-partner Farah Weedon set up Pilgrims Gelato with sustainability at the forefront of everything they do
We caught up with Charlotte to find out more.
Charlotte's passion for Italian desserts began during her 20s when she found herself running a large restaurant in Newcastle. Along with her cousin Farah, Charlotte believed that the pair could create their own tasty Italian gelato using the experience she gained working in the industry. 'We wanted to create a product which we enjoy and one which gets any age group excited,' she says. When they discovered that several members of their family suffered from allergies, Charlotte and her cousin decided to expand on their gelato flavours, making sure allergies to gluten, dairy and nuts were all considered, but also ensuring that flavour remained at the heart of what they do. 'We decided if we were going to go all out on our free-from flavours, we should take everything out. That included making vegan gelato which was gluten-free and nut-free,' Charlotte tells us. After undergoing a year of trials and getting honest feedback, Charlotte says that a few alterations were made to ensure they had the best quality gelato. 'We were originally making our gelato with a soy-based milk but when we realised oat milk was better for the environment we made the switch. We now make our own oat milk for our gelato using English oats,' she explains.
We have all become increasingly aware of the harm plastic pollution is having on the environment, and whilst we still find this wasteful habit in the on-the-go consumer food and drink industry, Charlotte and Farah have made it their mission to deliver their tasty vegan gelato without using plastic packaging and harming the earth in the process. 'When we started looking into our packaging options to try and find a spoon which was recyclable, the problem was that recyclable spoons weren't as good as we had first thought. But, eventually I came across a company creating edible spoons,' says Charlotte.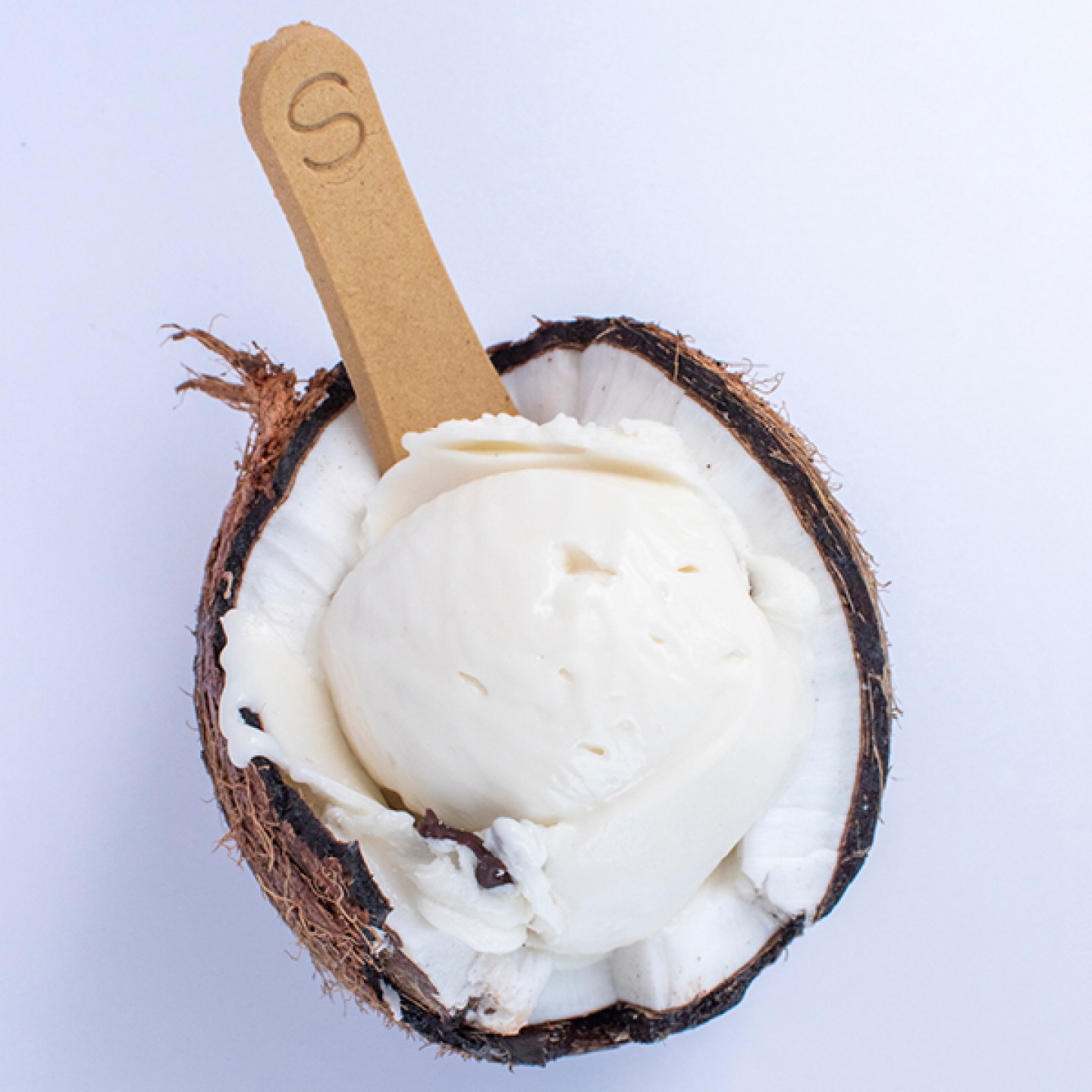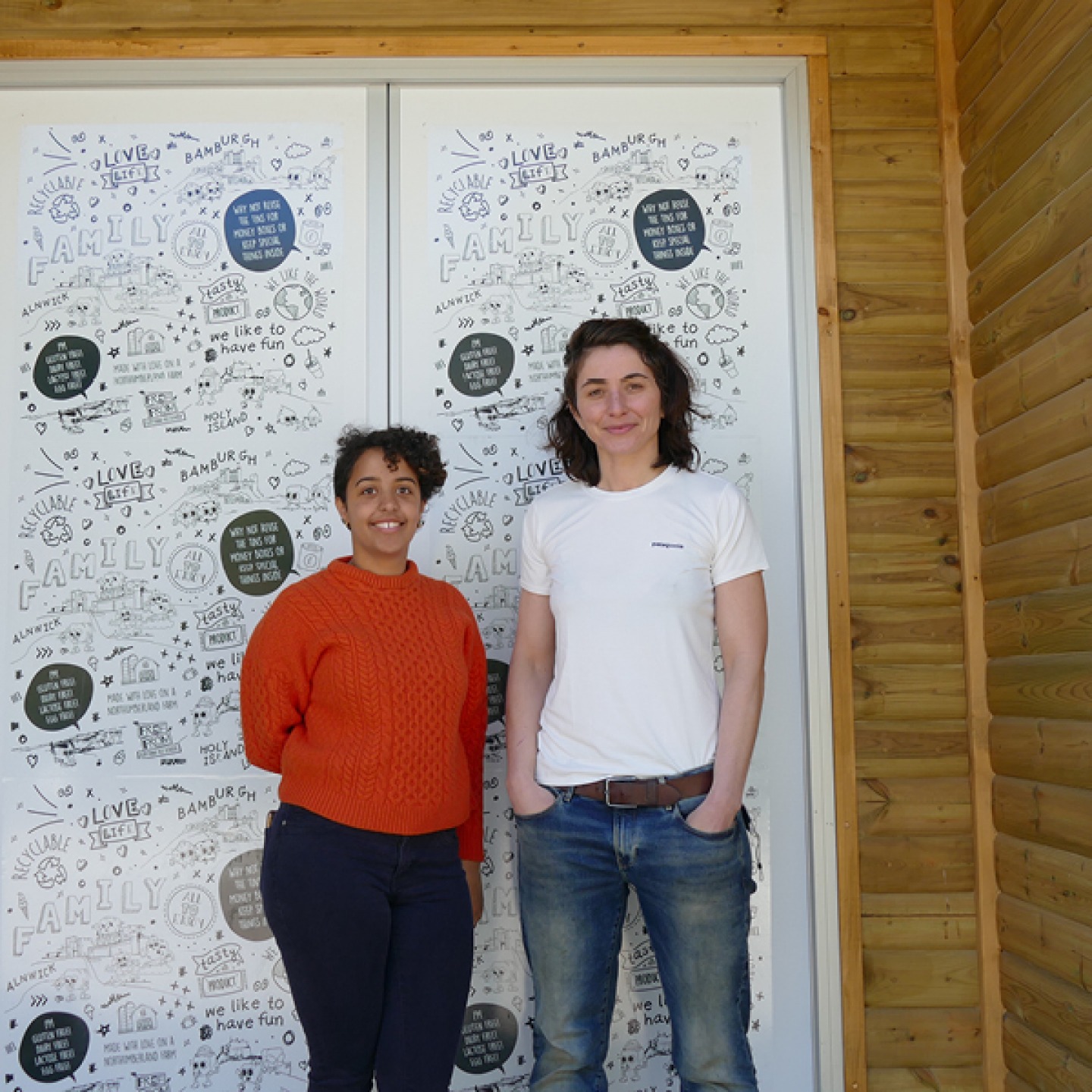 'One of the major issues with trying to be a sustainable business is the difficulty in sourcing packaging which is readily available'
Plastic cutlery takes centuries to break down in the environment and lots of energy and carbon is emitted during its production. Their supplier, Spoontainble, who create the edible spoons found in every Pilgrims Gelato tin, make spoons from waste materials from the cocoa industry, using fibres from cocoa beans or oats. They're therefore strong enough to dig into the delicious gelato, and tasty enough to eat after you're done.
Edible spoons aren't the only way Charlotte and Farah are making sustainable switches within their business practices – they've also opted for a recyclable aluminium tin to serve their gelato in. The aluminium can be melted down and recycled – unlike a one-use plastic tub.
One of the major issues with trying to be a sustainable business is the difficulty in sourcing packaging which is readily available. 'It's really difficult and expensive as a business to be sustainable,' says Charlotte. 'When you think you've got something right you find out it's not as simple as you might have first thought. I think if you speak to anyone who is trying to do the same thing, they will all have issues,' she says. 'It might be that you think you've found an alternative packaging solution and you've spent hours researching it for you to discover it's too expensive to use. But, it's all about trying, and when you can bounce ideas off like-minded people you find that you can eventually find the perfect solution.'