Meet the Maker: Amy Thomas
After almost 10 years as a midwife, Amy Thomas moulded a new career path combing both her passion for pottery, and her background in science
Now Amy is creating ceramic artwork from her home studio inspired by the beautiful scenery of Yorkshire.
Tell us about your background, and how Amy Thomas Ceramics began.
I've had a passion for craft and creativity from an early age, however my working background has very much been scientific. I studied Pharmacology at Leeds University but working in a lab soon showed me that it wasn't what I wanted to do. I decided to apply for a direct entry degree into Midwifery instead, and what followed were almost 10 years of an amazing, fulfilling and life-changing career. It wasn't until my husband and I started a family six years ago that I truly experienced my first break from work since leaving school. This led me to follow my creative instincts and I found that pottery was something I needed to pursue.

What inspires your work?
My pottery is mostly inspired by nature and the beautiful surroundings of Yorkshire. My family and I live in a farmhouse perched over Emily Brontë's Wuthering Heights-inspired moorland near Haworth, and I find the ever-changing landscape intoxicating – being so high up means the seasons are impossible to ignore. In winter, my pottery pieces tend to be simple in both form and colour, reflecting the serene, snow-covered hills, windblown rocky outcrops and stark moorland, which brings a contemplative beauty into my ceramics. As the winter months ease into spring and summer, I lean towards a colour palette of sun-faded blues, long balmy evening sunset pinks and verdant moss greens. I often make pottery pieces that reflect new hope and my passion for all things botanical, like pretty bud vases and ceramic plant pots. Travel also plays on my inspiration for my work, particularly my visits to West Cork in Ireland, where there's a unique landscape and sense of creative freedom that has been attracting artists and potters for generations.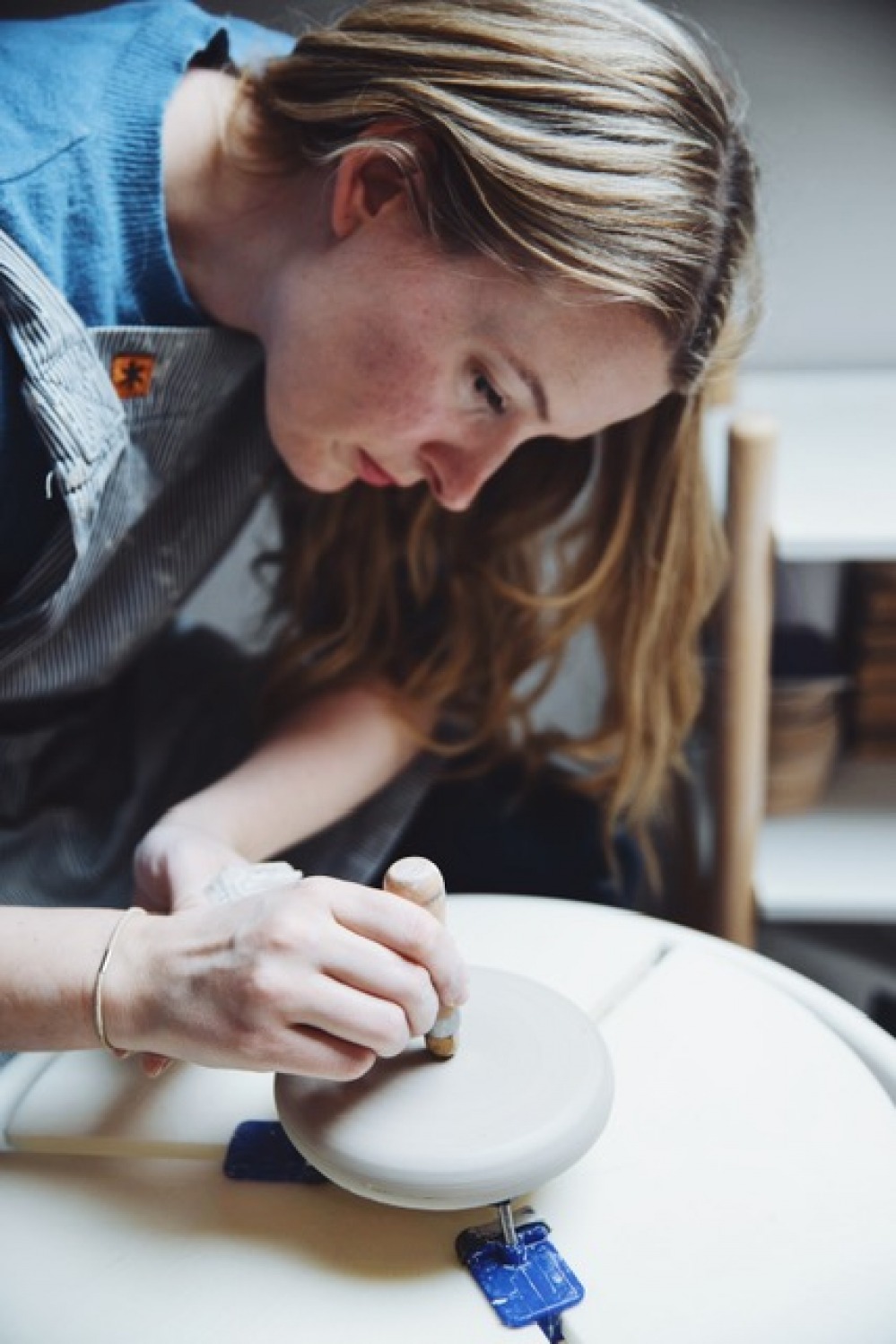 How did the business start?
I have always been an avid pottery collector and from the second my hands touched the wet clay I was hooked. After maternity leave with my son, I craved some creativity and was inspired by watching The Great Pottery Throw Down on TV. I searched for a local evening pottery class and later decided to purchase my own pottery wheel and kiln to enable me to create at home. I have to admit I'm a little obsessed with the whole pottery process – there isn't a minute in the day when I'm not thinking about it! The craft is both creative and scientific which I personally find really fulfilling. I initially started an Instagram account to share my pottery journey with other ceramicists, but over the years my hobby has slowly turned into a business with a wonderfully supportive community of fellow pottery enthusiasts.

What is your artistic process?
I am forever sketching new design ideas and the moment I get a chance to escape to my home studio I start creating a prototype. From here I just let my instincts take over, almost distilling the concept to achieve something pure.

What are you working on at the moment?
I'm currently working through an online ceramic glaze course so that I can create my own unique recipes going forward. This is really exciting for me as it means I can mesh my interest in the chemistry side of the glaze to the creative element, and the endless possibilities a glaze can give to the final ceramic piece. I'm not a huge fan of a shiny glaze and prefer more natural, tactile, matt glazes. I'm also exploring different clay varieties and their properties. Later in the year I have a few exciting collaborations lined up which I'm looking forward to working on.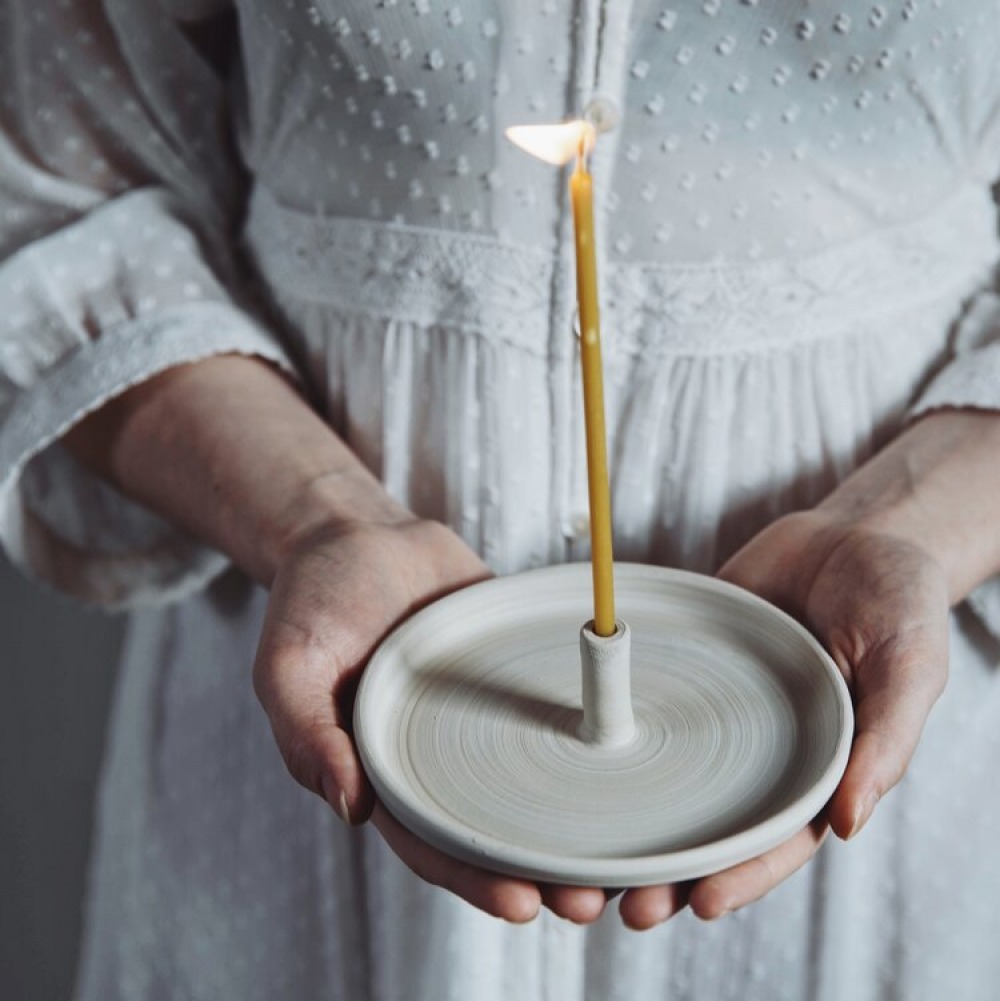 Do you have a favourite piece or design that you have made?
During the pandemic I was drawn to making candlestick holders as I found myself feeling grounded by the comforting ritual of lighting a candle in the evening. A recent favourite design of mine has been a dinnerware set that I made for my family home. It was something that I had dreamed of since the first few lessons of pottery class I took years before. They're not all perfect, but rather sentimental pieces that I can enjoy eating meals off everyday.

What does a typical day look like for you?
The ceramic process from wet clay to the finished pottery piece takes time and patience – usually around two to three weeks per item. No day is the same and because of childcare, I can have one free morning to create, whilst on other days I spend the evenings trimming leather-hard clay when the children are in bed. My little studio is inside my home so I find I can check on my work ad hoc as and when needed. In a few months I will have more of a routine as my youngest starts nursery, and I cannot wait to see what I can start making with more free time available.

What is the best thing about what you do?
I'm genuinely passionate about the whole process of making something beautiful out of wet clay that hopefully becomes a treasured item for someone to cherish forever. I find the craft very therapeutic and calming, and I love passing on my joy of ceramics to others. The art of ceramics is currently going through a revival and although I am aware that this is the start of my journey, I am thrilled to be a part of this wonderful community.

amythomasceramics.com Instagram: @amythomasceramics