Meet the Maker: Dovecote Northumberland
What started out as a self-help hobby has turned into a thriving business in the heart of Alnwick
We spoke to Deborah Morton, the driving force behind Dovecote Northumberland, to find out more about candle making and Northumberland-inspired scents.
Tell me what you do?
Dovecote Northumberland produce artisan, handmade candles, wax melts, room diffusers and sprays. The whole ethos of the company is to provide people with a way to create a relaxing and calming environment in their home. We intentionally craft all natural, botanical products including soy wax and wood wicks.
Why did you set up Dovecote Northumberland?
After suffering from a life-changing illness and overcoming some monumental family life changes, I needed to find something to distract my mind. I initially started to make candles as a way to lose myself and soon became addicted to the science behind it all. What started off as a hobby for my own 'self help' turned into friends and family asking me to make things for gifts. So with the help and support from my partner, who believed in me, even when I didn't, Dovecote Northumberland was born.
When did you realise you could make a living from your work?
There wasn't really a light bulb moment, it went through a transition from a hobby to a business. I think two memorable moments on that journey were when my website went live and I secured my first direct order, and secondly when I found my first wholesale partner and saw my products in their shop window.
How long did it take you to learn about candle making?
I have always been interested in arts and crafts so I picked up the basic methods quite quickly, and then it took many months to hone my skills. I would say it can be learnt quickly, but takes a lifetime to master. I am still learning every day.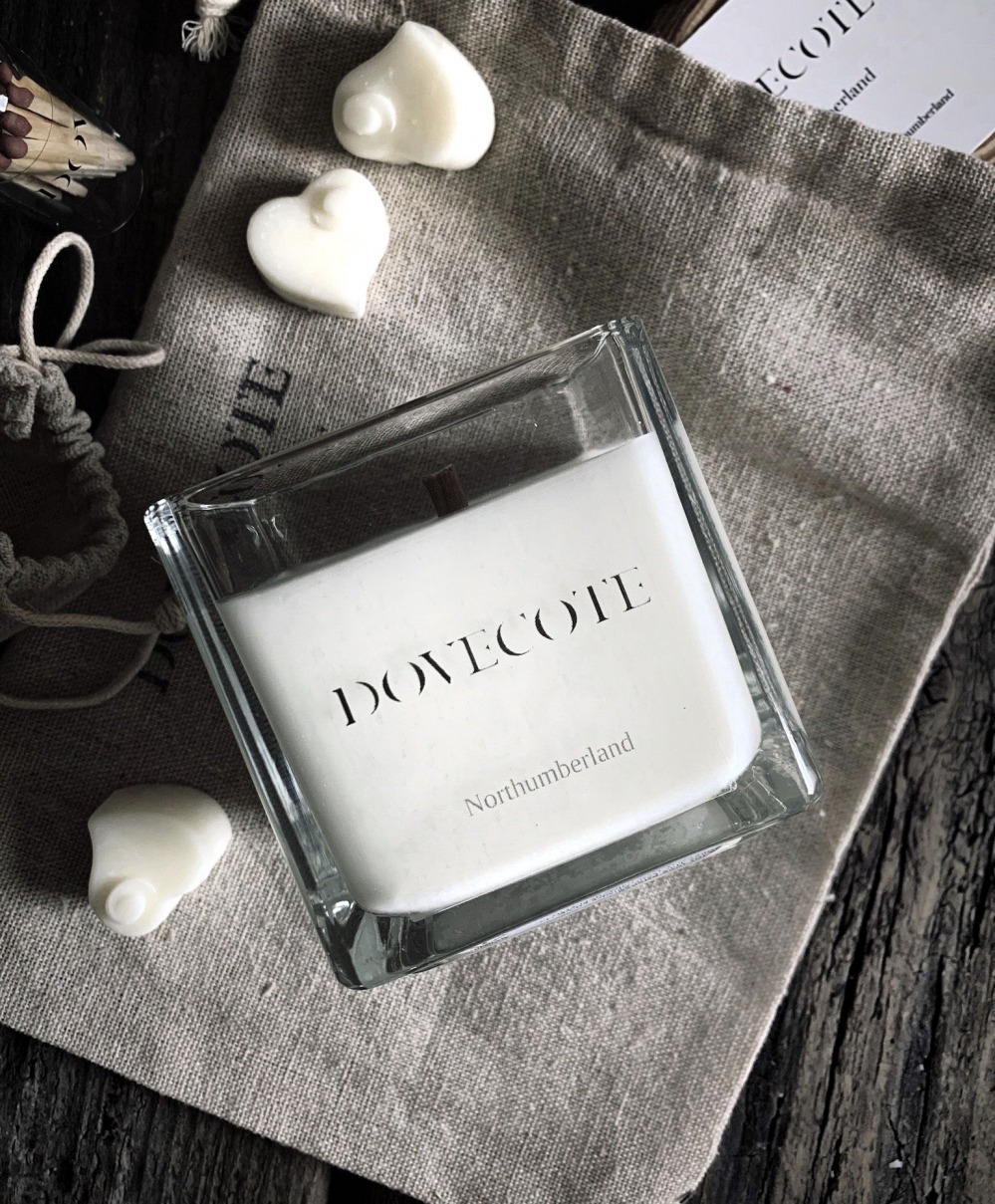 What inspires the Dovecote scents?
Nature and the world around us all. I am very lucky to live in a beautiful and rural part of the country. Every time I step outside there is a heady mix of sights, sounds and smells. All these experiences are poured back into Dovecote Northumberland.
Where do you source your materials?
As locally as possible, but it's challenging. Part of the future of the business will be to encourage a more local network of suppliers, and maybe even manufacturing more of the product and packaging myself.
What challenges have you faced?
As a micro-business, in the beginning everything was made at my kitchen table and packed and stored in a spare bedroom. I am a perfectionist, so sourcing the candle holders, the labelling and even the string used to wrap up the parcels was a challenge. Everything has to be right as these are high-end products, with many being given as gifts.
What piece of work are you most proud of?
I am most proud of the relationships this business has allowed me to build. From my wholesalers through to my repeat direct customers, I have made friends through Dovecote that have enriched my life.
Most popular product?
Anything with fresh mint and rhubarb as the scent. It flies off the shelves and I always have positive feedback about it. We also have a unique flower diffuser which is extremely popular as it provides a gift which is a little bit different.
What are you working on at the moment?
The business is doing very well and I have just moved into new premises that provide room for growth. I am constantly researching new scents and gift ideas. I see the wedding sector as a growth market for Dovecote, so once Covid restrictions are lifted I hope to launch a range of gifts ideas for wedding planners. However, it's a juggling act to keep up with the current demand and build a plan to grow the business. I want to provide local employment opportunities and spread the brand across the country.
What does a typical day involve for you?
Anything and everything! Manufacturing, research and design, taking orders, packaging and dispatch. As a small business owner, you really do get involved in everything.
'I want to provide local employment opportunities and spread the brand across the country'
Where can people find your work?
I have two routes to market. Dovecote has a dozen shops and outlets who stock our products, from Turnbulls Food Hall in Alnwick through to Muscari in Newcastle. I also supply to Amazonico London, who use our room spray in their Private Lounge. We also have our website where you can order direct.
Favourite place in the North East?
That has to be the Northumberland coast. I live only a few minutes away and there is nothing better than a gentle stroll with Mark and our two dogs along the shoreline. Equally we love the countryside that Northumberland has to offer, and enjoy walks in the hills.
Where do you hope to be in five years time?
I would like Dovecote to be an award-winning household name providing excellent eco-friendly products that people enjoy. On a personal level I want to be fit, healthy and above all happy.
Dovecote Northumberland
Alnwick
dovecotenorthumberland.co.uk