Find Out More About Baste & Bray's Northumberland Rapeseed Oil
We're always looking for more sustainable, nutritious and locally-sourced products
Karen Park, owner of Baste and Bray, tells us why we should ditch the drizzle of olive oil and switch to Northumbrian rapeseed oil.
Tell us about yourself.
I'm Karen and I'm originally from Galloway in South West Scotland. I moved to Northumberland in 2010 when I married my husband David. Prior to moving to Northumberland I was a solicitor, but food has always been central to my life, (and it's in my genes – my mum was a cookery teacher and my dad a farmer), so it's not surprising that I've ended up here.
I live on the family farm with David and our two young children just outside Warkworth on the beautiful Northumberland coast, growing oil seed rape, wheat and potatoes, and the farm employs six people in total.
Tell us about Baste & Bray.
Baste & Bray has been on the Northumberland food scene since 2016. I took it over in June 2020 from previous owners Andy and Sara Appleby and their friend Rob Black when a promotion at work for Andy meant he no longer had time to devote to the business. The farm had actually been supplying Baste & Bray with rapeseed since it began and David had got to know Andy quite well, so when he offered to sell us the business we jumped at the chance. Buying the business during lockdown was interesting to say the least. Luckily, I inherited a lot of goodwill with the brand, so when I started approaching retailers they were delighted to see it was back in production.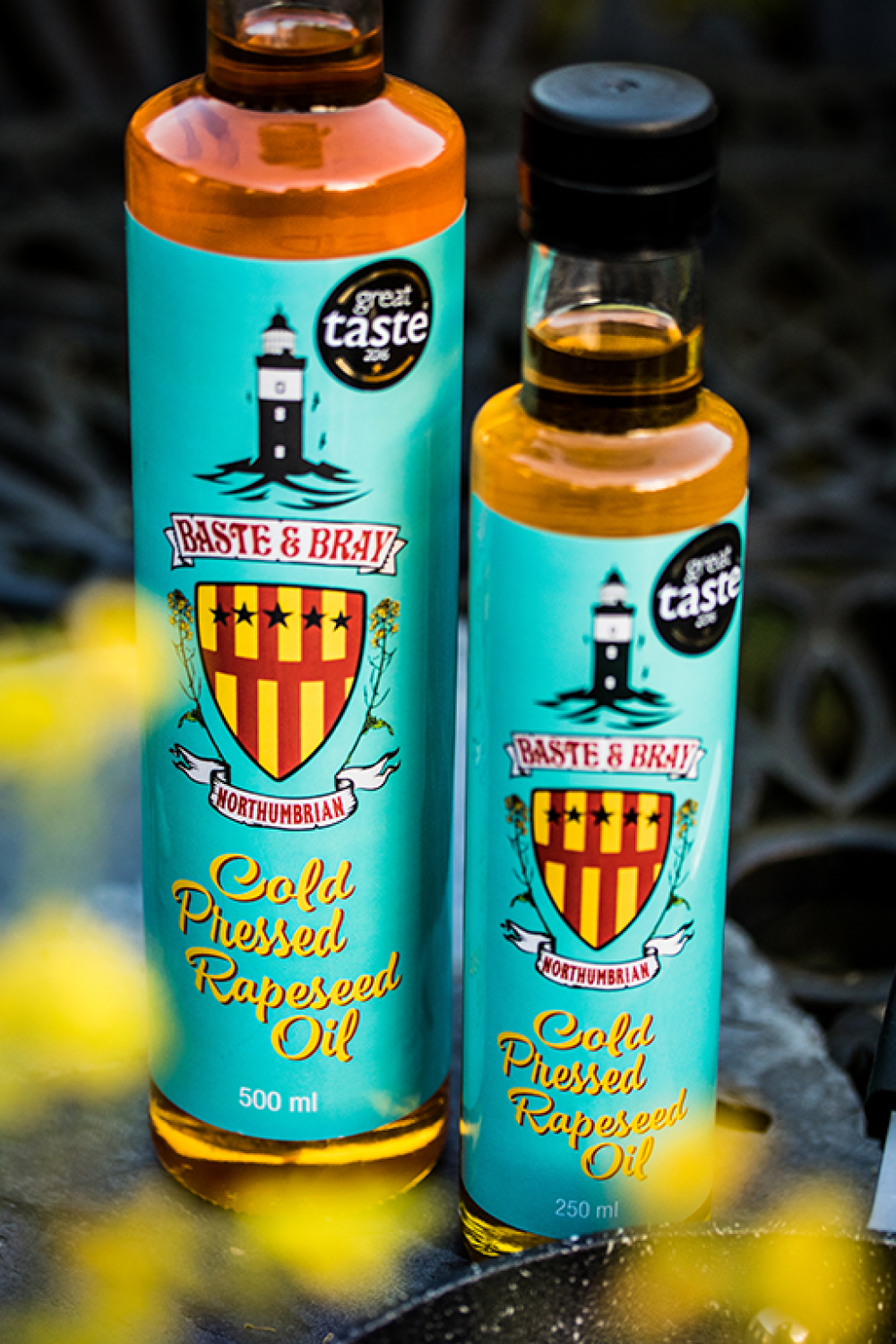 What makes Baste & Bray different?
Baste & Bray has a Gold Star from the Guild of Fine Food which really gives you the confidence that it's a great-tasting product, and we believe we are the most coastal producer of rapeseed oil in the UK, which we think contributes to that great taste.
Tell us about the oil making process.
The process is done very gently using a screw press. Once harvested and dried, the tiny black seeds are put through the press and the oil is collected and left to settle in tanks for a minimum of two weeks. Everything is done in small batches and no heat or chemicals are used in the process. I then put the oil through a filtering machine to remove any impurities before it's bottled. A lot is done by hand, and the process is time-consuming, but that's part and parcel of making an artisan product. (An automated label machine however would make a huge difference!). Everything is done on the farm which helps with traceability and quality control.
Where do you source the rapeseed?
I source all of the rapeseed from our own farm and we know exactly which field each batch has come from.
What are the benefits of rapeseed oil over other oils?
Move over olive oil – you've had your time in the kitchen! Olive oil is a fantastic product, of that there is no doubt, but as consumers we've given a lot of support over decades to the Italian economy, and it would be great to see more support for a great British alternative which is healthier, more versatile, cheaper and tastes great. Rapeseed oil is a brilliant example of sustainable plant power. When I started producing the oil I was really interested in getting some nutritional analysis done and a friend put me in touch with a North East-based food nutritionist. He found that Baste & Bray had 13 times more Omega-3 in comparison to olive oil, almost five times more Vitamin E in comparison to olive oil and had the lowest saturated fat levels of olive, coconut, sunflower and vegetable oils. Baking with rapeseed oil instead of butter cuts down the saturated fat element by 85 percent. So it's the best choice for looking after your heart – and for those following a vegan diet, the high Omega-3 levels are a good alternative to oily fish. Other benefits include its high smoke point (220C) making it ideal for cooking, and it retains its nutritional benefits at high heats.
Are there any particular foods that are complemented by the product?
As a potato farmer's wife, I would have to say potatoes! It really does make great roasties and Yorkshire Puddings. I also use it a lot in salad dressings, baking and bread-making. Any time you see olive oil in a recipe – just substitute it with rapeseed oil.
What is your favourite recipe to make with the oil?
That's a hard one as I use it in pretty much all of my cooking, but I'd say sugar-free honey and banana muffins which I make for the children most weeks – using Granny's eggs, local milk and honey from the farm.
Where can you shop the product?
Baste & Bray is stocked in around 45 shops, cafés and tourist attractions across Northumberland, and a number of online retailers specialising in local produce. It also features in a number of hampers, and we sell it alongside our potatoes direct from the farm with free local delivery.
How does Baste and Bray represent Northumberland?
There's nothing about Baste & Bray that isn't Northumbrian – other than it's made by a Scot! The name is derived from North East mining dialect, front and centre on the label is the Northumberland flag and the lighthouse depicts Coquet Lighthouse on Coquet Island, which you can see from the farm.
Where do you see the business in the future?
Within the next nine months I will hopefully be launching a new brand to sit alongside Baste & Bray, which will have a more British identity with the intent to market it across the UK. If successful, this will lead to local job opportunities which would be fantastic. Plans also include a range of flavoured oils.
I would also like to expand the food service side of the business to work with more restaurants. We've had great support from pubs and restaurants close by, but I have to admit to doing a little dance around the kitchen when Hjem and Pine said they would use it!
We also have a number of potential partnerships in the pipeline – working with other local food producers and non-food producers, such as those in the skincare sector, so watch this space – it's all exciting stuff.