Meet the Maker: Staves Art
Staves Art combines art with architecture – helping us see our towns, cities and special locations from a whole new perspective
Ahead of this year's Christmas Fair, we caught up with Ben Staves to find out about the creative process behind his work.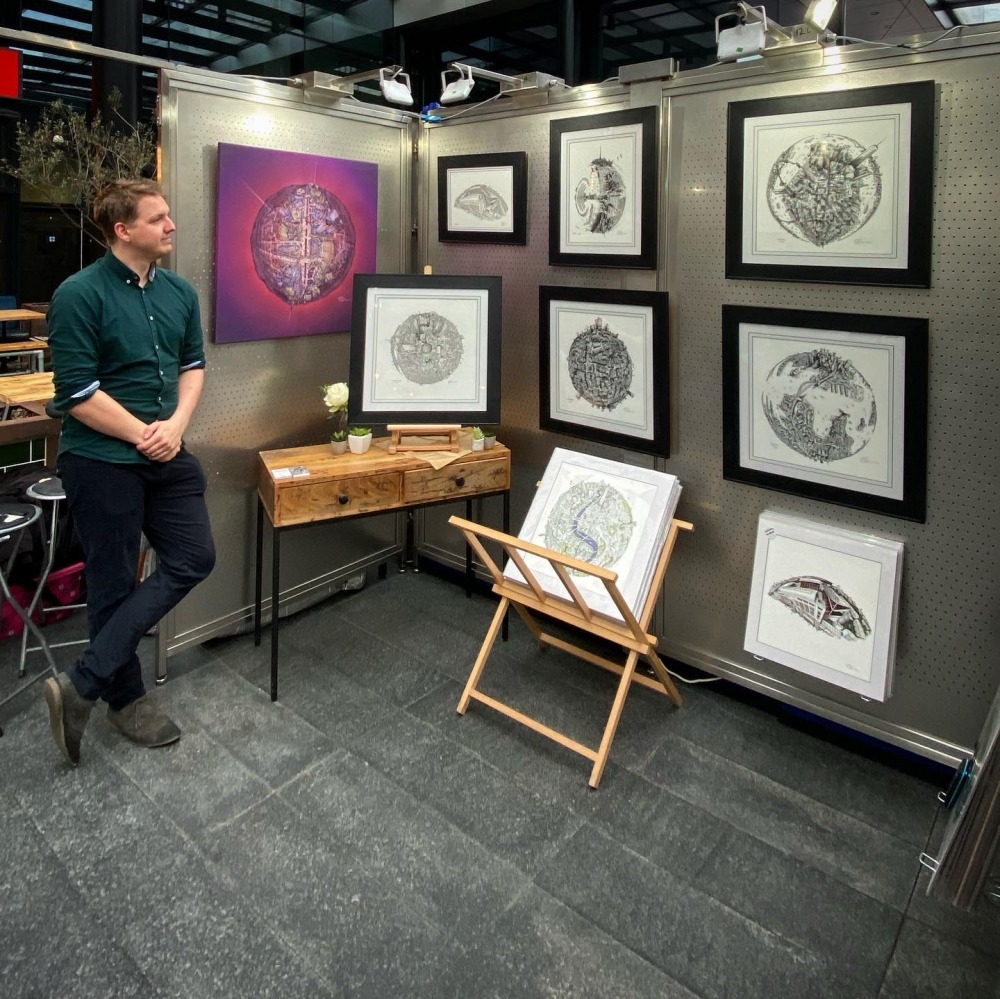 Tell us about yourself.
I am originally from Leeds but I now live just outside Newcastle, having moved up to the North East in 2012. I've always been interested in architecture and design and my plan was always to become an architect – studying at Northumbria University and then working at architecture practices in Harrogate and Wakefield after my undergraduate degree. I began to draw and sell my artwork during my masters in 2017 as a way to earn a bit of money on the side, but it has since become my full-time job! I now take part in shows and art fairs up and down the country, and also have my artwork displayed in various galleries.
What inspired you to start drawing?
I've always had a keen interest in drawing. I can remember going to art classes with my nan when I was younger, and designing imaginary football stadiums whilst watching Match of the Day with my dad. Coming from an arty background really inspired me to pursue a career in which I could be creative – although becoming a full-time artist was a bit of an unexpected twist after studying architecture for seven years!

Tell us how your architectural studies inform your work.
The 3D-style of artwork that I create began as a project during my first year of studying. We were asked to map out the city in an unusual or different way to get us thinking about new ways in which we could interpret the urban landscape. I created a globe map, as I wanted to show the road layouts but also the facades of all the buildings. Using a central perspective point allows that 360 degree, fish-eye bubble effect – meaning the buildings and roads can be viewed from any angle. During the project, I realised I really enjoyed playing with the perspective to create something interesting and unusual, with a focus on cityscapes and architecture. I drew cities in this style as a hobby for years, before giving it a go selling them online and at art fairs.
Tell us about the creative process of your art pieces.
Many of the pieces that I work on now are private commissions of specific places that people have requested. This starts off with a conversation to find out what key landmarks and locations the customers would like to be highlighted. I then work on a quick concept sketch to get an idea of the composition and make sure everything can fit and is in the correct place. Once everyone is happy with the plan, I make a start on the final piece. This starts with a compass to get the globe outline and centre point. After that I use a pencil to lightly map out the positions of the landmarks, rivers, roads and buildings. The final part is adding all the details, down to the shadows on the ground and reflections in the windows, using a fine point pen.
'I realised I really enjoyed playing with the perspective to create something interesting and unusual, with a focus on cityscapes and architecture'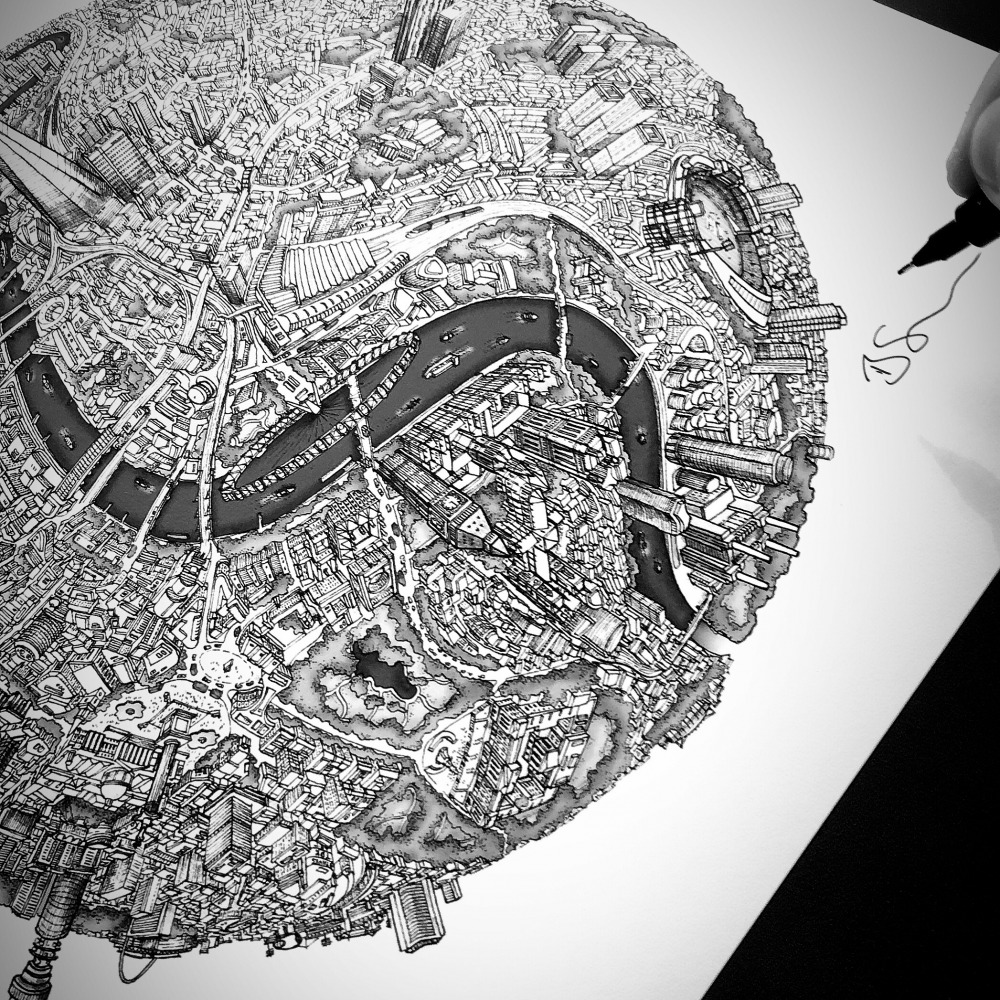 Most popular piece?
There are a few very popular pieces, but it changes depending on where we are showing the work. My dad and my uncle trade my work at the Shambles Market in York every weekend (it's now a family business) and there's always a mixture of people visiting the city for a long weekend – so we find that we get requests for towns and cities all over the place! The York, London and New York globes are always very popular wherever we go, and I am always working on new pieces for future events.
How long do your 'City Globe' art pieces usually take to complete?
This can vary depending on the size of the piece and the city that I am drawing but usually it's somewhere between 80–100 hours. The biggest pieces, like the recent City of London Globe, take closer to 150 hours to complete. I love to draw them though so the time flies, especially if I've got some good music or a funny podcast on.
Where is your favourite place to draw?
I have really enjoyed drawing London recently. There is such a mix of interesting architecture – from striking skyscrapers to tiny medieval churches tucked away in amongst the buildings and green spaces – it is a fascinating city to draw. Most of the commissions that I have usually come with a backstory, whether it is the location of a honeymoon or the city where someone has just graduated. These pieces are a pleasure to work on as this personal element always adds something to the final design.
Where would we find you in your free time?
I'm a big Leeds Rhinos fan so you'll usually be able to find me at Headingley Stadium on a Friday night during the rugby season! Or I'll be on the beach with my fiancé Amy and our dog, Colin the Collie!
What's an interesting fact about yourself?
I spent a summer in the USA where I worked as an art teacher, a lifeguard and bus driver all in the space of a month and a half! I then travelled 4,500 miles around the country in an RV – it was one of the best experiences of my life, making friends and memories that will last forever.
What's your favourite series?
I think my favourite series is Breaking Bad. It is a brilliantly written series which I've watched through a few times now – each time I've noticed something new that I didn't see before. That comes close to The Sopranos though, which I am currently watching for the first time – an absolutely brilliant series!
We're looking forward to seeing you at Living North's Christmas Fairs – what can we expect?
I'm really looking forward to Living North's Christmas Fairs! It's going to be fantastic to be back at the big events after a quiet year in 2020. This year, I'll have several new pieces including London, Paris and Sydney Globe prints. I'll have a new selection of sporting worlds for the footy fans out there too! Everything from framed prints and canvases to little stocking fillers, like coasters and cushions, make ideal gifts for those who have everything or those looking for something a little different and unique.
You can catch Staves Art exhibiting at Living North's Christmas Fairs at York Racecourse from 11th–14th November