Meet The Man Supporting People's Mental Health With His Coffee Trailer
Talking is key when it comes to your mental health, and that's why this coffee trailer is encouraging locals to stop for a hot drink and a chat
We find out more about Chin Up Coffee.
For Mental Health Awareness Week this month, the theme is nature. So, if you're out and about appreciating the nature Newcastle has to offer, this new coffee trailer could be the ideal spot to refuel. Chin Up Coffee, a catering trailer and mental health awareness space opposite Jesmond Metro Station, is inviting all locals for a coffee, a snack, and a chat to encourage them to get talking.
The idea for Chin Up Coffee came about in 2018, after founder Jim found inspiration from his own experiences with mental health. 'As a man, I was struggling to face that I had issues with mental health,' he admits in a call with us. 'When I finally did get round to speaking to somebody about this, there was a nine month-long waiting list. Some people just can't wait that long. That led me to look for other resources that were available in the meantime and I found help through charities like Mind.'
After taking a week-long entrepreneurship business course, Jim felt he could use his experience to encourage others to talk and seek the help they need. 'One of my favourite things to do when I was struggling with depression and anxiety was to get out of the house and sit in a coffee shop – it's a great comfort to chat with a friendly barista and then have a hot drink to escape the world for a while,' he explains. 'I wondered if I could help others in this way – but I wanted to offer more. I started working on this in 2018 and it's been a slow burn since.'
Jim purchased his trailer and all the equipment he needed, and after taking some personal time out, he officially launched Chin Up Coffee in December. He's been attracting new customers ever since. 'The reception to it has been quite overwhelming,' he says. Now, alongside his coffee, he stocks sumptuous sweet treats from Heaton's Brew & Bite and soda from Steep Soda Co, for those who fancy something extra. But, most importantly, he's always happy to chat with you and there are always free handouts, leaflets and guidebooks with advice and numbers for mental health charities. Anyone is welcome to take one: from those who feel they (or someone they know) might need help, to those who just want to learn more about mental health. 'I thought that the odd person might take these handouts, but actually so many people have been reaching out for them,' Jim tells us. 'It's just a case of signposting, but it is really making a difference.'
Recently things have been difficult for everyone, so it's never been more important to talk about how we're feeling. 'At some point, we will all go through a mental health struggle,' Jim says. 'It's now a case of being ready for it. It's a great feeling knowing that we're raising awareness and are able to share information in a casual way. As people head back out into the world, this is so important. There's always someone to speak to. You just need to know where to look.'
While Jim loves his trailer, his venture into barista-ing has been proof that his coffee and chat concept really works. 'There's a thousand things you'd never think about when it comes to setting up a coffee trailer but it's great to have the option to move around right now,' he tells us. 'Part of the reason why people have been so receptive is the warmth and comfort you get from a hot drink. So, having my own space to allow people sit down and enjoy that warmth and comfort around them in the future would be amazing.'
As the world begins to reopen, Jim hopes to park his trailer at festivals and markets to reach out to more locals but, at the moment, his pitch just across from Jesmond Metro is reaching quite a diverse community. 'We get commuters, students and mums and dads out for a family walk with their children, which is great because the materials we have are also so diverse. So many parents have noticed that Mind can offer help for results-day stresses and university anxiety, and they take the handouts home to help their children. That's the same for the handouts offering workplace advice. Because we're casting such a wide net, our base is perfect at the moment.'
'It's so important that people get help from a professional when they need it. I'd be nowhere without these charities'
While Chin Up Coffee is supporting Newcastle locals, Jim's also keen to support charities. That's why 15 percent of Chin Up Coffee's profits are donated to mental health charities. 'The reason I want to give back is because the charities provide me with the information that I give to other people,' he tells us. 'I'm very clear about the fact that I'll never counsel somebody or give my own advice without research because I'm not qualified. It's so important that people get help from a professional when they need it. So, I'd be nowhere without these charities. If we didn't help these charities, they wouldn't be there to help others, so the more I can give them the better.' Jim is now considering running a rolling charity donation where a different charity would be chosen to receive the donations each month.
Coffee drinkers know they're supporting charities, but they also have the option to be a good samaritan through Jim's 'Coffee For A Stranger' scheme. 'A Coffee For A Stranger is cheaper than a normal coffee, and when a customer buys one, and that cup is picked out in the future, the coffee is free. The reaction to that has been amazing, and it's really cheered people up. It shows a real sense of community. Once people do get a free coffee, many will then buy a coffee for a stranger to pass it on. We've even had people turn up who don't want a coffee themselves but have spotted us on Instagram and just want to buy a couple for some strangers. It makes you feel a bit better about the world.'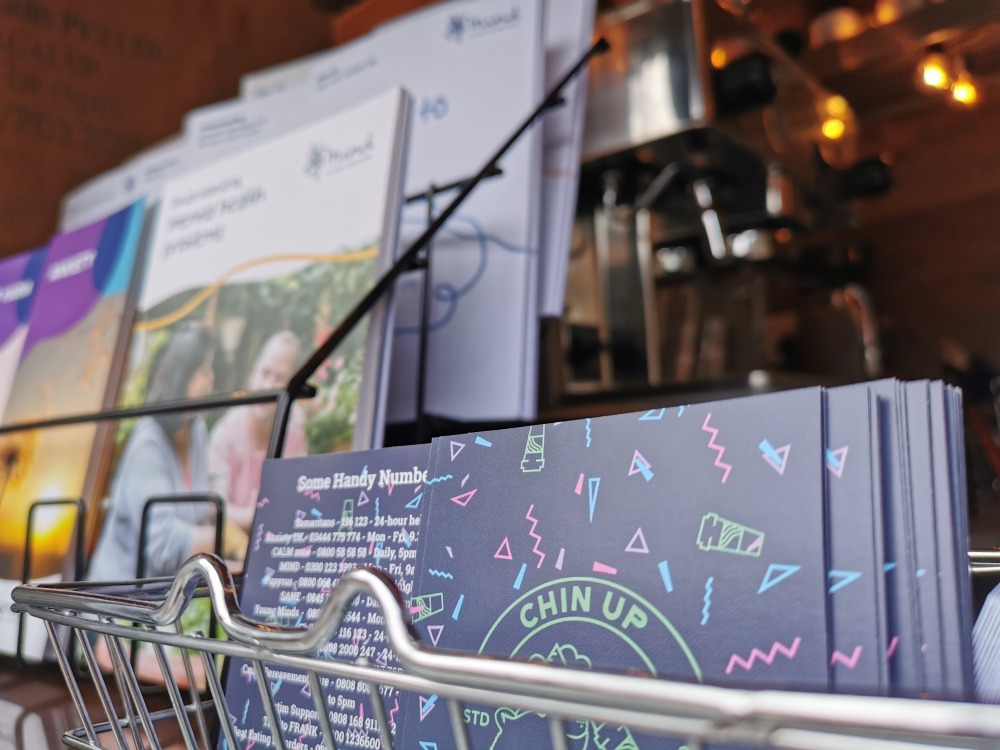 QUICK QUESTIONS
Your favourite Chin Up Coffee product?
Kombucha. I used to love Yakult and Kombucha is essentially a much more boujee version – but it's still good for your gut.
Where's your 'happy place' in the North East?
Good question! When I went through some struggles and began getting out more, I enjoyed jogging. When I jogged the most I lived by the Quayside and I'd jog from the Millennium Bridge to the Redheugh Bridge – so I'd say that's my happy place. You can see so much of the city from those bridges, and it shows just how diverse this area is.
Who inspires you?
There are so many mental health advocates that I aspire to, from social media stars to Prince Harry, but if I had to pick one it would be the stereotypical answer: my dad. Older generations tend to struggle more when it comes to talking about mental health but when I struggled with it, although he wouldn't talk so much about how he was feeling, he was always happy to talk to me about how I was feeling. He always listened and that openness to talk is one of the key things I take from him. He owned a bar for many years and watching him speak to regulars made me want to do the same thing.
What can we expect from you in the future?
We're currently trying to work on being as sustainable as possible, and to support local as much as possible. I'm looking forward to working with local charities and I hope to do more for the local community.
Find Chin Up Coffee pitched opposite Jesmond Metro Station (NE2 4RL) and keep an eye on their Instagram for opening times and updates instagram.com/chinupcoffee