Meet the Talented Colour-Blind Illustrator from Leeds and See his Vibrant Artwork
Colour-blind freelance illustrator Zac Rossiter is fascinated by faces, history and his environment
He shares some of his vibrant digital artwork, and his love for Yorkshire, with Living North.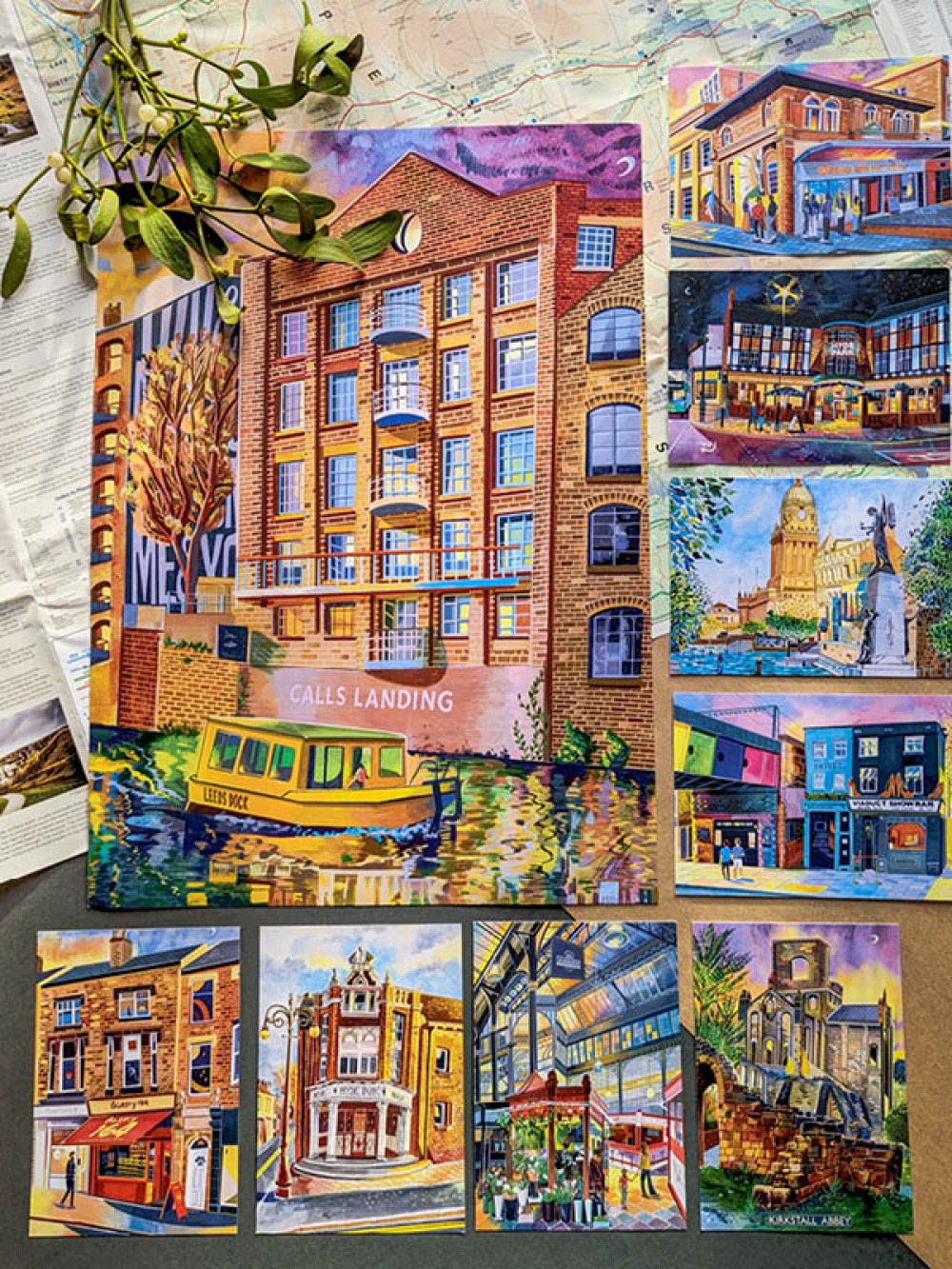 Tell me a bit about yourself and your background.
I'm 24 and live in Headingley, Leeds. I studied Illustration at Leeds Arts University and after graduating in 2020 during lockdown, I took the terrifying plunge into self-employment as I wanted to achieve something with my degree. I officially established my art business Zacrosso in September 2020 with the intention of making pictures of Leeds that would show people the worth of living here. It all started as a sort of visual diary of where I was walking when public transport wasn't available.

How did you get into art?
Creating artwork in some form has been my goal since my earliest memories and I'm lucky to have a family that supported it. My mum is a brilliant fused-glass artist who has always celebrated my work, and my older sister Victoria is a talented graphic designer who showed me how you can be creative for a living and the importance of taking yourself seriously as a maker. They have always been and remain the people I go to for advice and support.

What do you love most about what you do?
As a freelance illustrator, I love my independence. The most gratifying part of my job though is the reaction to my work from the people that live here. A lot of the places I've drawn are deeply important to people, but not tourist destinations you'd see on a gift shop postcard. I think taking the time to show how your local ordinary park or café is worthy of celebration makes people feel validated. Sometimes I also think people become bored of where they live and they take these lovely venues and green spaces for granted, so I love to help people to see the value of their home.
How would you describe the work you create?
My illustrations are a mixed-media combination of watercolour and iPad Procreate painting. Digital art is my favourite medium, but I like to paint with real watercolour and scan it into the mix to give a traditional feel to the pictures. This also helps ground the style in something an older generation can still admire and relate to. I tend to add little cartoonish figures to liven up pictures, enjoy the meeting of squiggly lines against geometric shapes and love twilight hours as a background colour scheme.

Who or what inspires you?
I'm fascinated by art history and styles. Reading and writing about Impressionism for university helped me understand how art could be accessible, very ordinary in subject matter and how best to engage with and make the most of all the beauty around you. Last summer I went to the David Hockney exhibition in Saltaire and was awestruck to see how such a well-established artist was using an iPad to create these gigantic and massively colourful paintings for a show. My studio space is now covered in Hockney postcards and I've been trying to incorporate more nature into my scenes ever since. More generally, I'm inspired every day by the places I go, the times of day, the feeling I get from a new place or the familiarity of my favourite coffee shop.
Does being colour-blind impact your work?
I have always been slightly green deficient colour-blind, so it is hard to say how it impacts my work as I have no comparison. I see some colours with a bit less intensity and tend to confuse neutral colours with brown and grey, so I love to make bright and bold colour choices so I know and can see what palette I'm working with.
What are your thoughts on the Yorkshire art scene?
It is amazing what Yorkshire has to offer the arts. The status quo for a lot of art students is that it's sensible to move to London as a creative, but I've never seen the necessity for this. Leeds in particular is full of independently-driven art markets, workshops, exhibitions, design opportunities, creative spaces and more. As a gay man I've also found there to be a really thriving LGBTQ+ community here that are driven to support and work with artists, like Angels of Freedom in Leeds, who work with local queer-owned businesses to organise craft fairs. I often feel like I picked the perfect city to live in to become an illustrator.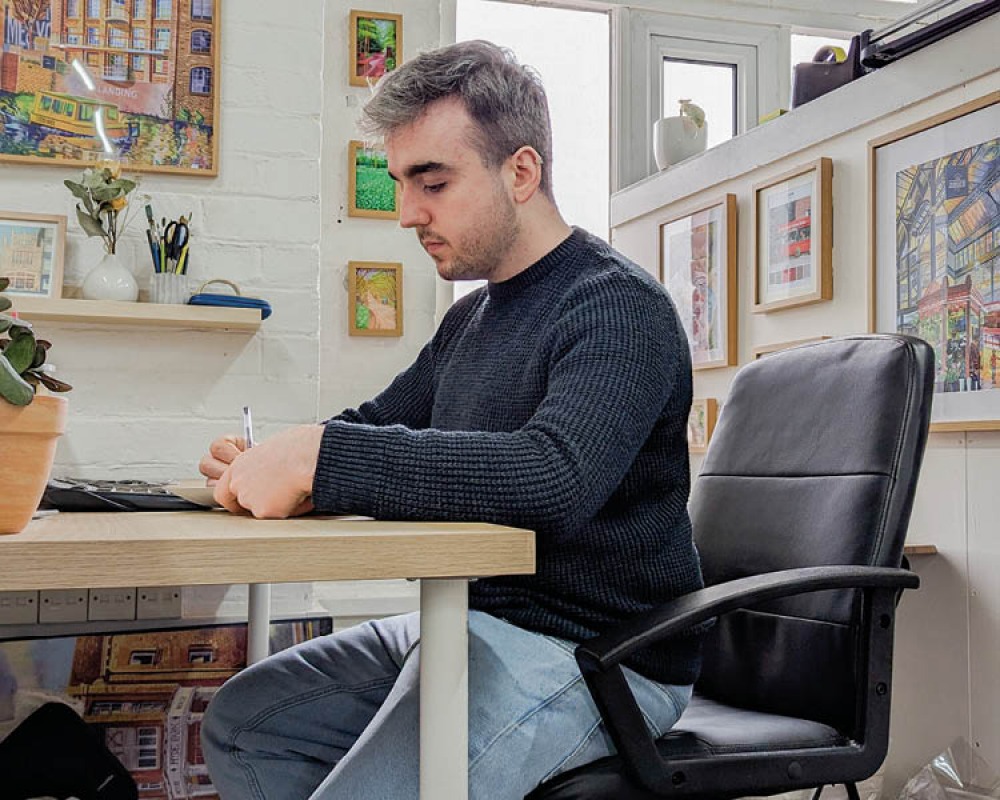 What are you currently working on?
Alongside an ongoing series of Manchester prints, I'm working on releasing a collection of notebooks featuring some of the most iconic Leeds landmarks like Hyde Park Picture House, Calls Landing and Kirkgate Market. I'm really excited to diversify what I can offer people going forward.

How important is sustainability to you?
As a seller I'm always conscious of excess packaging, unrecyclable materials and waste. It's definitely a difficult balance, but one company I work with is Print.Work in Leeds. The paper stock they use to reproduce my art is made from 100 percent de-inked post-consumer waste and is fully recyclable. I'm fortunate to be based in an art studio just over the road from them, so all my orders are collected in person and I often re-use their boxes for my own packaging. I'm far from perfect, but I like to think I'm slowly finding small eco-friendly efficiencies in my practice.
Your favourite place to walk in Yorkshire?
This is almost impossible to answer. It's a toss up between Meanwood Valley Trail in Leeds, Hardcastle Crags in Hebden Bridge or Ilkley Moor. I live 30 seconds from Skyrack Pub in Headingley and I quite like walking there too.
An item you couldn't live without.
Yorkshire Tea.

A podcast you recommend.
I'm loving Andy J. Pizza's Creative Pep Talk podcast at the moment. There's a lot of practical advice about navigating your life as a creator and it's full of prompts, stories and interviews to get you thinking about what you're looking to achieve. It's very life affirming.
'Leeds in particular is full of independently-driven art markets, workshops, exhibitions, design opportunities, creative spaces and more'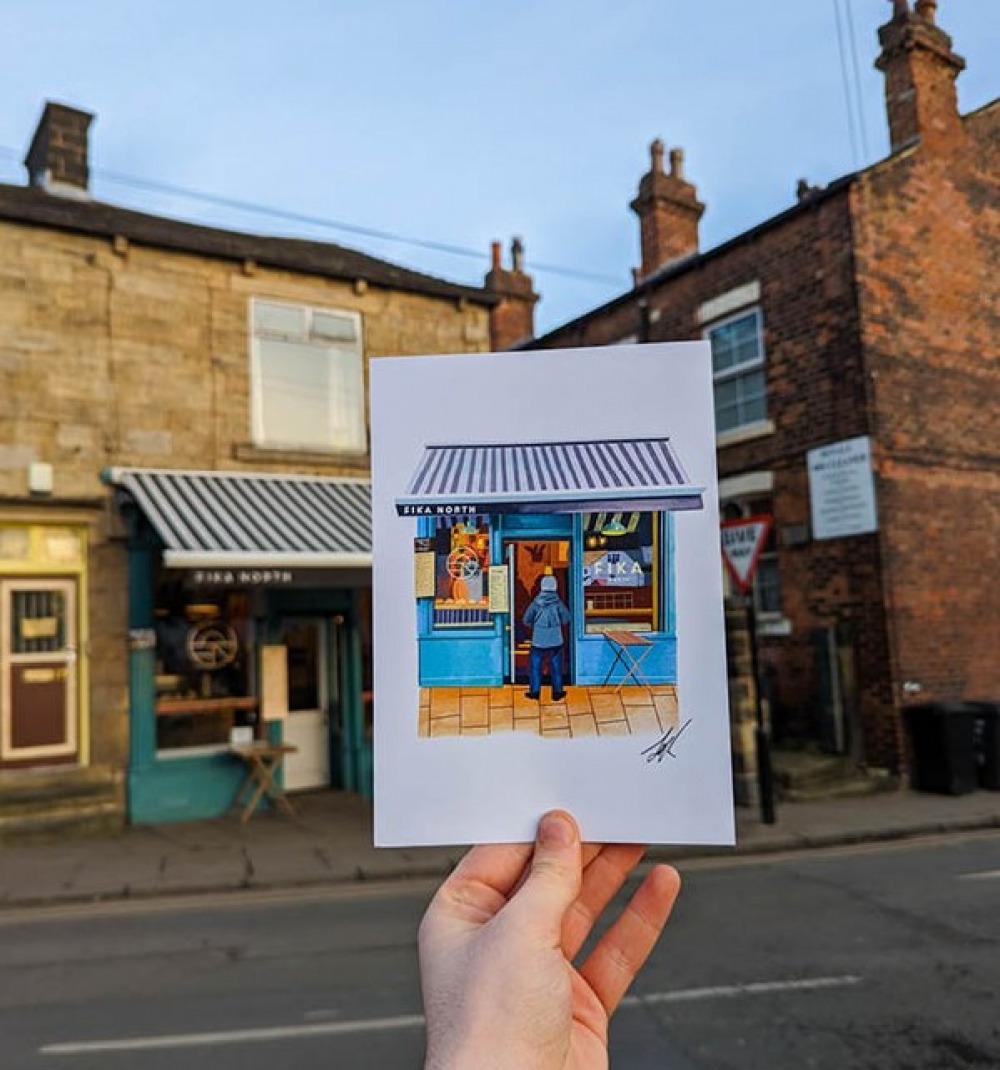 Advice you'd give your younger self.
I'd tell myself to get out a bit more. I was a pretty insular, computer-game addict kid who hated being dragged out or encouraged to go and explore. I was really into digital art and fantasy storytelling which fulfilled me a lot, but as an adult nothing beats the feeling of going out and exploring the real world, then taking those experiences back to my little studio.

Tell us about a hidden gem in Leeds.
The Victoria Arch in Queen's Wood by Beckett Park is one of my favourites. It was built in the middle of the forest to commemorate the visit of Queen Victoria to Leeds in 1858 but she never actually visited the structure. It's the sort of thing you would stumble on and be amazed by.
Your favourite place to eat and drink?
You can't go wrong with Kirkgate Market food hall for a cheap and cheerful lunch, Belgrave Music Hall and Hyde Park Book Club for a summer gin and tonic and Brudenell Social for a cosy pint in winter.

Plans and hopes for the future?
I'd love to say something grand, but I just want to make more artwork! I want practical things, to be exhibited more widely, stocked in more shops and to be popping up at more markets – eventually I'd love to hire someone to package prints for me. Truthfully though, I just want to capture more towns, cities and places of nature, and I want to keep showing people how special and unique their pubs, landmarks and café-bars really are. Sometimes I feel a bit like a preacher or an overly enthusiastic tourist guide when I illustrate to people why they should go somewhere. Making connections and learning more about the people and places I focus on is the driving force that gets me up every day. Fortunately for me I don't see that inspiration drying up.
See more of Zac's artwork at @zacrosso on instagram and buy prints at zacrosso.etsy.com
Our Arts Editor's Top Picks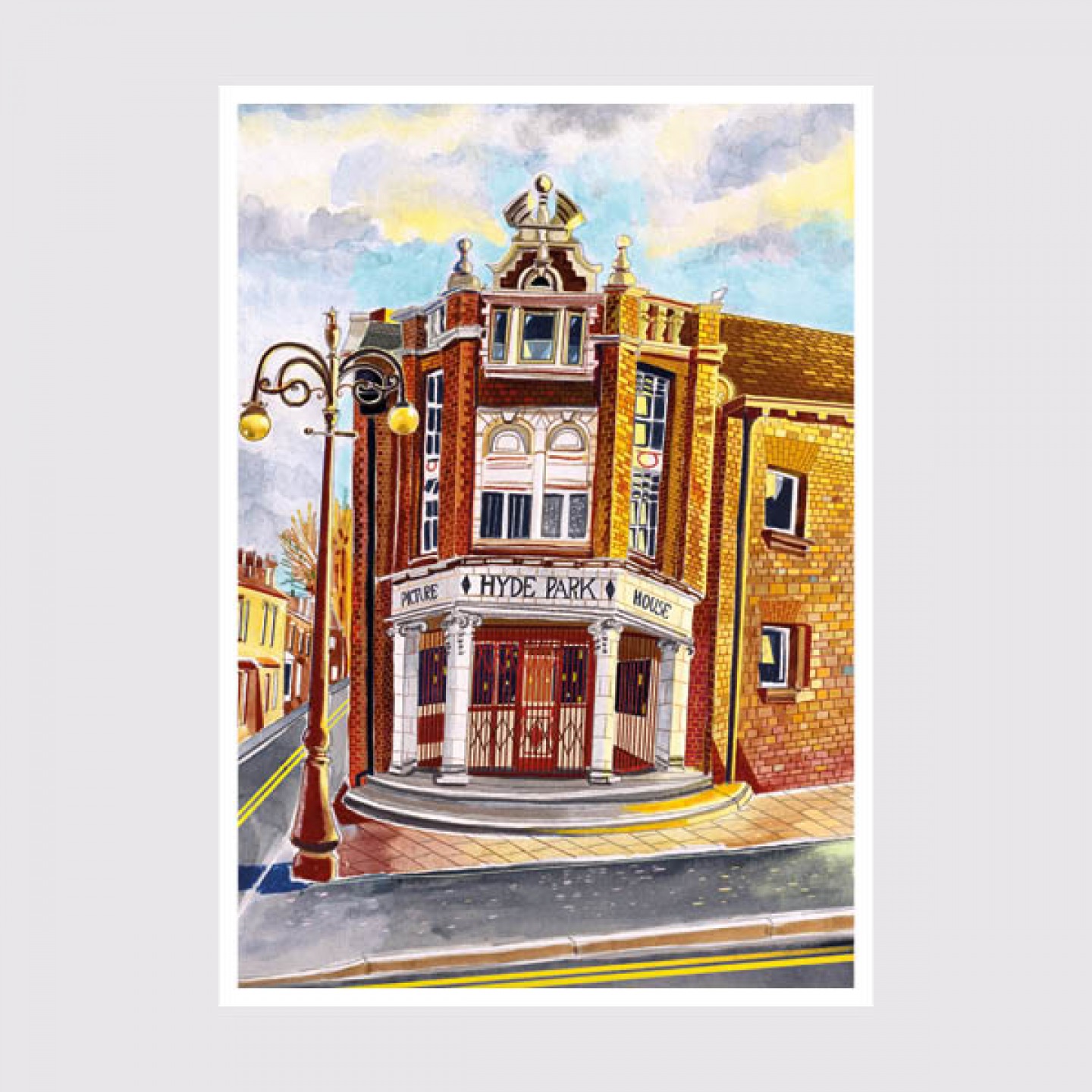 Hyde Park Picture House A2 print, £42.95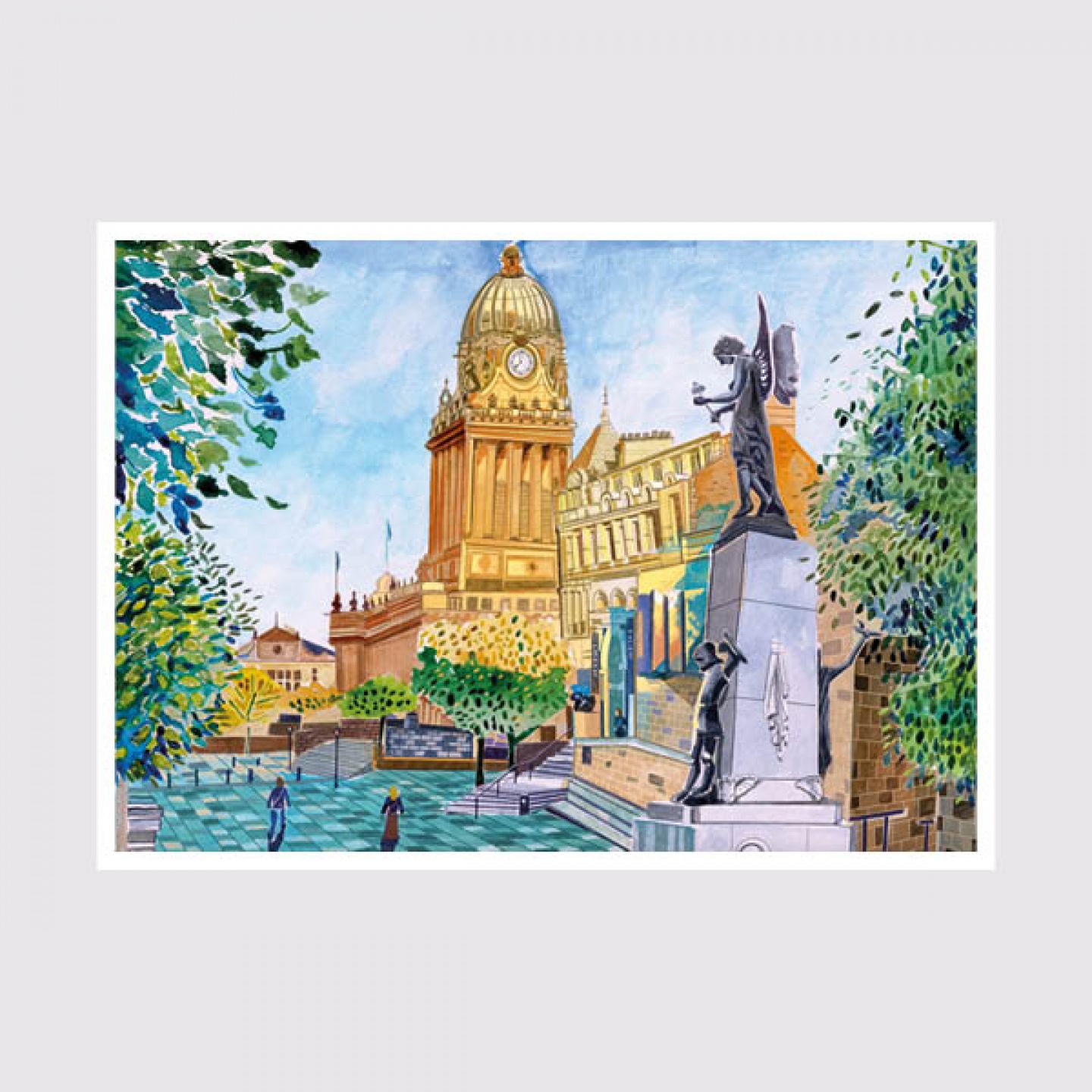 Leeds Town Hall & Leeds Art Gallery – The Headrow A2 painting, £42.95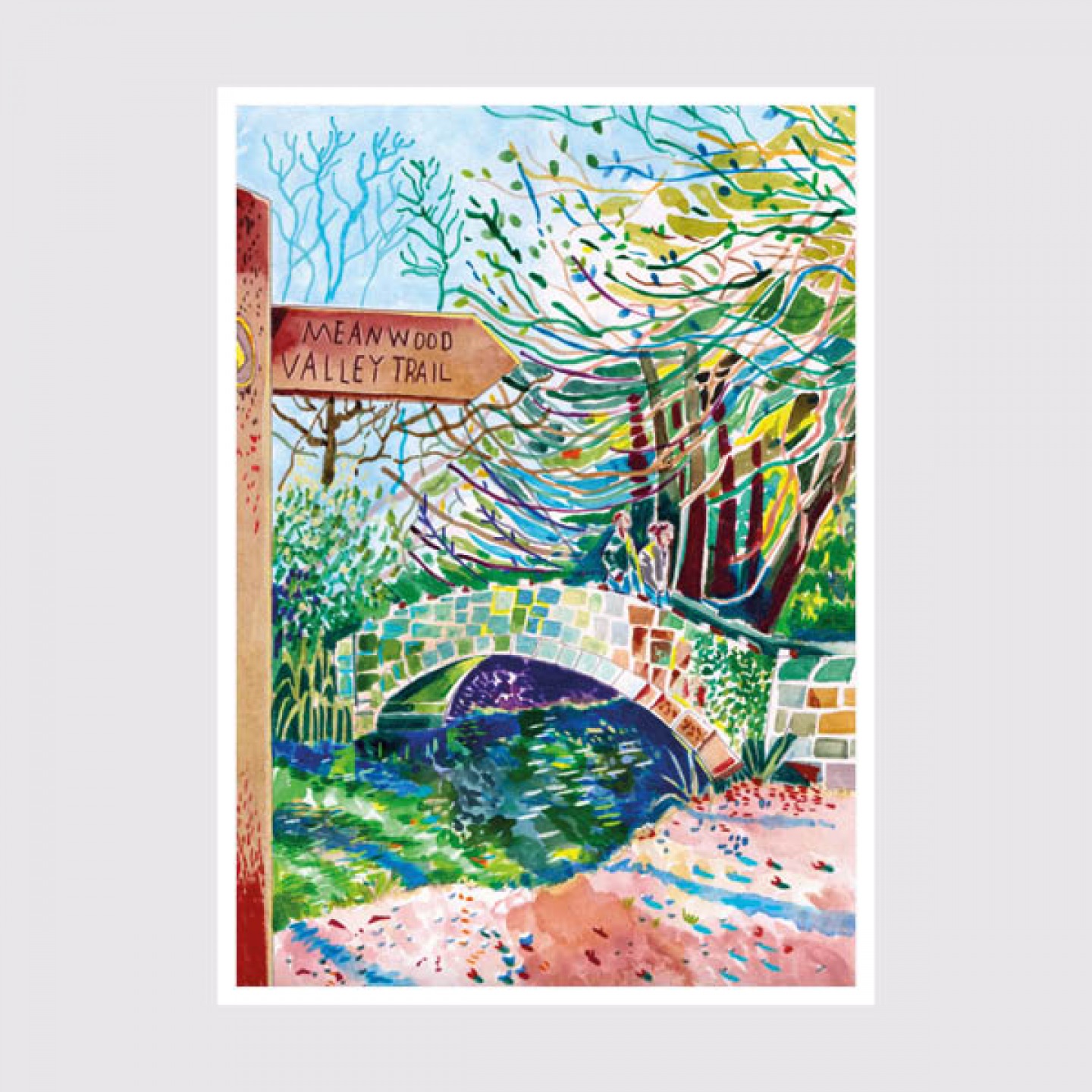 Meanwood Valley Trail A2 print, £42.95