Meet the Vanguards of Yorkshire Craft Beer – Brew York
Brew York's co-owner and brew guru Lee Grabham talks New York/Yorkshire craft beer fusion, the importance of fun, and the Northern fight back against macro-breweries
Brew York is known for their brilliant beery puns, their consistently high quality beer, and increasing dedication to the community they hail from. Inspired by their Yorkshire roots and hop-forward New York craft ale, we speak to owner Lee Grabham to see just what makes Brew York tick.
When you think of craft beer, what pops into your mind? That might depend on where you're from, or the experience you've had with 'real ale'. When people say 'California', they think Stone Brewing. If you say 'Wales', they might say Tiny Rebel. When it comes to Yorkshire, there's one brewery in particular that produces consistent yet complex craft brews with Yorkshire at their heart – Brew York.
Lee Grabham, Brew York's co-owner and beer enthusiast, spoke to us about how Brew York wears Northern pride on its sleeve, projecting their love for Yorkshire in inventive ways. This can be seen in the bedrock of Brew York's design, sporting a logo that perfectly reflects their York spin on American hop-forward ales.
'My business partner came up with the name Brew York. "Brew York" being a play on words between 'New York' and an American-fusion brewery in York – a clear reference to our love for American-style beers,' explains Lee. 'From the name, we developed the logo with help from United by Design. They created the perfect mix of American and Yorkshire-English. You've got American eagles synonymous with America, English lions synonymous with Yorkshire. Both animals are on their respective city crests too. The shape of the logo is a top hat, representing the classic English or New York gentleman, and if you look closely at the inner white section of the design you can see a skull – a loving call back to both cities' gothic heritage.'
Yorkshire pride runs deep in Lee's bones, something he transfuses into Brew York's beer in an attempt to show what the North can bring to the table against the big beer macro-breweries which have dominated the industry for so long (macro being an industry term for soulless automated brewery production, often distributing up to six million barrels a year internationally).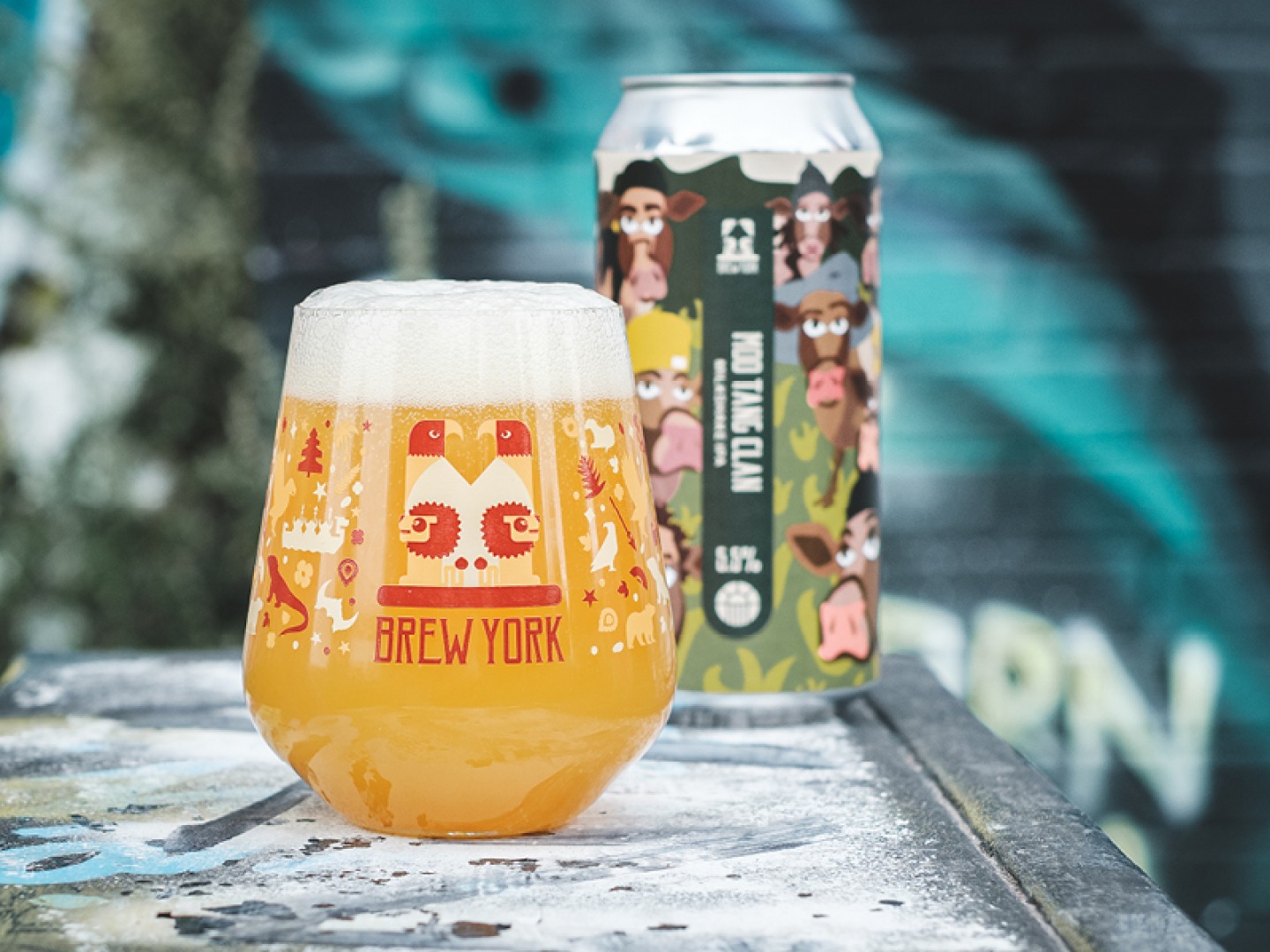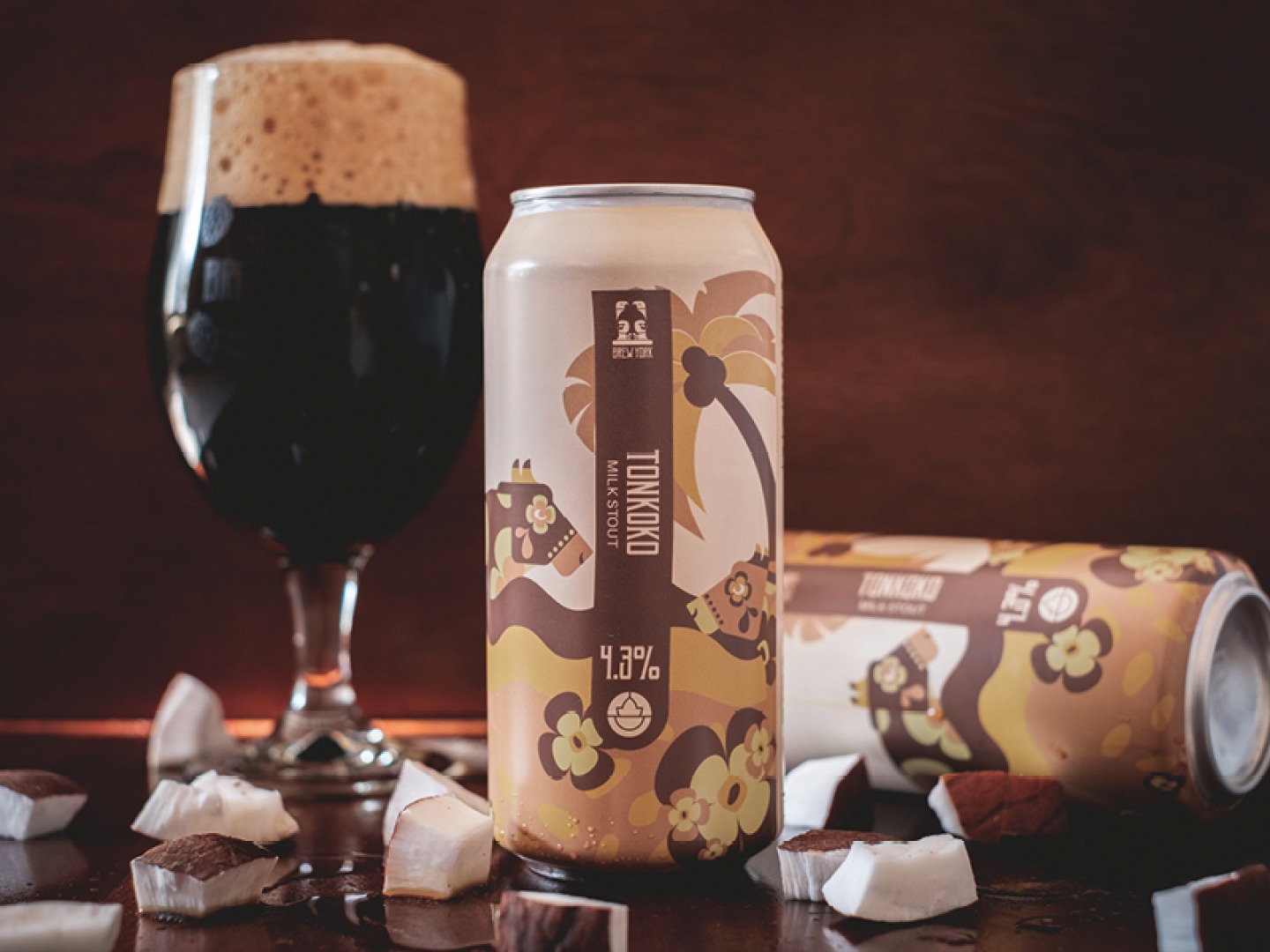 'Being a Northerner, a York boy born and bred, obviously I'm incredibly proud of my Northern heritage. So I'm even more pleased when it happens to be a Yorkshire brewery that is replacing that macro-beer at the bar,' Lee continues. 'And that's because our mantra is "Any pint of macro the North knocks off the bar, whether that's Brass Castle, or Brew York, or anyone, that's a genuine win for us all".'
That's the sticking point most people may be unaware of when it comes to craft beer – it's an industry which is friendly almost to a fault. Craft breweries (the best ones, anyway) are predominantly owned by inventors – home brewers-cum-brewhouse owners that care more about their passion for the product than fighting for the tightest margins. This may be why Yorkshire beer makes so much sense: the friendliness Yorkshire is synonymous with fits perfectly with this passion.
'Independent brewing is an incredibly collaborative industry. If you work in more corporate industries it will seem very unusual. Here we don't climb over each other to get to the top. We genuinely wish our neighbours up the road, doing the same thing as us, the greatest of success,' Lee says. 'We've always wanted to work hand-in-hand with other businesses. We do that already, but looking to the future we want to do much more. Recently, our head brewer Tom came up with this iced tea idea, Born Under Peaches Iced Tea Sour. He identified a local tea house he wanted to work with called Hebden Tea. He arranged samples, we did lovely taste tests and chose the Yorkshire tea we wanted in our Yorkshire brew. We've also worked with local football teams, we've worked with Chocolate Story – we're working with a local Yorkshire bakery on an up-coming pastry stout,' Lee goes on. 'In the near future we're working directly with the wider community through Women On Tap, which this year we're happy to say is hosted in Harrogate.'
Since its conception in 2016, Brew York has expanded rapidly to three impressive venues – one in York, one in Leeds, and a brand new taproom in Pocklington. This has been achieved not through carnivorous business strategy, but instead through doing what they find 'fun', making beer they want to drink, and letting the product speak for itself.
'Now that we are a more mature brewer in the industry, we have invested massively in technology that allows us to stay consistent, including equipment such as a centrifuge costing around £100,000 – allowing us to clarify our beer without the use of finings. That's the difference between being a home-brewer, being an entry in the craft market, and being a top player in the industry. Everything is quality, quality, quality,'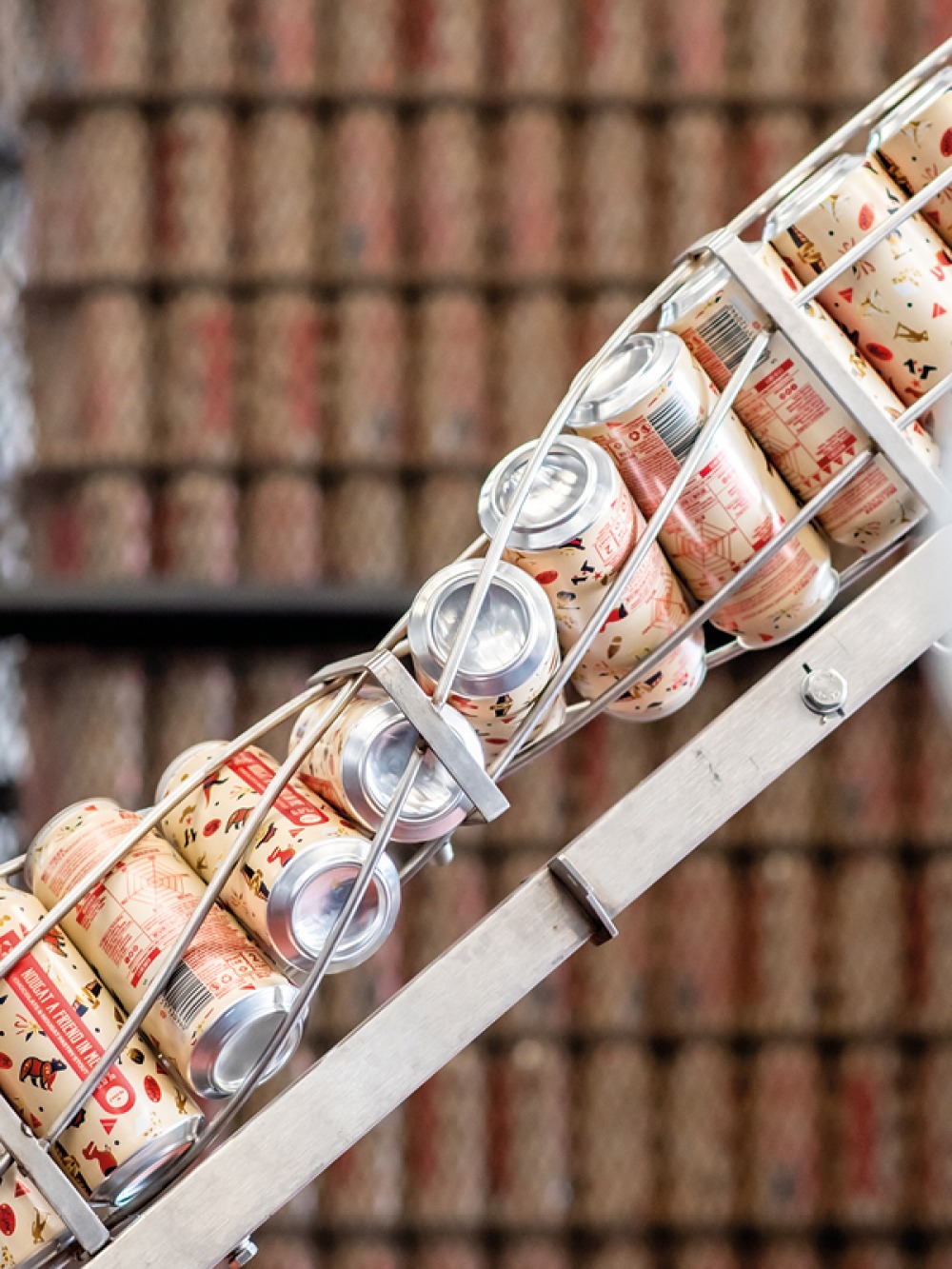 Lee explains, going on to reassure us that this doesn't conflict with Brew York's pursuit of happiness. 'However, the most important thing that allows us to stay fun is that we are still independently owned, we are the only owners. We aren't beholden to accountants, we have nobody telling us we have to squeeze a margin out of a particular beer – we are what we want to be. It would be easy to become another one of those breweries that gets that 3.5–4.5 percent pale ale and then that's all they ever do. From a financial perspective, fantastic. From a creative level, not fantastic,' he laughs. 'As brewers we don't want to do the same thing time after time, we aren't in this to be robots. We're here to have a vocation. It's not all about money.'
For Lee, an intrinsic part of being a proud Yorkshire brewery is providing an enjoyable and safe space for people to work, be creative and make their home. This includes sometimes making more human-minded than business-minded decisions, ensuring that what makes craft stays craft.
'We've just invested massively in a new brewhouse. We could've automated it, tightened our recipes, and just sat there at a computer screen letting it do it all for us – I would consider that to be soulless beer. If you don't have that human interaction controlling the beer from A to B to C, then that is no longer craft. That then just becomes macro, you're doing what they do on a smaller scale. I would never want to own a brewhouse that does that,' Lee explains. 'We have strong company values and one of those values is to stay innovative, but another one which is really important to us is simply the word "fun". We want our customers and employees to enjoy what it is we're doing. Everything from the brand and artwork, to how we make our beer – fun is hugely important. You spend more time at work than you do asleep, so you need to enjoy your time whilst you're there. We do everything we can to encourage that,' he explains. 'We've just finished installing a fantastic new staffroom recently, a new bar and even a pool table (although that might be a little bit self-serving, I also definitely use it!). We just want people to be happy.'
The future is bright for Brew York, continuing to leave their stamp on the industry through leading by Northern example. Following their mantra of authentic craft beer that remembers the fun, Brew York are preparing for their sixth birthday party on 8th April in their new venue, looking forward to working with more local businesses, and continuing to set the standard for complex beer made with Yorkshire heart.
'All we want is to keep making great beer to put in as many hands as possible – to be bigger, get better, and keep having fun.'