Meet the maker Behind Twig & Wild
If you were in Leeds' John Lewis in June and saw crowds of people standing around a pop-up shop, and were unsure what they were all getting so excited about, you should've joined them
If you had, you would've found Twig & Wild, a handmade childrenswear brand that recorded the second highest sales in the whole country over the Great British Pop-Ups that week. We speak toTwig & Wild owner, Charlotte Davison, to see how what was once a simple hobby became a thriving business.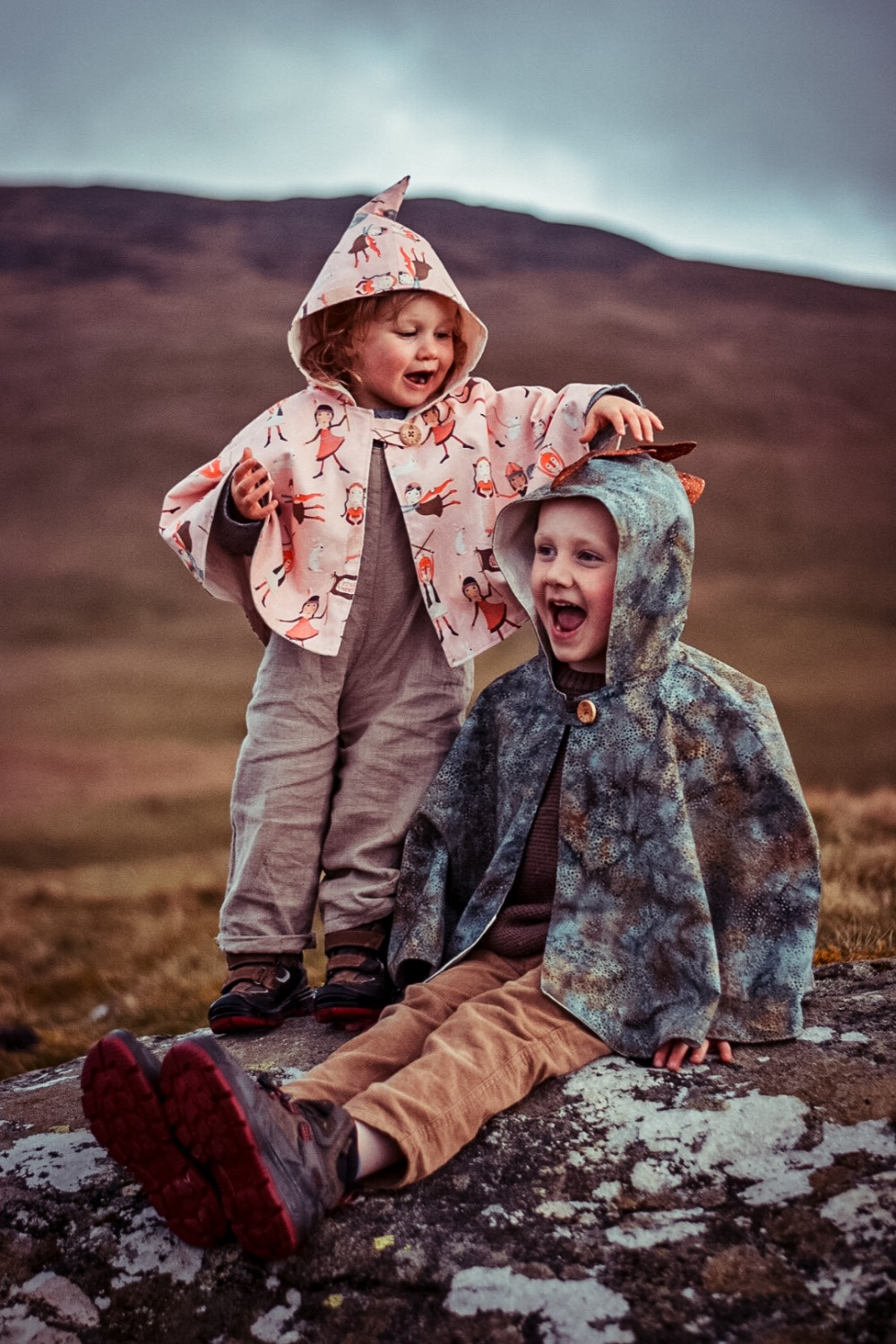 Blissfully unaware of what was around the corner, in November 2019 Charlotte Davison left the safety net of a full-time job and went self employed as a freelance graphic designer. Alongside her freelancing, she founded Twig & Wild as a creative outlet for herself. Self-employment was going well – and then the pandemic hit. Luckily her husband was able to work from home to give the family an income, so Charlotte became full-time entertainer for a pre-schooler.
To satisfy her daughter's love for fancy dress, Charlotte used her creative flair to create then three-year-old Isla a pixie-style cape for their daily walks in the woods. Friends loved her design so much, they asked if she could make them one too. Fast forward a year, and by the end of 2020 she had her own webshop and was getting regular sales. Now she has had her range debut in a nationwide department store too.
'I'm so grateful for all the support that people have shown to the business in its founding year. Every like, share and comment online means so much. People send me photographs, and seeing my items used in the way they were designed brings me so much joy!'
Not only was Isla the inspiration for the clothing range, she plays a big part in the designs too. 'She's my little product tester,' Charlotte admits. 'When I create a new pattern I base it on her and then I'll scale it up or down to do the other sizes. So all my designs started at age three, and then expand in either direction.'
'For Charlotte, the most important thing when making clothing for kids is to make it fun and comfortable'
But she's also a tester also in terms of the garment's features. For example, Twig & Wild's dragon capes, featuring a hood, tail and dino-spikes, are each unique with hand dyed fabrics and no pattern repeating. Yet their most special element was designed by a four-year-old. 'Isla came up to me and said "Mummy I want to be able to flap my wings, you need to put something on the corner," and I just thought, that is a brilliant idea. So now, in the corners, down the front seam, there are little pockets for the children to slip their hands into to move their wings, and that's all because of her. She really is my little co-designer,' Charlotte explains.
Yorkshire's landscapes are another big inspiration for this local business. One of their tea towels design features a bothy, which is based on a real one up on the moors near their home in Kirkby Malzeard. Charlotte hand-painted the little building in watercolour, scanned it onto the computer to create the pattern, printed this onto fabric and then sewed the fabric into items. In the same process, another illustration was inspired by their own backyard – together the mother-daughter-duo picked leaves and flowers from their own garden, hammered them into a piece of fabric and once again scanned that to create a pattern.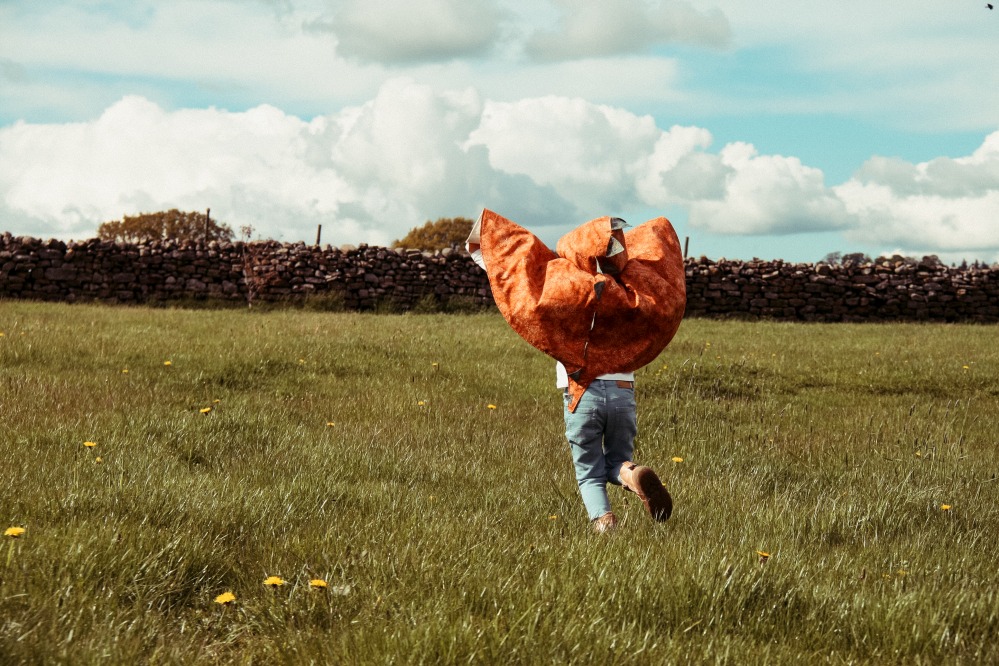 With pieces for between newborn and six years old, Charlotte makes her designs with her audience in mind. For her, the most important thing when making clothing for kids is to make it fun and comfortable, so that they actually want to wear it.
Twig & Wild's dungarees are a great example of how making comfortable clothing is considered in the design process. Cut higher on the side, they can be worn without a T-shirt in summer, while double thickness to the body means all seams on the trunk are concealed for extra comfort. And it seems her customers love these little touches. 'I often find that people report back that my dungarees with the muslin gauze fabric are so comfy their kids don't want to take them off at the end of the day, and ask can they go to bed in them.'
For the fun side, Charlotte believes imaginative play makes for a magical childhood and this is therefore a big part of her brand. It's all about getting kids outdoors, playing and imagining that they're in their own little magical world. 'Children who are really into fairies get the dungarees and then can imagine that they're one of the fairies in the woods, the same with the pixie capes and the bonnets. Or with the dinosaur capes, they imagine that they are a dinosaur and when they're in the woods can imagine they see other dinosaurs around them,' she explains.
Sustainability is another important part of the Twig & Wild brand, and Charlotte is working hard to make her business as environmentally friendly as possible. She has recently developed an Organic Label which guarantees each item is made using sustainable and biodegradable Tencel thread, which is produced from wood pulp from eucalyptus trees which are grown on land unsuitable for other crops – it also has slightly more stretch than organic cotton, so adds more longevity to the garments.
Swing tag washing instructions are then printed on 100 percent recycled uncoated card tied on with hessian string, while packaging labels are made from 100 percent biodegradable sugar cane Bagasse. Even the buttons are wooden, so Charlotte says in theory if you were to bury the whole item underground it would completely disappear over time. The business also uses a green electricity provider and a ground source heat pump for heating, to ensure production is sustainable too.
Charlotte hopes in the future she can do even more to keep her business green. 'I hope to expand more into organic where I can. If I can get organic fabrics that I can print on I will, but it's just not available in certain cases, some designs you can only get made on normal cottons.
'I also want to source my fabrics locally or from the UK. Even if I buy from a supplier in Bradford or Lancaster, some of the fabrics are still being imported. So, if I can get it made in the UK then I'd much rather go down that route. It's kind of a continual upgrade.'
In the future Charlotte would also like to sell her range in more places. 'I would like to be able to be stocked in some local shops to get my brand out there a bit more, then a few more pop-ups, and perhaps go to some of the shows around,' she continues. 'Just slowly but surely expand.' She may also be designing a Christmas collection for another pop-up shop in John Lewis (if she can fit it around Isla starting school in September) so watch this space.