The Monkey Puzzle Tree Wins Design Guild Mark Award
We spoke to the founder of Leeds-based interiors brand The Monkey Puzzle Tree about winning the prestigious wallpaper award
They have been awarded a Design Guild Mark for its Hit The North cork wallpaper design.
The Monkey Puzzle Tree has been awarded a Design Guild Mark for its Hit The North cork wallpaper design. The annual award aims to recognise excellence in the furnishing industry and raise the profile of British design and innovation. Hit The North was one of four recipients to receive the award for 2020/2021 in the 'Textiles, Wall Coverings, Surfaces, Carpets & Floor Coverings' category.
'I was over the moon to be awarded a Design Guild Mark for Hit The North,' says Charlotte Raffo, founder of The Monkey Puzzle Tree. 'It's wonderful to to get this kind of recognition and to build awareness of our beautiful textiles and wallcoverings. As a new Northern creative brand trying to do things a bit differently, it's brilliant to be recognised by such a well regarded, well-established design institution.'
When Charlotte founded The Monkey Puzzle Tree in 2017, her mission was to combine her background in textile manufacturing with her love of the unique design scene in and around her home town of Leeds. The Monkey Puzzle Tree has gained a cult following amongst interior designers and home owners who enjoy both the function and aesthetics of these highly individual fabrics and wallpapers.
Hit The North is a large-scale wallpaper referencing Modernism and the industrial North. When it came to commissioning the design, The Monkey Puzzle Tree turned to local Yorkshire artist Drew Millward. Best known for his psychedelic poster designs for rock bands such as Foo Fighters and Arctic Monkeys, Drew's Modernist sensibilities were a good fit for a wallpaper design intended to celebrate the creativity and industry of the North of England.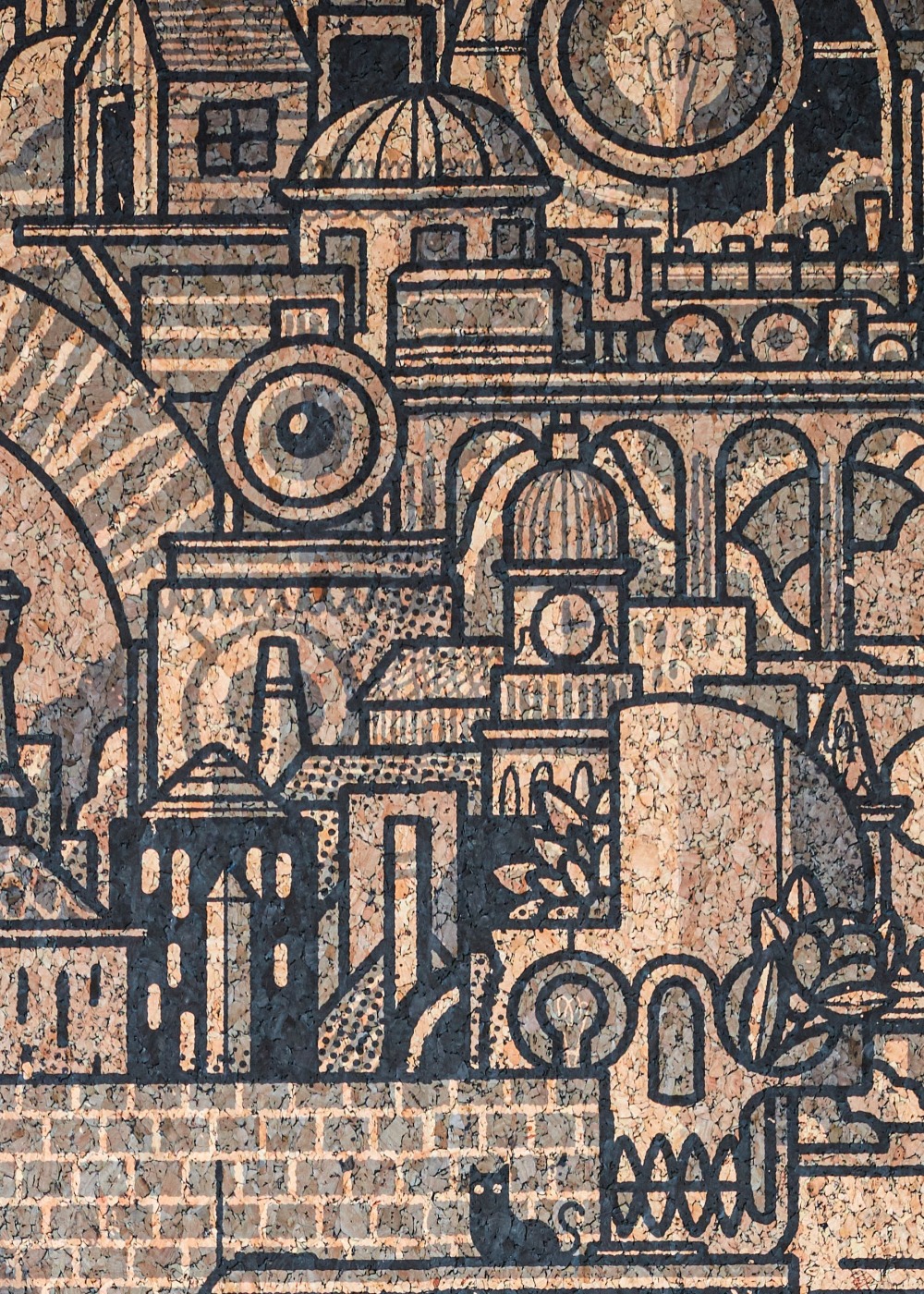 'Drew's aesthetic is very much wedded to the North, so I felt his work would translate brilliantly for this project,' explains Charlotte. 'I wanted to create a wallpaper design featuring local industrial buildings as a celebration of the North of England. And I decided to use cork because, not only is it a good fit with Drew's Mid-Century illustrative style, it's also such a beautiful and sustainable material.'
Natural cork is the ultimate in sustainable materials. Sustainable cork was sourced from protected forests in Portugal and then bonded to FSC certified paper. Combined with Drew's work, the result is a bold, monochromatic design featuring industrial buildings, Yorkshire hillsides and circular, sun-like motifs influenced by the designs of the Modernist era. Drew's trademark skulls, black cats and owls (the symbol for Leeds) can also be spotted lurking within the design.
Although the design itself is monochrome, the wallpaper has incredible warmth and a wonderfully tactile quality thanks to the naturally-occurring colouring of the cork. Recent installations featuring 'Hit The North' have included a music room (the cork has great acoustic qualities) a games room, and the walls and vaulted ceiling of a basement powder room.
Drew's work is heavily influenced by both the industrial and natural worlds. 'I was really excited by the idea of working with The Monkey Puzzle Tree on this design,' he says. He was brought up in Bolton and now lives in the West Yorkshire village of Steeton, near Keighley. 'I'm massively influenced by the landscape I see around me every day – the hills, crumbling factories and mill buildings of the post-industrial North. I realise I have a distinctive style and it's not for everyone, so I needed to create something that would work in a home. Mid-Century modernism is a big reference point for me, so I pictured a wallpaper design that would sit alongside teak furniture and a nice Eames chair.
'I was really chuffed to receive the Design Guild Mark for Hit The North,' Drew continues. 'I'm the least competitive person I know, and I don't think I've ever won an award before! Art isn't a competition, but it's still a wonderful opportunity to highlight the work The Monkey Puzzle Tree is doing with Northern artists.'
Committed to sustainable and ethical business practices, The Monkey Puzzle Tree recently signed up to the interior design industry's 'Design for Diversity' pledge to help attract more ethnically diverse artists. Two new designs are currently in the pipeline thanks to The Monkey Puzzle Tree's latest signings – Yorkshire artists Josephine McYebuah and Saima Kaur. Josephine's new art deco-inspired wallpaper will feature a variety of African animals, while Saima's innovative fabric will capture her quirky embroidery style.
The Monkey Puzzle Tree its Hit The North cork wallpaper design were announced winner of a Design Guild Mark Award in June 2021. Visit designguildmark.org.uk more information on the award.
'Hit the North' real cork wallpaper, £192 per metre themonkeypuzzletree.com