North East Pubs, Inns and Restaurants With Rooms
A delicious meal, good wine and a place to rest your head, what more could you want?
Here are our top picks.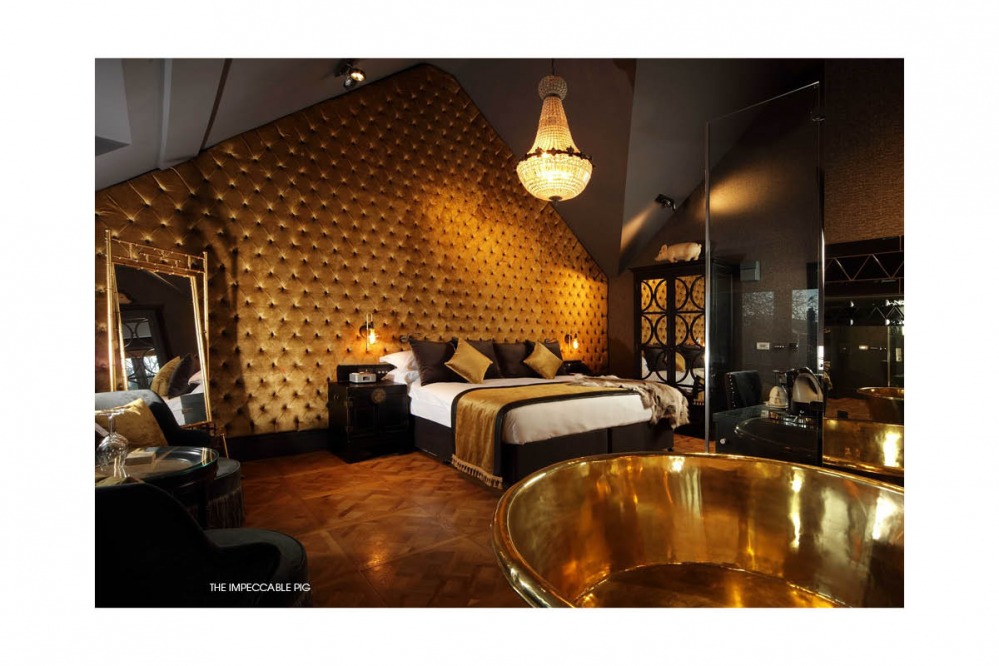 THE IMPECCABLE PIG
In brief: 10 luxurious bedrooms and a bistro-style restaurant in the heart of Sedgefield.
Our highlight: The Cochon D'or bedroom – complete with seven-feet wide bed and a free-standing round brass bathtub. Insider guide: Rooms here are decorated with individual touches such as hanging foliage, golden tiles and plush velvet interiors. Whether you're looking for a romantic getaway or just somewhere to escape the everyday, The Impeccable Pig is the perfect place to rest your head. If you can pull yourself away from the stunning bedrooms, head to the restaurant which has been designed with stylish rich green and gold tones to create a warm and relaxing atmosphere. Sunday lunches here are amongst the best in the North East, while the midweek à la carte menu offers everything from Plancha grilled halibut and king prawns to wagyu burgers and ricotta baked gnocchi.
Front Street, Sedgefield TS21 3AT
01740 582580
impeccablepig.co.uk
THE KINGSLODGE INN
In brief: A welcoming inn in Durham's city centre.
Our highlight: The peaceful setting.
Insider guide: A great alternative to the usual type of city centre accommodation, this characterful inn has a number of well-appointed ensuite bedrooms, all with super-comfortable beds. Close to the station and within walking distance of the historic sites, the inn enjoys a tranquil setting ensuring you can make the most of your visit to this busy university city. Food is served all day here, starting with delicious breakfasts which will get you ready for the day, through lightbites and lunches to dinner from the seasonal menus.
Waddington Street, Flass Vale, Durham DH1 4BG
0191 370 9977
inncollectiongroup.com
BAMBURGH CASTLE INN
In brief: A seaside inn with bistro-style cooking.
Our highlight: Enjoying a tipple or two in the beer garden overlooking the sea.
Insider guide: This inn boasts beautiful views across the Northumberland coast towards the Farne Islands and the magnificent Bamburgh Castle. Stretches of long sandy beach are a stone's throw away, and after a day at the beach you can relax and recharge in one of their ensuite bedrooms with amazing sea views, enjoy a pint in the cosy bar or delicious seasonal dishes from the busy kitchen, which makes the most of local suppliers.
Seahouses NE68 7SQ
01665 720283
inncollectiongroup.com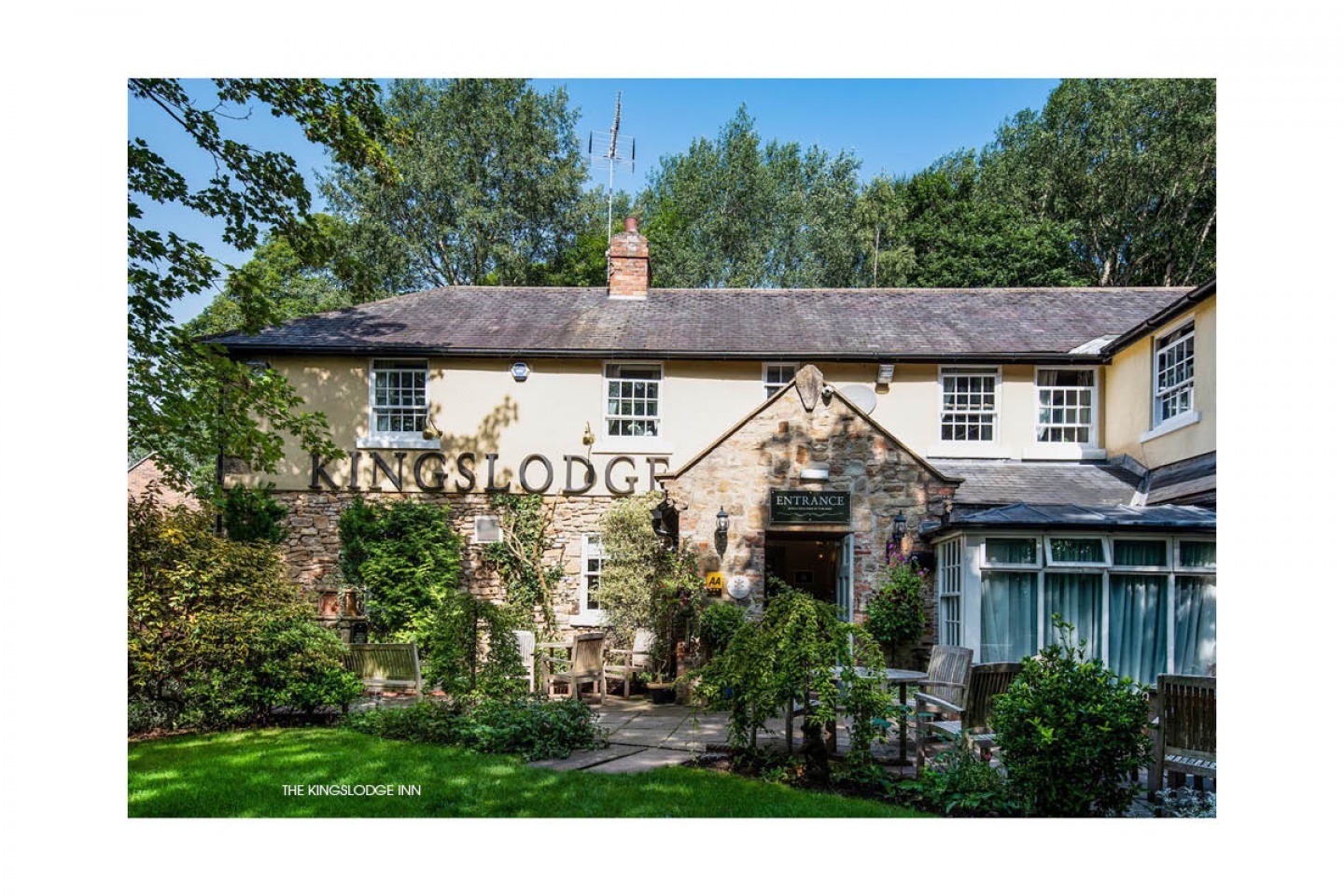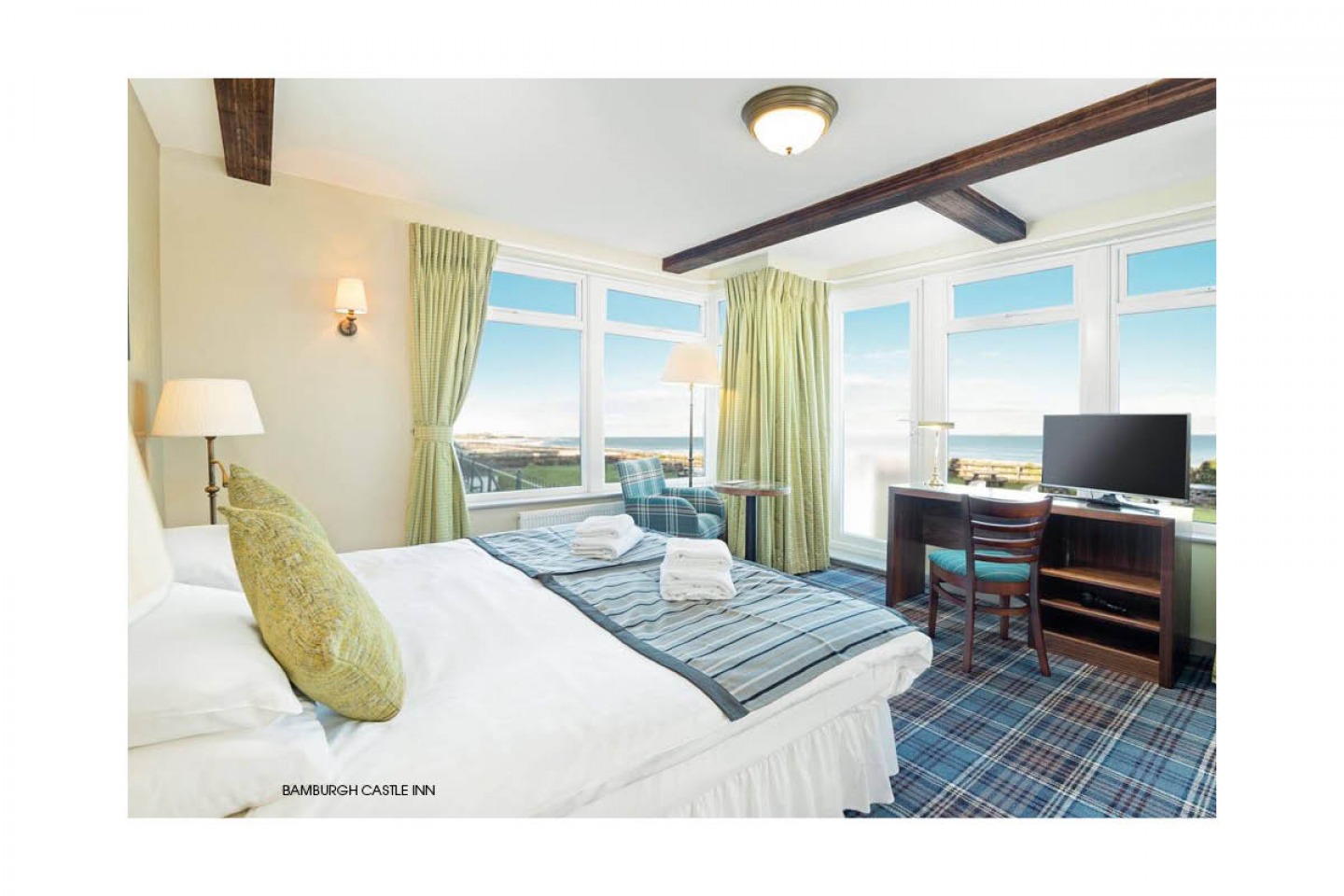 WHITE SWAN INN
In brief: A hidden gem in the small village of Warenford.
Our highlight: This is homemade heaven – we love their breads, preserves and desserts.
Insider guide: Expect warm hospitality, great food, fine wines, real ales and, most of all, a peaceful night's sleep here – and enjoy bed and breakfast when you stay in one of their three stylish ensuite rooms. From pigeon and smoked duck to salmon and haddock, there are plenty of unique dishes to try, and a dedicated children's menu too.
Warenford, Belford NE70 7HY
01668 213453
THE PICKLED PARSON OF SEDGEFIELD
In brief: A modern British pub offering stylish dining and a great place to stay.
Our highlight: The Sunday roast with all the trimmings.
Insider guide: Alongside all of the comfort-food pub classics with a twist, The Pickled Parson has menus catering for all, and sampling their extensive menu of craft beers, interesting wines and and a variety of cocktails is a must. The nine rooms here boast luxury and contemporary style, with many overlooking the green at the rear of the pub, while some offer views of nearby St Edmund's Church.
1 The Square, Sedgefield, Stockton TS21 2AB
01740 213131
thepickledparson.co.uk
THE RABY HUNT
In brief: A two Michelin-starred restaurant with two ensuite bedrooms.
Our highlight: Need we say it? The 15-course tasting menu is outstanding and innovative in equal measures.
Insider guide: Dining here should be on every true foodie's bucket list. Chef James Close is hailed as 'a food visionary' and his menus celebrate the wealth of fresh, local produce in the North East. After an evening of indulgence, rest your sleepy head in one of The Raby Hunt's well-appointed ensuite bedrooms; come morning, you can explore all that this quiet corner of the world has to offer.
Summerhouse, near Darlington DL2 3UD
01325 374237
rabyhuntrestaurant.co.uk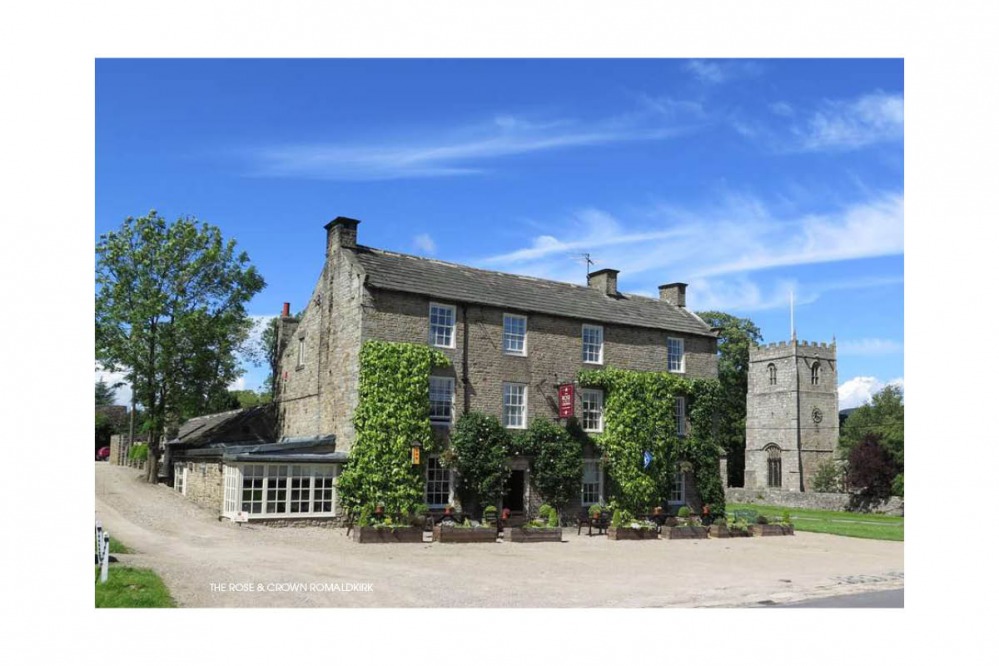 THE ROSE & CROWN ROMALDKIRK
In brief: A welcoming 18th century coaching inn where the Durham and Yorkshire Dales meet.
Our highlight: Head Chef Dave Hunter's fabulous dishes, created using local produce.
Insider guide: Comfortable, relaxing and luxurious – those are just a few of the ways to describe the 14 rooms at The Rose & Crown, which combine period character with boutique country design. From sandwiches and light bites to the à la carte menu and traditional roasts, there's plenty to indulge in at their restaurant – and your four-legged friends are welcome in the bar here too. There's even a dog 'hall of fame' for all the paws that have made their mark here.
Barnard Castle DL12 9EB
01833 650213
rose-and-crown.co.uk
THE NORTHUMBERLAND ARMS
In brief: A homely pub and five-star inn in the village of Felton.
Our highlight: Its fascinating history – The Northumberland Arms was built in the 1820s by Hugh Percy, 3rd Duke of Northumberland, as a coaching inn.
Insider guide: Dig into the locally-sourced food served daily in the bar, as well as the restaurant and River Room Conservatory, cooked to perfection by their AA Rosette and Michelin-experienced chefs. The ensuite boutique rooms capture the feeling of Northumberland with a muted, countrified colour palette of greens, mauves and purples. They're individually named to reflect local landmarks including Brainshaugh Priory – expect Travertine tiling and freestanding couture Victoria and Albert baths in some of the rooms.
The Peth, West Thirston NE65 9EE
01670 787370
northumberlandarms-felton.co.uk
SOUTH CAUSEY INN
In brief: Luxurious (and quirky) accommodation and great food in the beautiful Beamish Valley.
Our highlight: There are so many stand-out features here, but you've got to love the 1960s double decker bus, now a one-of-a- kind bedroom with vintage decor and its own outdoor hot tub.
Insider guide: Mid-way between Durham and Newcastle, this is a fabulous place for a breakaway, whether you're looking for a little romance or want to spend time with the family. The range of accommodation includes the two-storey Hot Tub Houses with a split-level sleeping area and three bathrooms, the Farmhouse Guest ensuite bedroom with glorious views over Beamish Valley, or the New England coastal-inspired suites, and of course, the bus. Tuck into a hearty breakfast by the log fires in the cosy snug area or enjoy a delicious afternoon tea served on a miniature picnic table with a glass of fizz in hand.
Beamish Burn Road, Stanley DH9 0LS
01207 235 555
southcausey.co.uk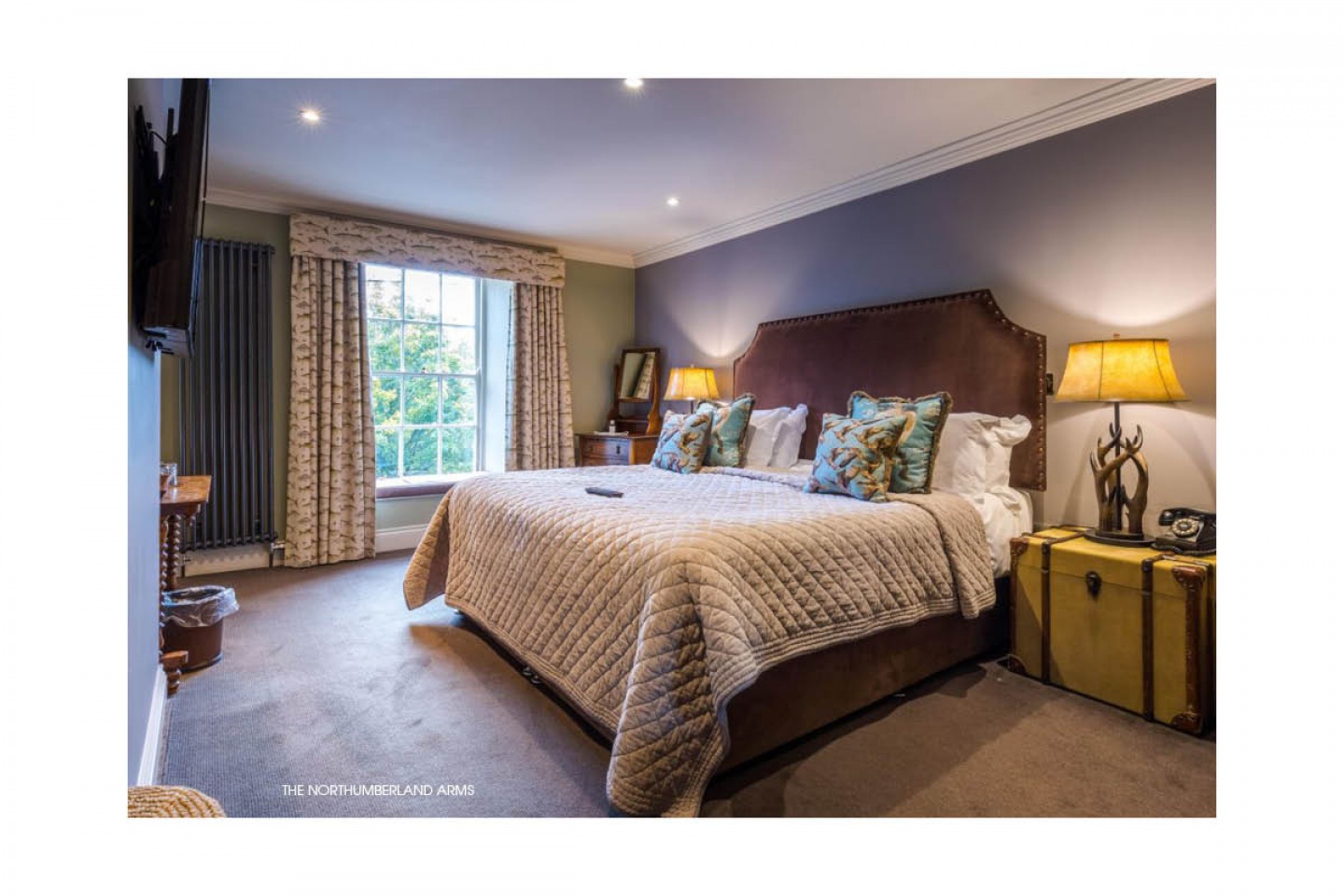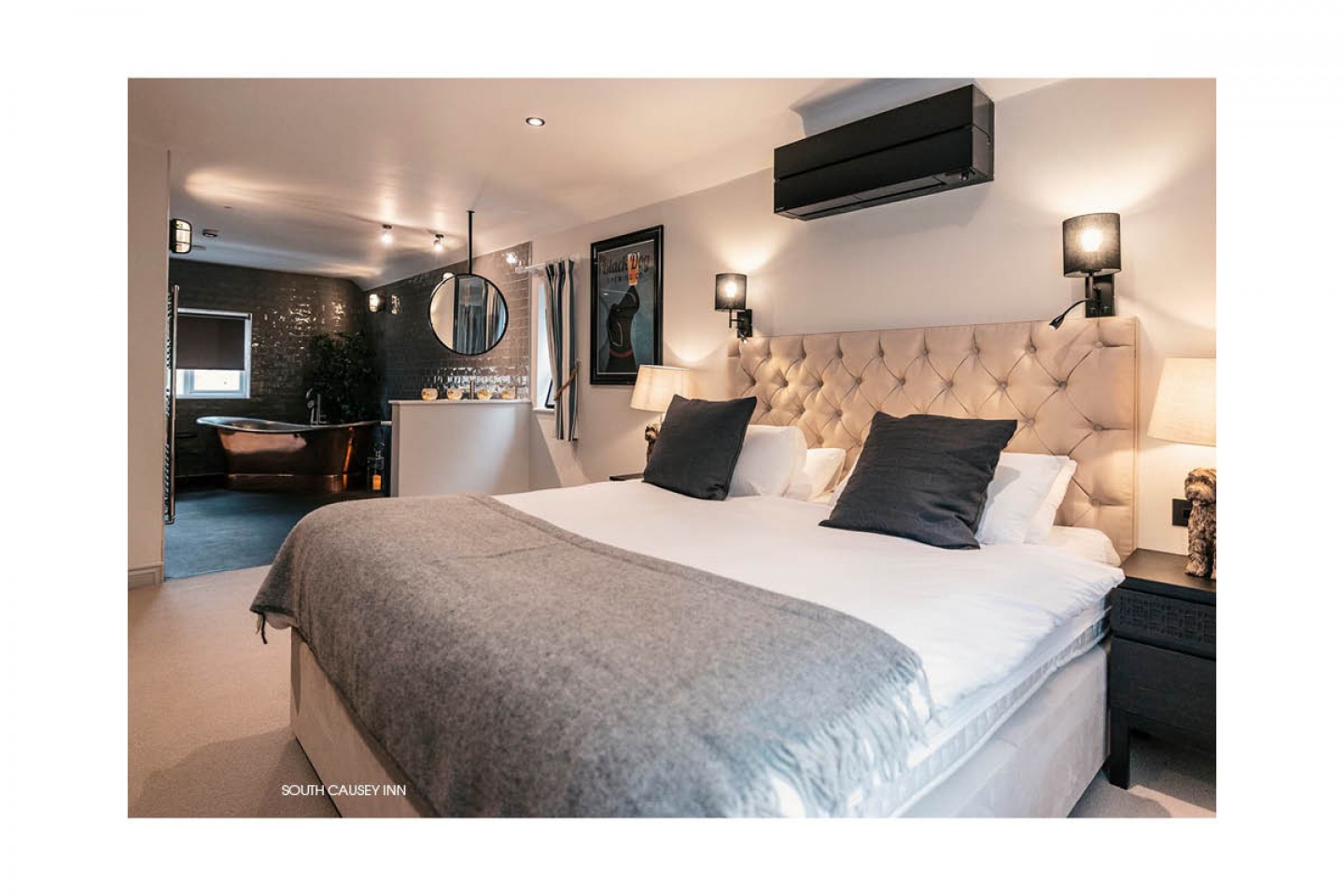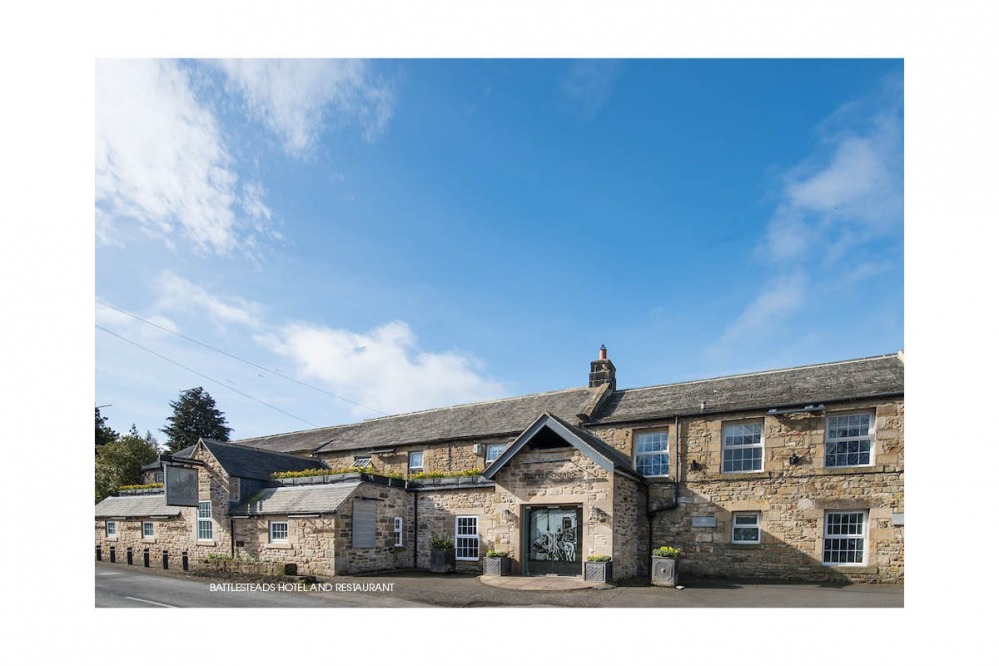 BATTLESTEADS HOTEL AND RESTAURANT
In brief: A pub, hotel and restaurant nestled in the picturesque village of Wark.
Our highlight: The eight-course tasting menu (and the on-site observatory).
Insider guide: This award-wining hotel and restaurant is big on going green – they even won the title of the greenest hotel in Northumberland. In the kitchen the focus is on sourcing fresh, seasonal and local produce to reduce their food miles, as well as growing their own ingredients in their on-site kitchen garden. Choose to enjoy a five- or eight- course taster experience or try something from the dinner menu – seared lambs liver, homemade fish pie and braised beef cheek are just some of the dishes to expect. Once you've indulged head back to one of the 22 ensuite bedrooms or unwind in one of their luxury lodges, all of which have been individually styled and decorated.
Wark on Tyne, near Hexham NE48 3LS
01434 230209
battlesteads.com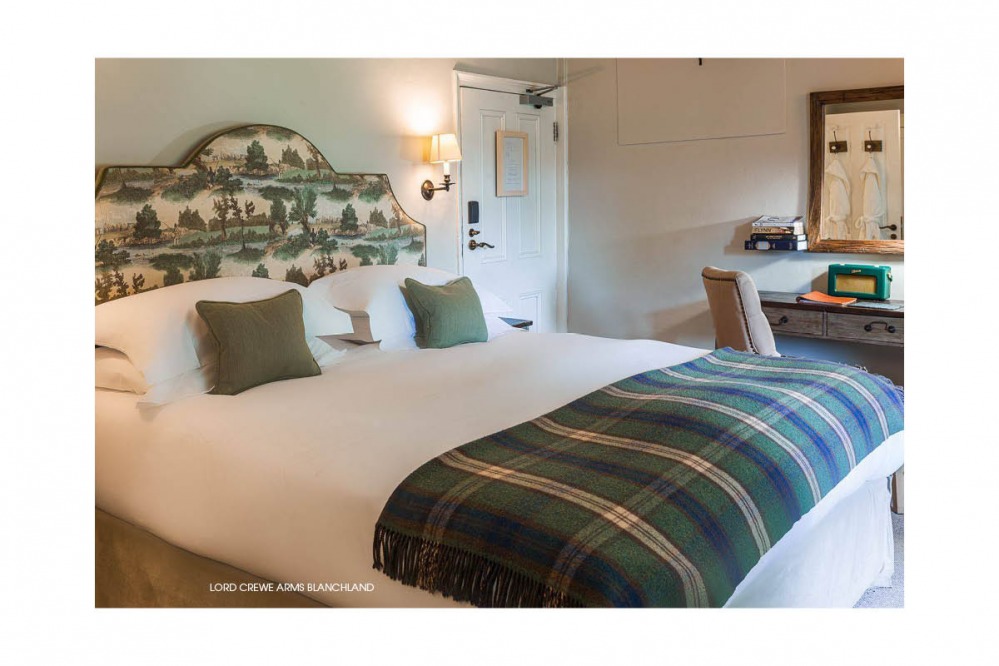 LORD CREWE ARMS BLANCHLAND
In brief: A story-book bolt hole soaked in Northumbrian soul.
Our highlight: The range of suites with an inviting lounge area and log fire, perfect for snuggling up in the evening.
Insider guide: Nestled in the honey-stone village of Blanchland, the Lord Crewe Arms offers warm and comfortable bedrooms, each decorated with Pennine- inspired hues. From monks dressed in white to the dissolution of the Abbeys of England, there's a hint of history around every corner and you can be sure of amazing meals in the dining room too – think Grilled North Sea plaice, roasted guinea hen and single plantation dark chocolate mousse.
The Square, Blanchland DH8 9SP
01434 677100
lordcrewearmsblanchland.co.uk