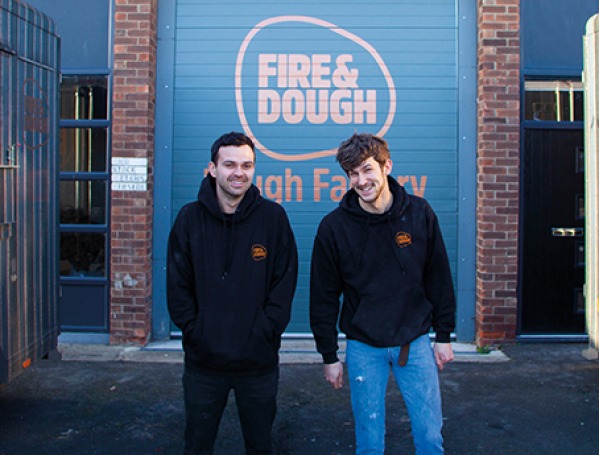 Ross Keady and John Nicholson. Fire and Dough. The popular pizza trucks roaming the region
Tell us about yourselves.
We've known each other for years – we went to school together – so we probably met when we were about 10. We first met playing rugby together, and have been mates ever since, really. After school we both went off and did our own things for a bit, then we both went to Australia together. We were living in Melbourne for about a year before we came back with the idea for Fire and Dough.
How did Fire and Dough start out?
We've always had an interest in food; we'd always be cooking at home, and loved having friends round for dinner. But we didn't know about proper Neapolitan pizzas until a friend invited us down to London; he took us to a local restaurant which served them, it was something that we never really had up North. We just got really interested in how they were made.
Where did you get your recipes from?
Once we'd decided we wanted to do it, we trained in some local restaurants who made wood-fired pizzas. Along with that, there was a lot of trial and error and watching YouTube videos, and quite a lot of attempts that weren't great! So it was a lot of taste testing.
That sounds like a delicious perk of the job.
Absolutely! After a while it got a bit less enjoyable – Ross' Gran was a tough critic – but we got there in the end.
You got your second van a month or so ago – does that mean business has been better than you thought?
It's gone a lot better than we expected. We managed to get a grant funding from LEADER project, a government project for rural development. They've paid for 40 percent of the new van, which has meant that we've been able to do it faster than we could have otherwise.
What sort of places do you end up at?
We've done weddings in lots of places across the North East. And we've done a few festivals so far, like the County Show, and we're looking to do other local ones like Lindisfarne Festival. But our bread and butter is going around the towns. Currently we're doing five nights a week, Tuesday–Saturday, on a week's rota – we've got 10 towns that we visit once per week so we don't exhaust any one place. People seem happy to eat pizza once a week rather than five times every week! We're doing quite well in rural areas, where perhaps they used to have a pub which served food. Evidently, the demand wasn't there for the pub to survive with just the local community to cater for seven days a week.
What's your favourite pizza?
We've got a few. A margherita with parma ham, rocket and parmesan and a bit of olive oil is delicious, and a blue cheese pizza with truffle oil are probably our favourites.
What are your plans for the future?
I think our expectations have changed. At the start, we just thought it was going to be the two of us going around and living a nice, chilled life, but it's taken off a lot more than we would have ever expected. It's quite hard to say – we definitely want to grow the business. We'll consolidate a little bit before we locate a potential restaurant or get more vans. We want to do more music festivals, private parties and weddings, which are other avenues we're willing to explore more. It seems like there's a lot of scope to go in a few different directions, but we'll see how the next year pans out first.
What do you enjoy most about living in the North East?
A lot of the countryside is just so beautiful, and it's really easy to get out of the city. We've both recently moved to Newcastle, and we didn't realise how much was going on around the Quayside. It's also a really nice community. You can feel a part of it, which is similar to all these little villages we go to.
Do you still go out and play rugby together?
Those days have gone, I think! We're probably not strong enough any more!