Our Favourite Casual Dining Spots Across the North East
Whether it's brunching, lunching or tasty slices of pizza, there are plenty of places across the North East for a causal feast
Here are our favourite places to go.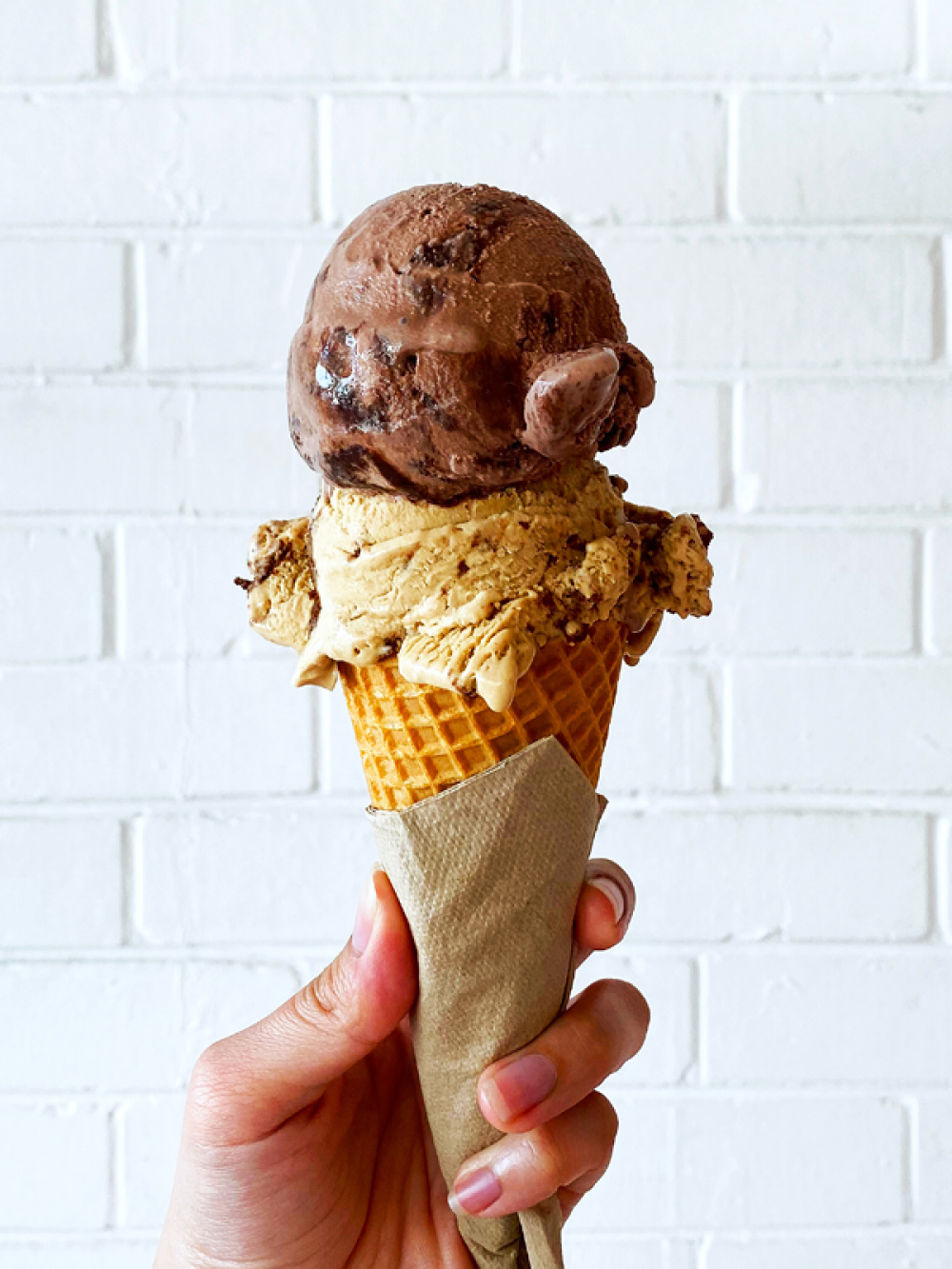 Capheaton Village Tearoom
Capheaton Village Hall, Silver Hill, Newcastle NE19 2AA
capheatontearoom.co.uk
A haven for cyclists, this hugely-popular tea room is far more than just a tin shed selling some cake. The tireless team here produce hot drinks, homemade cakes (including Ottolenghi-inspired specials), hot and cold sandwiches and soups all made locally. Open Saturday and Sunday, they serve cyclists and walkers (and all manner of passers-by) from across the North East.
The Drift Café
Cresswell, Morpeth NE61 5LA
01670 861599
facebook.com/thedriftcafecresswell
This popular coastal café in Cresswell serves coffee, tea and homemade cakes alongside delicious light lunch options including wraps, toasties, quiche and soup, and has a takeout service too. The café is dog-friendly and a great place to stop-off after a walk along the beach where you can sit back, relax and take in the views with an award-winning scoop of Minchella & Co.'s ice cream. They're just about to launch their restaurant too, serving authentic Greek food in the evenings.
Pilgrims Coffee House and Roastery
Marygate, Holy Island TD15 2SJ
01289 389109
pilgrimscoffee.com
While the organic coffee, freshly-roasted on site, is the star of the show here, the homemade cakes and fresh scones are not to be missed. Ideal for refuelling after you've had a chance to explore this unique island, opening hours vary depending on the tides, so check their website before you go.
Spurreli
The Old Chandlery, Coquet Street, Amble NE65 0DJ
01665 710890
spurreli.com
Nothing beats an ice cream at the seaside and Spurreli is the perfect pit-stop, right in the heart of Amble. The main event here is the artisan ice cream and sorbet which Spurreli produce using milk and cream from Marley Cote Walls Farm near Hexham and their pedigree herd of Ayrshire and Short Horn cows (we can personally recommend their pistachio flavour). However, there's also a range of vegan, dairy- and gluten-free ice cream, and it's not just frozen favourites on the menu – the café serves hot drinks and homemade cakes too.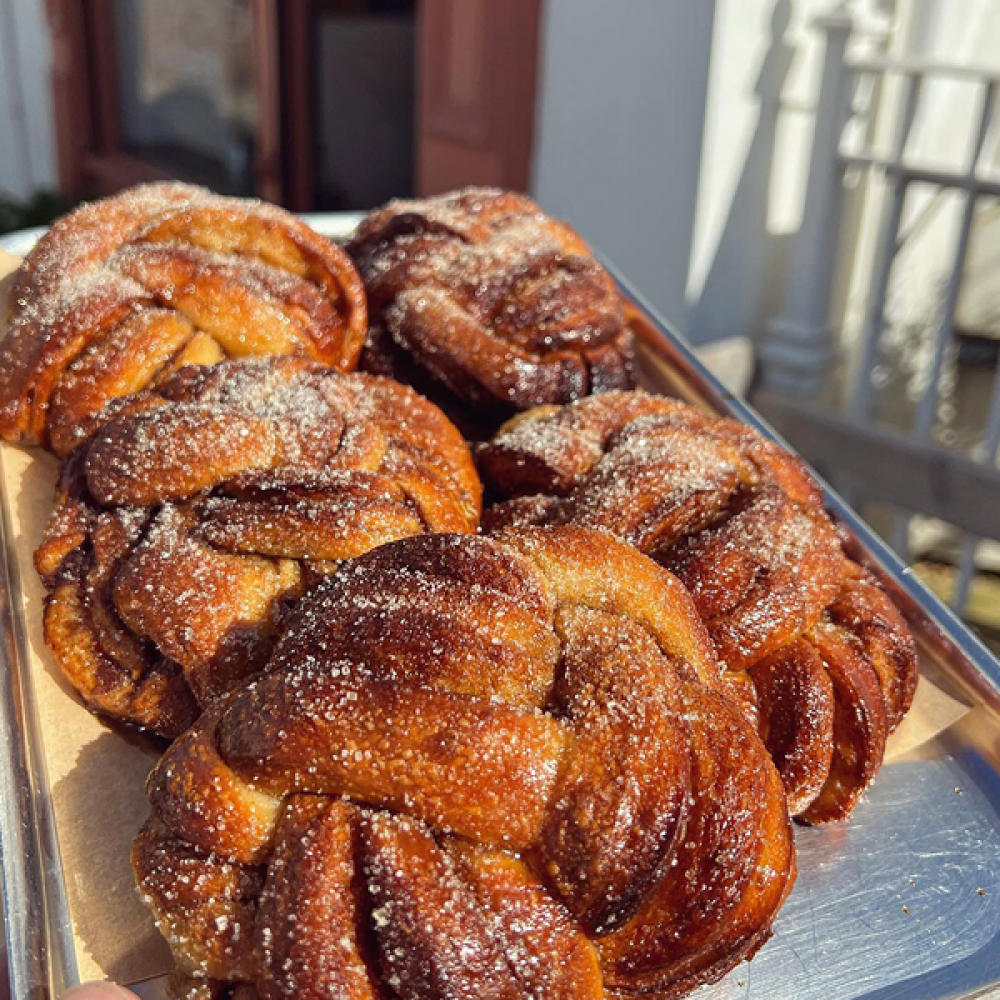 Aidan's Kitchen
11 Starbeck Avenue, Newcastle NE2 1RH
0191 261 6852
aidanskitchen.co.uk
Purveyors of breakfast and brunch, this popular Sandyford café has people travelling from across the region to sample their delicious home-cooked dishes. As well as locally-roasted coffee and a selection of decadent sweet treats (the rocky roads are our favourite) you'll find fluffy pancake stacks, shakshuka, Turkish eggs and classic eggs Benny on the menu. Look out for their second venue, Little Aidan's, opening near Ilford Road soon.
Ardallan Kitchen
Holly Hill, Gateshead NE10 9NQ
0191 303 6160
ardallankitchen.com
This casual dining bistro housed in a converted Victorian stable combines a warm and friendly atmosphere with tasty brunch and lunch dishes on the menu. Take a seat inside or, when the weather allows, in their courtyard shaded by parasols. Expect homemade soups, pies and ciabatta sandwiches alongside their signature blueberry pancakes and French toast.
Cole Kitchen
Side Cottage, St George's Terrace, Sunderland SR6 9LX
colekitchen.co.uk
This takeaway coffee and sandwich deli is not to be overlooked, because although it is small in size, its offerings are mighty. With weekly specials alongside freshly made savoury and sweet pastries, breads and plenty of sweet treats, enjoy a takeaway coffee and a breakfast bite before taking to the coast for a seaside stroll.
Ellison's
1–3 Dryden Road, Low Fell NE9 5HP
0191 4291460
ellisonsoflowfell.co.uk
This buzzing deli and bistro in Low Fell was born of by Steve Morris and Sarah Marshall's passion for good food. Stop by for breakfast and order the French toast or Turkish eggs, or book a table in the evening when dishes such as pan-fried salmon and lamb tagine are served alongside fine wines and cocktails.
Elder and Wolf
169–171 Whitley Road, Whitley Bay NE26 2DN
07599 833611
elderandwolf.com
Chilled-out urban vibes, artisan drinks and delicious flavours are what you'll find at Elder and Wolf. Their award-winning kebabs, handmade pizzas and wood-fired tacos are perfection, whilst the cocktails and craft beers seal the deal. As winner of best newcomer restaurant outside London at the British Kebab Awards, this coastal location is popular, so book if you can, and there's a great outdoor space under the pergola here too.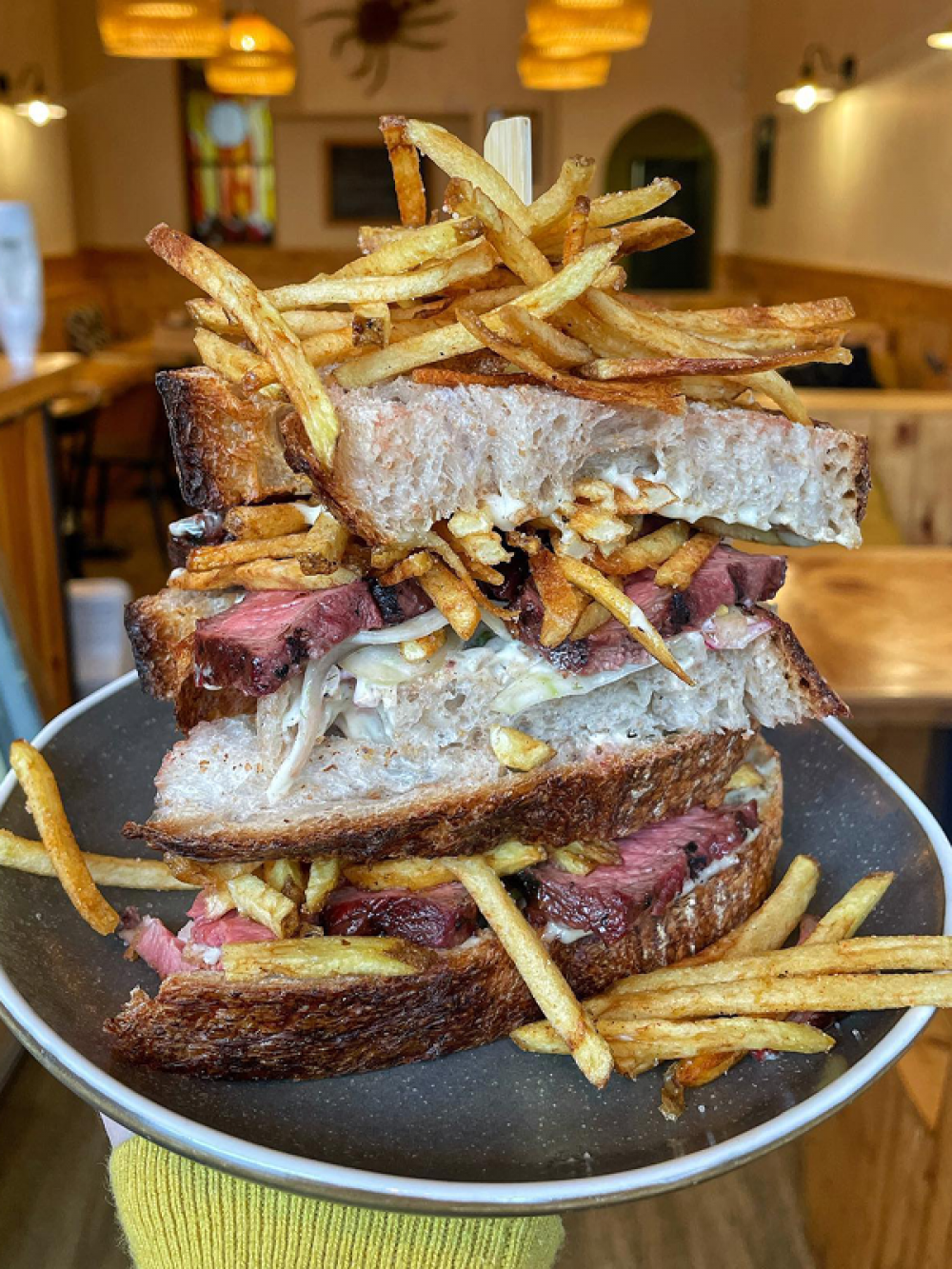 Grinder Coffee Co.
24A New Durham Road, Sunderland SR2 7AA
17–18 Waterloo Place, Sunderland SR1 3HT
grindercoffee.co
This independent coffee shop with two Sunderland locations focuses on quality food and drinks in a comfortable and welcoming environment. With coffee beans at the core of their business, you can sample them first hand at either of the shops, or pick up a bag of medium roast beans to try at home. You can also enjoy a selection of homemade cakes, quiches and sandwiches from the counter.
Fork in the Rose
63 Heaton Road, Newcastle NE6 5HE
0191 250 8487
forkintherose.co.uk
On the corner of Heaton Road, this florist-cum-café serve a range of breakfast and brunch dishes in their spacious florist shop. Take a seat inside the café, or head outside with an iced coffee and watch the world go by. Dishes range from eggs Benedict to shakshuka and grilled cheese sandwiches.
Meet Me On The Corner
45 Illfracombe Gardens, Whitley Bay NE26 3LZ
0191 252 6971
Having just celebrated its first birthday, this coastal café is a popular spot with locals. Start your day the right way with a delicious brunch, or stop by for Sunday lunch after a brisk stroll along the nearby beach.
Smoke & Sear
182 Heaton Road, Newcastle NE6 5HP
0191 276 3081
smokeandsear.co.uk
Taking traditional barbecue dishes and giving them a unique twist, Smoke & Sear use local ingredients to create the likes of their signature surf 'n' turf bavette steak cooked over fire and served with panko-coconut king prawns drizzled in garlic butter. They're also open for breakfast.
Veganatomy
Hillgate Quays, Gateshead NE8 2FD
instagram.com/veganatomy_uk
Resident trader at Gateshead's HWKR MRKT, Zoe creates delicious vegan. Choose from sushi rolls classic bánh mì – our pick is the Northern star with oyster mushrooms fried in miso butter and topped with carrot slaw and pickled daikon.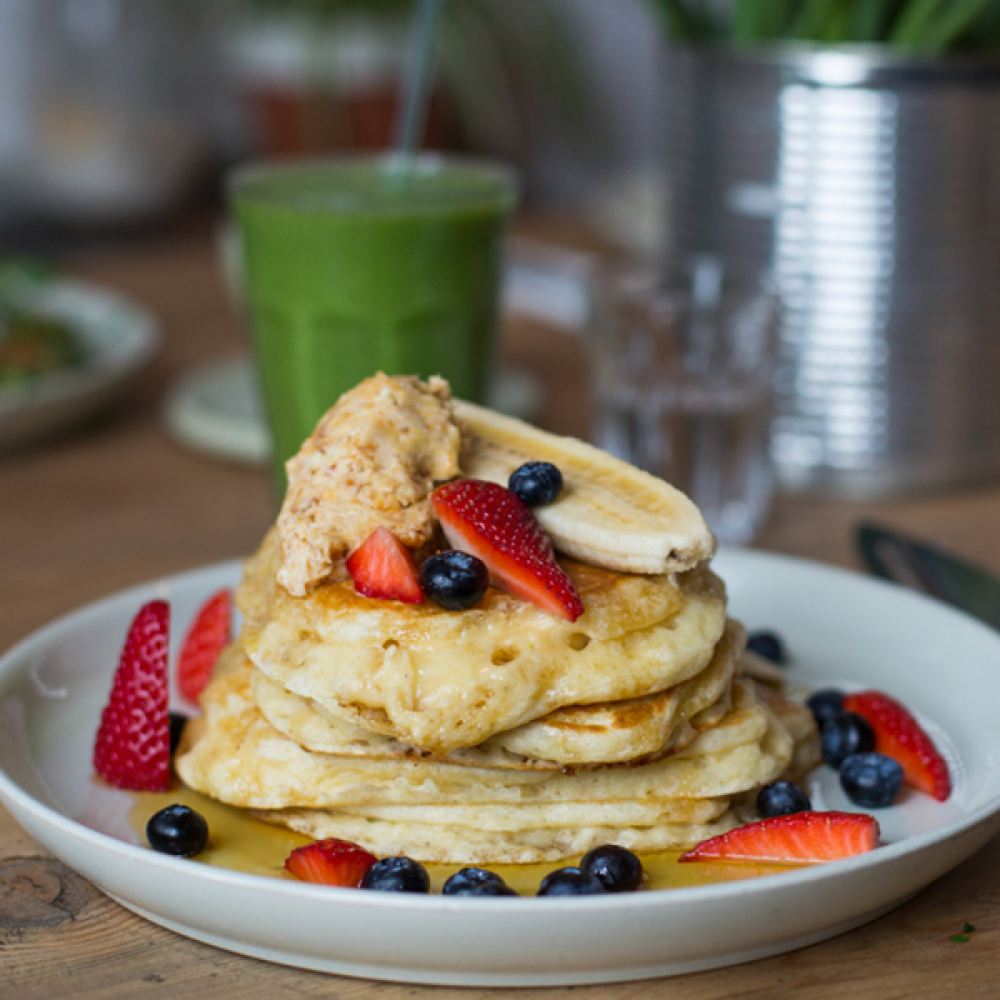 Flat White Kitchen
40 Saddler Street, Durham DH1 3NU
07936 449291
flatwhitekitchen.com
This charming bistro within a renovated 17th century house has been a staple in Durham since 2010. The pancakes here are more than worth the queue to get in – including their fluffy ricotta pancakes served with fresh fruit, maple syrup and cinder toffee butter.
The Grind
3 Cheapside, Spennymoor DL16 6QE
01388 811646
facebook.com/thegrindcafebar
This popular brunch café serves everything from cornflake-crusted French toast and American pancakes, to eggs Royale, chorizo hash bowls and Turkish eggs. As well as sandwiches served later on in the day, you can experience bottomless brunch with free-flowing Aperol spritz, espresso martinis, gin and tonics or Prosecco.
Knead A Slice
29 Fore Bondgate, Bishop Auckland DL14 7PE
01388 335178
kneadaslice.co.uk
Neapolitan-style pizza served alongside craft beers and cocktails – head here for a tasty slice or two. Our favourite is the spicy pizza created with hand-stretch dough, proved for 24 hours and topped with house sauce, n'duja, broccoli, parmesan, chillies and honey. They also serve brunch, coffee and cake during the day.
Whitechurch Durham
29 Church Street Head, Durham DH1 3DN
0191 386 8897
whitechurchdurham.com
An independent eatery which serves locally-sourced food and drink. Breakfast includes kimchi scrambled eggs, hot smoked salmon bagels and avocado on sourdough, and during the day you can enjoy buttermilk chicken, laksa noodle soup and pork banh mi. Whitechurch is also a popular choice for Sunday roasts, which come with all the trimmings of course.
Number Four
4 High Street, Sedgefield TS21 2AU
01740 623344
facebook.com/ numberfoursedgefieldcountydurham
Now in its 29th year, this hugely popular teashop and patisserie in Sedgefield is the perfect place for a traditional homemade afternoon tea. Boasting a fantastic array of sweet treats, savoury scones and mouth-watering sandwiches, their menu changes with the seasons. Why not pick up a delicious cake to take away?
Salt
20 Grange Road, Darlington DL1 5NG
01325 262520
saltdarlington.co.uk
With a fun and casual approach to dining, dishes here are served in nothing more than cardboard boxes and foil, as the team at SALT know the flavour and quality of the food is all you'll be focused on. From loaded chicken breast strips to mouthwatering beef burgers and birria brisket tacos, there's comfort street food to suit everyone's tastebuds here.
Stable Hearth
33–35 Duke Street, Darlington DL3 7RX
01325 730400
facebook.com/stablehearth
This Neapolitan pizzeria serves hand-stretched pizzas made with dough which proves for a minimum of 24 hours before being topped with the finest ingredients such as smoked pancetta, red onion marmalade and goat's cheese. The pizzas are then baked in a wood-burning oven at more than 400 degrees, giving you the perfect slice every time.