Paw-some Presents for Perfect Pooches
Dog-lover Charlotte Watson created a dog toy and treats subscription box company just before lockdown and, benefitting from a boom in dog ownership, she has seen her sales quadruple in the first year
We caught up with her to find out more about Dog Box Boutique, and discover how this was the paw-fect time for her to build her business.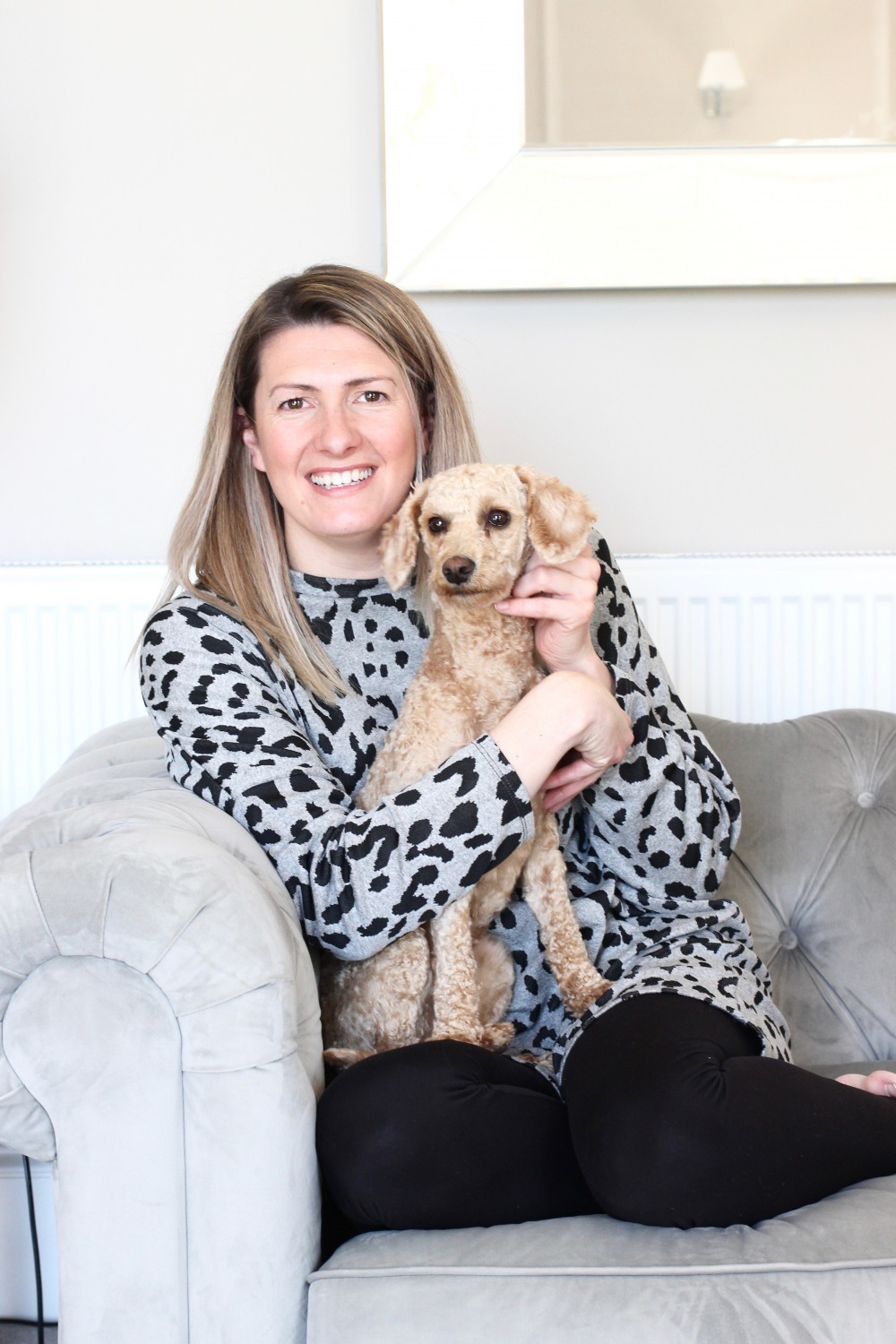 Can you tell us a bit about yourself?
I'm Charlotte and my husband, two sons and I live in Ryther, a small village next to Tadcaster. I spent nearly 20 years in retail buying working for Asda and Wilkinson and then nearly two years ago now I started Dog Box Boutique.
We also have a cockapoo called Poppy. At the beginning of the Dog Box journey we thought, we can't realistically have a dog box business and not actually have a dog. Whilst I was doing a corporate job we weren't at home enough to have a pet, but life changed, and she's absolutely lovely and my boys are five and seven so she's the perfect family dog.
Where did the inspiration for Dog Box Boutique come from?
Understanding that people are time poor but cash rich and wanting to look after their dogs, I spotted a gap in the market for premium dog products. Obviously more and more people since the pandemic have got dogs so I started looking for a way to make it easy for owners to find good quality dog toys and treats without having to rake around the shops. Dog Box has been going just under two years now and we're just finding that with more and more dogs now as pets, sales are continuing to grow.
What is the concept behind your business?
It's basically a subscription model and it's all about good quality toys and treats. If you go to the shop or get some of the other boxes that exist on the market, they contain products that can be destroyed in minutes. So we really work hard and I use my past experience and knowledge of suppliers to make sure that the products that we include are high quality. No dog toy's indestructible, because with the best will in the world and time on its hands a dog will get there, but these toys will put up a good fight. Also, where possible, we try to use UK suppliers. We have homemade dog popcorn which is really popular.
We do subscription boxes where owners can subscribe and have the box delivered to their door every month. For these we've got two tiers of box – the everyday box with five items, and the deluxe box which has also got two KONG items in. We also do one-off gift boxes. So again, since lockdown people sending boxes to dogs has become a thing. We've had a couple this week where friends in America were sending a box to their friends in the UK and we put in handwritten gift messages so it's lovely to read the kind of messages you get. For example "hoping to come and give you tummy tickles soon".
The subscriptions are every month but if a customer wants they can pause them and miss a month if they know they're going to be on holiday, or if something else is happening. We're happy to do this as we're really confident that people are going to love our product.


'I use my past experience and knowledge of suppliers to make sure that the products that we include are high quality'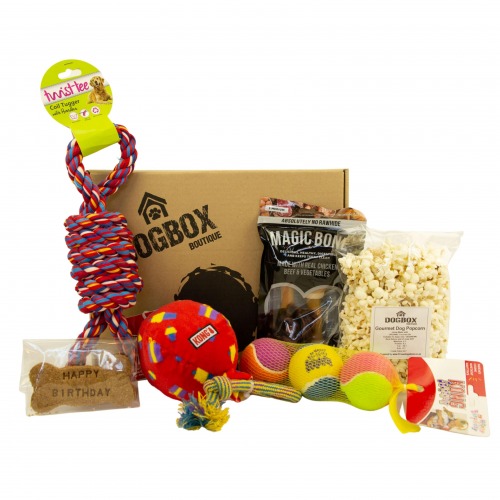 How has it been building Dog Box Boutique during lockdown?
We started just before lockdown and it's had its ups and downs. A lot of people when they start this kind of business get out and about, see people face to face, do pop-up events and that kind of thing. So we weren't able to do that, but had to focus solely on the online sales. We were using social media to build our online presence, but that just takes time to grow.
On one side, yes it was very good because more people were getting dogs, and everyone was online so sales were booming. However, although there was a huge demand, suppliers were closing their warehouses, things were delayed coming from wherever they came from and it was very hard to re-stock. It's the worst thing in the world if you've got people who want to buy your product and you can't get the stock. There was one day we put the boxes on Itison, and I went out in the garden to mow the grass and when I came back in we had 300 orders. Then when I went back out again it was still going up, and all I could think was'I haven't got enough!'.
You also donate to Dog's Trust.
We know that Dog's Trust is a fantastic charity so £1 from each sale goes to them. I guess it's just having a social conscience and wanting to give something back.
What's your most popular product?
The Puppy Box had a real run in lockdown, and over the festive season the Christmas Box does well. But in general, I think it would be the Birthday Box, which comes with two KONG items, a balloon, tennis balls, homemade doggy popcorn, a bag of doggy treats, a rope toy and dog bone biscuits. What more could any doggy want?
What's next for Dog Box Boutique?
Just to continue to grow. I'd like to grow a team alongside the business because at the moment it's just me which, particularly at busy times of the year, has its challenges. I've got family so my husband helps and my eldest son has started to help now, but I'd love to actually bring in a proper team to a fulfilment centre and scale up the business. If I had some support with the day to day I could focus on the growth. That's the challenge of growing a small business.
Then we're also hoping to get new items and just generally keep the contents fresh across all the boxes. The products in the subscriptions change every month so we're continuing to work on that. But something else I am looking into is doing a box for rescue dogs. If you get a rescue dog, they've got different needs to a regular dog and they do get more nervous, so there's some products that have got lavender oil infused in them that help the dog feel calm or cuddly teddies. So that's an idea for next year.
Any tips for other budding entrepreneurs?
I would say growing your email list would be the key focus for me. Since Black Friday weekend our Facebook account has been blocked as I think we've been hacked. So without our Facebook group with our loyal customers, we can't talk to them in that way. Whereas your email list is yours and you're in control. The fact that we've actually got that email list and a good group of subscribers means that I can continue to talk to customers and potentially generate sales. In hindsight, that would be something that I would have focussed on much earlier – especially at this time of year. And also exploring new channels to market. Things like TikTok have been just as helpful as the more traditional Instagram and Facebook that potential customers maybe go to first. Sometimes on a photograph, it's hard to show people that your products are better, whereas in a video you can bring it to life a bit more. Although we've got the most uncooperative cockapoo in that respect; she doesn't like sitting still.
What do you love most about living in Yorkshire?
Just the space. We live in a little village and there are plenty of footpaths through the fields where it's just lovely being able to go out and get some fresh air. Our favourite place to walk Poppy is just in the fields across from us. It's really flat so you can see for miles on a nice day and occasionally you'll see a deer. It's just beautiful.
Visit dogboxboutique.com, and subscribe to get your first box for £10.