The Pop-up Vegan Project that Showcases Flavoursome Food
Annabel Cole is passionate about showcasing how flavoursome and diverse plant-based food can be with her pop-up vegan food project, Bramble
We caught up with Annabel to find out more.
Tell us about your background and how you became involved with food.
I went to school in London and in the evenings and at weekends I worked as a self-taught chef. When I moved up North, I worked my way up to a head chef position at the age of 19 and was inspired by the food scene up here and the great support for independent restaurants. I have been vegan for eight years now and back then, there weren't many exciting options for vegans, so I decided to specialise as a plant-based chef. My goal has been to show how delicious, exciting and beautiful vegan food can be, whilst creating menus that cater for all kinds of dietary requirements. My passion for food comes from travelling the world and experiencing different cuisines. Each year, I make the time to travel to a new country, inspiring the menus I create for Bramble. So far, I've been to places such as Thailand, Malaysia, America, Egypt, France and Vietnam, and it means I can put an authentic, plant-based twist on the food I create.
How did Bramble come about?
Bramble is a passion project that started because I struggled to find places I could dine at that provided a great date-night atmosphere, and stunning plant-based food which also appealed to my non-vegan friends. I wanted a great ambience, vibey music and amazing food that just so happened to be vegan, so I decided to set up my own pop-up company.
'We use the freshest, high-quality ingredients available to create our delicious food and absolutely everything is made from scratch'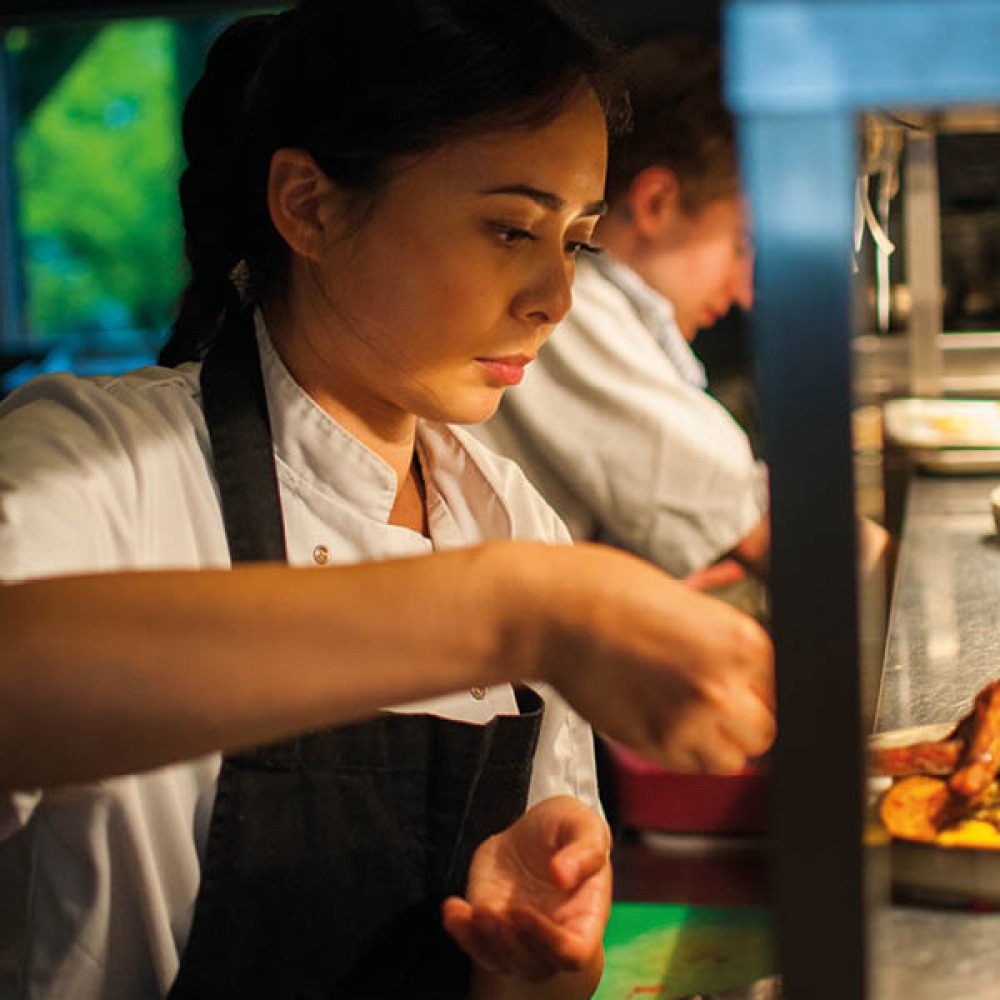 What can people expect when they come to your dining events?
At Bramble, we choose a cuisine theme for each supper club, and run a full vegan tasting menu and a cocktail menu to match. We pair the decorations and music to suit, giving an exclusive and intimate atmosphere to each evening. So far we've conquered Thai, Italian, Middle Eastern, Indian and Mexican cuisine, just to name a few. It keeps each dining event unique, and our regular customers follow us around Yorkshire, excited to try a new menu each time.
Where does your inspiration come from?
With each cuisine I choose, I always try to put a plant-based twist on certain dishes which people are surprised can be made vegan. For example, for our Korean fried chicken, I'll use oyster mushrooms in a light crispy tempura batter with shichimi salt. Or, I'll use coconut milk and infused pandan leaves to create a creamy rice pudding brûlée. With each vegan alternative, I'll always try to make it even better than the original, and customers are always amazed at how delicious the food is, not believing it must be vegan!
Are your ingredients locally sourced?
We use the freshest, high-quality ingredients available to create our food and absolutely everything is made from scratch – even down to our spice blends and cocktail syrups. Where possible, we keep to local suppliers (Leeds' Kirkgate Market is a favourite) and with our themed menus we always use authentic ingredients. For example, for our Oriental evenings, we'll go to the local Asian supermarket and pick up traditional ingredients from there. Using high-quality and seasonal produce really does make a big difference in packing a punch with bold flavours and colourful components in our dishes.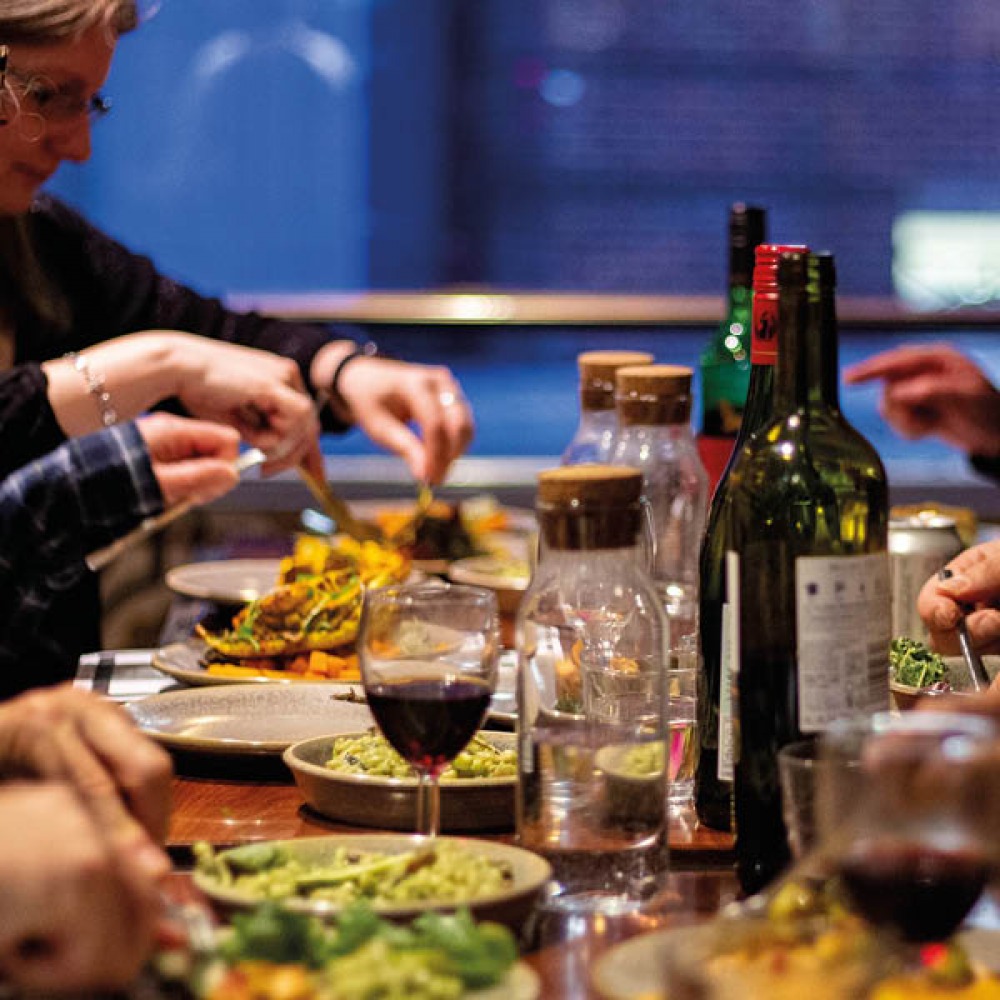 Tell us about the venues you host your events at.
We aim to use a new independent location for our kitchen takeovers each time, so we can share our delicious food with customers all over Yorkshire. So far, we have hosted at Laynes Espresso in Leeds, Baltzersens in Harrogate and Arcade Coffee & Food in Huddersfield, just to name a few! We're always on the lookout to support new independent cafés and restaurants that don't currently operate in the evenings and we would love to expand to York, Saltaire, Ilkely, Sheffield and further afield.
Is there a favourite dish amongst your guests?
One of our customer favourites that has reworked its way onto many of our menus is our Thai green curry. I use a tonne of fresh spices such as ginger, coriander, kaffir lime, turmeric and cumin to create a curry paste from scratch which is then reduced with creamy coconut milk. It can be served with tofu, seasonal vegetables or sticky, glutinous rice and is a Bramble classic that people always want the recipe for.
Do you have a favourite ingredient?
I use white miso a lot in my dishes as it gives a fantastic umami note to the food. It can be used in savoury stocks, dressings and marinades. For example, I use it in our miso and mustard cauliflower cheese to give a rich, and savoury element. It is also fantastic in sweet dishes, such as a white miso caramel, or a miso and coconut hot chocolate.
What makes Bramble so unique?
I think it's our attention to detail in creating a memorable dining experience that just so happens to be plant-based so that everyone can enjoy it. The food is at the forefront, but we also take the time and effort to form a relationship with our regular customers and listen to what cuisines they'd like next, or what kind of music, crockery, table decorations etc. they want to see. We're so grateful that our events sell out quickly, and I think that is down to our unique offering.
Any plans to make your pop-ups permanent?
For now, Bramble is a fantastic passion project that keeps me inspired to develop new menus and experiences customers can enjoy. The team get such a buzz serving everyone, both out front and in the kitchen, and we have a fantastic energy and passion that is rare to find in the industry. I think it would be great to do a permanent kitchen takeover for a month or two in a city centre venue to build our clientele, and then perhaps in the future open up my own space.
When you're not hosting your dining events, where do you like to dine out locally?
I live in Leeds, which is a great city for independent restaurants and bars, so when I get some free time I love eating out locally. Vietguy, Bundobust, Sarto, Chef Jono at V&V, Wen's Restaurant and Laynes Espresso are fantastic.
Describe your business in three words.
Delicious, sexy, plant-based.
To find out more about Bramble's next pop-up events, follow them on Instagram, @bramble.uk