Review: The French Quarter
As travel is now back on the cards we've been longing for a trip to France – although for now we're more than happy to settle a little closer to home at The French Quarter, which gives us a taste of France right on our doorstep
Tucked away under the arches at the very bottom of Westgate Road, The French Quarter is a vibrant neighbourhood restaurant and bar, which by six o'clock on a Tuesday evening in March is already busy.
The restaurant is fairly informal, populated by a mix of post-work drinkers and friends enjoying dinner and wine. The exposed wrought-iron shelving, wooden tables and chairs and botanicals dotted around the restaurant aren't far away from a chic café- cum-restaurant you might find in the heart of France, and before we get the chance to browse the drinks menu, several of the tables around us are filled.
It's clear that wine is a large part of the identity of The French Quarter, not only from the extensive wine list and wine flights (where diners can sample three 75ml glasses of wine), but also from the shelves stacked with bottles that take over a large part of the restaurant wall. Very few places can pull off being a bar and a restaurant, but as many visitors on this evening showed, you can certainly come here for a glass of wine or two (although the food might just tempt you as well).
On the evening of our visit, a selected 'Vin du Moment' was on offer – either a 2020 sauvignon blanc or a 2018 rouge, and my dining companion decided to sample the Côtes Du Rhône, 2018 Domaine Perrin Grenache, Syrah and Mourvèdre, whilst I chose The French Blonde cocktail – a mix of Ciroc vodka, Saint Germain elderflower liqueur, apple, lemon juice and a dash of lemon bitters. Our drinks are delivered to the table by our waitress who also guides us through the menu of starter dishes, sharing boards and small plates. The idea behind the menu here is sharing, although, if you prefer, a few dishes to polish off yourself also feature on the menu.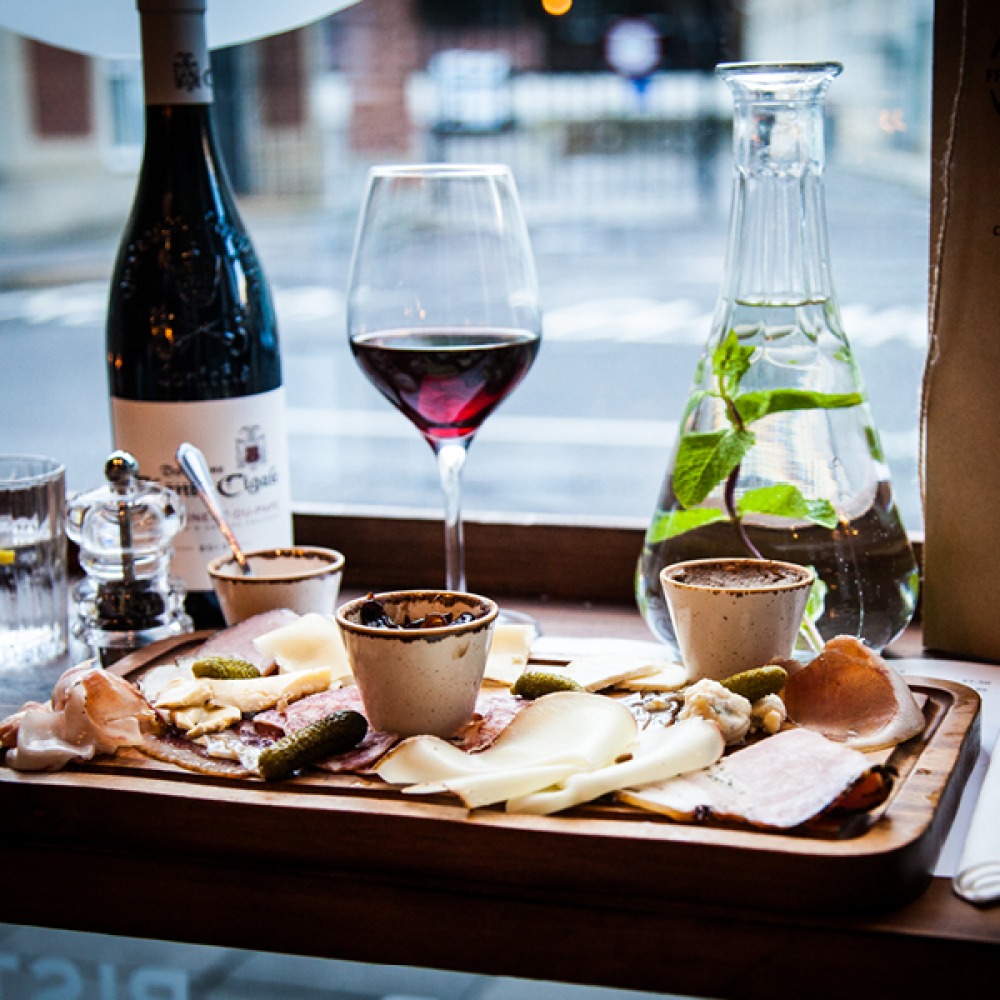 We dither over the menu of charcuterie and cheese starter plates before discovering the planches – particularly the mixte planche which caught our eye. It's a mix of everything including a section of house charcuterie, cheese and homemade jams, chutneys and cornichons. Our waitress advises that diners typically find three dishes each is sufficient – we order a total of five including our sharing board, which we ask comes out first.
The board soon arrives at our table and is accompanied by slices of soft sourdough bread and a wild garlic dipping oil, together with sheep and cow's cheese, salami, cured duck and ham and some fantastic homemade chutneys which pair perfectly with each element on the board. Our favourite (although it's a hard choice to make) was the fig chutney which we could have eaten straight out of the small pot – a real winner with many diners, our waitress tells us.
Our plates are cleared and replaced with fresh ones before the next dishes arrive. The tender monkfish and chorizo skewers give a real meaty and salty punch, whilst the mussels steamed in a white wine, garlic, parsley and cream sauce add an element of creamy softness to our meal. We also indulged in marinated king prawns in a light batter casing with aioli dipping sauce and of course we had to try the traditionally cooked snails, infused with garlic and rosemary, for good measure. Our personal favourite was the confit de canard – slow cooked duck confit leg in an orange sauce. The duck meat slid off the bone whilst the sharp the orange sauce was mopped up with every ounce of meat on the plate.
Although we decide we can't really handle any more delicious food, we quickly change our mind as we look over the dessert menu. My dining partner is immediately drawn to the ile flottante (floating island) – a soft meringue cloud served in a bath of custard and topped with caramel and almond flakes. 'One of the best desserts I've had in a long time,' is the pronouncement – a true testament to the flavours. I on the other hand, can't resist a dessert but play it safe with a trio of miniatures. The trio of the day consists of chocolate mousse, lemon posset and créme brûlée, the perfect balance between sweetness and sharpness – and the perfect way to conclude the evening.