Salmon Tikka Skewers Marinated in Green Chilli, Basil and Coriander
As a firm oily fish, salmon soaks up all the goodness of spices really well. This green marinade is unlike any other. The original recipe was shared by Sunaina Khatri, who I met during my visit to Ahmedabad years back. Her family hail from the Gujarati Muslim community who are renowned for making some of the finest biryanis, kebabs and tikkas. The recipe includes Indian basil which isn't readily available, so swapping it for regular basil and fresh coriander (cilantro) has been a revelation. The marinade coats the pink-coloured salmon chunks and is delicious served with a relish or dip.
Ingredients
3 garlic cloves
3cm ginger root
Juice of ½ lime
½ tsp coarsely crushed black pepper
2 tbsp vegetable oil
500g skinless salmon fillets, cut into 4cm chunks
Dried mango powder, to garnish
For the marinade
60g basil, roughly chopped
50g coriander, roughly chopped
2 green bird's-eye chillies
1 garlic clove, roughly chopped
½ tsp garam masala
2 tbsp Greek yoghurt
Salt, to taste
Method
Pound the ginger and garlic together in a pestle and mortar to form a coarse paste. Put the paste in a large mixing bowl along with the lime juice, black pepper and oil. Add the salmon pieces and set aside while you prepare the marinade.
To make the marinade, put the basil, coriander, green chillies and garlic in a blender along with the garam masala, yoghurt and salt. Blitz to a smooth paste. Tip the marinade into the bowl with the salmon pieces and leave to marinate for 15–20 minutes.
Preheat the grill to a medium-high heat. Line a baking tray with foil and place a wire rack over the tray.
Place the marinated salmon on the wire rack. Grill for 10–12 minutes or until just cooked through.
Halfway through the cooking time, baste the salmon with any leftover marinade.
Sprinkle with the dried mango powder.
Serve the fish tikka with salad or wrapped in naan or roti.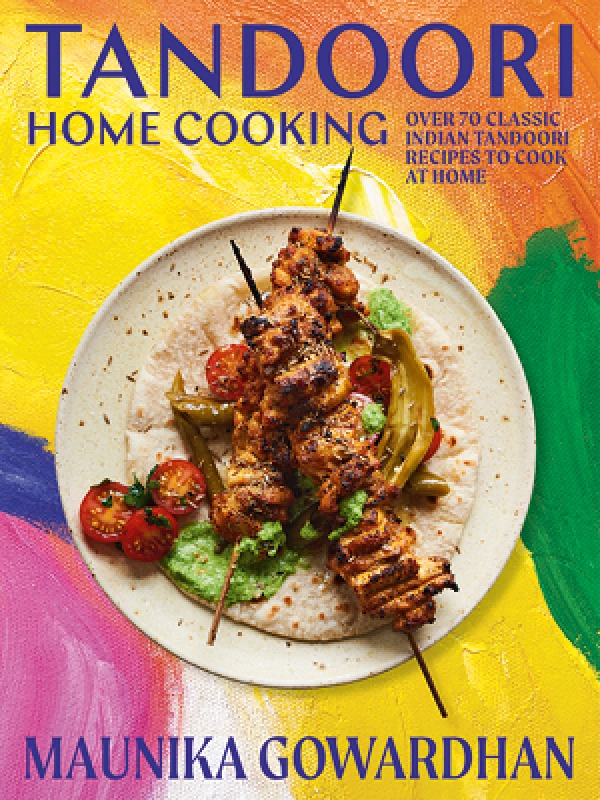 Tandoori Home Cooking by Maunika Gowardhan (Hardie Grant, £25) Photography ©Issy Croker