See This Year's Great North Run Medal Designed by Newcastle's Lines Behind
The latest quirky Lines Behind design will be given to 60,000 runners who complete this year's Great North Run
We speak to James Dixon, the man behind Lines Behind, an illustration business that has helped design packages for Sam Fender, T-shirts with Little Mix's Jade Thirlwall, and now the finishing medals and T-shirts for the Great North Run 2022.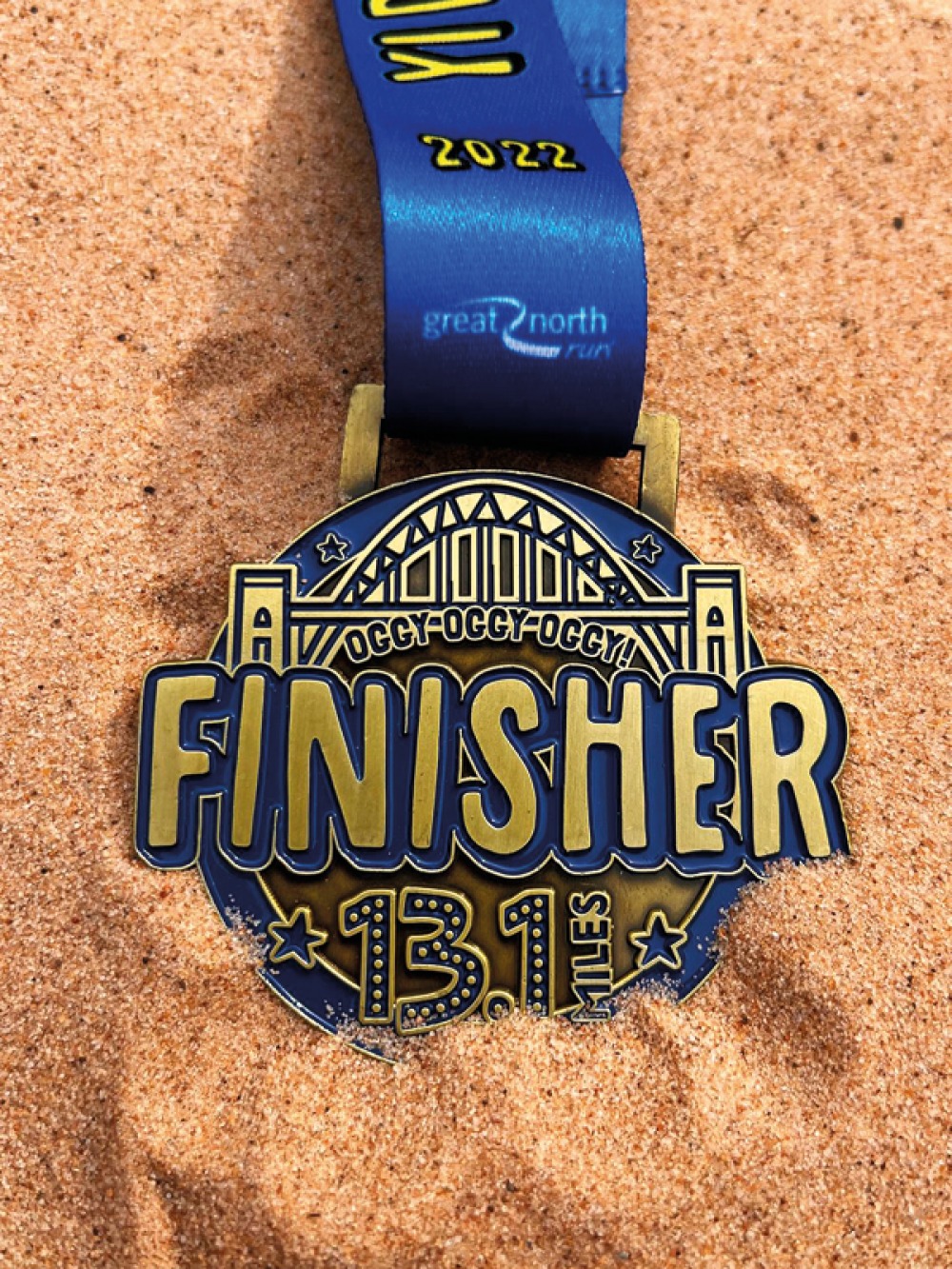 James has built the bedrock of his design principles on the concept of fun – it needs to evoke a positive feeling, and he believes that art is at its best when it makes people happy. James' work has uplifted businesses across the country, from art on office walls to coffee vans and Greggs packaging, but recently he has had the privilege of representing a cultural gem of the North East – the Great North Run.

'It all started when I was messaged on LinkedIn by a guy called Vince who loved my collaboration with Jade from Little Mix,' James explains. 'I was in shock when I saw the message pop up, the Great North Run is a whole new level. I even had to sleep before I replied because I wanted to make sure I responded with a clear head. I participate in the Great North Run every year, so it meant everything to me.'

James has commissioned projects alongside many famous clients and collaborators, but the Great North Run holds a special place in his heart thanks to its emphasis on community spirit. The personal touches were something James was keen to translate into the designs of both the T-shirt and the medals, both of which he has been beavering away at to make sure he does them justice.

'The T-shirt celebrates the whole route, the landmarks along the way, and little quirky memories of things that have happened to me when I've run the run,' says James. 'I wanted to make it as much of a piece of art as it is a piece of clothing, with the hope that people can frame it or keep it in a memory box if they want to.

'When I started the medal, I remember my fiancé Amy told me "You have once chance to do a medal that isn't just a medal, but a thing that's both personal and represents Lines Behind," So I decided to not stick to the typical circle shape,' James continues. 'I wanted to make it thicker, I wanted to make it a unique shape that comes out of the traditional circle, and I wanted to put some Geordie on there too. When you only have one opportunity to do something, you can't just stick to the boundaries.'

There's a good chance you may recognise James' work already thanks to Lines Behind's work across the region. After working with a myriad of independent businesses (such as Tynemouth Coffee Co, Allendale Brewery and Fat Hippo) you see James' work cropping up here, there, and everywhere – made recognisable by his big, colourful, collage-style aesthetic.
'James has commissioned projects alongside many famous clients and collaborators, but the Great North Run holds a special place in his heart thanks to its emphasis on community spirit'
'Lines Behind is about portraying art in a really fun and engaging way. A good example of the way we do that is through office wall wraps,' James explains. 'A lot businesses want to get people back into the office, but offices blocks are often very grey and boring, so a lot of work I do is designing murals on walls in those spaces. Some of my clients have called me the Geordie Keith Haring, which obviously I love! I like to make big designs full of the things people love, but mashed together in my style,' he continues. 'We have greeting cards in Fenwick, who have backed us since day one with our concession stand there. We're also in loads of quirky shops up and down the region. We ship our prints worldwide, too. I find a lot of ex-pat Geordies love to have prints of their hometowns in the region, even though they are living in Dubai, or Hong Kong, or wherever.'

James is no stranger to pressure from big clients, however. Not only has he worked with Jade Thirlwall of Little Mix fame, but he's also been commissioned by Greggs to help deliver Geordie rock prodigy Sam Fender a special treat.

'When Sam Fender first got Hypersonic Missiles to number one in the charts, I helped design him a media gift package on behalf of Greggs,' says James. 'Greggs sent him a huge box of sausage and bean melts, and I was the person who did the illustrations on those boxes – it was amazing. I also worked with Jade from Little Mix,' he goes on. 'Since she grew up in South Shields, she reached out to me after seeing my South Shields print, asking if I could design the community shirts for South Shields football club. That went down an absolute storm, and now she's just like a good mate!'

Delighted with the positive response to the newly-revealed Great North Run medals and T-shirts, James is as grateful as ever that Lines Behind continues to bring joy to so many in the region.

'The conversation online around the medal and T-shirt has been fantastic, people are so supportive and they have had so many creative ideas about what they wanted to see. I don't know how to properly explain the feeling, I'm just in awe of the trust they've put in me.'
Take a look at James' designs yourself at linesbehind.com