We Talk to Jack Parker from Shell Shuck'd Oyster Bar
After originally launching his pop-up oyster bar, Shuck'd, overseas, Jack Parker returned to his native North East with a mission; to make oysters more appealing by dressing them up.
Tell us about your background?
I'm local I'm from Walker originally. I studied bio-medical sciences at university at Northumbria and when I graduated, the general progression was into medicine but I decided to take a year out, which then turned into five years of cooking and eating my way around the world. I farmed beef here in Northumberland and learnt to butcher, I worked at a winery in Italy and a wagu farm in Australia.
How did the idea for Shuck'd come about?
I went to a sushi school in Tokyo and that really directed me towards food. I became a chef in the Netherlands in a quaint little fishing village outside Amsterdam. My friend was there too and he had background in fishmongery, but we noticed that despite it being a fishing village, there were no oysters around, which led to my idea of starting an oyster business. We built a little wooden oyster shack, in the mornings I'd fill it up with ice and we'd serve them on the street, I was slightly concerned at first as the Dutch palette is quite traditional, but I was pleasantly surprised at the reaction. From the start, and what I've carried on doing, is making oysters more appealing. They have this reputation that you have to have them with champagne, and I don't accept that. They should be enjoyed by everybody, and they speak for themselves. What I focused on in the Netherlands was making them more acceptable to the Dutch market by dressing them up or frying them in panko crumbs. They were a real success, but as my role there was just as a consulting chef, I came back to Newcastle bringing the business with me. And with so many seafood lovers here, I'm hoping it will be a hit.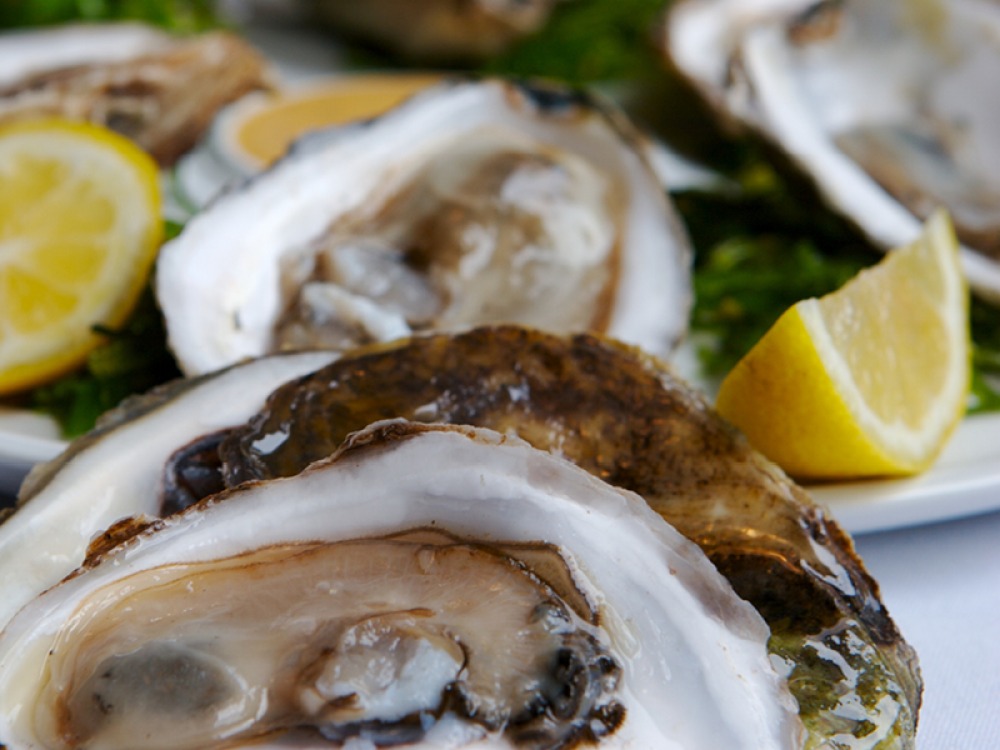 What has the response been in the North East so far?
I've been massively overwhelmed and also pleasantly surprised, one of the most rewarding things for me is having someone approach us, quite apprehensively and getting them into a friendly environment to try their first oyster, so that they fall in love with them.
Do you serve just oysters?
We're an oyster bar, so we do fresh oysters from the shell, and also cooked ones as they're slightly more approachable for first timers. We shuck all of our oysters to order, so they're opened in front of you for guaranteed freshness. We offer as many varieties as we can, but were locally-focused, and only go to farms with the highest welfare standards.
What flavour combinations do you offer?
They're mostly inspired by my travels, which means they're largely Japanese-influenced. We do a smoked oyster too, and a freshly pickled – I pickle them straight after they've been opened. Our most popular is the Garden Party, it's essentially a gin and tonic in an oyster; corriander, lemon and a splash of gin. We've collaborated with Hadrian's Gin for that one, again to work with as many local producers as we can.
What is your go-to oyster?
My personal favourite is the Tokyo Emperor, it uses a Japanese broth I learnt to make over there with pickled ginger and seaweed.
'We can't stress enough the importance of using a proper oyster knife or 'shuck'. Trust us, we've done the research'
Do you make use of local Lindisfarne oysters?
We do! They were closed for the summer, but now they're back open we'll be going along for them – they're some of the best oysters I've had in the UK. Our special at the moment is Cumbrae oysters from the West Coast of Scotland, and I've been pretty impressed with those.
I know you've just launched, but are you thinking ahead to plans for the future yet?
We're ultimately looking to progress to bricks and mortar. My ethos is that when I open somewhere it's going to be the type of place I'd like to eat, I think it would be in combination with a wine bar. If there's one thing I learnt when I was in Italy, it's that the best way to enjoy wine is with great food. But more so with a great atmosphere and great people too, so I'd love to create a homely atmosphere and serve top quality oysters using innovative recipes alongside great wines.
Do you have any festive oyster recipe ideas?
To add an extra bit of theatre to Christmas we salt bake some of our oysters. We pre-heat a pile of rock salt in the oven, stick the oysters in the pile and watch intensely for the 'POP'. Then we fish them out of the salt and serve them with a dash of Beurre Noisette in the shell.
Do you have any tips for enjoying oysters at home over the festive period?
Our local Lindisfarne oysters are in their prime at the moment, as our Cumbrae from the West coast of Scotland. Local fishmongers such as Collingwood Seafood will be able to source them for you, tell 'em Jack sent you! We recommend storing your oysters in a box, in the fridge with a damp cloth over the top. Be sure to check all your oysters are closed (or close instantly when you tap them) before opening and eating. We also can't stress enough the importance of using a proper oyster knife or 'shuck'. Trust us, we've done the research. Also this winter we have launched our SHUCKD TruckD delivery service – order oysters to your family gathering, office party and the like and we'll shuck 'em for you!
If you could only eat one thing for the rest of your life what would it be? (No oysters)
Seafood, you can't beat something from the North Sea for me.
What will your Christmas feast consist of this year?
Our Christmas feast will, of course, consist of a few dozen oysters to start. The main event will see a Goose as the centrepiece, potatoes roasted in it's fat, caramelised carrots and parsnips and lots of sprouts. Also, as my girlfriend Mia is in the UK for Christmas this year she's cooking up some traditional accompaniments from Finland.
Favourite North East foodie spot?
House of Tides.