A sit down with Great British Menu's Champion of Champions, Dan McGeorge
From competing in the regional rounds, to being crowned Champion of Champions, Dan McGeorge talks culinary styles, kitchen creativity and his winning dessert dish, 'Give a Dog a Bone'
Dan McGeorge, Great British Menu's Champion of Champions.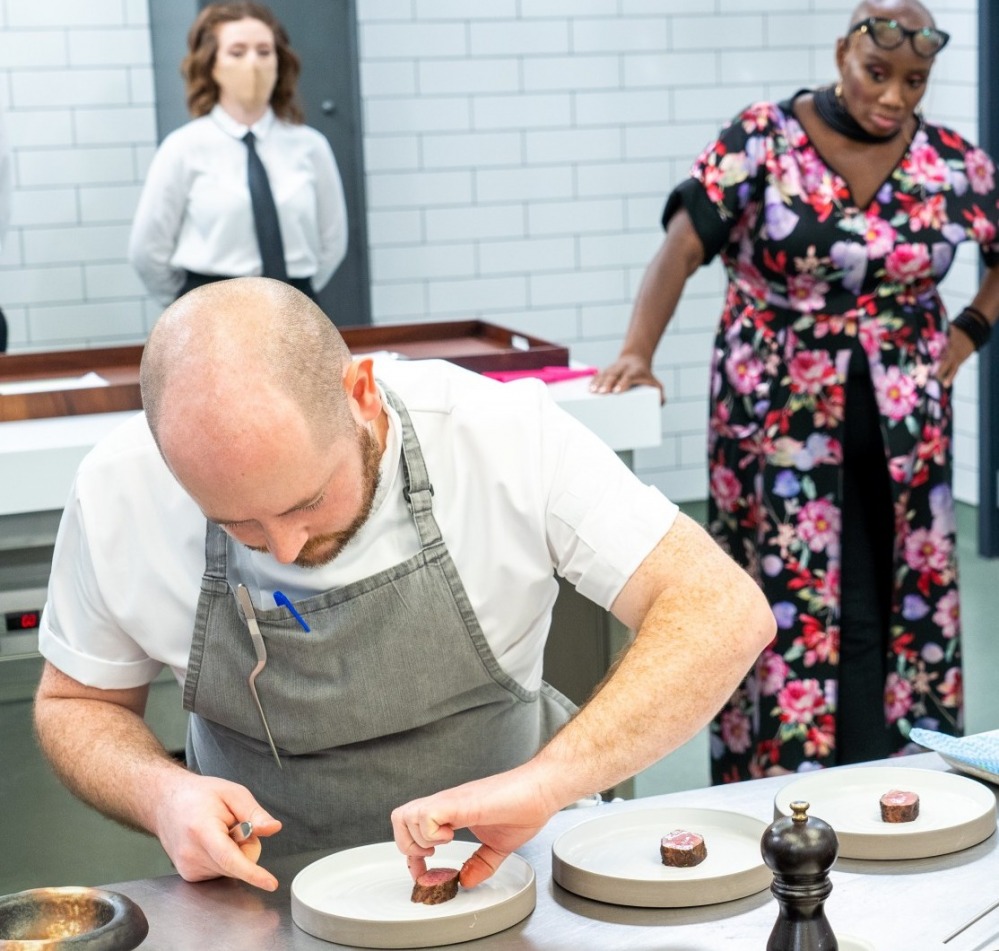 What was your path to becoming a chef?
Growing up I never really had any major foodie influences and it wasn't until I was taking my law exams at university that I thought about getting into cooking. I wanted a new career direction and thought I had two options – join the police, or turn my hand to cooking. There were no jobs back then in the force, so I chose cooking and never looked back.
Did you find it difficult to change career directions? Cooking and law are so drastically different
When I left university I started working 60-70 hours a week straight away, and at first it was a big shock because my friends were still going out and doing all the usually uni stuff. I went into my professional cookery course not really knowing much, and at first it was hard to get used to the long working days.
Did you look up to any chefs in particular when you decided to change your career?
At the time I used to watch a bit of Gordon Ramsey, as well as some of the Jamie Oliver shows. They're obviously very different to what I do. Those chefs were doing something totally different with food compared to what I now do, but they were the ones on the cooking shows at the time.
So what would you say your culinary style is? What makes you different?
My style is kind of my own, and has changed so much from when I first became a head chef. I like to use a bit of fermentation and preserving in my cooking. I also like to include a bit of Asian influence in my dishes, but it doesn't necessarily have to be an Asian dish, but rather an Asian way of cooking something, a sauce, or broth with Asian influence in it.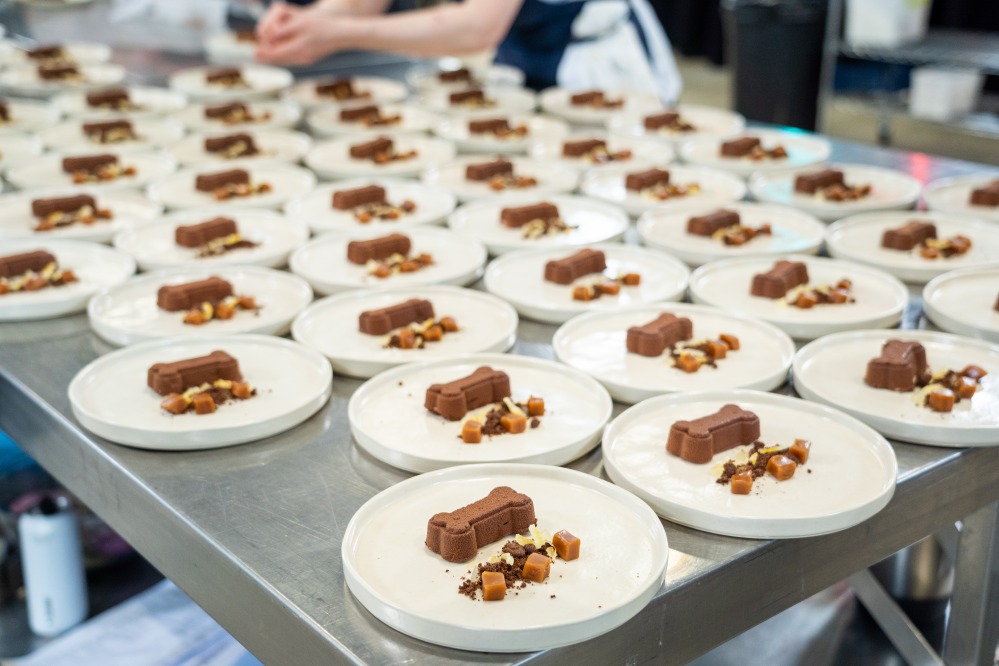 Congratulations on becoming Great British Menu's Champion of Champions, tell me a bit more about the experience
It actually all started in November last year and with lockdown restrictions, it meant a lot of the interviews were over Zoom rather than sending cameras out to film. The first round of the competition was the regional event which was great as I was able to cook all the dishes I had prepared. As long as I was able to get cooking I was happy.
To be honest, I thought I was going home after the first day, but I got through to Friday's round against Kirk Haworth. He's a fantastic chef, with some really unique food – he's vegan and plant-based, which is something I've not seen a lot of.
After that round, I qualified for the finals and was really shocked, I didn't expect it to happen. I was cooking against some great chefs, who are all really big names in the industry. There were some up and down moments, for example placing eighth on the first day, then fourth and seventh, but in the end I came first for the desserts. My dessert win meant I got to cook at The Banquet which was filmed in April, and I somehow won the Champion of Champions title – I'm still not quite sure how it happened.
What did you think of this year's theme, British innovation?
When I first found out the theme I was a bit bemused, and didn't know what to do or where to look. It was one of those where you can link things to food quite easily, but the innovation part meant coming up with an idea that could readily be associated with a dish. I found it quite difficult at the start, but once I started researching I was able to make some good connections.
What would you say was the hardest part of the course to prepare?
The timings and getting it all ready, definitely. It's all very time sensitive, so things had to be the right temperature at the exact right time. For instance, the dog bones had to be frozen solid before I could spray them, and they needed to defrost as well. My dessert was in three-stages so that made it very difficult, and when you're in the kitchen and only given a certain amount of time it makes it very tough.
For me, it's about being able to be creative and having the freedom to do whatever I want to do on that plate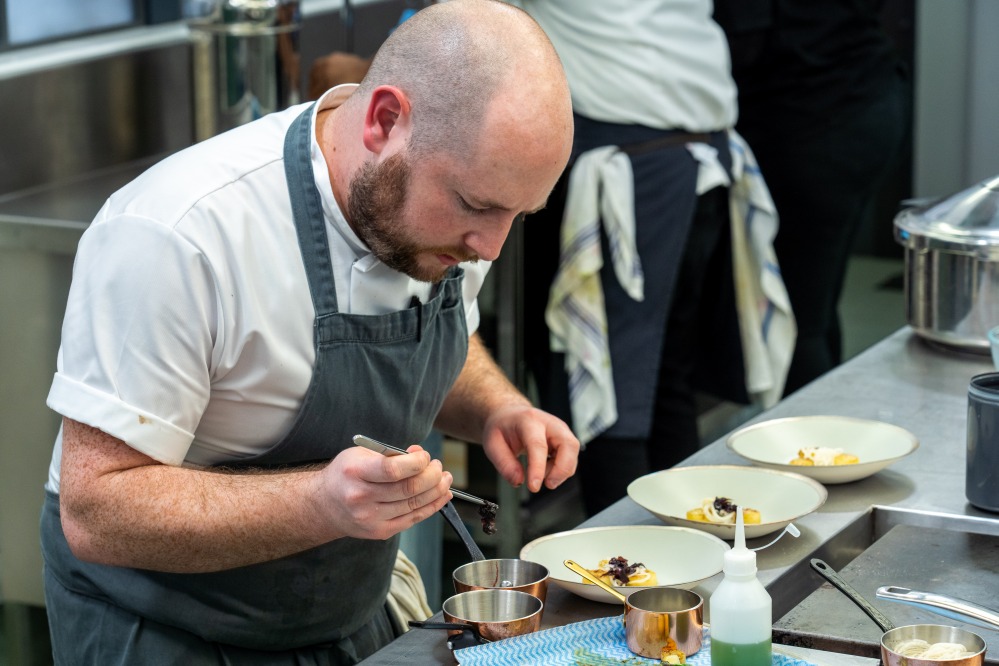 What gave you the inspiration for the winning dessert, Give a Dog a Bone?
The first guide dogs were from Wallasey, which is relatively local to where I am from in Liverpool and I thought that would be good inspiration for the dish. It wasn't until I had decided to do the dish, and looked into it a bit more, that I found out it was their 90th anniversary this year, so that was quite fitting – they do amazing work.
What's the best thing about being a chef?
For me, it's about being able to be creative and having the freedom to do whatever I want to do on that plate – that's a big draw. I couldn't just work in a classic pub where you have your standard dishes because I get bored of repetition – I like to see and make different things.
Do you have a favourite ingredient to cook with at the moment?
That's a hard one. We have some good Dexter beef that's quite local to us, and to be fair it's probably some of the best beef I've ever had. So right now, I would have to say that.
Your four-course menu is available for people to enjoy for a limited time at Rothay Manor, Ambleside – was it important to allow people in your area the chance to try your dishes?
I never planned on doing a menu in the hotel, but when I developed the dishes based on each individual idea I had, and how they represented or reflected each inventor or innovator, it all seemed to work really well. The hotel then had a reason to use the menu and I think it's good for everyone to see the effort that went into creating it.
When you cook for yourself, do you still whip up amazing meals?
Not for myself no. I don't have a kitchen in the house because we're doing renovations, so I'm cooking on a little camping stove and it's a struggle to cook anything at the moment. But, when I do cook for myself I just have simple food. I enjoy cooking and what I do at work, but for me, I just want something nice and hearty, just good home-cooked food.
Dan McGeorge is head chef at Rothay Manor Hotel, Ambleside, Cumbria LA22 0EH
01539 433605 rothaymanor.co.uk