Jesmond Dene House's Danny Parker on Fern, MasterChef, and his new attitude
Danny Parker tells us about Fern, the new neighbourhood dining room and bar at Jesmond Dene House
Danny shares how the events of the past year have changed his attitude to work and life, and why he chose to re-enter the MasterChef kitchen.
When we speak to Danny Parker, preparation for the opening of Jesmond Dene House's new 'upmarket neighbourhood dining room and bar', Fern, is in full swing. 'It's obviously been bubbling for quite a few months now, and then all of a sudden it starts getting very, very close very quickly,' he says. It's been a longer process than anyone could have predicted – the restaurant was refurbished at the end of 2019, ready for launch in spring 2020. 'We were just starting to get round to that, and then this has just given us even longer to get it bang on and to make sure it's exactly what it should be from day one,' Danny says. 'It's a bit anxious, it's a bit exciting, it's a bit of everything really. Obviously it's a collective effort throughout the hotel by many members of staff, but it does it feel like a baby of mine.'
Having been head chef at Kenny Atkinson's Michelin-starred House of Tides, Danny moved to Jesmond Dene House in the summer of 2018. When he first joined, he says the brief was to make the restaurant more accessible, and to make it busier. 'The brief was never aiming for the lofty heights of House of Tides, and I think people were a bit confused about that when I first came here. Word wasn't put out enough, so we had people coming expecting House of Tides style, and we obviously weren't delivering on that because that's not what the brief was.'
With the work of Terry Laybourne still very present at JDH, it wasn't aways simple to make the changes that Danny wanted to. 'Terry's legacy still lives on here, so it's really difficult to change when some of the things I was trying to change were things that Terry put in place,' Danny continues. 'And whilst it was an unbelievable thing when he put it in place all that time ago, we've moved on now. Launching it as the neighbourhood dining room and bar feels much more in tune with Jesmond and Gosforth, and with our guests. We don't feel like they're coming for "yes sir, no sir, three bags full".'
Danny's hope for Fern is that people can call in for braised beef and chips on a Wednesday, and then come back with their partner on a Saturday night and have three courses. 'That's the kind of vibe it is in the restaurant.' There's no longer a lunch service (although there's a bar menu available), with the restaurant entirely reserved for afternoon tea, which has always been hugely popular at Jesmond Dene House.
It's no secret that the past year has hit the hospitality industry hard, with little job security and plenty of upheaval for those working in it. Danny says he has a good relationship with the owners and directors at JDH, but says that, 'regardless of who you work for and how long you've worked for them, it's been a bit sketchy.' However, this isn't the overriding theme when he talks about the last year.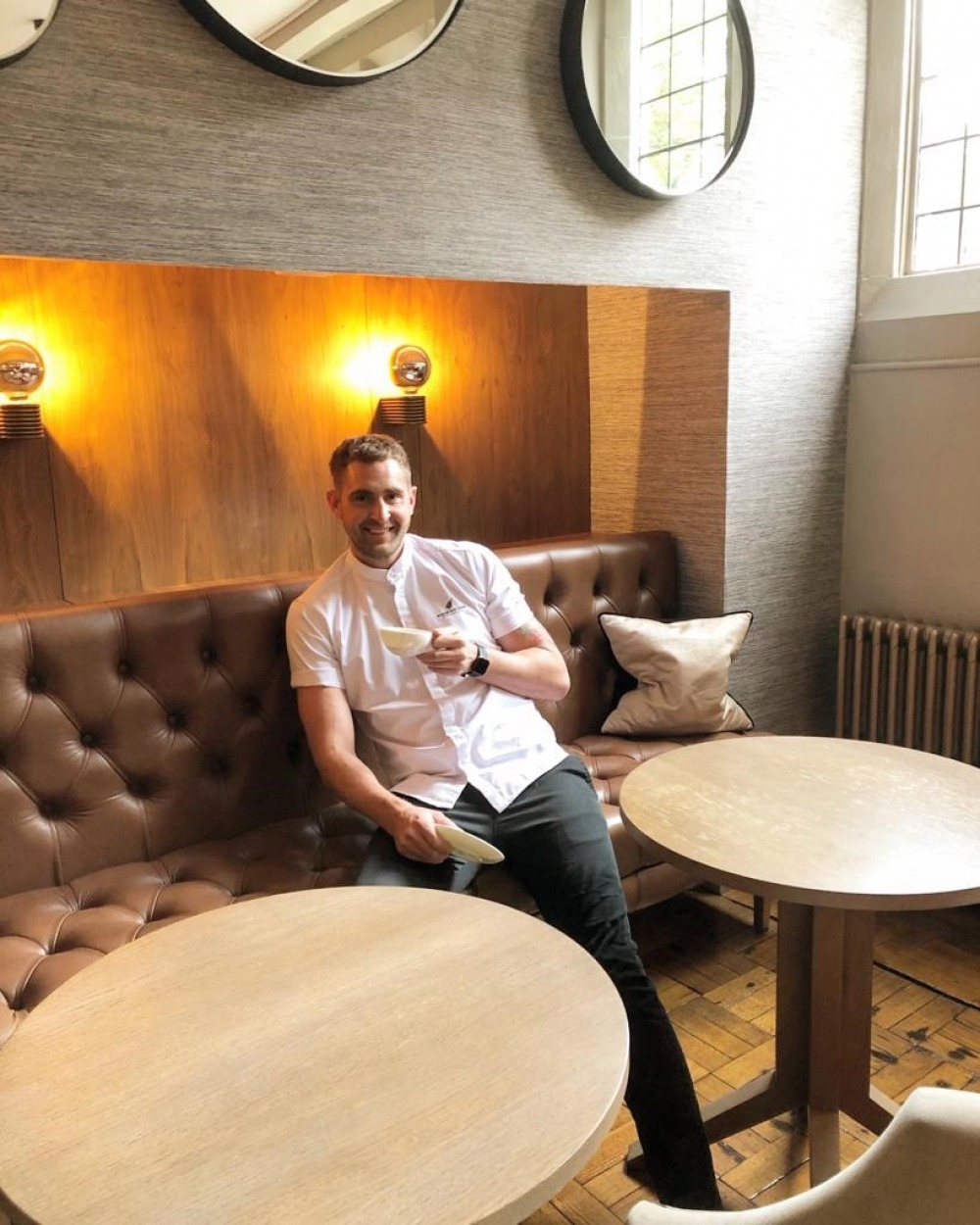 'Aside from that, it's been the best year of my life,' he laughs. He's been able to spend more time with his three-year-old daughter, has got into a nice sleeping pattern, and spent plenty of time out and about exploring the North East. 'Even though all these places have been closed, I've probably done more in the last year than I had in the previous two. It's unbelievable,' he continues. 'I can't tell you how good I feel.'
Initially though, Danny didn't find the change easy. 'Just having no routine was awful, but then I've learned to enjoy that. And now coming back into the kitchen, I'm coming back with a much fresher attitude towards what the younger generation actually prefer. You can't have rules for everything, we're not the army, people are going to do what they want to do sometimes.'
It's clear that the last year has changed Danny's approach. 'It's changed my attitude, it's changed how I view hospitality, it's changed how I view the people we work with – it's changed everything,' he says.
This new-found attitude was evident when Danny was invited back onto MasterChef: The Professionals for a Christmas special at the end of last year. The skills test, he says, was every bit as nerve wracking as the first time he did it in 2014. At that point he describes himself as a nervous 23 year old with no self belief. Nobody had ever told him he could cook. 'They don't really, or they didn't when I was growing up... it's changed now. The kitchens are full of praise.' Back then, he says, 'you just got told off less'. This meant that getting good feedback on MasterChef was 'like a drug'.
By the time he returned last year, things had changed. He cooked a stuffed lamb rump with smoked pomme purée, followed by a pineapple tarte tatin with a lime crème fraîche. 'I didn't invent either of those dishes. You can look in most French cookbooks and they'll be there, and that was the point. I realised that I'm not Heston,' Danny explains. 'From the age of maybe 19 or 20, I knew I was not going to give up seven days a week, 20 hours a day, to be the David Beckham, or to be the Marcus Wareing. So why continue pretending that you're going to invent something new, when a stuffed lamb saddle with good mash and a good sauce is unreal? Just do it! And with a pineapple tarte tatin, you've got everything that you need: sweet pastry, sweet and sour pineapple, bitter caramel, crunchy pastry. What else do you need? You don't need anything! Give the people what they want!'
This was an opportunity for Danny to put forward what Jesmond Dene House is all about, and a chance, as he puts it, for him to 'get over' himself. Even judge Marcus Wareing commented on the change in Danny's style, going from his previous avant garde, technical cooking and presentation to just... presenting some lovely food on a plate. 'It
didn't take me half an hour to plate them up, I didn't start crying when a flower was on the wrong side of the plate, and it's great to feel that way,' Danny continues. 'It's kind of a growing up, a maturity and a confidence. Eventually, something just clicks, and you go, do you know what, I want to cook food that people want to eat. It's that simple.'
So back to Fern. The menu includes dishes such as garden pea soup, pork Milanese, braised beef, and treacle tart. 'It's massively accessible, but we're using the best suppliers that we can use,' Danny explains. 'I'm not here to try and sell something that's a hard sell. There's nothing on this menu that people don't want to eat, don't recognise and wouldn't enjoy.' This approach is perhaps best summed up by Danny's new Instagram hashtag: #notweezers. 'Don't get me wrong, I love dining out in one, two, three-star places, I love the attention to detail – but that is not us.
'In five years' time, I might have my own restaurant, hopefully following in Kenny's footsteps and getting a star in the North East. I'd love to do that for myself one day, but that's not the plan here.'
The plan, in Danny's mind, is simple. 'I think the lockdown just brought it home. Why are you trying to do things to surprise people?' he asks. 'They're coming for dinner! They're not coming to be surprised! Give them dinner with a smile, at a good price – done. Your staff leave happy, your guests leave happy, and you're successful. It really isn't that black and white, but that's how it is in my head.'
Fern is open now at Jesmond Dene House jesmonddenehouse.co.uk