Spiced Lamb Skewers with Black Pepper, Cumin and Dried Mango
Adding sour notes to tandoori cooking is a classic north Indian technique, which has made its way out of the region of Kandahar. This recipe uses dried mango powder to supply that sour note. For these lamb skewers, I include some additional lamb fat to the meat which renders as it grills to give lots more flavour. Ask your butcher for some extra fat diced into small pieces. Marinated in yoghurt with crushed black pepper, cumin seeds and garam masala, these tikka are tangy, spicy and so, so good.
Ingredients
You will need wooden skewers soaked in cold water for 30 minutes
3 garlic cloves, roughly chopped
3cm ginger root, roughly chopped
1 heaped tbsp Greek yoghurt
½ tsp coarsely crushed black pepper
1 tsp coarsely crushed cumin seeds
1 heaped tsp garam masala
1 tsp meat tenderiser (optional)
650g lamb rump, cut into bite-size pieces
2 tsp dried mango powder, to garnish
Sea salt, to garnish
Smoked butter (made ahead) for basting
To make smoked butter
1 x 250g jar, sterilised
250g butter
1 medium piece of coal
Method
Pound the garlic and ginger to a paste in a blender with a splash of water. Put the garlic and ginger paste, yoghurt, pepper, cumin and garam masala in a mixing bowl. Add the meat tenderiser, if using. Stir well and add the lamb (along with the lamb fat, if using) to the bowl. Do not add any salt at this stage — you can season the kebabs sparingly once cooked. Stir well and leave to marinate in the fridge for six to eight hours.
Mix together the mango powder and salt in a small bowl and set aside.
Thread the lamb and lamb fat onto the soaked wooden skewers. Heat a griddle pan over a medium heat and cook the Kandahari tikka for four minutes. Baste the skewers with the
smoked butter and turn over, then cook the tikka for a further four minutes.
Serve the Kandahari tikka warm with a sprinkle of the mango powder mix.
To make smoked butter
Melt the butter in a saucepan with a lid. Set aside. Turn the gas hob to a high heat. Using tongs, place the piece of coal directly in the open flame. Turn it a few times as it begins to heat up and glow.
Turn off the heat and drop the piece of hot coal into the melted butter. It will begin to smoke. Cover the pan with a lid and leave the smoking coal to infuse the butter for one hour.
Stretch a muslin cloth over a sieve. Strain the smoked butter through the lined sieve into a sterilised jar, discarding the coal. Store in the fridge and use as required for basting tikkas and kebabs.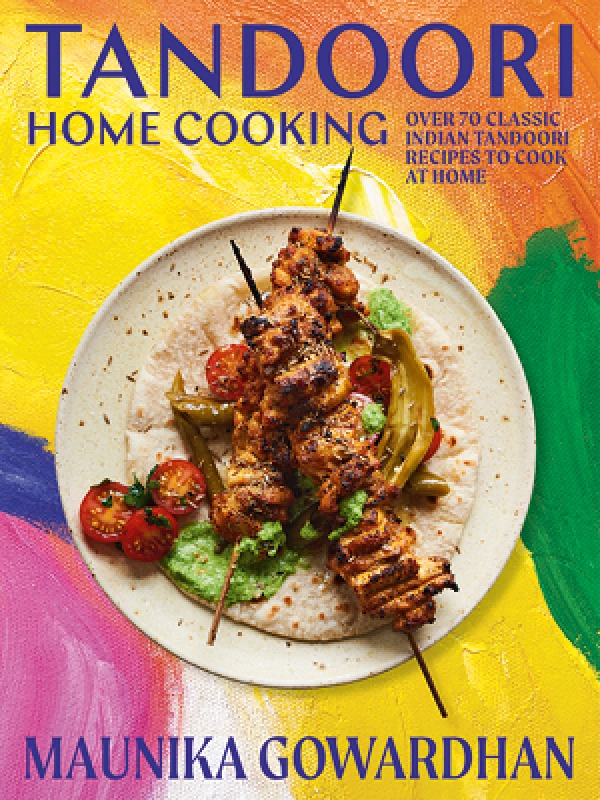 Tandoori Home Cooking by Maunika Gowardhan (Hardie Grant, £25) Photography ©Issy Croker