In the Studio with Award-winning Ceramicist Kirsty Adams
Finding inspiration from as far afield as Japan and Iceland
Award-winning ceramicist Kirsty Adams creates unique work in her Newcastle studio.
Tell us what you do.
I am a ceramicist, making hand-thrown porcelain and stoneware on the potters' wheel. I make unique pieces for the home.
What's your background?
I was born in Wales and my father worked for the prison service, so we moved fairly frequently when I was younger. We then settled in Yorkshire in an ex-mining village near Selby, North Yorkshire. I attended the art college on Saturdays when I was 14, where I first experienced the potters' wheel and loved it. I trained at Brighton Art College, completing a BA Hons in Wood, Metal, Ceramics and Plastics, and then on the potters' wheel in Japan. I have developed a personal approach to throwing on the wheel using porcelain clay, to produce unique pieces for the home. Having originally set up a studio in London, I now work from my studio in Newcastle.
Can you tell us more about your work?
My work is both functional and holds aesthetic meaning, retaining the spontaneity and delicacy intrinsic to making on the potters' wheel. A Japanese comb tool is used to create and enhance the throwing lines. The high-gloss glaze references the porcelain in its wet state, while the bronze, oxide or copper rim detail brings individuality to each piece.
I recently won a Crafts Council opportunity to design a bespoke range for the National Trust's Artisan and Craft Collection, drawing on National Trust collections at Nostell Priory for inspiration. In addition to being represented on the Crafts Council Makers Directory, I am a selected member of the Society of Designer Craftsmen and Design Nation and was recently featured in Ceramics Review Magazine for my love of glazing and to share some of my glazing secrets.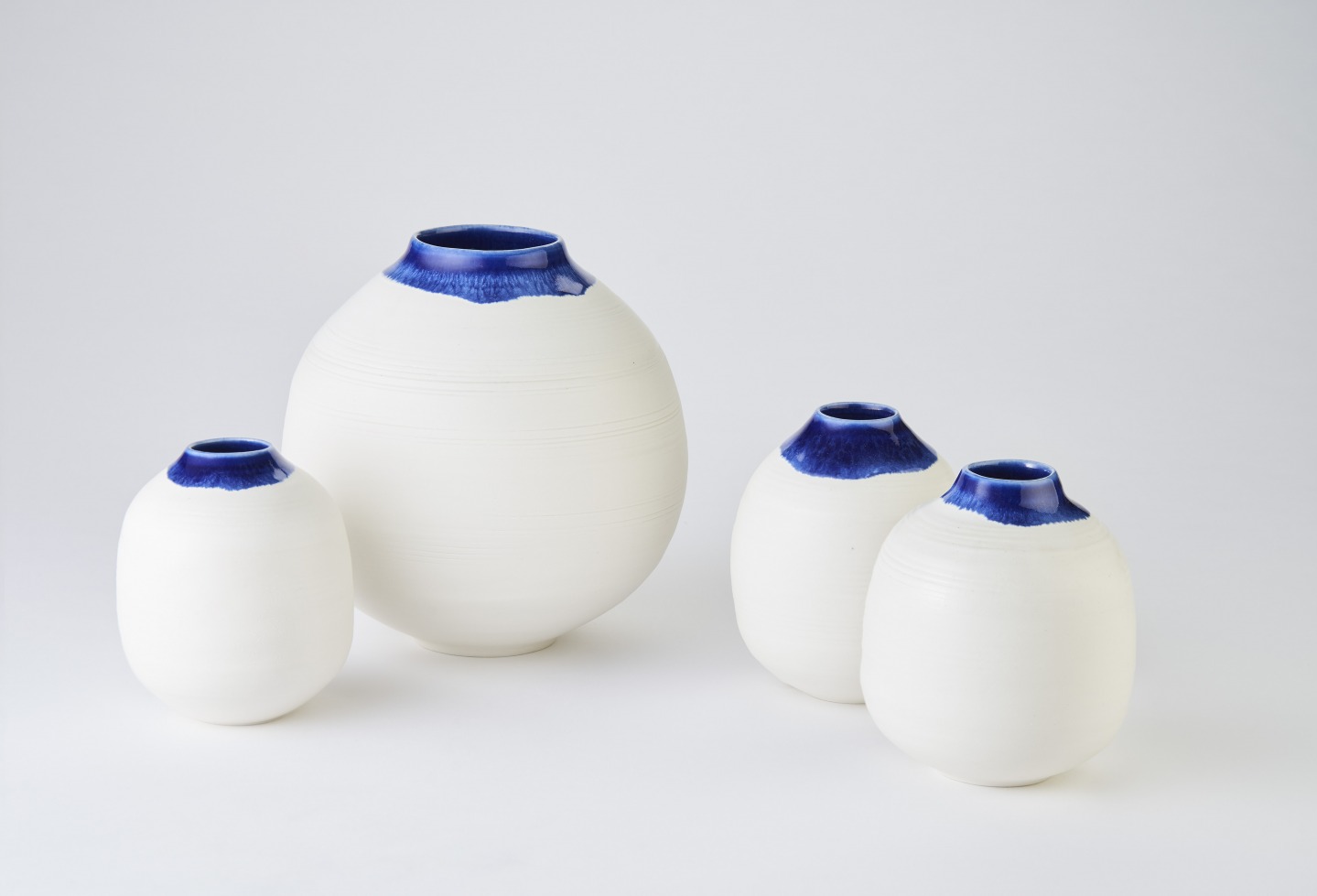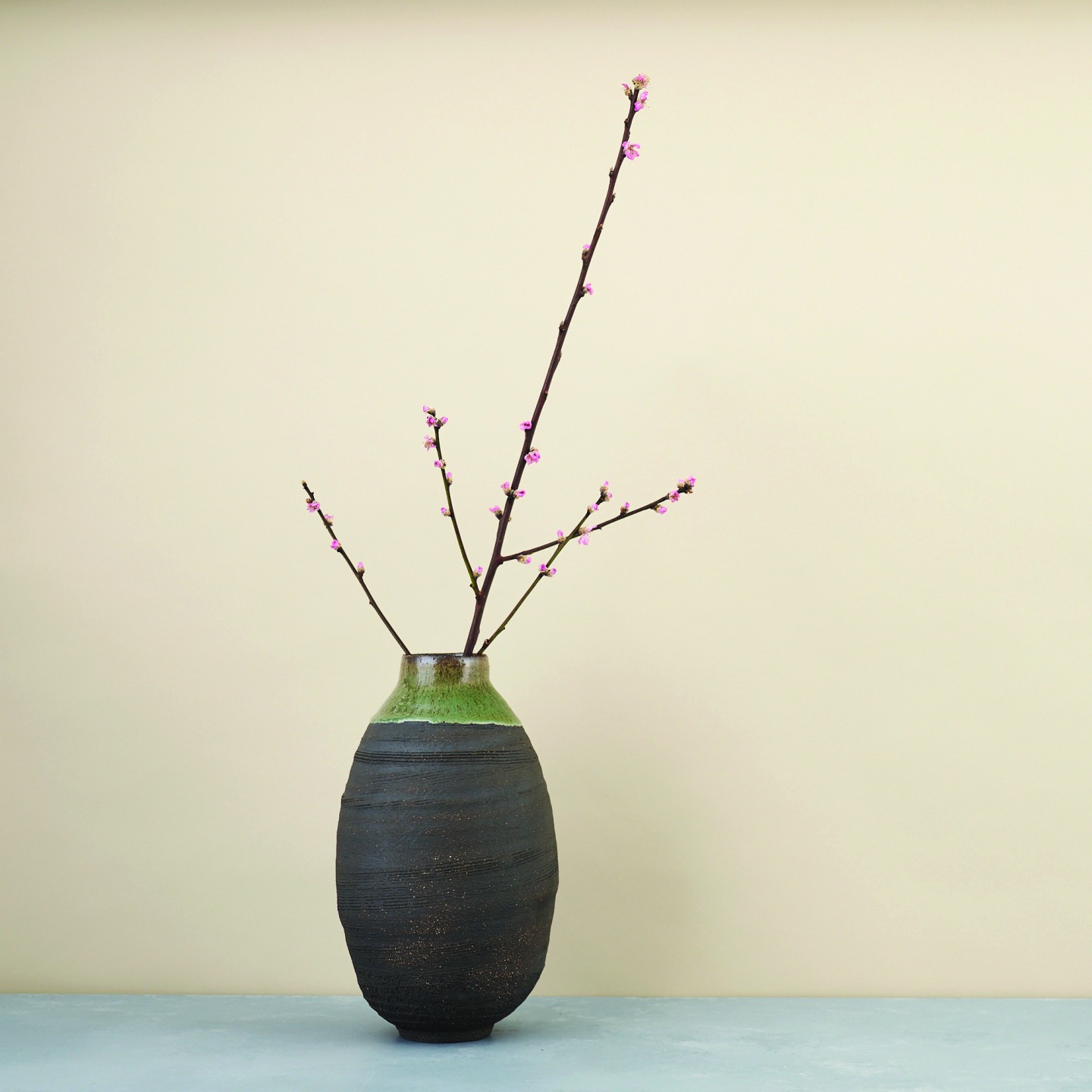 Where do you find inspiration?
My Icelandic collection, the culmination of a research trip to Iceland, expresses the 'otherworldliness' of the landscapes there. The white porcelain and blue moon jars reflect the beautiful volcanic and mountainous landscapes surrounding Reykjavik, glazed with cobalt blue inside and cobalt and tin glazes dipped on the rim. The black onyx porcelain series is reflective of the black basalt beaches of Vik in Southern Iceland.
I am currently working on a series of limited edition tea bowls for 2021, revisiting my love of Japanese ceramics, my love of simple forms and using a Tenmoku glaze I have developed. Each piece is glazed with the same glaze combinations but remains totally unique due to how thick or thin each of the glazes is poured and dipped.
Tell us about your typical day.
If I am firing pieces my first job of the day will always be to check the kiln and workshop (working from home this is thankfully quite easy to do). That is, of course, after I have made a cup of tea. I will then go through and check emails.
If I have a body of work I am glazing I will then start the glazing process. If it is a making week, I'll work through what I have planned to throw on the wheel. I make a plan and generally make sure I get through everything I have on my to-do list for that week. Invariably, something else will come up within the week (orders to send off, enquiries about commissions etc).
Making weeks and glazing weeks allow me to get into a rhythm with my making and glazing. Also, some glazing needs to be done in two stages if a piece is layered, so I will let the first layer sit over night before adding another layer.
What's your favourite thing about what you do?
It has to be the creative process and the anticipation of throwing a larger-scale piece – preparing the clay and watching it emerge from the wheel into a moon jar, dish or vessel.
What's the most challenging part?
In the past I would have always said the marketing and selling of my work, but recently it has been the balance between family life and making my pieces, due to the recent pandemic.
Favourite piece of your own work?
My favourite piece is a large black stoneware moon jar with copper green. It sold to a collector in London.
How do you relax?
With my family, going on day trips walking and to the Northumberland Coast. We recently visited Simonside and absolutely loved it.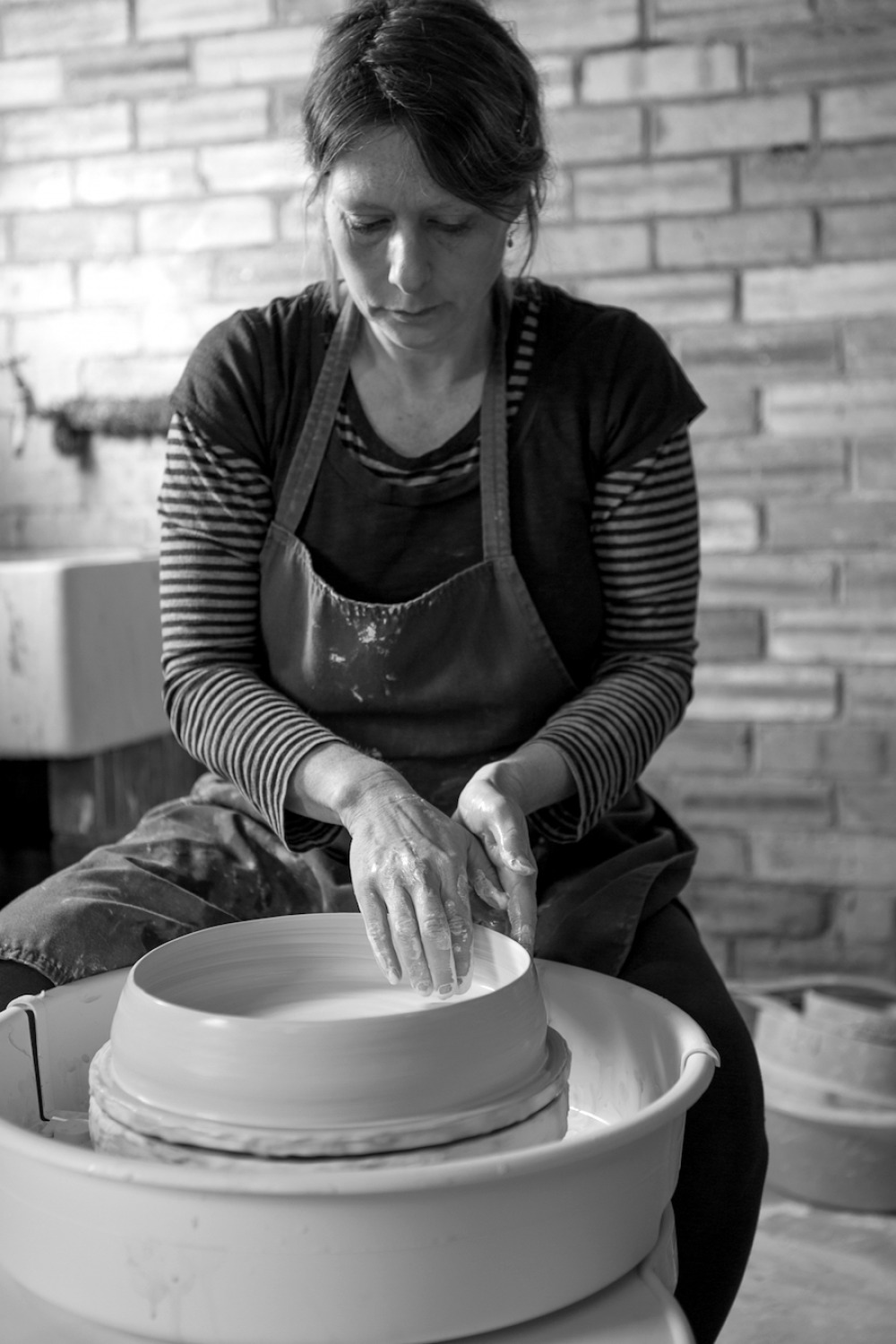 Plans for the future?
Through the development of my Icelandic collection and Tenmoku teabowl collection, I'll be continuing the development of pieces which reflect my reignited passion for glazing and glaze development. I will also be developing a large-scale vessel line to sit alongside my current collections, and I'll be making more large-scale shallow dishes and moon jars.
Kirsty will be holding her second pop-up shop at John Lewis & Partners, Newcastle this Autumn. Her work is available at The Biscuit Factory, Ouseburn, the Old School Gallery in Alnmouth, and at open studio events as a guest artist at The Old Bath House, Broomhill. Find out more at kirstyadams.com