Surfing in the North East
The North East is home to a number of sand bars, heavy waves, barrelling reefs and, of course, a dedicated crew of surfers. We caught a wave with one or two of the most renowned surfers to find out more about the sport's appeal
From the Gare in Middlesbrough to the notorious Black Midden rocks in Tynemouth, there are a number of world-class opportunities for surfing dotted along the North East coastline. Some of the more renowned surfers however, will go further afield in search of the perfect wave.
One surfer to hail from the cold waters of the North East of England is Paul Stewart. A local celebrity in Tynemouth, most however know him as 'Titch'. As well as throwing the annual Surf Ball and hosting the Tynemouth Surf Film Festival – an evening filled with big screen premieres of films and art from around the surfing world – he also teaches at a surf school in Bali. I managed to catch up with him after a 19-hour journey home from the Southern hemisphere.
Paul began surfing at a young age. His first board was presented to him on his 10th birthday, 'a beat up thing from a gulf stream in Devon' he recalls. His favourite surfing haunt, and one that stands as a very popular surfing destination today, is the award-winning Longsands. This excellent stretch of golden sand attracts surfers all year round and is currently the subject of a proposed redevelopment – a bid to bring Tynemouth's jaded outdoor pool back to life. The pool was initially opened in 1925 and became an instant hit with the many tourists flocking to the coast, its popularity however began to wane in the 1970s. The aim is to transform the lido into a cultural arena for sporting, theatre and art events, and there is even talk of an outdoor volleyball pitch.
As well as the famous Longsands, there are a number of other renowned beaches dotted along the North East coastline. Cayton Bay in Scarborough is a well-known surfer's retreat.
It is here that many surfers, Paul included, compete in the bay's annual surf competition, held without fail every October half term.
Surfing has always played a predominant part in Paul's life, 'chasing the waves only fell out of sync a little when chasing girls became more important' he says. He went on to take the sport more seriously in high school, taking part in a number of big competitions, such as the Red Bull Break Five team event, which takes place on the beautiful Bamburgh Beach. There are a number of other small-scale competitions in both Scarborough and Saltburn. The North East is home to some of the best coastline in the British Isles and for those that are feeling a little adventurous, there are a number of great waves to catch off the beaten track along the coast of Northumberland.
So what really gets these surfers stoked (an expression used by many surfers, meaning 'high on life') and what makes them want to dive head first into the freezing waters of the North East? 'The adrenalin rush has a lot to do with it,' says Paul, 'however, I must admit it is much easier when all the boys are on a surf trip together. We'll have some good music playing in the van, flasks of piping hot coffee, all of which adds to the hype'. Paul goes on to describe a recent camping trip in Thurso. 'Despite the storm wiping out much of the campsite, it delivered some great waves and we went on to surf for much of the day. What you get when you make the break is a strange feeling, but one that is different for every surfer. For me, it's a form of escapism. When I paddle out I'm able to leave my worries at the shore's edge. It is a very organic feeling but also one of fulfilment.'
The best season to surf, though it's hard to believe, is the winter months. It is at this time that the North East coastline is battered with swell, which to us non-surfers translates as great waves. You may be thinking 'they must be mad' and you'd be right says Paul, 'peeling off sodden wetsuits in vicious hailstones and minus four air temperatures is enough to bring any grown man close to tears.'
Although travel plays a major part in a pro-surfer's schedule, each and every local has his or her favourite home wave. 'My favourite would have to be a spot titled Big O's,' says Paul, 'which is up in Northumberland'. This wave is also a favourite of the likes of Sandy Kerr, Danny Allott and Owain Davies – all big local names in this generation's surf scene. With Paul now setting his sights further afield, he has other waves to contend with, Bali's Bingin being just one of them. 'This particular wave has a really easy take off and an easy barrel,' says Paul, 'the only downside being its popularity. Bingin is often extremely busy with surf tourists hoping to make the break. A dedicated surfer will hit the waves early in order to avoid the crowds'.
'From the Gare in Middlesbrough to the notorious Black Midden rocks in Tynemouth, there are a number of world-class opportunities for surfing dotted along the North East coastline'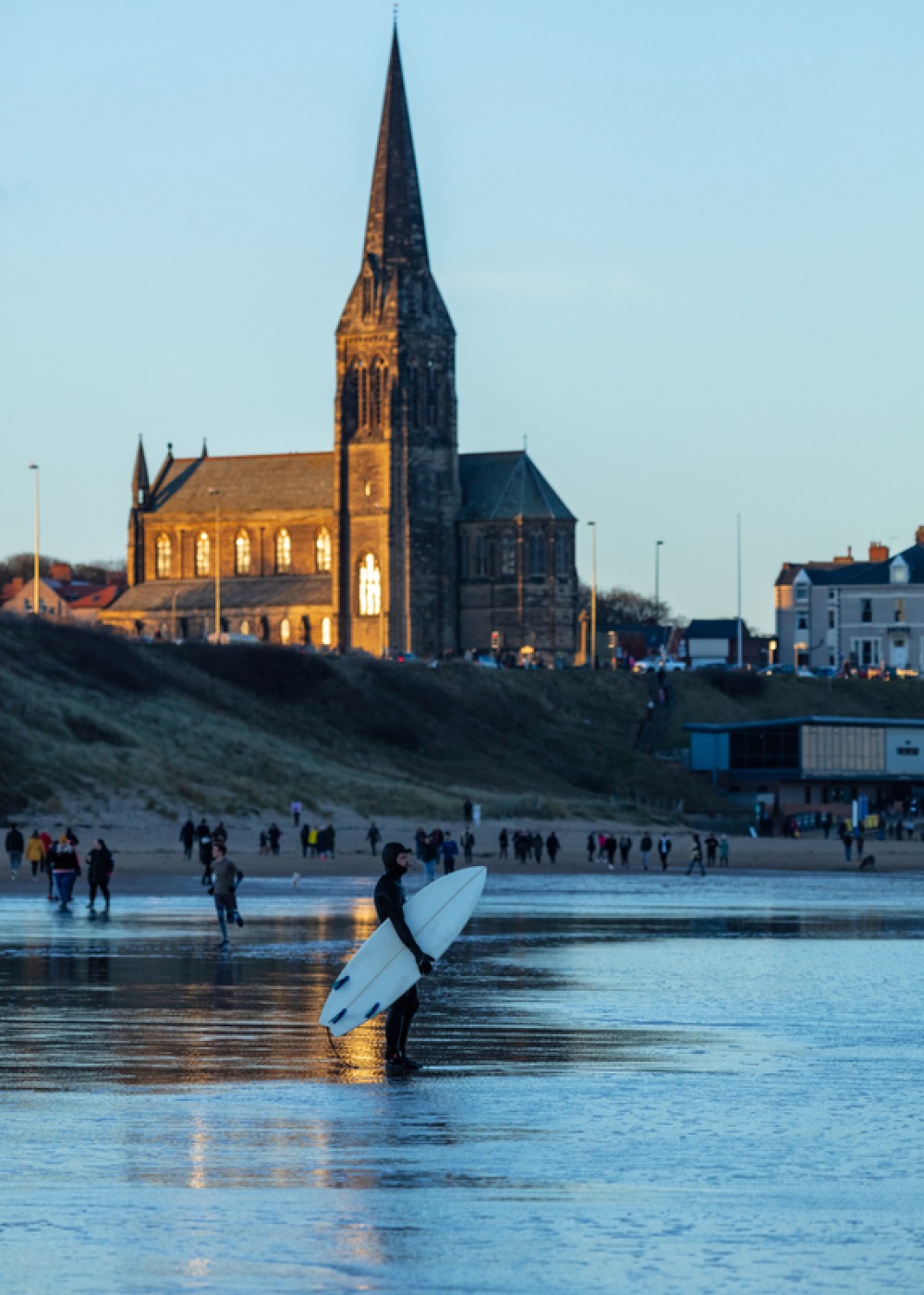 Born and bred in Tynemouth, Sandy Kerr grew up with some of the UK's finest surfers to date – including Joel Gray, Sam Lamiroy and the Davies Brothers, Gabe and Jesse. From North Yorkshire to Staithes, Sandy rides all the local waves. During the summer months he works as a surf instructor and lifeguard on Tynemouth's Longsands Beach. His true love, however, is travel. He's ridden barrels from Scotland to Indonesia, often whilst on photo shoots for top surfing magazines. ('Riding a barrel' is a surfer's ultimate goal, they are formed when the lip breaks clear of the rest of the wave, creating a hollow tube. The trick is to get inside!)
Over the past five to ten years, surfers and surfing in Tynemouth has boomed. What was once a relatively small surfing community is now one of the busiest surf scenes in the country, featuring more surf schools than ever before. A tutorial at one of the many surf schools in the area will give you a taster of this exciting sport. When doing so, be honest about your ability. Part of the challenge is selecting the correct board. Paul suggests visiting an official surf shop, 'speaking to a professional will ensure that you get the best board for your surfing needs. Learning the surfing etiquette is another necessity, this will certainly avoid any unwanted collisions,' he explains.
Despite the many travel opportunities surrounding this exhilarating sport, of all the places to live and surf, Tynemouth is a hidden gem, boasting both great surf and a thriving community. Spend the afternoon surfing the prodigious waves of the North Sea, and the evening touring the stylish bars, art galleries and music venues of Tyneside.
Tynemouth Surf Co
Unit 1, Grand Parade, Tynemouth NE30 4JH
0191 2582 496
www.tynemouthsurf.co.uk
Northside Surf School
Amble, Northumberland
01665 713146
www.northside-surf-school.co.uk
Saltburn Surf School
Lower Promenade, Saltburn-by-the-Sea, Cleveland 07587 0006639
www.saltburnsurf.co.uk