The Return of Inspector George Gently
As the eighth series of Inspector George Gently returns to our screens, we spoke to stars Martin Shaw and Lee Ingleby about their time filming in the North East
This April the eighth series of the BBC hit show Inspector George Gently will return to our screens with four new episodes. Shortly after filming finished in the show's Durham setting we caught up with Martin Shaw who plays the eponymous Inspector George Gently and Lee Ingleby who plays sidekick Detective Sergeant John Bacchus. They gave us a sneak peek into what it was like filming in our region.
'We love being in the North East,' Martin tells us. 'It really is like another character in the series.'
Filming for the eighth series took place in Hartlepool, Middlesbrough and Newcastle, with the High Level Bridge taking a starring role in one episode. It's Durham, however, which is the star. As fans of the programme will know, Inspector George Gently is set in the 1960s. With its narrow streets and cobbled pavings, Durham is the perfect setting for the period drama.
'It is so very picturesque,' Martin suggests. 'There is a kind of music about the North East in the accents and in the beautiful countryside.'
Lee shares the sentiment: 'It is like putting on your favourite coat,' he says, 'It is warm and familiar.'
Both actors have been in the North East countless times in recent years filming the show and tell us that the Northumberland countryside is the perfect place to unwind during a busy week of filming.
'If I've got a bit of time off, I just like to get in the car and drive out into the wilds,' Lee explains. 'Maybe find a little pub somewhere, have a nice lunch and go for a walk. It is good just to escape the filming for a bit and take in some nature.'
'As fans of the programme will know, Inspector George Gently is set in the 1960s. With its narrow streets and cobbled pavings, Durham is the perfect setting for the period drama'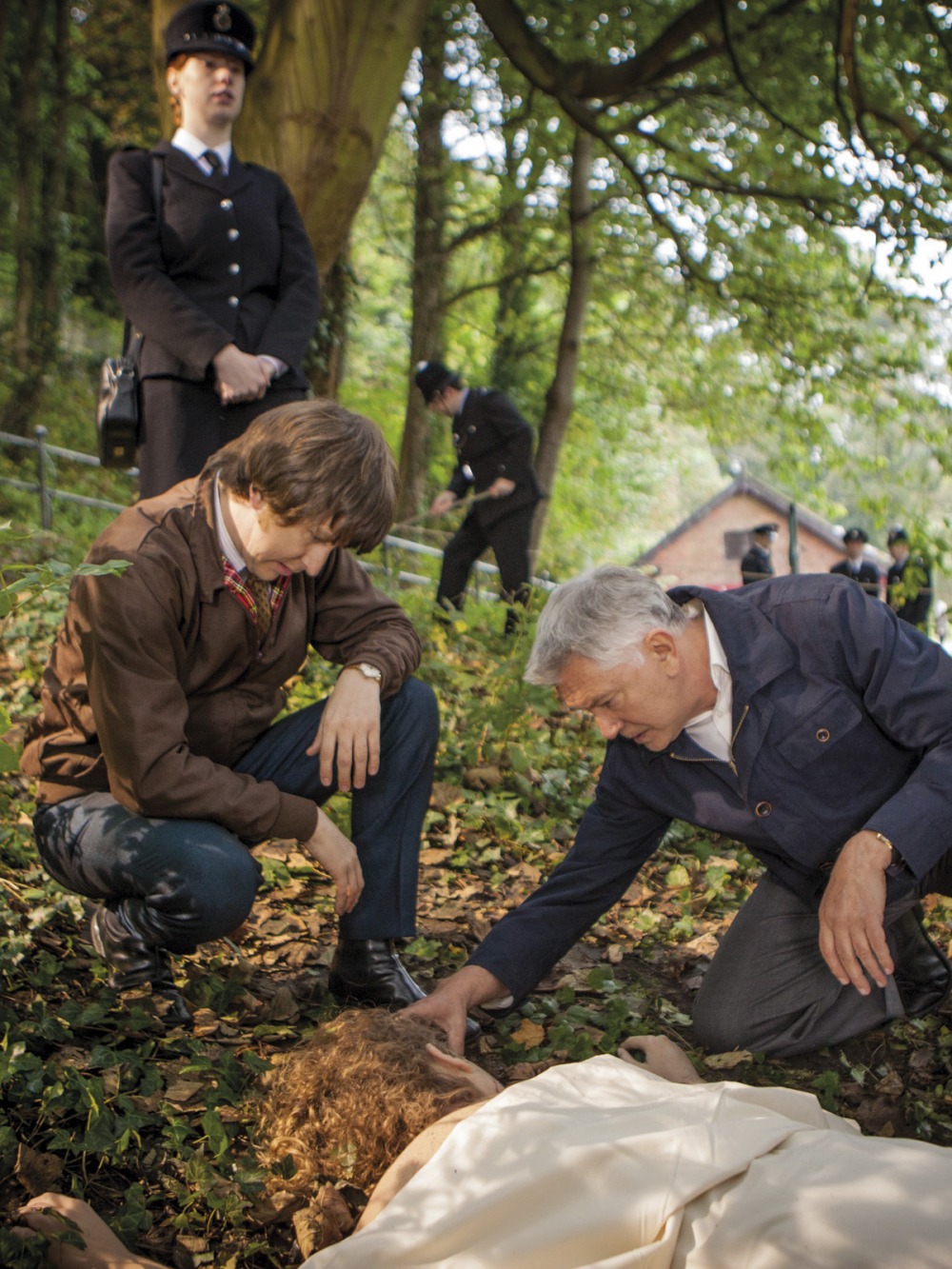 A huge part of their love for the region is us Geordie folk. Lee remarks, 'Durham is not the biggest place, but everybody is so accommodating and lovely.'
Unsurprisingly their outdoor scenes now attract a sizeable crowd during filming. 'We did one scene which was a bank robbery and someone fired a sten gun which drew a large crowd,' he explains. 'It is lovely to see people being inquisitive and joining in.'
But filming in a university town is not without its challenges, as Lee found out during freshers' week. 'We were filming a scene when we had to do a stake-out in a car,' he says. 'But we had to stop filming as a group of students dressed as babies in romper suits and nappies were busy vomitting in the back of shot.' This clearly wasn't quite right for the period drama.
This series is set in late 1969 and features such memorable events as the first moon landing, the national bin strikes and drilling for oil in the North Sea. It will tackle a range of topical issues, including police procedures, the discovery of asbestos in industry, the battle between capitalism and socialism and the rise of "skin heads" in late Sixties youth culture.
For many of us this is a time that we remember and Lee tells us that he thinks nostalgia is a big part of the show's appeal. 'It is nice to see where you have come from,' he explains.
The cast and crew go to strenuous lengths to ensure that the show is historically accurate. In addition to using period settings and 1960s clothing, writer Peter Flannery also based many of his storylines on real-life events. It is testament to the strength of this writing that a retired Durham police officer the cast met during filming remembered many similar events. This responsibility also falls to the actors – Lee watched historical documentaries in order to understand his character's often dated attitudes.
In this series we will see Bacchus continue to jostle with WPC Rachel Coles (played by local actress Lisa McGrillis), struggle with his unconventional relationship and learn to be more compassionate towards victims. 'He can be quite hard to play with a modern mind,' Lee tells us. In one scene we see Bacchus being particularly unkind to a female rape victim. 'It is hard to believe that people thought like that,' Lee suggests, 'But the sad truth is that it was quite common.' It is this historical accuracy that adds authenticity to the programme.
Inspector George Gently also faces his own challenges in this series as he battles health problems. 'It is going to make him wonder if he can carry on doing the job,' Martin explains. 'But it results in further bonding between him and Bacchus because he has to take Bacchus into his confidence so that the bosses don't find out.'
Both actors agree that it is this relationship between the central characters that accounts for the show's success. 'It is not just a cop show and it is not a whodunnit,' Martin says, 'It is about the relationships between the people and the time they're living in.'
Though they continue to come up against each other at times, Martin sees no antagonism in this relationship. He suggests that Bacchus and Coles are simply 'Gently's children squabbling away in the corner.'
Martin and Lee clearly enjoy a fantastic relationship on stage and off. When asked whether Gently was a fun character to play Martin tells us it is 'only because of the people I have around me - we're like a family now.' Lee agrees. 'It is like going to work with your mates,' he suggests. 'It is the reason that I keep doing it every year.'
With a stellar supporting cast, including North East favourites Jim Moir (Vic Reeves) and Denise Welch, there is plenty to keep us glued to our screens. In case you were in any doubt, Martin Shaw reassures us that this is the best series yet. 'We get better every time,' he tells. We can't wait to see it.
Inspector George Gently will be shown on BBC One later this month.