Three Gastronomic Getaways for the Perfect Foodie Holiday
Feast your eyes on the best places to go for the perfect gourmet holiday
Take a trip to Alentejo in Portugal, for fresh gastronomy with Greek, Roman and Arab influences. Head north to experience the vibrant food scene of the Scottish Highlands, or visit France's third-largest city Lyon which is the ultimate destination for the culinarily-inclined traveller.
Alentejo, Portugal
Dubbed both the Provence and the Tuscany of Portugal, Alentejo is one of the country's top wine producing regions, with breathtaking landscapes characterised by gently rolling hills, cork forests, a craggy coastline and historic fortified towns, in an area which spans from the centre of Portugal down to the Algarve and all the way across to the Spanish border.

Despite covering almost a third of Portugal, the Alentejo is sparsely populated and still attracts a relatively small number of tourists so you'll have no trouble finding a secluded beach or quiet cultural hotspot. As well as golden stretches of sand, the Alentejo is home to everything from ancient Roman ruins to vast marble quarries and vineyard-covered hillsides.

The gastronomy here is fresh, both the wine and cuisine have Greek, Roman and Arab influences. Each culture brought their culinary traditions to the region and today many local dishes are based on Mediterranean-style ingredients. Think cured meats, stews and lots of olive oil.

When you visit Alentejo you're bound to have a visit to a winery or two on your itinerary. Adega de Cartuxa winery is found in the capital, Evora, situated next to a beautiful 16th century monastery. Evora is a UNESCO World Heritage Site and is filled with white-washed houses with the traditional Portuguese tiles, and an arched aqueduct designed by renowned architect Fransisco de Arruda.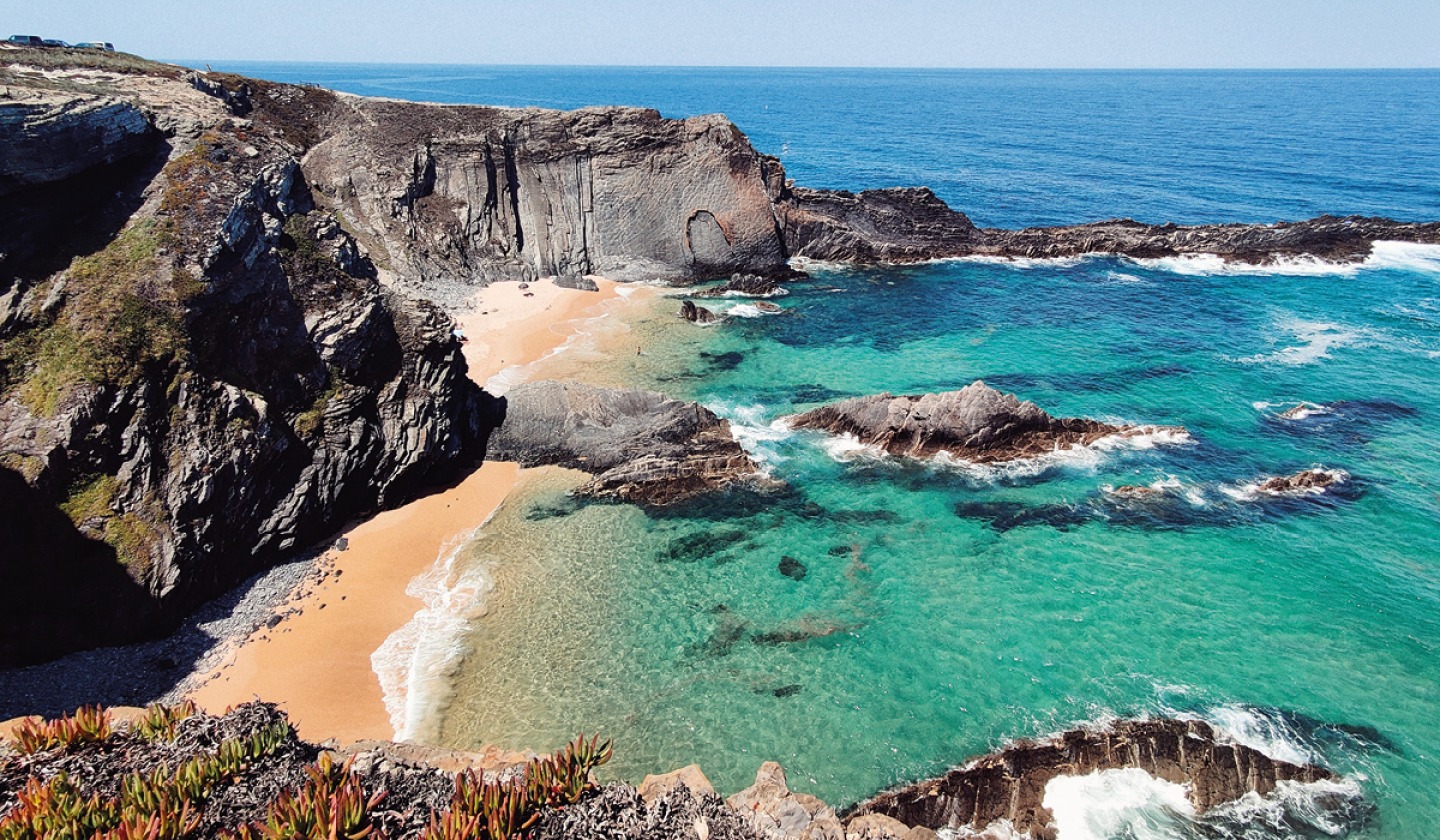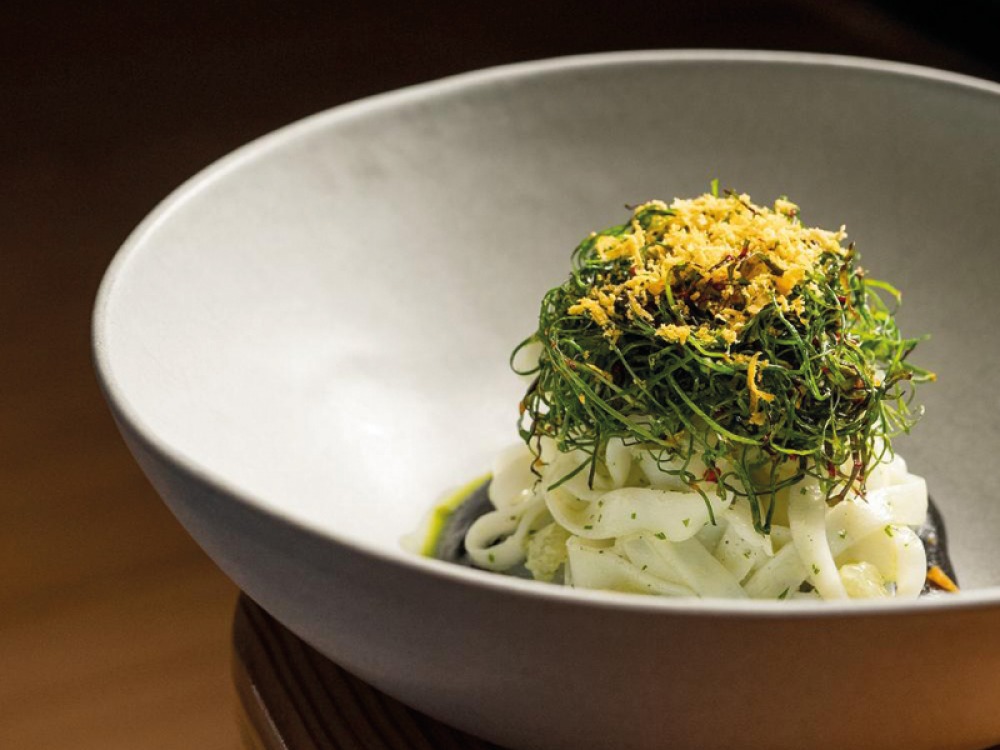 Where to Eat

At Michelin-starred Herdade do Esporão you'll find 'terroir' cuisine where the produce is central. Your meal is completely in the talented hands of chef Carlos Teixeira, who regularly updates his seasonal Carta Branca tasting menu with dishes using meat bred on their farm and high quality ingredients from their organic vegetable gardens.
esporao.com

A 200-year-old whitewashed estate in central Alentejo, São Lourenço do Barrocal is a must-visit. A 7.8 million square metre working farm, it is home to olive groves, vineyards, vegetable gardens and livestock, with much of what is produced here used in the onsite farm-to-table restaurant. Expect dishes deeply rooted in Alentejo's tradition, elevated with a touch of contemporaneity.
barrocal.pt

Another whitewashed village with lots of history is Estremoz and in the centre you'll find Mercearia Gadanha, an authentic restaurant, shop and wine cellar celebrating everything to do with the region's gastronomy. As well as focusing on local Alentejo labels in the dishes served here, choose top-quality local products to take home with you including outstanding wines and olive oils from the deli.
merceariagadanha.pt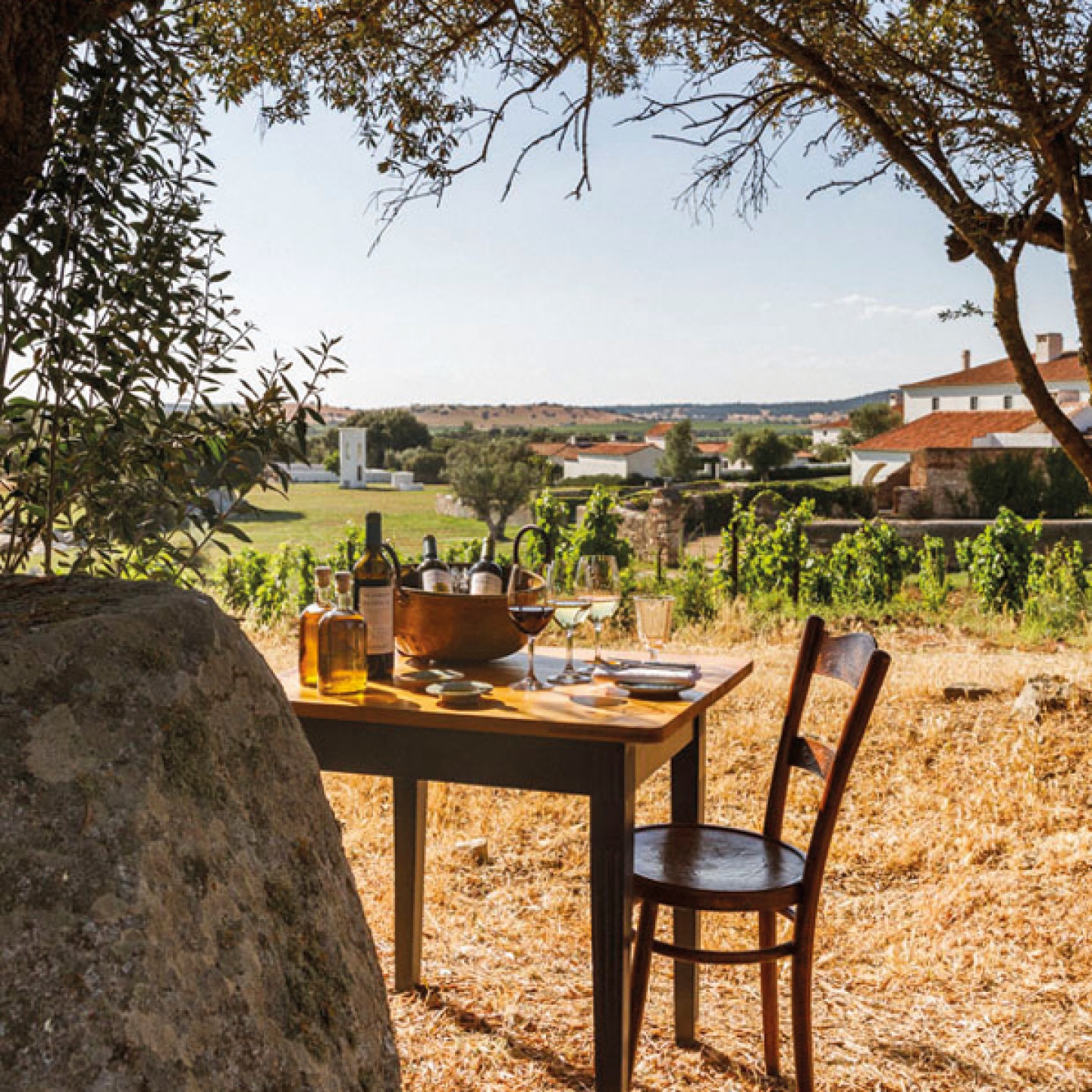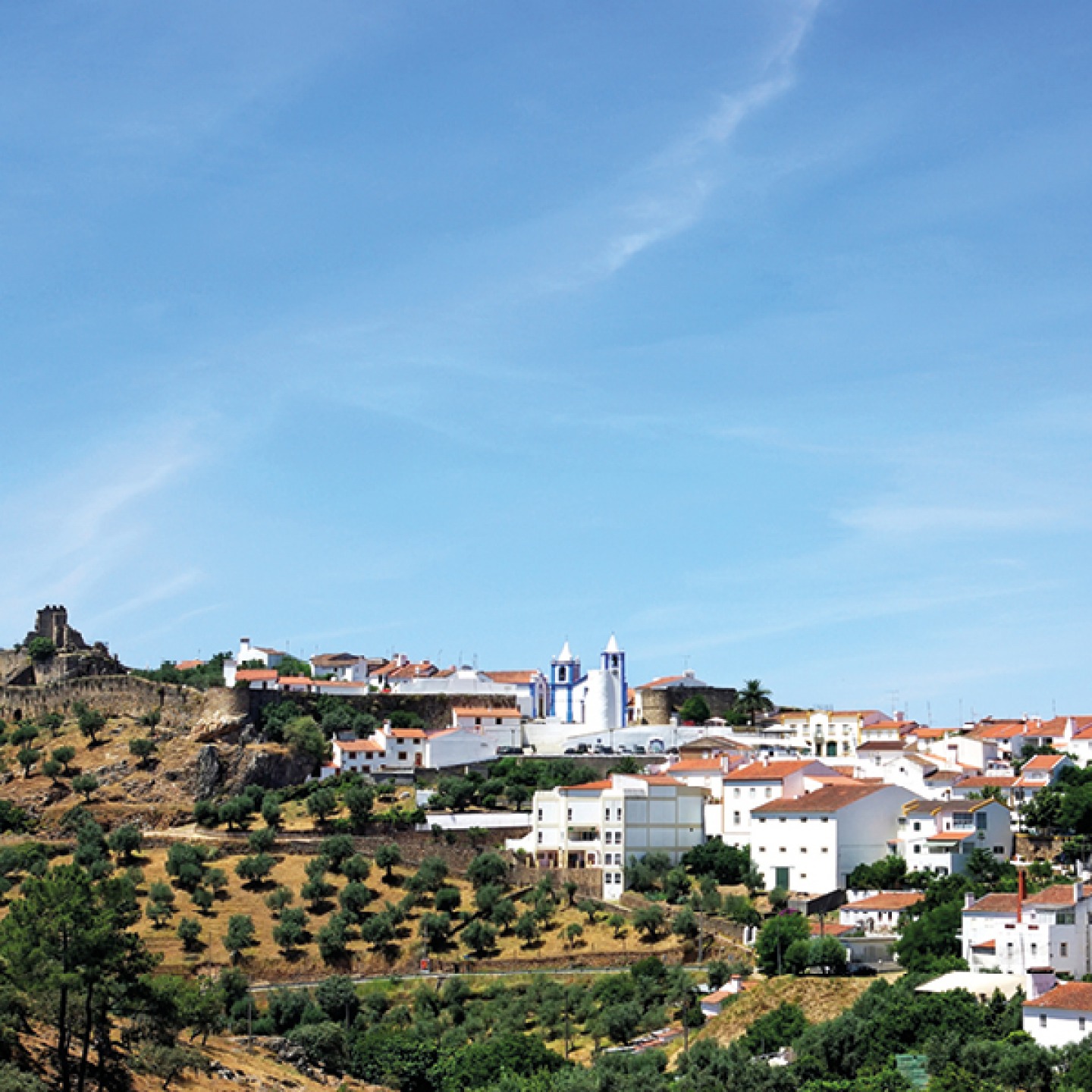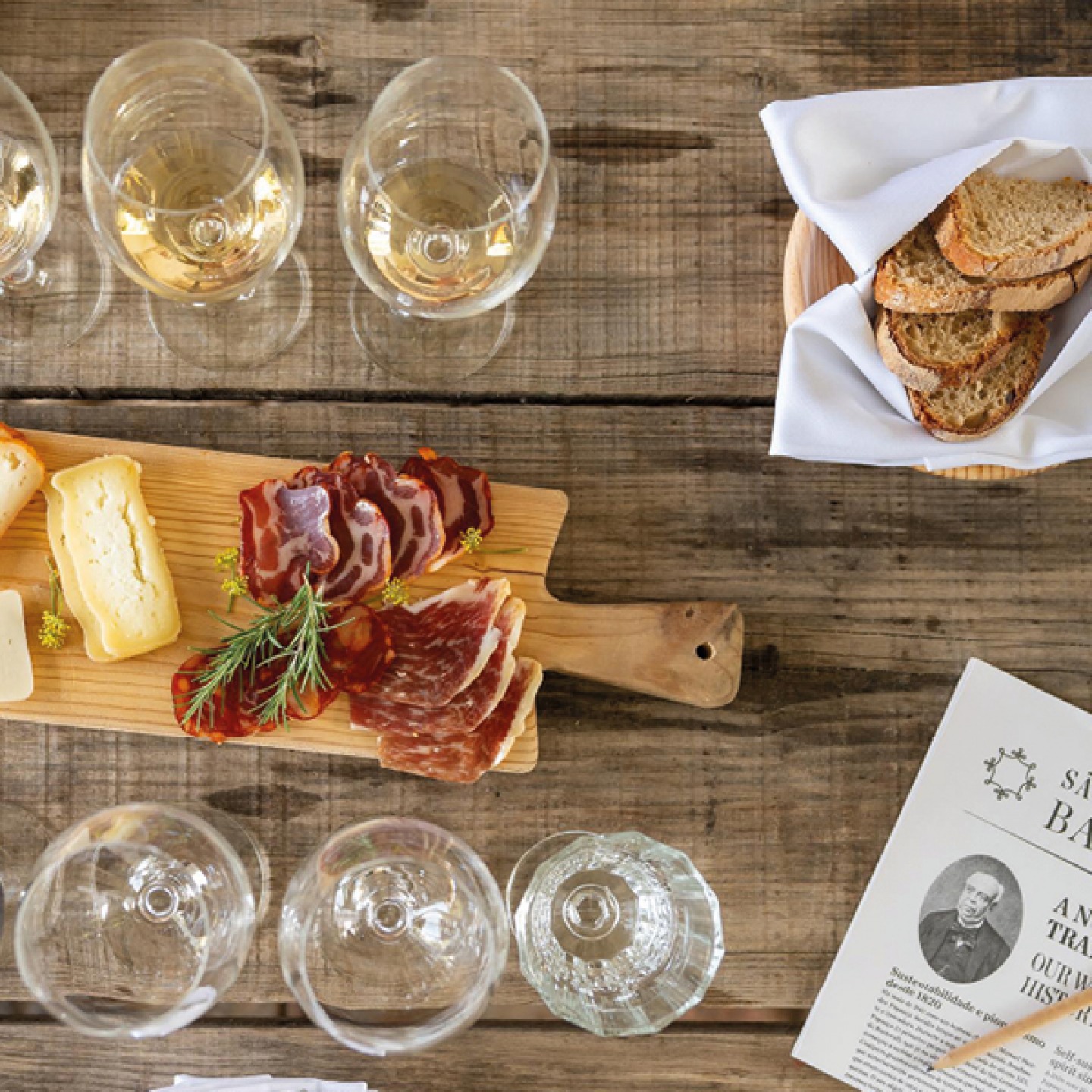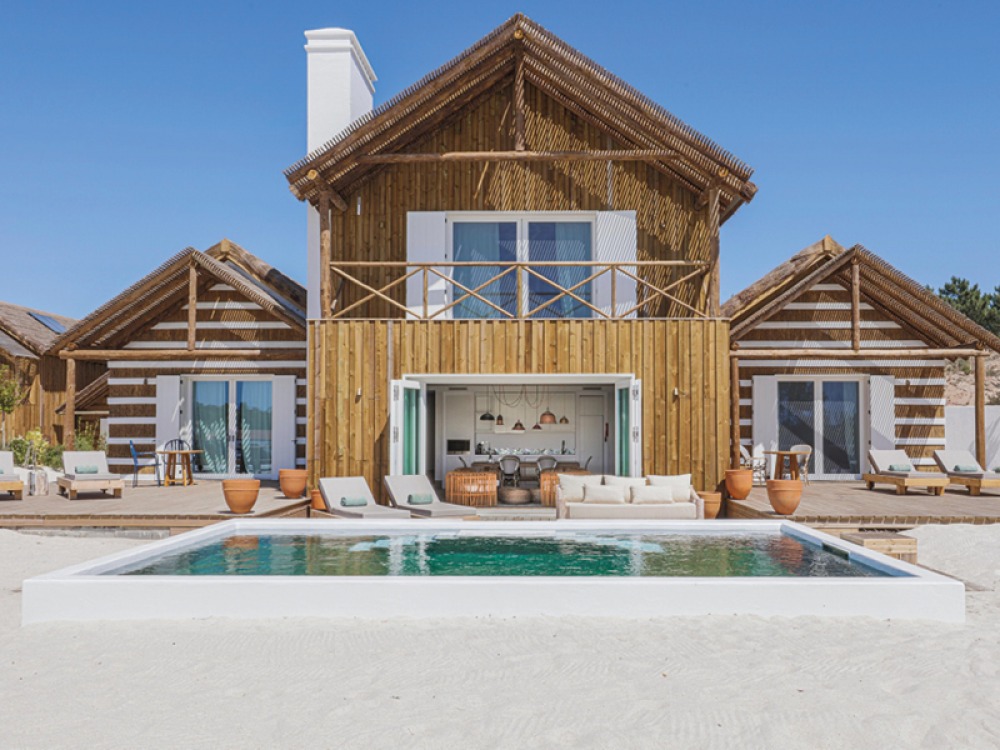 Where to Stay

More than 100 km of the Alentejo coast is a natural park, so there aren't many hotels directly on the beach, however you can still put your feet in the sand at Quinta da Comporta. Just a short drive from the sea, this wellness boutique resort offers deluxe rooms, suites, townhouses and pool villas, as well as an impressive solar-heated infinity pool overlooking the rice fields, and two barn-like structures that house the Oryza Spa on one side and Mar D'Arrozal restaurant on the other.
quintadacomporta.com

Dá Licença stands amongst 300 acres of olive groves and pure marble rock, boasting views of the Serra d'Ossa forest and the castles of Evoramonte and Estremoz. Having taken in the unique surroundings, guests will be equally impressed by the elegant interiors of this renovated farm. All nine suites are beautifully designed, and finished with unique pieces of art from the on-site gallery.
dalicenca.pt

At the heart of upper Alentejo, you'll find the Torre de Palma wine hotel. Featuring typical regional architecture including white-washed walls and inviting, comfortable rooms, this is the perfect place for an authentic experience. Best of all, guests can make the most of the on-site wine tasting room and try the wine made in the hotel's own vineyard.
torredepalma.com
Lyon, France
In the country that invented haute cuisine, there are a number places you can go for a fabulous foodie holiday. While your first instinct may be to think of Paris for fine French dining, it is actually Lyon which is the ultimate destination for the culinarily-inclined traveller. France's third-largest city, it has regularly been named the gastronomic capital of the world.

In the Auvergne-Rhône-Alpes region, Lyon's geographic location makes it a hub for great agricultural produce and, taking inspiration and ingredients from its surroundings, this city uses the best of what its neighbouring areas have to offer and combines it all to create delicious dishes.

Unsurprisingly given its moniker, Lyon is home to many speciality dishes that you won't find anywhere else. From Tablier de Sapeur (a dish consisting of tripe marinated in white wine and cooked in broth before being covered in breadcrumbs and fried) to sweet treats such as Vacherin (a shell of meringue filled with ice cream, whipped cream and fruit), there is so much to try – and that's before you've even looked at the charcuterie and cheese.

The best place to try some of these specialities has to be a traditional bouchon Lyonnaise. While Lyon has an impressive 15 Michelin-starred restaurants, for a true taste of the city you need to dine is one of these famous bistros. An antidote to luxury fine dining, in these unpretentious eateries you'll find red-checked tablecloths, wine served by the jug and real, authentic Lyonnais cuisine.

There's also no shortage of vineyards in the Lyon region, where the wine-growing landscape consists of Beaujolais, Côtes-du-Rhône and Savoie. Whether you visit the wineries themselves to sample their wares, or sip on this year's harvest from one of the many chic bars in the city centre, Lyon is somewhere every foodie should pay a visit.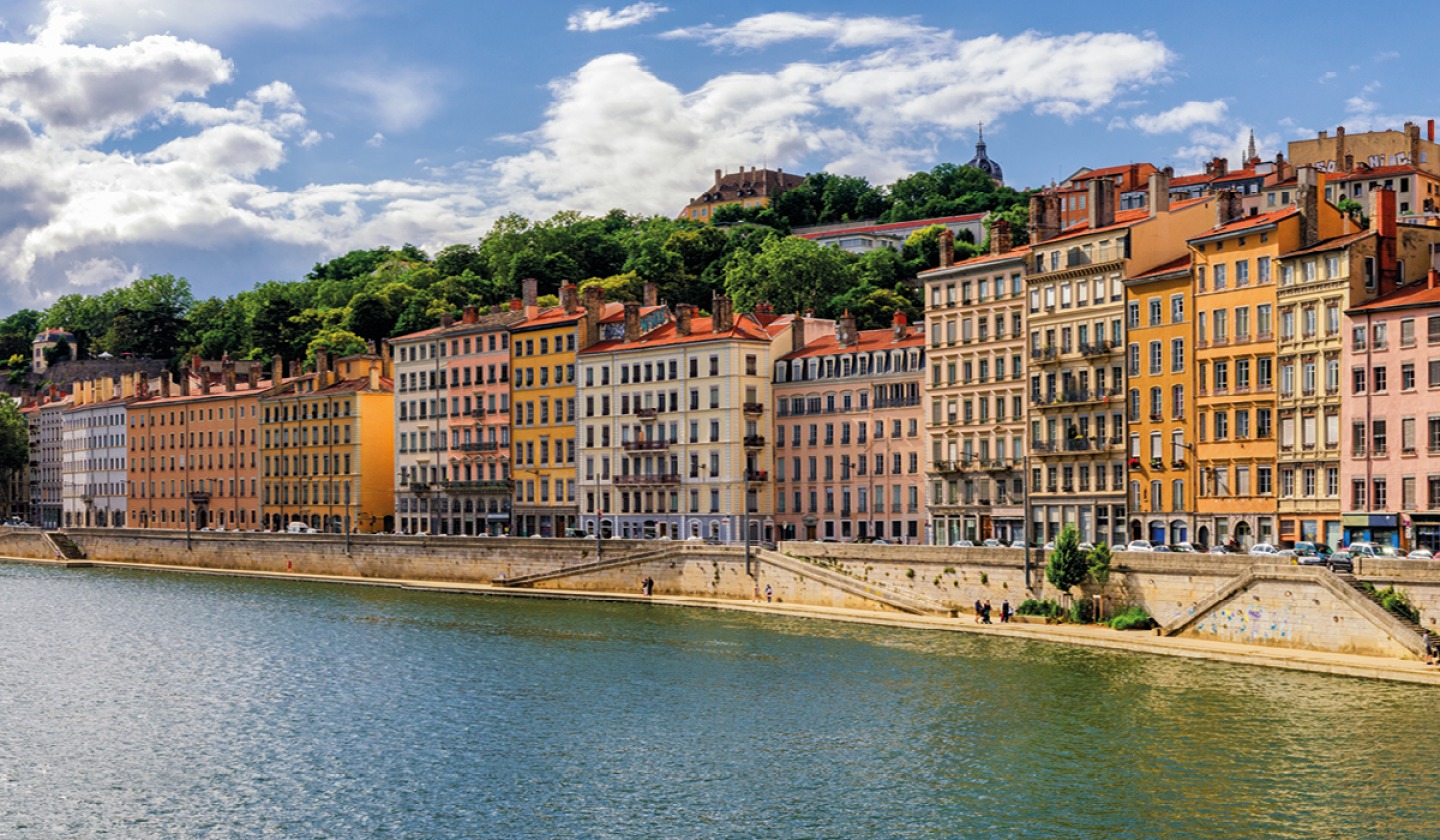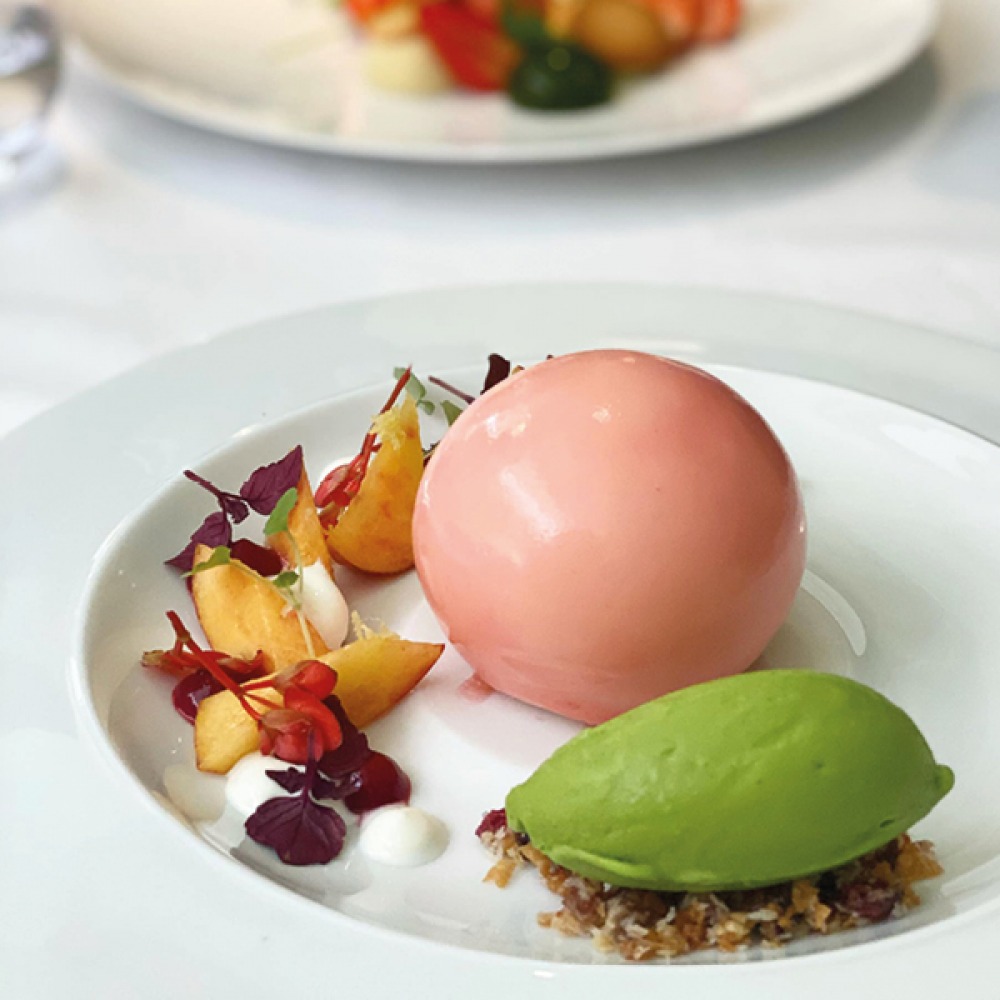 Where to Eat

For a taste of France's prestigious culinary heritage with a twist, head to Léon de Lyon. Dating back to 1904, a beautifully restored interior sets the stage for purebred French dishes with a modern take. Think thinly-sliced smoked salmon and potato crêpes, Bresse poultry with morilles and Jura white wine sauce, and a classic rum baba with Chantilly cream.
leondelyon.com

The late Paul Bocuse was dubbed the 'Pope' of French cuisine, and at the two-Michelin starred restaurant which goes by the same name they are keeping his legacy alive with every dish they serve. Bocuse believed the five senses were to be stimulated and not drowned by overly rich accoutrements, which is why dining here you'll find locally-sourced produce, short menus, quick cooking times and simple presentation.
bocuse.fr

Also named after the famous gastronomist, Les Halles de Lyon Paul Bocluse is an artisan indoor food market offering the finest produce and lots of local delicacies. A must-visit for every true foodie, you'll find it in the Part-Dieu district of the city, filled with more than 50 of Lyon's finest butchers, charcutiers, fromagers, pastry chefs and wine specialists.
halles-de-lyon-paulbocuse.com

Situated in the heart of Lyon's old town is Palais Saint Jean, a traditional bouchon Lyonnais. We recommend starting with poached eggs, lardons and red wine sauce, before enjoying a local tripe sausage called an Andouillette with mustard sauce, and finishing off with a praline crème brûlée – you can thank us later.
lepalaisstjean.com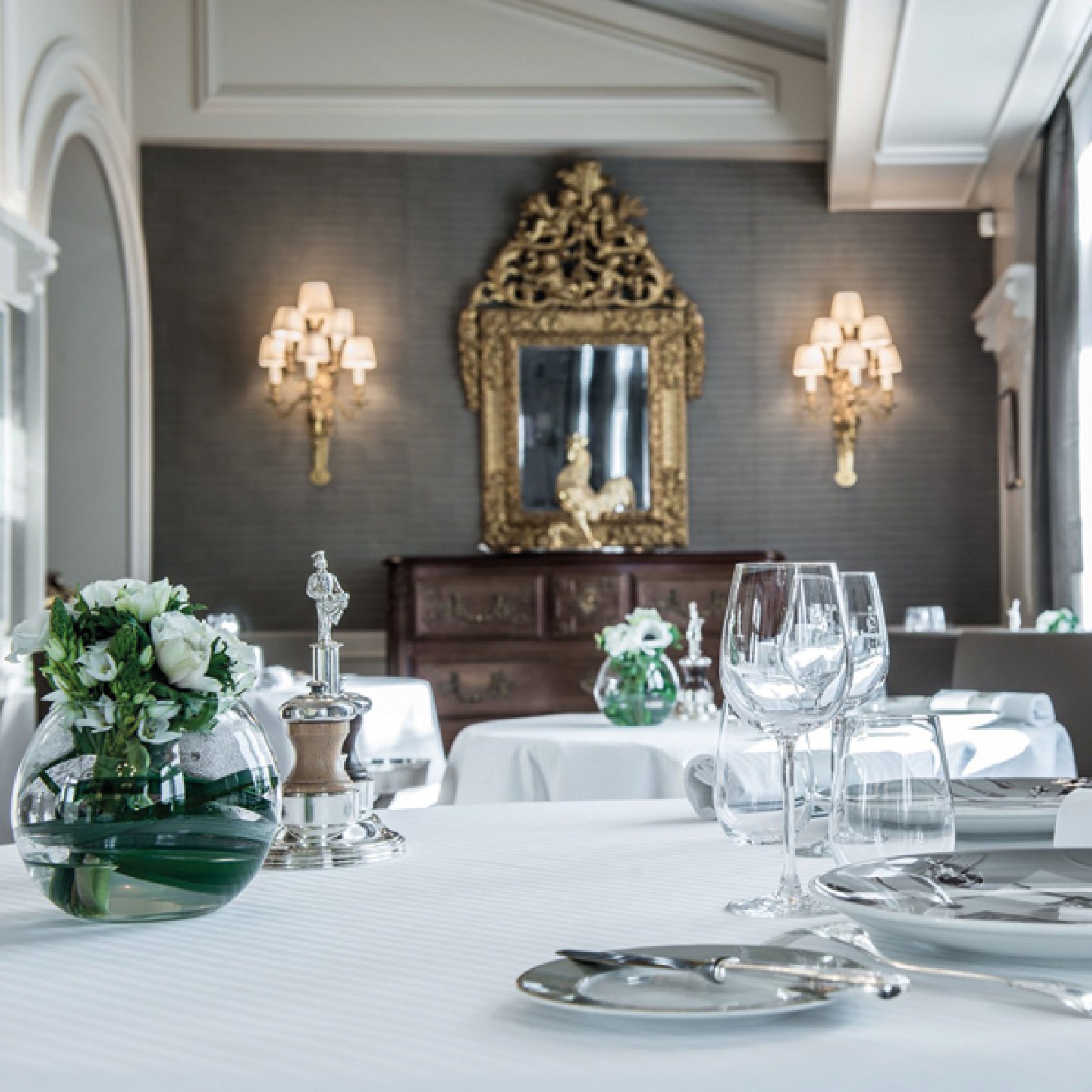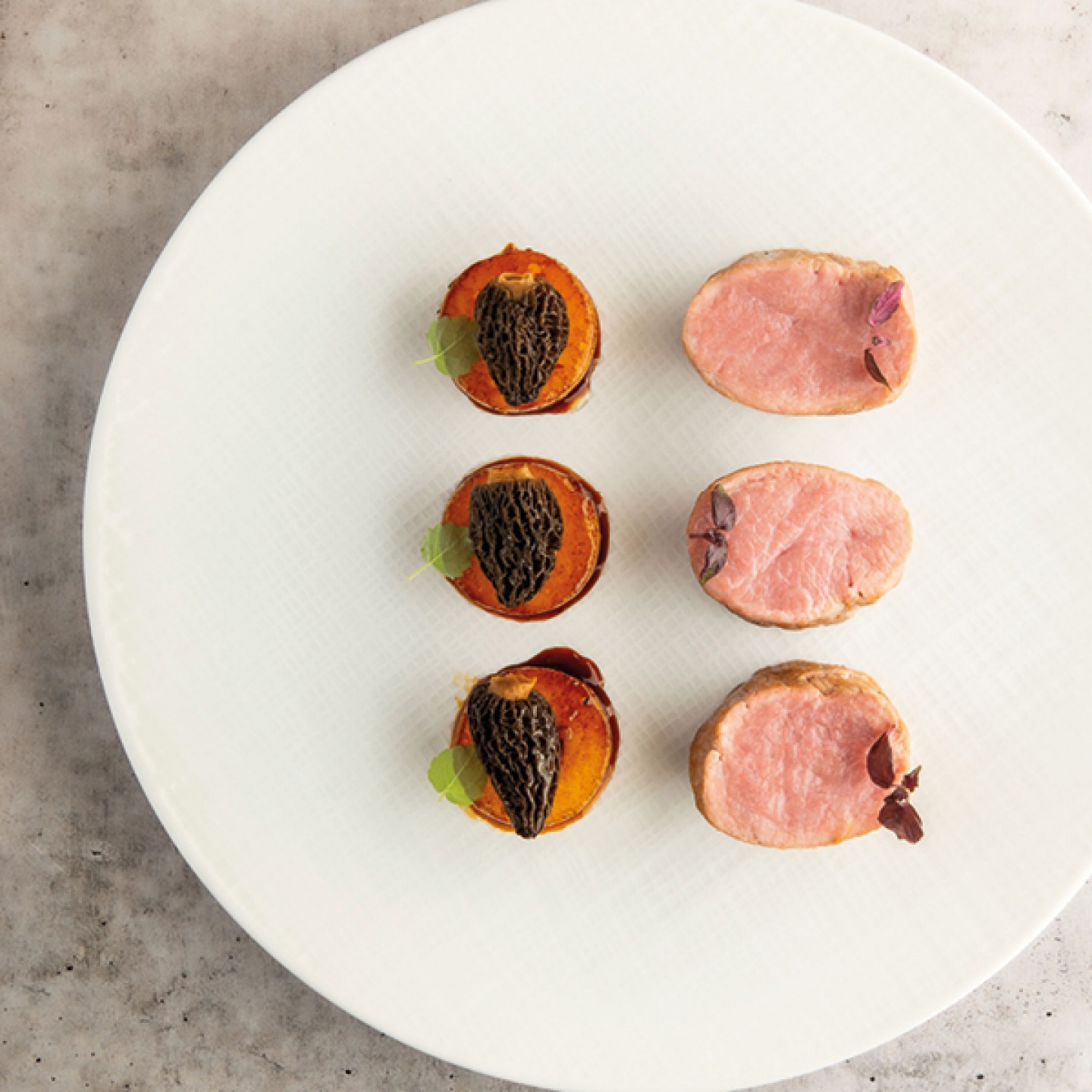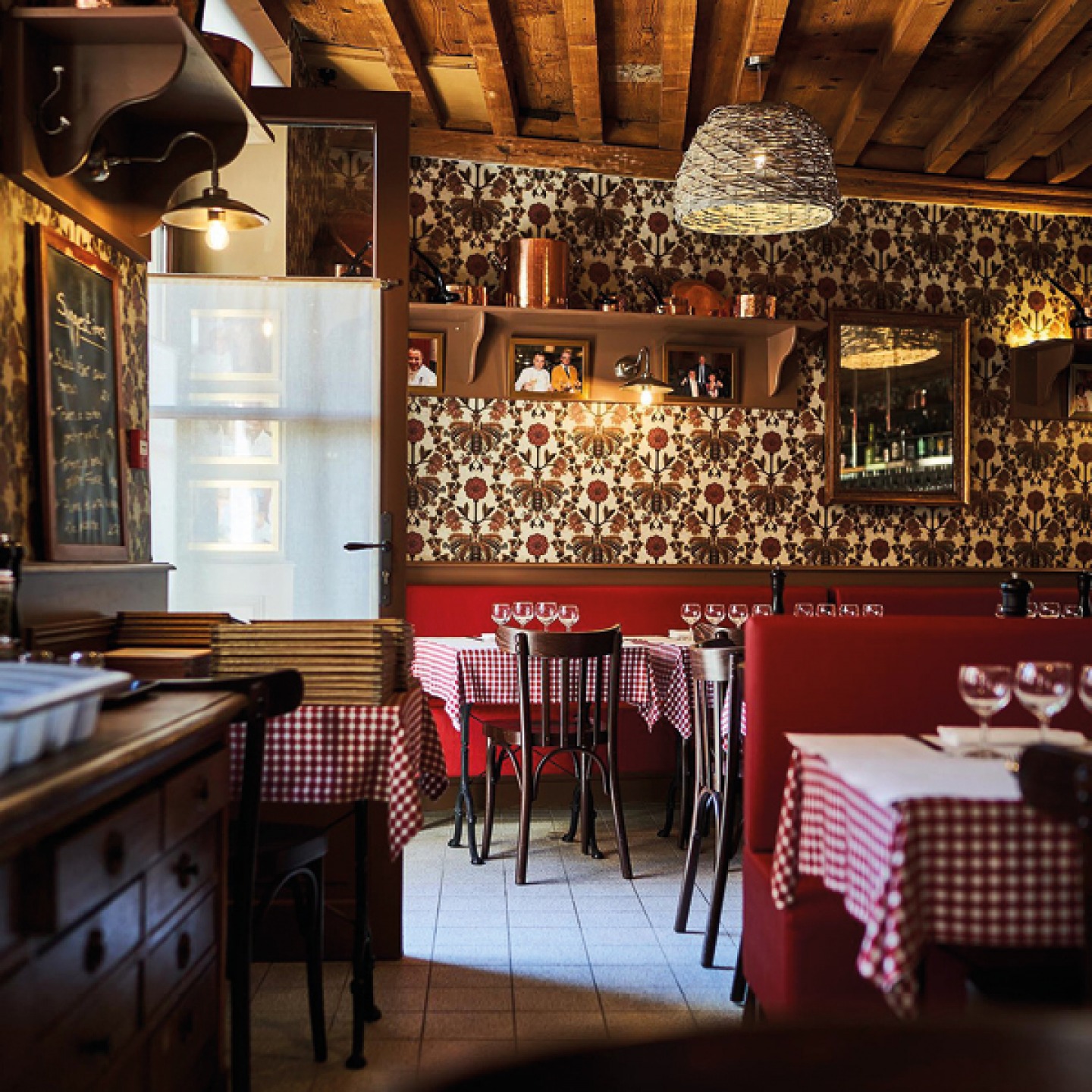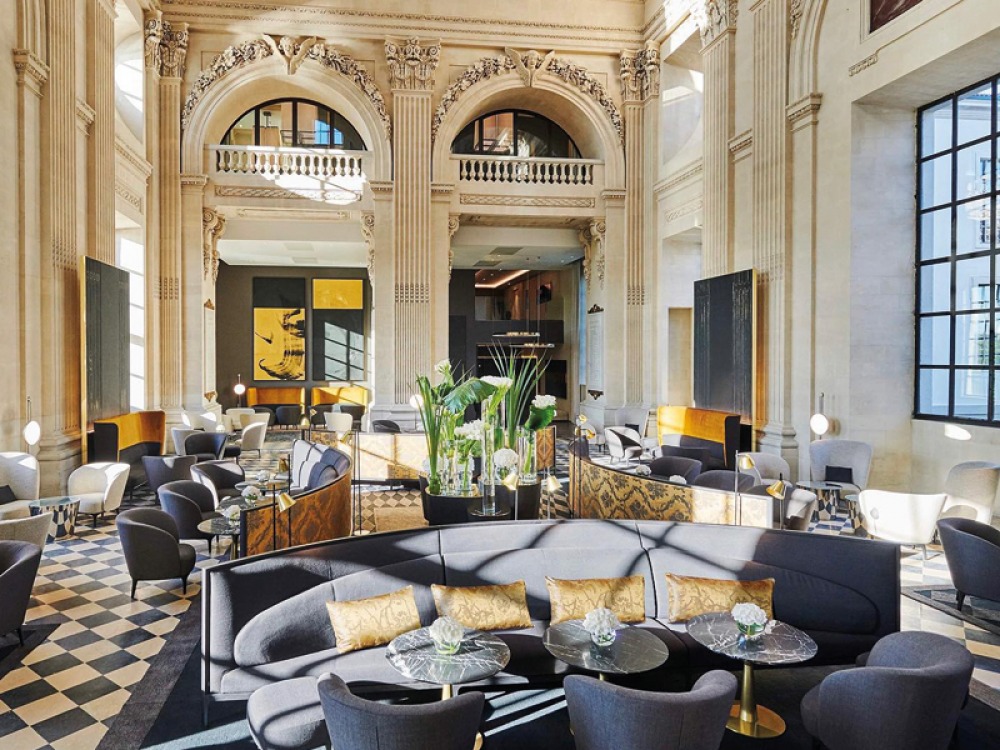 Where to Stay

The InterContinental Lyon Hotel Dieu is one of the city's most emblematic landmarks and a contemporary haven as a base for a breakaway. Dating back to the 18th century, it offers understated luxury and guests are assured of either a stunning view over the river Rhône river on one side or the picturesque listed courtyard on the other.
ihg.com

A luxury boutique hotel on Lyon's Hill of Prayer, Villa Maïa's designer rooms are inspired by Japanese art while the rest of the hotel is a homage to Art Deco. Guests can enjoy sensational views of the nearby Rhône, the landscaped hotel gardens and even all the way across to Mont Blanc. For those who don't want to venture out for dinner, the hotel's Michelin-starred restaurant, Têtedoie, offers delectable dining at any time of day.
villa-maia.com

For those looking for a more laid-back, modern stay with lots of character, Lyon's MOB Hotel of the People ticks every box. With creatively-inspired rooms, buckets of culture, a packed programme of events and onsite organic canteen, guests have everything they could need all in one place.
mobhotel.com
The Scottish Highlands
The Scottish Highlands are home to vast, wild landscapes and buckets of history and culture, yet what many people forget is the vibrant food scene here too. From the obvious areas such as Ben Nevis and Loch Ness, to hidden gems like Sandwood Bay (a mile stretch of golden sandy beach only accessible on foot), there is so much to satisfy your hunger for adventure here, but this part of Scotland is also brimming with some of the UK's best local produce.

With both fresh and salt water in abundance, The Highlands produce some of the most superb seafood in the country, not to the mention unrivalled game sourced on the hills here which includes everything from venison to grouse, so it's no wonder this area is known for talented chefs whose menus are ever changing and seasonally driven.

A gourmet's holiday to Scotland wouldn't be complete without whisky and the Highlands have some of the most renowned distilleries in the industry. Once considered vastly superior to its lowland counterpart, Highland whisky tends to be more robust and spicy owing traditionally to the scarcity of barley in the region. Even within the Highlands there are differences in the characteristics of each whisky depending on where it was produced, but you can taste that for yourself.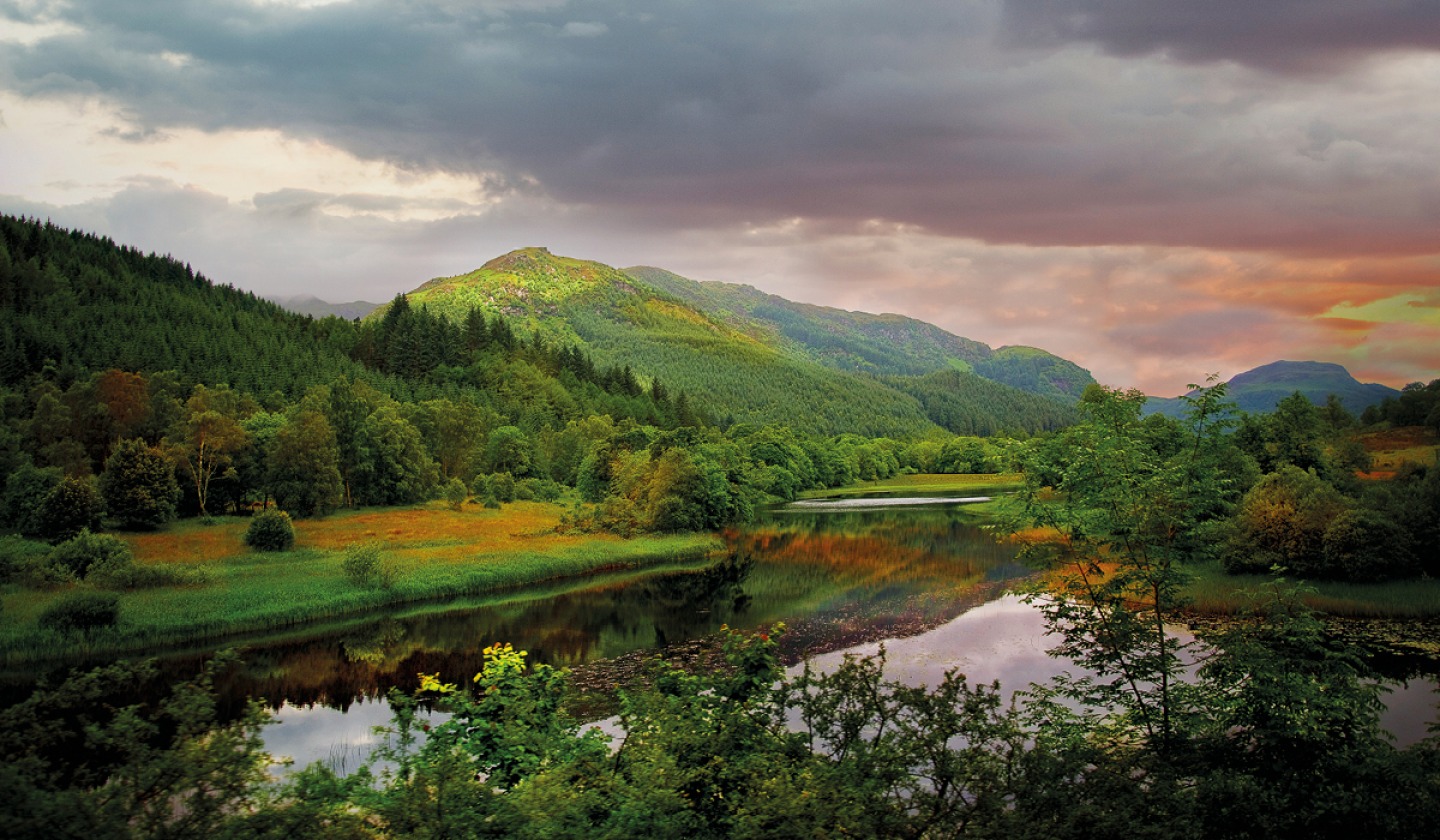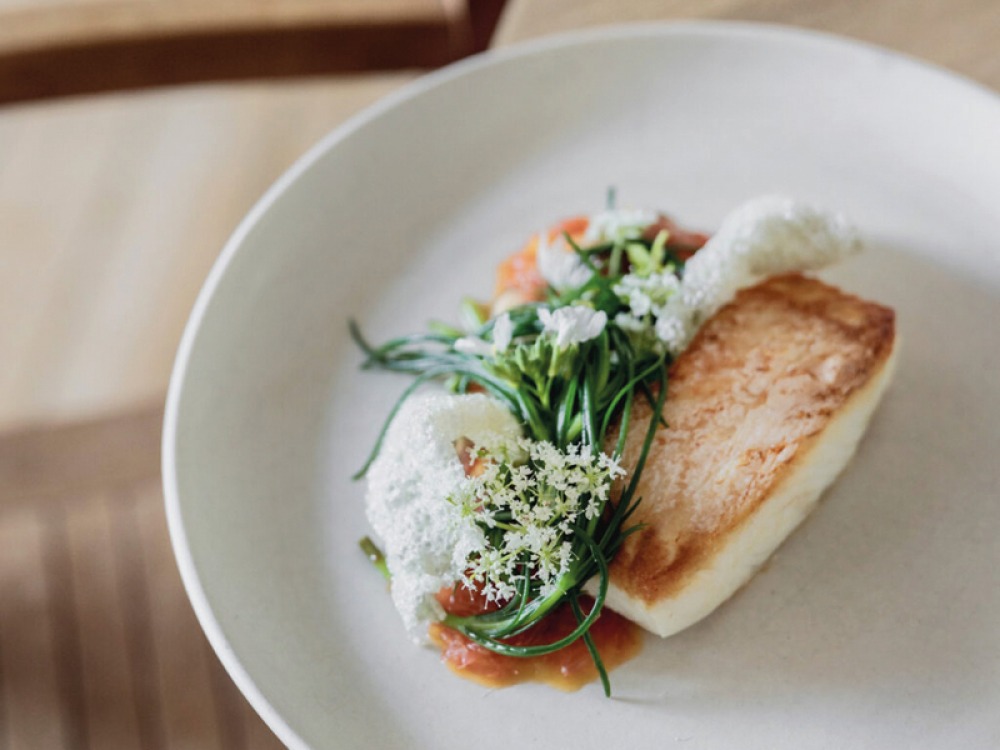 Where to Eat

On the shores of Loch Fyne, Inver is a small, characterful restaurant offering a contemporary take on traditional and sometimes forgotten Scottish dishes. In the evening they serve a five-course tasting menu using local produce of unparalleled quality. Chef Pamela Brunton's commitment to supporting the ecosystem that surrounds her restaurant has led Inver to be awarded the new Michelin Green Star.
inverrestaurant.co.uk

At the other side of the Highlands you'll find Lochinver Larder, a casual restaurant where diners can relax with great food and views out over the loch. Most famous for their homemade pies, this is a great place to go pre-hike and grab yourself an easy-yet-delicious lunch. Lochinver Larder's pies have become so popular that they can now be sent anywhere in the UK, offering visitors a chance to relive the taste of their Highland adventures at home.
lochinverlarder.com

An hour's drive from the mainland across the Isle of Skye, you'll find Michelin-starred Loch Bay and believe us, it's well worth the journey. A cosy 16-seat seafood restaurant, chef Michael Smith personally cooks his 'Skye Fruits de Mer'; a multiple-course menu showcasing shellfish and fish caught locally, served with a French twist, including dishes such as gratin of hake, clams and mussels with truffled Skye brassicas.
lochbay-restaurant.co.uk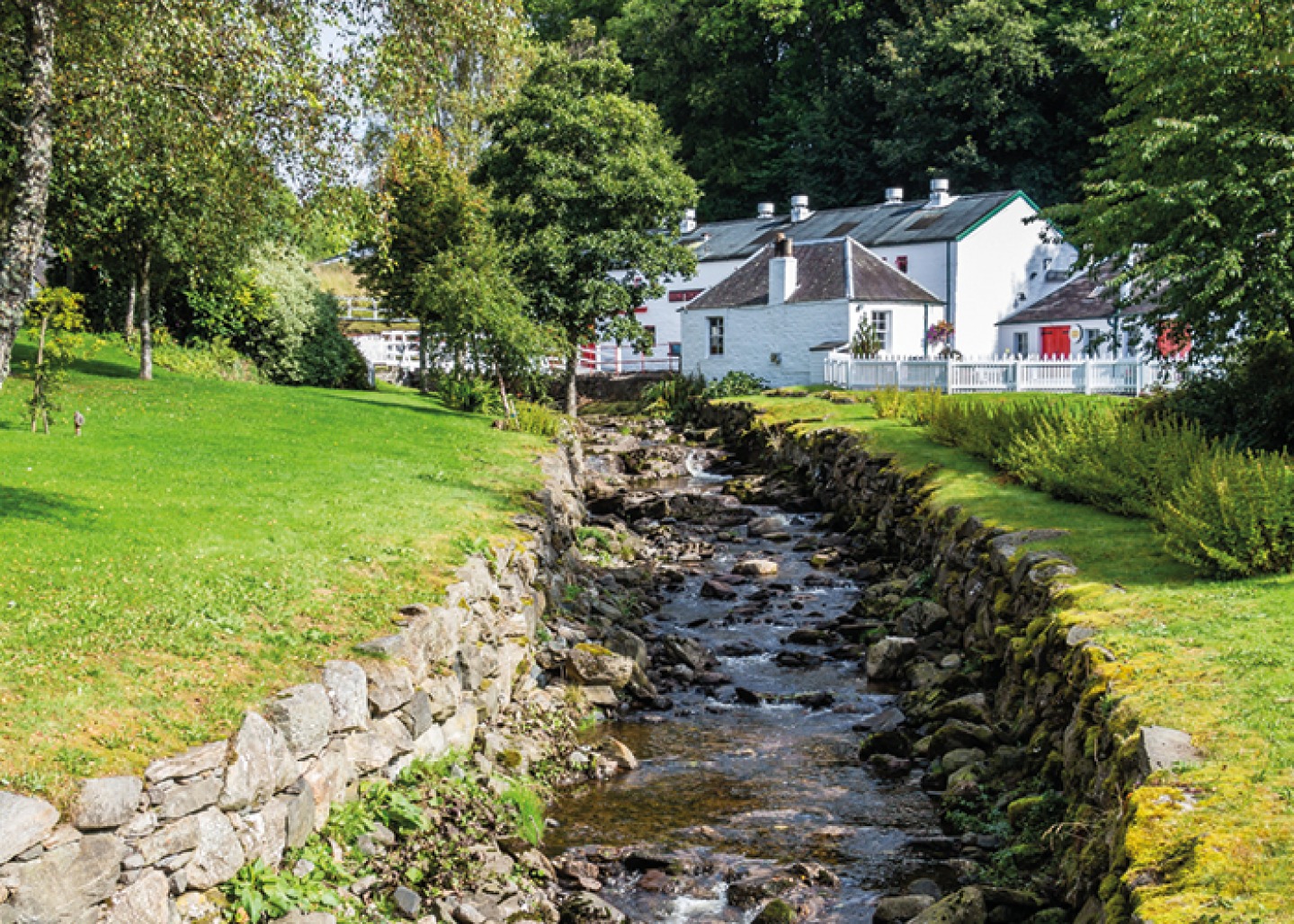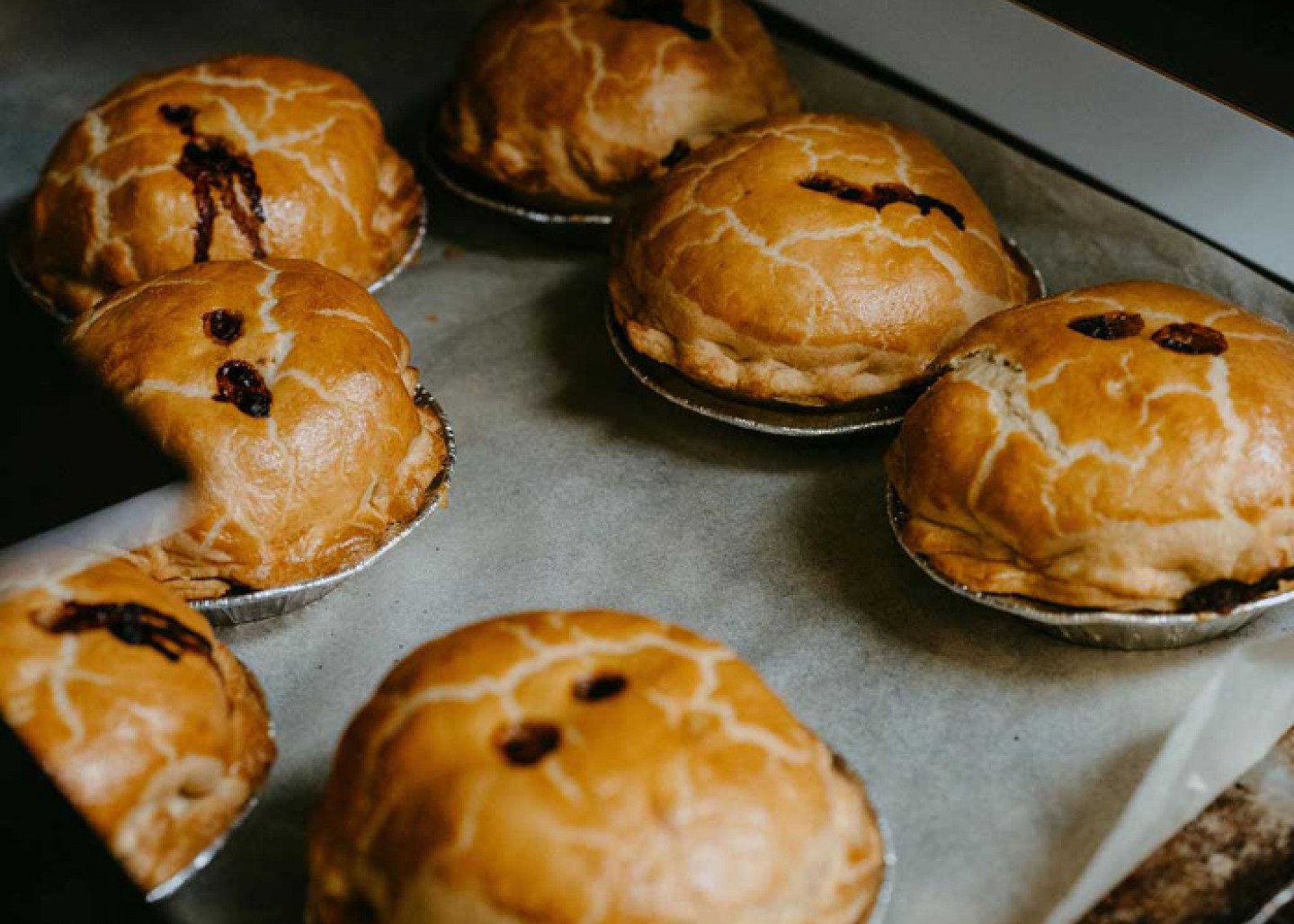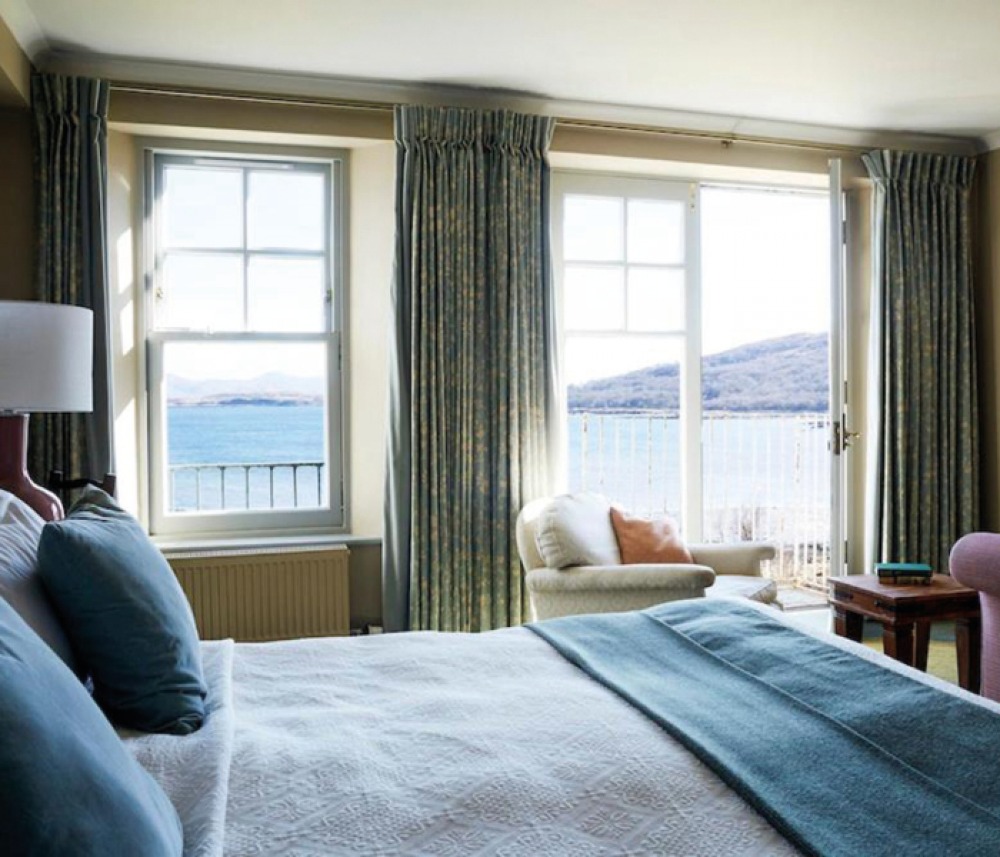 Where to Stay

The Grandtully Hotel is a newly restored eight-bedroom bolthole which oozes refined rural luxury, homely charm and thoughtful details. With a 30-cover restaurant dedicated to championing local ingredients and just a short drive away from the smallest whisky distillery in Scotland, this Highland hideaway is a haven for walkers, whisky-lovers and foodies alike.
ballintaggart.com

Another must-stay for those who are partial to a single malt is Glenmorangie House. Moments from the distillery where Glenmorangie dream up their renowned whiskies, this boutique hotel features technicolour bedrooms inspired by their single malt flavours.
glenmorangie.com

In the foothills of Ben Nevis, Inverlochy Castle Hotel is ideal for those seeking a traditional Highland break with Scottish country charm. With two-Michelin starred chef Michel Roux Jr behind the restaurant, Seasgair, you know you're in for a gastronomic treat here – in the form of an impressive seven-course dinner with wine pairings.
inverlochycastlehotel.com

Converted from a shooting lodge in the 1970s, Kinloch Lodge is a white jewel nested in the hills of the Isle of Skye offering relaxed Highland hospitality and spectacular food. We recommend the Foodie Foray package where Kinloch's very own Ghillie will show you what can be foraged and devoured from the bountiful forest and shoreline that surround the lodge.
kinloch-lodge.co.uk