Where to Spend Summer in the Mountains
Summer is for the beach, winter is for the mountains – right? Well, no...
Increasingly, mountain resorts are upping their game in the summer, so it's time to change your attitude to altitude.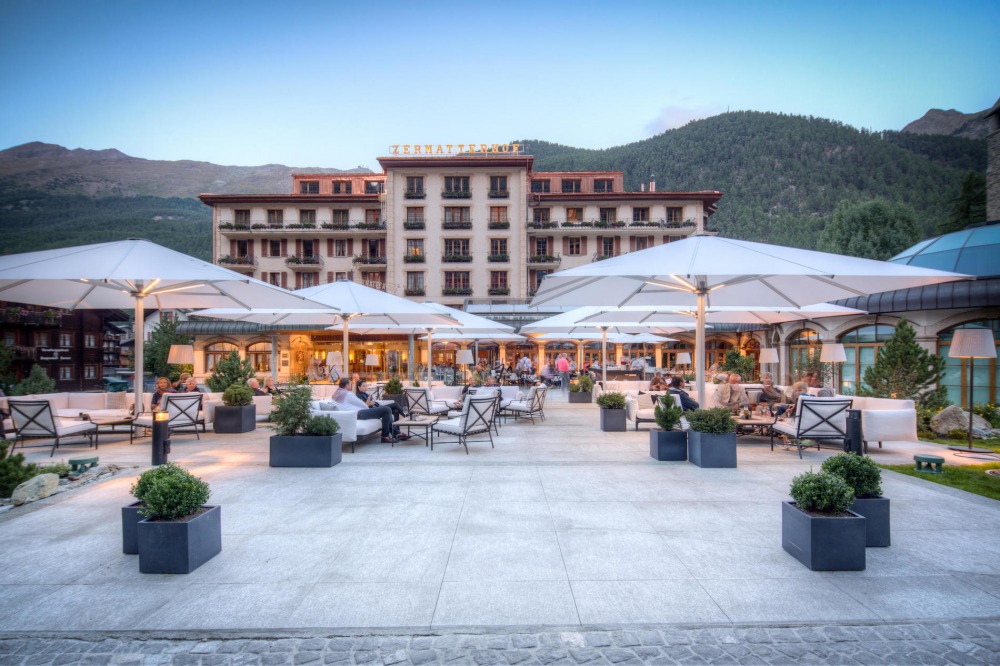 Zermatt, Switzerland
At the foot of the Matterhorn, car-free Zermatt is renowned for its breathtaking views of the iconic mountain at any time of year, as well as its impressive food scene. Easy to get to via the fast train from Geneva to Visp (which, of course, is always on time), an equally-punctual smaller train then transports you up the valley to Zermatt, where many hotels will send uniformed porters to greet you at the station and deal with the luggage. The town offers a heady mix of old and new, with grand hotels rubbing shoulders with contemporary restaurants, upmarket shopping and busy bars.
Do This
Take the Gornergrat Bahn from Zermatt station to reach Gornergrat, where you'll find stunning panoramic views which include 29 mountains over 4,000 metres, and the Gorner glacier (the second-largest glacier in the Alps). Even the journey up is memorable, as the route climbs 1,469 metres in just 33 minutes and includes bridges, tunnels and ravines. As well as the views, you'll find a restaurant, shops and an observatory at the summit. On your way down, hop off at Rotenboden station and make the short hike to Riffelsee. This mountain lake is beautifully clear, and the near-perfect reflection of the Matterhorn on the water's surface is spectacular.
Once you've enjoyed all Gornergrat has to offer, you'll also want to head up to the Klein Matterhorn on the other side of the valley, where you'll find the Matterhorn Glacier Paradise. At 3,883 metres, this is Europe's highest cable car station, so pack a decent coat for this trip – even at the height of summer when it can be sweltering in the village, there's skiing on the glacier and the winds are icy. As well as a 360-degree viewing platform, there's a cinema, restaurant and even a glacier palace carved from the ice. For hiking and biking routes, start off a little lower down at Schwarzsee. As with everything in Zermatt, cable car tickets are expensive, so make sure you plan your route, and exactly what you'll need, before you buy.
Eat Here
Zermatt is the foodie capital of the Alps, and whether you're looking for mountain favourites such as raclette, Michelin-starred fine dining, contemporary small plates or simply a brilliant burger, you'll find it here. The Brown Cow Pub is a buzzing après spot in winter, but for simple pub food done well, it can't be beaten (think hot dogs, burgers and sandwiches). The authentic and unpretentious Restaurant du Pont claims to be the oldest business in Zermatt, and serves up a decent helping of traditional dishes – from veal sausage and potato rosti to rich fondue.
On the fine-dining end of the scale, you can't go wrong with the Michelin-starred Omnia Restaurant. The ultra-modern design and carefully-presented dishes make it a great place for a special occasion, and chef Hauke Pohl serves up dishes which combine Alpine produce with exotic flavours to great effect.
Stay Here
The Backstage Hotel Vernissage is a contemporary, boutique option. Rooms feature open fires, there's an in-house cinema and a club, and the unique wellness centre professes to follow the story of creation as depicted in the book of Genesis (the various spaces have themes such as light, the separation of water and air, and the creation of the planets).
Alternatively, your transfer from the station in a horse-drawn carriage really sets the tone for the level of service you can expect at the Grand Hotel Zermatterhof. First opened in 1879, this is a luxurious hotel where the rooms come with mountain views, and the restaurants include both Michelin-star dining and more relaxed options. In summer, the hotel's Brasserie Lusi terrace is a real suntrap, and the place to be for coffee, cocktails or al fresco dining.
If you'd rather be away from the crowds, Riffelalp Resort is set high above the town at 2,222 metres above sea level, and is accessible via the Gornergrat Bahn. The resort is made up of a cluster of buildings on a small open plateau and was originally built in 1884 as an exclusive summer retreat, with open views straight across to the Matterhorn. It's a seriously stylish place, and the spa here is Europe's highest (the outdoor spa pool is a stunning place to relax). Despite the luxury, it's a family-friendly spot with a bowling alley, outdoor play area and games room.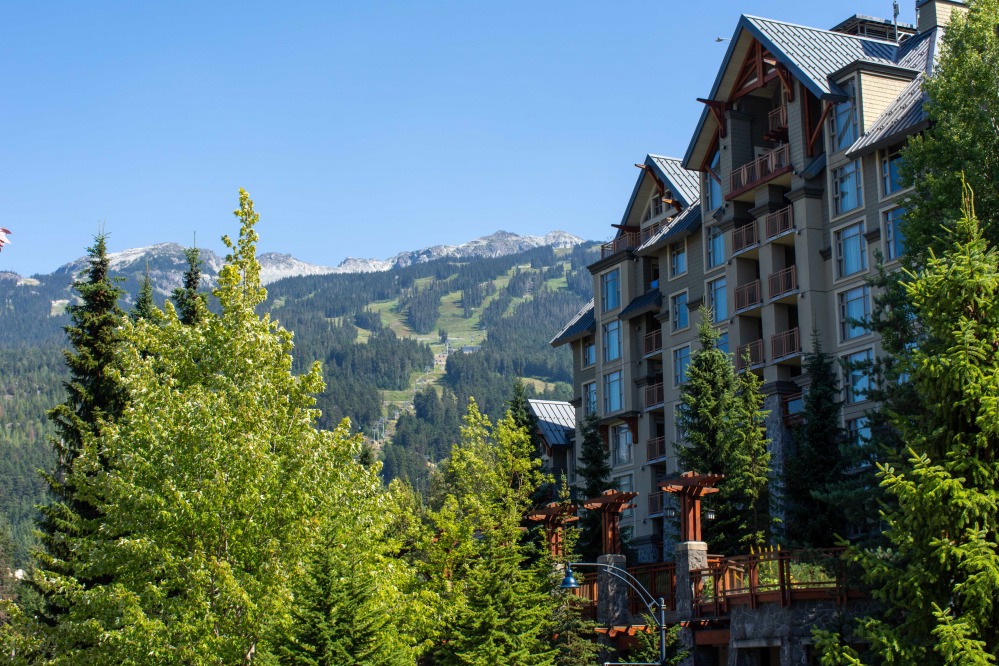 Whistler, Canada
A seriously-scenic two-hour drive north of Vancouver, in the dramatic Coast Mountains, Whistler is a year-round destination packed with great shopping, quality restaurants and varied accommodation, as well as plenty to keep you busy on the mountain – from hiking to biking. The village itself – with its pedestrianised centre stroll – is charming in its way (think of it as Disneyland for grown-ups), and keep an eye out for the Olympic Rings as you explore – Whistler was the location for some events during Vancouver's Winter Olympics in 2010.
Do This
The Whistler Bike Park includes three lift-accessed riding zones, and plenty of terrain to suit intermediate and advanced riders (options for beginners are more limited, but there's plenty of scope to have a go). There's a giant slalom, a downhill course, a jump park and drop off park, as well as a the Air Dome – a huge practice facility with jumps, drops and pipes.
If you want to explore Whistler's neighbour, Blackcomb mountain, too, take the PEAK 2 PEAK gondola. It's an 11-minute ride between the two peaks, and at its highest point the ground below is a dizzying 436 metres away. You'll enjoy stunning 360-degree views of Whistler village, mountain peaks, lakes, glaciers and forests, but it's also worth trying to get a spot in the special glass-bottom gondola for a bird's-eye view of the forest below.
When it comes to exploring the mountains on foot, there are plenty of well-marked trails to follow. Choose a short, family-friendly stroll, or a more ambitious hike to check out a mountain lake or Alpine meadow. Starting near the top of the PEAK 2 PEAK (on the Whistler side) the Harmony Lake loop is a gorgeous short trail which allows you to take in some of the best of the scenery without too much climbing. (Look out for marmots and chipmunks too).
Eat Here
Whistler is packed with dining options, whatever time of day and whatever you're in the mood for. Head to Purebread for freshly-baked loaves, quality coffee and sweet and savoury baked goods, or try Elements for a brilliant brunch – think eggs Benedict with Canadian back bacon and citrus hollandaise, a maple bacon frittata, or traditional French toast with real Canadian maple syrup.
If you're on the mountain at lunch time, you don't need to head back to the village for lunch. At the top of Blackcomb Gondola, Christine's on Blackcomb does good-quality fine-dining alongside panoramic views, while the adjacent Rendezvous is a slightly more relaxed option where you can choose from a variety of world cuisines (including Mexican tacos and Japanese noodles) at the self-service counter.
Back down at the village, Rimrock Café in Whistler Creek is a long-standing fish and game spot, which has been popular with both locals and visitors since 1986. Expect classics such as lobster bisque, oysters Rockerfeller and venison steak with spaetzle, and a fabulous wine list including some very good Canadian options. In the heart of Whistler village, Araxi serves seasonally-focused menus packed with local produce – sample oysters, caviar, wild salmon tartare, beef carpaccio or Yarrow Meadows duck breast.
Whistler is also well-known for its night-life, so don't assume that you need to go straight back to your accommodation after dinner – head to Dubh Linn Gate for live music, well-poured pints and regular specials.
Stay Here
For a five-star stay, the Westin Resort and Spa was renovated a couple of years ago and its residential suites feature welcoming fireplaces, cosy living spaces and fully-equipped kitchens. The resort is perfectly-placed within steps of the village centre and the gondola, and has indoor and outdoor pools and hot tubs, a fitness centre and spa, as well as an award-winning restaurant.
For a more boutique feel, the Nita Lake Lodge in Whistler Creekside is a luxurious hotel and spa with lake, mountain and valley views. They offer complimentary bike rental in summer, and have a café, lounge and restaurant too.
Luxury, apartment-style condos are a popular option here. Northern Lights is a townhome 300 metres above the main village, with parking, hot tubs and scenic surroundings, while Horstman House is a condo-lodge with amenities including kids' and adults' games rooms, a lounge with bar, fitness room and a heated outdoor pool.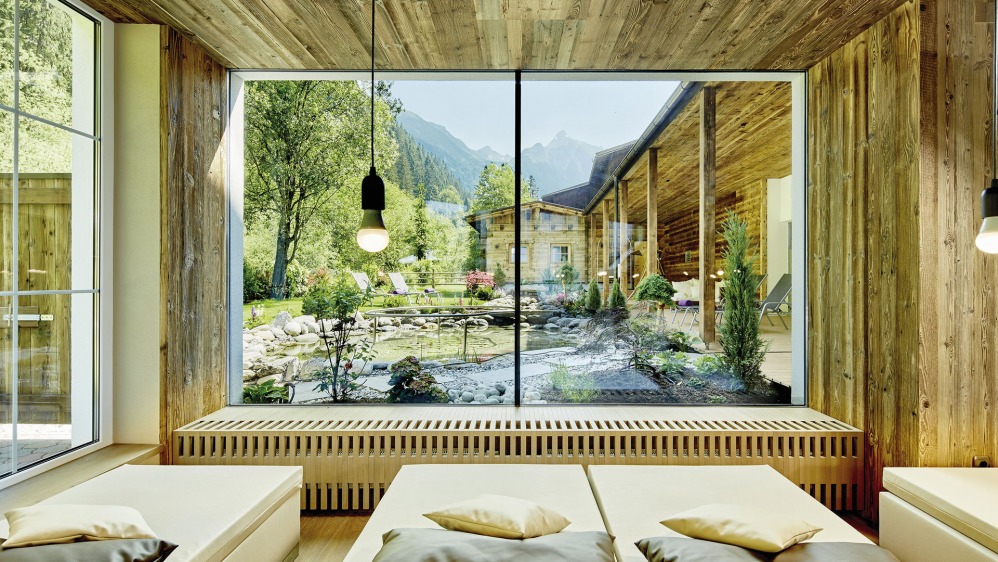 Zillertal Valley, Austria
Just an hour from Innsbruck, Austria's Zillertal Valley is home to a string of scenic resorts, stretching from Jenbach up the valley to Mayrhofen. A narrow-gauge railway (the Zillertalbahn) runs along the valley bottom, stopping in each of the villages along the way (including Fugen, Kaltenbach, Aschau and Zell am Ziller), and there are usually bus connections from the train stations to the gondolas, meaning it's easy to explore the whole area with or without a car. The home of Zillertal Beer (which has been brewed in Zell for more than 500 years) this valley is ripe for exploration, whether you're looking for local produce, adventure or relaxation.
Do This
Perhaps more than most Alpine resorts, there's more than enough to keep the whole family busy in the Zillertal Valley. Above Mayrhofen, the Funsportstation will allow you to try everything from mountain scooters to walking on water in a giant inflatable ball, while their mountain playground has swings, towers, slides and water stations for younger children. Up and down the valley, there are specialist adventure companies who can guide you as you try canyoning, rafting or tubing.
Ten cable cars run in the valley all summer, giving access to 1,400 kilometres of hiking trails both on the mountain and on the valley floor (from summit tours to lodge-to-lodge mountain hikes), but it's not all about walking here. There are climbing facilities for pros, beginners and even kids, three high rope courses, and plenty of opportunities for adrenaline seekers to get their kicks (why not try paragliding?). If you get tired of all that, there are more than 150 traditional mountain huts where you can stop and refuel.
The valley is even home to one of Austria's handful of ski-able glaciers – Hintertux Glacier – so in theory it's possible to ski all year round. For something a little more laid back, the valley is dotted with outdoor pools (including in Finkenberg and Hintertux) and there's also a golf course, and fishing is available in the lakes and rivers along the valley too.
Eat Here
The Zillertal is part of the Tirol region of Austria, and we'd seriously recommend trying some of the local dishes while you're here. They tend to be hearty, rustic and flavourful – practical dishes for mountain life. Head for the nearest mountain hut and try gröstl (fried onions, potato and bacon topped with a fried egg), käsespätzle (a kind of soft pasta-like dumpling baked in a cheese sauce and sprinkled with crispy fried onions) and the typically-Austrian kaiserschmarrn (fluffy shredded pancakes with stewed fruit).
For a more refined take on Austrian cuisine, Genießergasthaus Schulhaus (don't worry, you don't have to say it out loud) is a restaurant offering stunning views and food to match. Clinging to the side of the valley above Zell, it serves sophisticated gourmet dishes, beautifully presented, and offers some of the best service in the area.
For an easy family option, Pizzeria Mamma Mia serve authentic pizzas in the heart of Mayrhofen, while in Kaltenbach, Flax do salads, soups and great burgers and ribs, as well as indulgent waffles for dessert.
It's not all about the food here either. In Zell am Ziller, tucked away in the back of the Hotel Englhof, you'll discover a wholly-unexpected and award-winning cocktail bar, lined with bottles from all over the world, where the prize team mix up a menu of fabulous house specials. They're also very happy to make something to suit your taste – tell them what you like, what you don't like and how you're feeling, and expect to have your tastebuds blown away.
Stay Here
For the ultimate mountain adventure, book a room at Kristallhütte – a luxurious and contemporary mountaintop hut at 2,147 metres. In winter it's accessible only via gondola from Kaltenbach, and then skis, while in summer it's about an hour's hike from the nearest parking (they'll arrange for your luggage to be transferred from there for you). Choose a double room with a panoramic view, or go all-out and book one of their impressive Alpine lodge suites. As well as the suites here, there's a fabulous spa with a pine sauna, a steam bath and a seriously-zen relaxation area, and a restaurant where you'll enjoy a five-course gourmet dinner.
Back in the valley, try the uber-traditional Hotel Bräu in the centre of Zell (don't miss out on dining in their historic wood-panelled dining rooms, which have remained largely unchanged for centuries). For a more contemporary option, Das Alpin Lodge Zillergrund is in a quiet location just 15 minutes' walk from the centre of Mayrhofen, and offers comfortable rooms and suites, a wellness area and spa, as well as a programme of activities and tours which start straight from the hotel.