Where To Stay, Where To Eat & Drink and What To See in Richmond
All you need to know for the perfect stay in Richmond
From cosy woodland lodges, quaint and quirky cafés and a hotspot for culture vultures, discover why Richmond is a must-visit this spring and summer.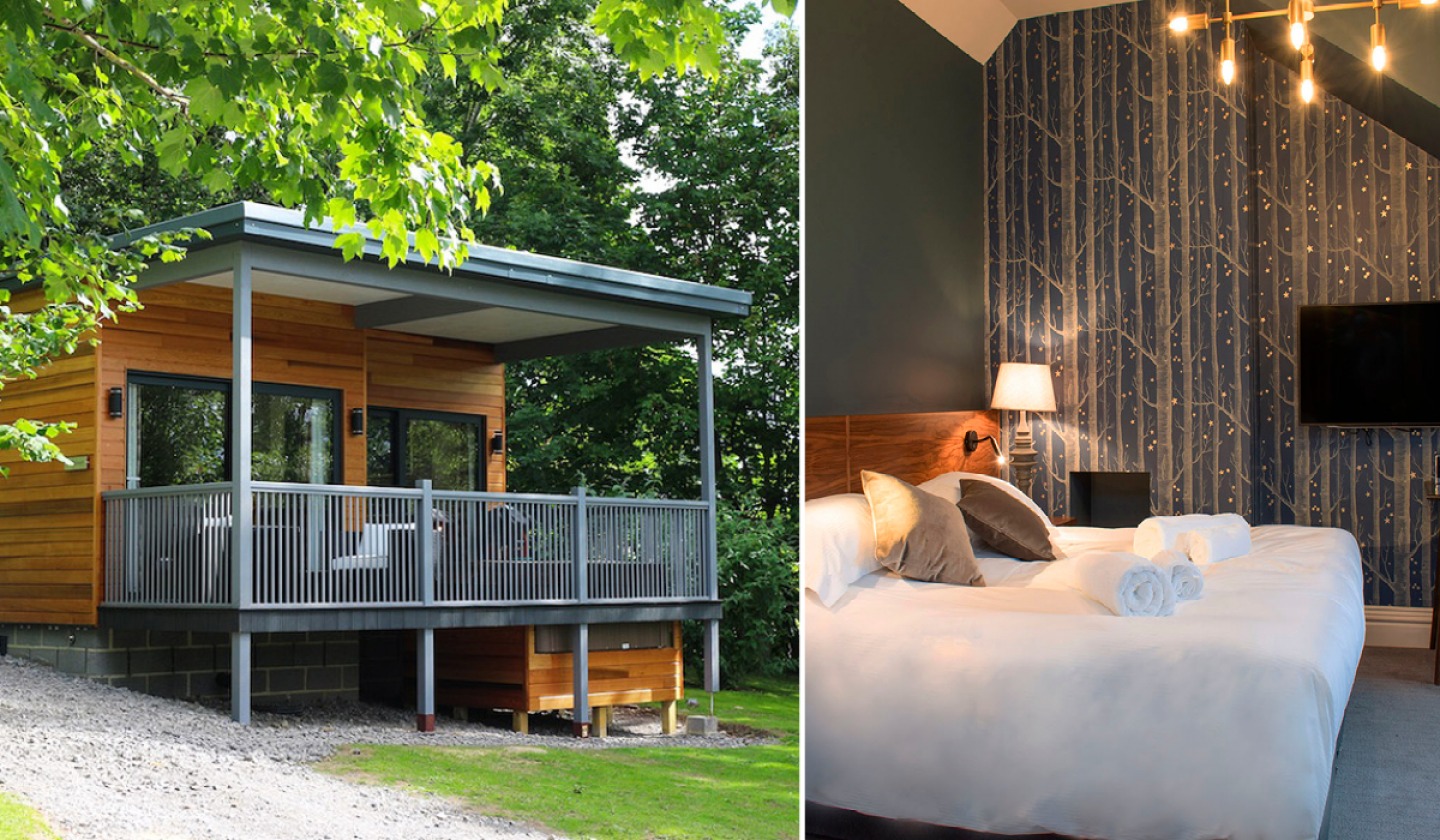 Where to Stay
From cosy woodland lodges to hotels in the heart of the town, there is something to suit everyone when looking for a base in Richmond. The King's Head Hotel has a number of homely bedrooms which are modern, stylish and comfortable and when the weather is fine, you can sit back and watch the world go by from their decked outdoor area overlooking the Market Square. On Victoria Road, you'll find The Fleece Hotel, with its newly renovated ensuite bedrooms. If you're not wanting to go far for your supper, head downstairs and take a seat in the cosy restaurant. If a B&B is more your style, the Rosedale Guest House, just a two-minute walk away from Richmond's famous cobbled Market Place, is the place to check into. The historic Georgian townhouse with modern accommodation dates back more than 200 years. Just one mile outside Richmond, Flowery Dell Pine Lodges are for those wanting self-catered accommodation. There are a number of lodges catering for all types of guests, including pet-friendly, small and large groups and those who want the luxury of having their own hot tub for the weekend. The Whitebeam Contemporary Lodge is the ideal romantic stay, with south-facing floor to ceiling windows and a hot tub and Swedish sauna, or the Honeysuckle single storey lodge, which sleeps up to four guests and accommodates pets, has fantastic woodland views.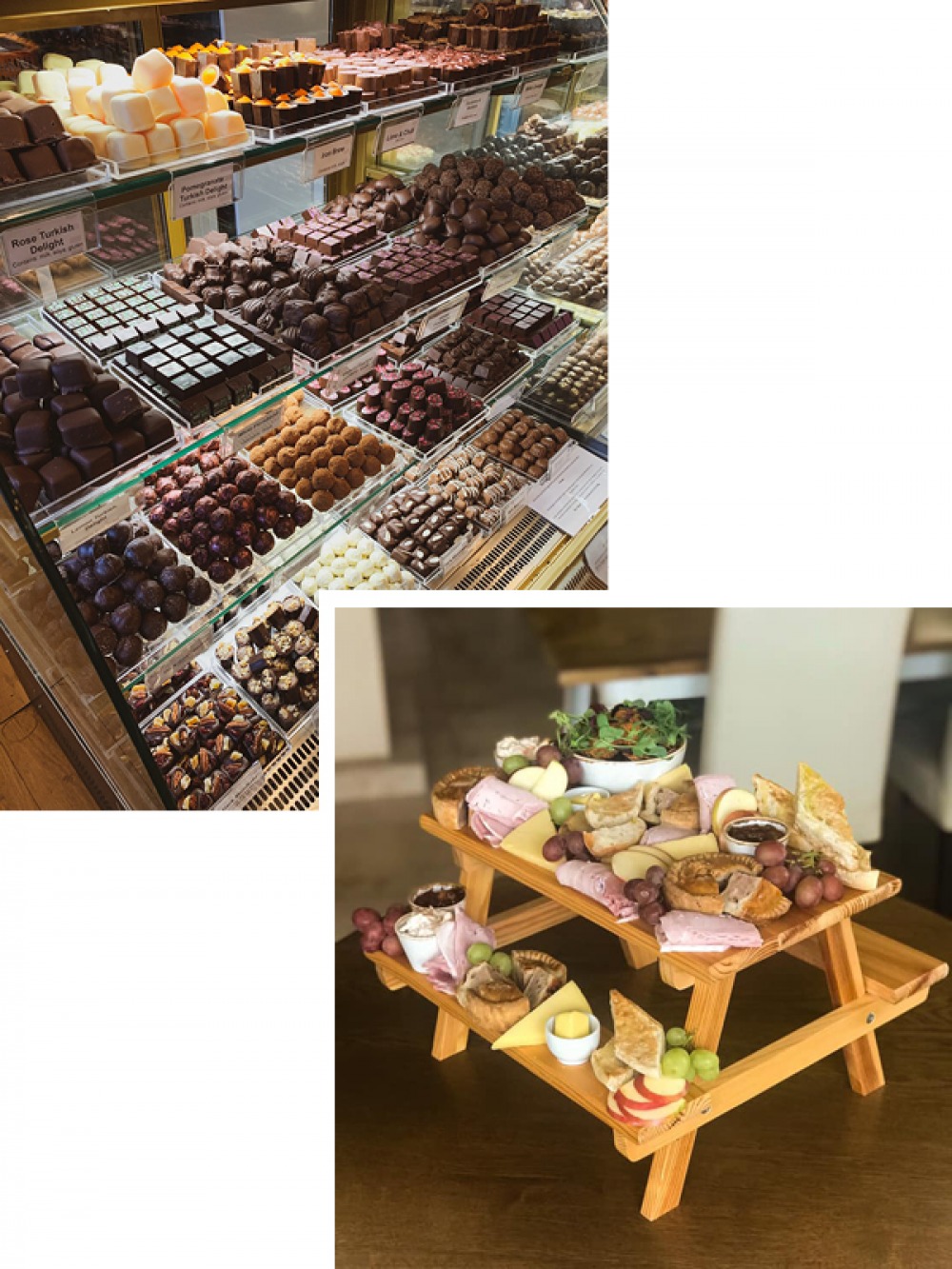 Eat and Drink
There are a number of market place cafés, restaurants and eateries in and around Richmond. For a taste of traditional home baking and cooking head to Cross View Tea Room, whilst Granny's Kitchen is a quaint and quirky café serving delicious homemade cakes, pastries and pies, and down the road you'll find Sip Coffee – great for a spot of brunch. Just outside Richmond, Middlemoor Farm Café is perfect for a scrumptious lunch – try the picnic sharing platter piled high with pork pies, Yorkshire cheese, salad, chutneys and sourdough. Those with a sweet tooth should head to Mocha. If the superb selection of luxury handmade chocolates isn't enough to tempt you, the hot chocolate menu will win you over with a number of flavours including Black Forest, strawberries and cream, and orange made with your choice of milk, white, dark or extra dark chocolate – it's a chocolate-lover's dream.

Shortlisted for Tea Room of the Year in the 2022 Flavours of Herriot Country Awards, The Station Café Bar is the perfect place to refuel after exploring the town. You'll find a collection of seasonal menus and fresh food using a range of local suppliers such as Wensleydale eggs, Railtown Coffee and Yorkshire Dales Meat Company here. In the evening, head to Number 29 Alehouse, Gin & Tapas Bar for a night of sharing dishes and great ales and gins or head to La Piazza, an authentic Italian restaurant where you can expect a range of starter dishes such as bruschetta, mussels, calamari and antipasto, as well as plenty of pizza and pasta. For those looking further afield, The Bolton Arms in Downholme, just over five miles from Richmond Market Place, is a great choice for a comfortable pub meal or beer garden lunch when the weather allows. While the lunch menu offers pub classics, the lamb shank or the steak pie is what we recommend.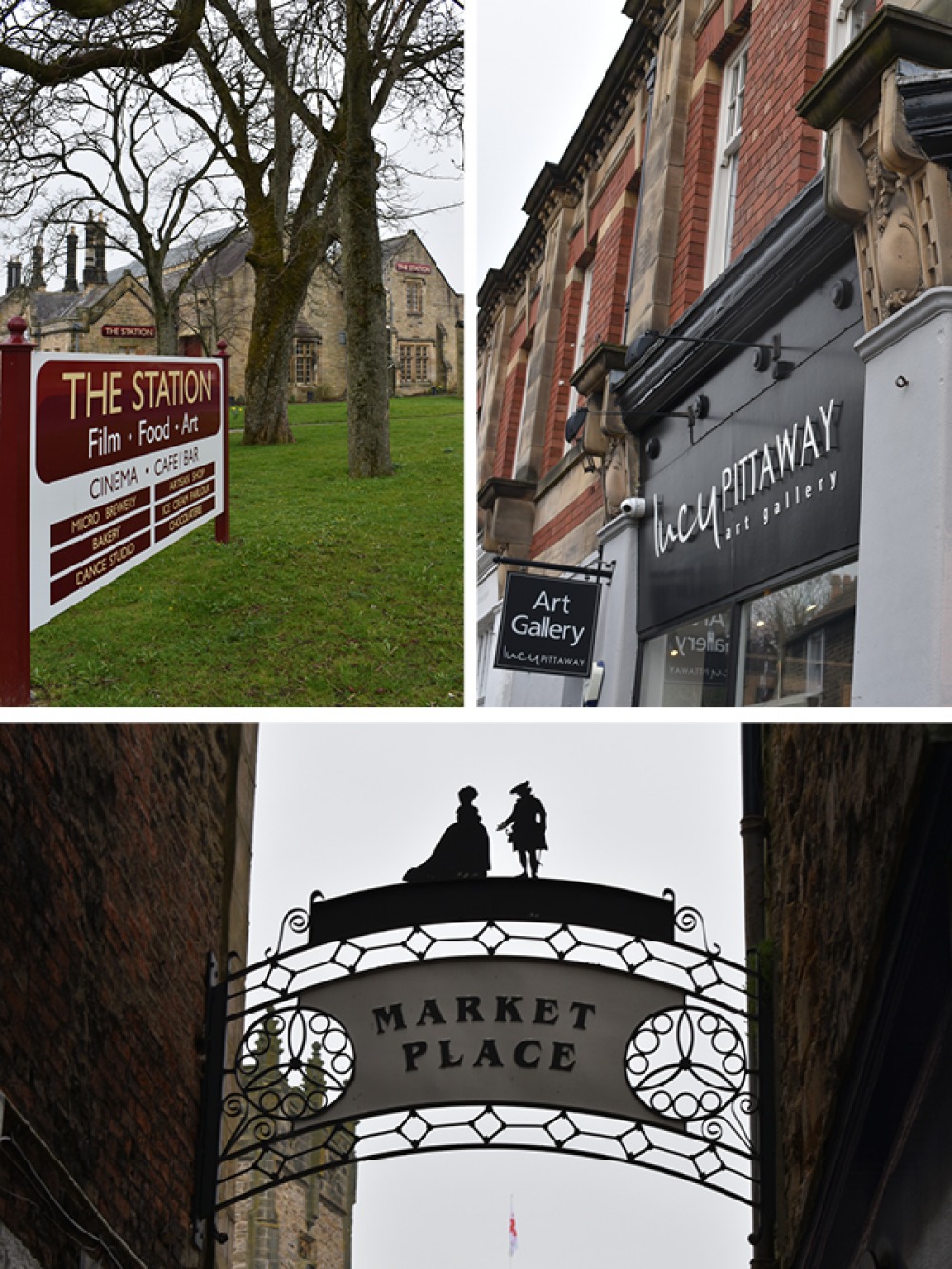 Cultural Hotspots
Artists and creators (past and present) prove why Richmond is a must-visit for culture vultures
Surrounded by so much beauty, it's not hard to understand why many creatives have been inspired by Richmond. Famous works created by JMW Turner, among other artists, in the 18th and 19th centuries encouraged tourists to flock to the town. Today's famous artists, Lucy Pittaway for one – similarly showcase the town's beauty. Creativity stems from the town in other ways too: actor, writer and comedian Simon Farnaby is a Richmond School alumni – he starred in the TV adaptation of Horrible Histories and wrote and appeared in Paddington 2. He also wrote thescreenplay for The Phantom of The Open, a new biographical comedy drama film based on the true story of Maurice Flitcroft who tricked his way into the British Open golf championship in 1976.

Simply take a stroll along Finkle Street to discover Richmond's coolest creatives. It's the home of Lucy Pittaway's art and gifts. Loved by locals, this gallery is the perfect place to browse her whimsical painted creations. On this street you'll also find Arthaus Gallery, the home of locallyinspired resin sculptures and prints created by Middlesbrough-born artist Mackenzie Thorpe. Just around the corner in the Market Place, fine artist Stacey Moore also shares her creations which are inspired by British wildlife and farm animals.

Discover much more at Richmond's market stalls within the market hall and every Saturday and Wednesday outdoors in the Market Place. As a market town, Richmond is renowned for celebrating local and independent businesses, and it's therefore a great place to find unique gift ideas.

Head over the river and step into the cultural hub that is The Station where there's always amazing art on display, as well as workshops to get involved in. This spring, to celebrate Swaledale Festival's 50th anniversary, the gallery here is showcasing work by Swaledale artists Michael Bilton and Garry Brannigan, and you can buy art from the exhibition in the shop.

Back in the town, The Georgian Theatre, Britain's most complete Georgian playhouse, is the place to be for the hottest new shows – from comedy to cabaret and musicians to magic. It's a key part of Richmond's heritage that's definitely worth supporting. Take a theatre tour to learn more about its history.

So what's new for spring and summer? Don't miss Richmond MayFest – an exciting new festival for Richmond with historical and traditional music and dancing. The first Richmond MayFest is 30th April–2nd May, boasting everything from medieval music of the Great War to Maypole dancing, and if that's not the perfect reason to visit, what is?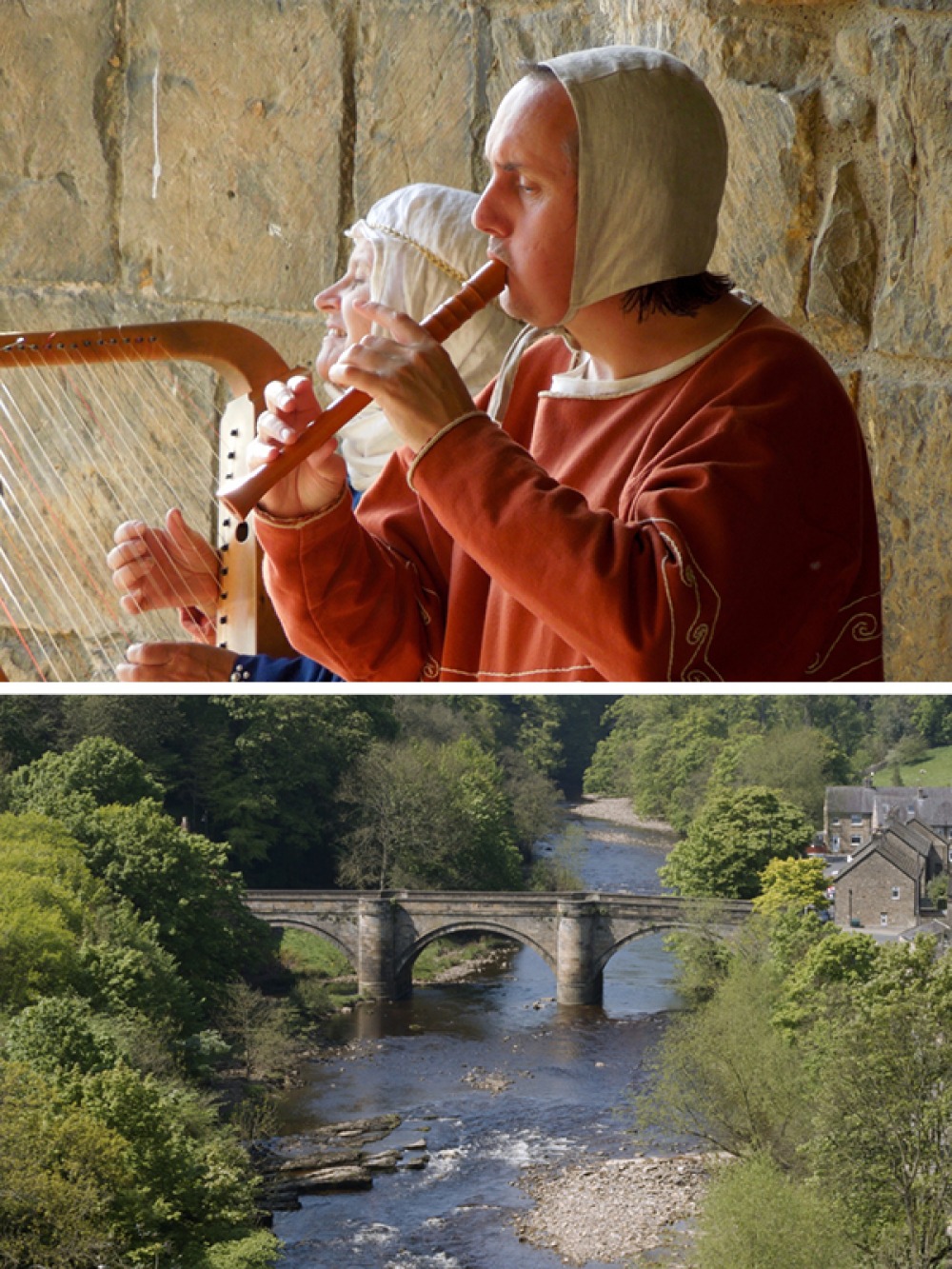 Highlights
RICHMOND MAYFEST
30TH APRIL–2ND MAY
Locations throughout the town richmondmayfest.org
Visit Richmond Castle, St Mary's Parish Church, The Station, Richmond Town Hall, St Agatha's in Easby and the Market Place to enjoy this festival of medieval music and dance.

RICHMOND WANDER
4TH MAY
The Green Howards Museum
01748 826561
greenhowards.org.uk
Find out more about the town as you take a walk through its past. Starting from the museum, walk around Richmond and spot clues to its military past. The Wander is suitable for all ages, but remember to wear comfortable shoes.

THE BEAUTIFUL NORTH: SARAH DROUGHT AND JANE SPINK
13TH–25TH MAY
The Station
01748 828259
thestation.co.uk
Discover work by these two artists exploring the true beauty of our local landscape. Sarah is a landscape painter and, having grown up on a farm near Richmond, her love for Yorkshire's rural life is evident in her work. Also brought up in Yorkshire, Jane enjoys ultra-running in the North Yorkshire Dales and Moors and is inspired by their vibrant colours.

CAROUSEL
18TH–21ST MAY
The Georgian Theatre Royal
01748 825252
georgiantheatreroyal.co.uk
Follow the story of carousel worker Billy Bigelow. Billy got caught in the middle of an armed robbery and took his own life. Now, 15 years later, he's allowed to return for one day and meets the daughter he never met in life. Based on Fereng Molnar's play Liliom, music and dance bring this inspiring story to life.

RICHMOND WALKING & BOOK FESTIVAL
17TH–25TH SEPTEMBER
Locations throughout the town
booksandboots.org
Meet your favourite authors, discover new ones and get involved in this exciting programme of literary happenings while following scenic walks around Richmond and the Dales.