Running a Business in Richmond
Whether it's loyally continuing a family tradition, or simply falling in love with the place, independent businesses thrive in Richmond
From brilliant boots to the best bikes and bakes, there's plenty to discover
The Old Richmond Shoe Factory closed in 1989. Boot making was no longer desirable, but Mike Sheehan's working life had been spent making shoes, and he didn't let that stop his stride. Mike launched Altberg, now run by his son Joe and a small, tight-knit team, producing a range of resoleable walking, biking, police and military boots from Richmond's Gallowfields Trading Estate.

'Although you might think we're a factory, we're more like a small workshop,' Joe explains. 'We're a real Richmond company. We started here, and we're still based here, and all our boots are designed and developed here.'

When Mike began making footwear his hobbies were hiking and motorcycles, and when he made black walking boots with red laces, members of the armed and police forces realised they were the perfect fit for them. 'There was one boot which I made for the RAF regiment at Leeming,' Mike recalls. 'All the forces came together for the Peacekeeper Challenge, so I called it the Peacekeeper. I never gave it a second thought but the police picked up on that because they are "peace keepers".

'For my sins, I go and watch Middlesbrough sometimes but I hate it when the crowd stop being behind their team. It's the same in business too. It's amazing how it helps you when you know there are people behind you, wanting you to succeed. I was so fortunate that I had that with the police.'

Altberg pride themselves on remaining a small family business. 'I'm so happy Joe runs the business now; he's always been keen on Altberg,' he adds. Mike is still hands-on in the business, now working on the development side. It's his true passion for boot making that's kept him going. 'I often say you could drop me down in a desert island and I'd probably made sandals out of palm leaves,' he laughs. 'That's what I enjoy, and I'm lucky I'm still able to do it.'

Click here to read our full interview with Mike and son Joe, and find out more about the business at altberg.co.uk.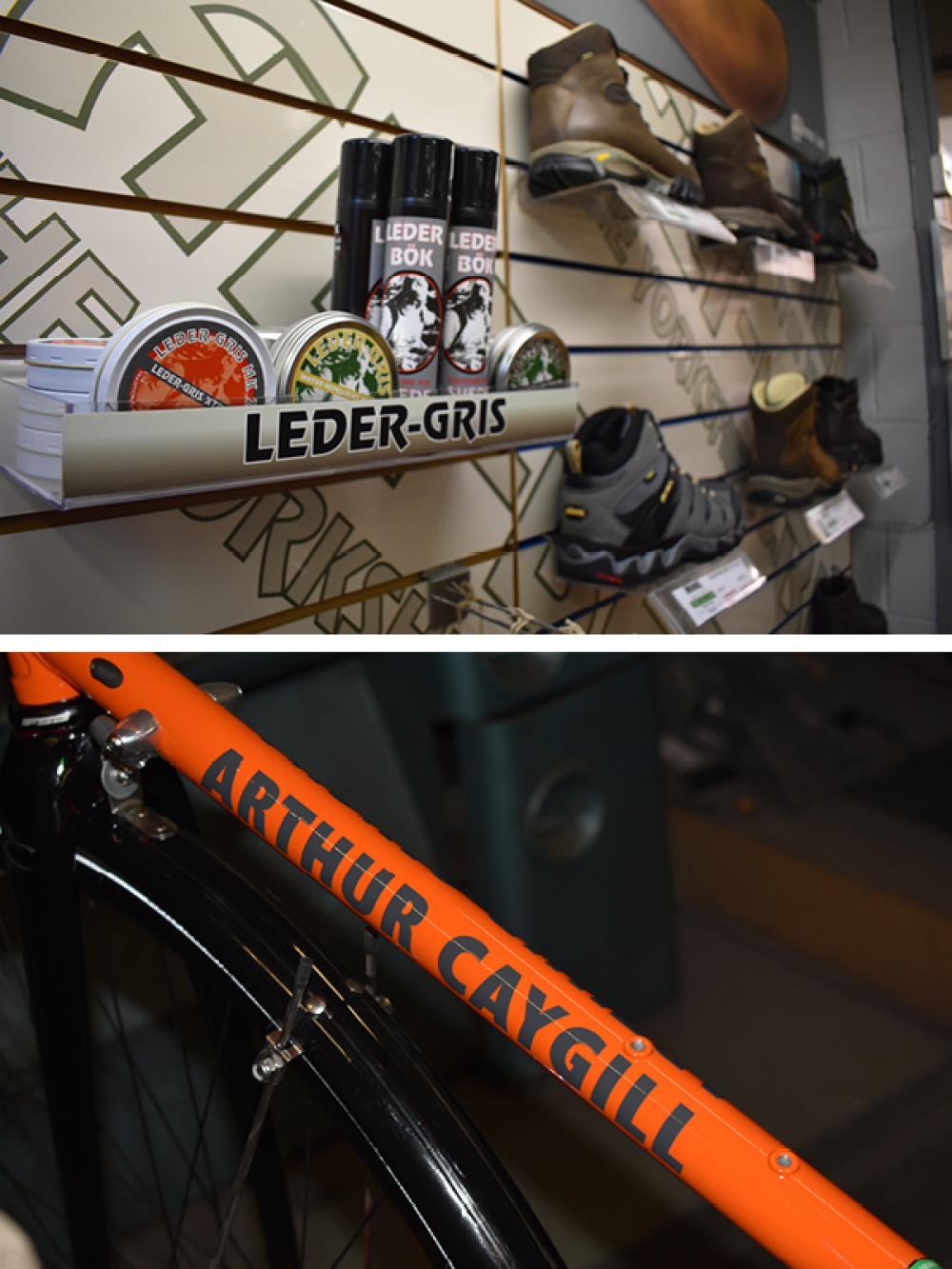 Just around the corner you'll find another family success story and an almost never-ending selection of bicycles at Arthur Caygill Cycles. Arthur Caygill began custom building frames and repairing bicycles in 1983. Today, his business is relied on by many, and is home to a showroom (which holds 400 bikes), a warehouse, and workshops where the famous Caygill frames are made.

Shop manager Scott Caygill and frame builder Steve Davison are two members of the small team here. 'I'm managing the place now but I'm looking to go back into the frame building side as well to help Steve because we're so busy, which is good,' Scott says.

His dad previously raced for Britain. 'That's really kept the business here [in Richmond],' Scott adds. 'His name is well-known because, although he wasn't a professional, he won against a lot of professionals and he raced all over the place. For us, the namesake is huge. The town's great and there's a nice network of businesses all helping each other.' He offers The Station as one example. 'That has a lot of businesses within a business, and obviously the cinema as well. It's brought so much to the town. But we've got the the castle and so much heritage here too.'

Scott highlights cycling's recent boost in popularity as another reason why their business remains so popular. 'Every corner I turn, I see another cyclist or a bunch of cyclists and that's growing every day,' he says. 'I think, obviously because we live in a beautiful part of the world, these are people who come here, not just those who live here. People come from all over to see what we have. If you're a cyclist, within 10 minutes you're into wonderland.'

He has noticed a change in the cycling industry over the years. 'That's thanks to the internet probably,' he suggests. 'It's not always helped us; we can't stop it though. We do alright on the internet but we're a little family, we're not a big organisation and that's another reason why we're keeping our own surname going. Amazon are now even selling bike accessories so we really have to open up everything we can – and we do. I see the manufacturing side keeping us alive.'

Scott has noticed more people supporting local recently, as more visitors head to Richmond. 'Many customers come back to have their bikes serviced the following year, which lets you know that you're doing something right,' he reflects. 'And obviously we've got a new customer base which has been wonderful.'
Read our full Q&A with Scott here and discover Arthur Caygill Cycles at arthurcaygillcycles.co.uk.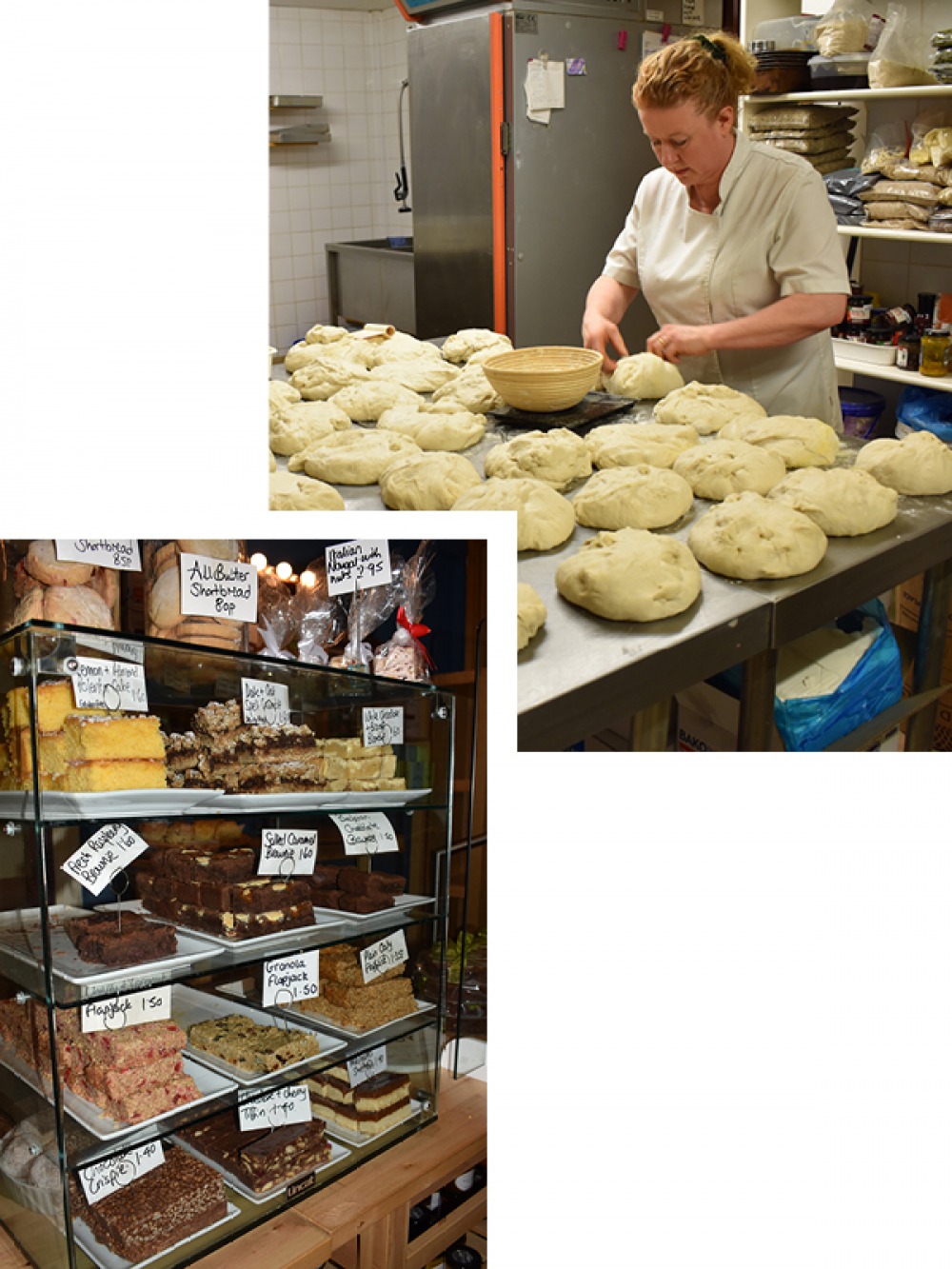 Just outside Richmond town centre, The Station regularly attracts 350,000 visitors a year, and is home to The Angel's Share Bakery, owned and run by Alex Franks who has a long list of credentials in the food and hospitality industry. Alex first went into business with her mum working the marquee wedding scene before opening her deli shop in Darlington. 'My original plan was to open a restaurant, but when you've worked in restaurants you know that doesn't give you much time with your family and friends,' she says.

Alex ran the deli for 12 years but when she struggled to source good quality bread, she took matters into her own hands. 'Although there has been a surge in artisan bread and bakeries, back then I really struggled to get my hands on good quality loaves and I thought the easiest solution was to create my own,' she explains.

'At the time my husband used to take my boys to swimming lessons across the road here and it was then when we saw something happening to the old station. They were looking to put some sort of food units in here so I got in touch.' At first Alex ran both the deli in Darlington and the new bakery at The Station, but has since moved her business, and her focus, completely to Richmond.

The double unit space The Angel's Share occupies allows Alex and her team to not only bake within the space, which visitors to The Station can watch through the glass windows, but also to have the deli where customers can buy freshly made bread, pastries and cakes, alongside pantry items such as cheese, crackers and chutneys.

'Last summer we were really busy, especially with the rise in staycations, but we do have a lot of regulars who come in on a Saturday – they often buy the same thing each week and we look forward to seeing them,' Alex says. Alongside regional specialities such as Yorkshire curd tarts and traditional frangipans, Alex tells us their speciality Lancer Loaf is the most popular buy. 'One of my original bakers was from Osnabrück and had trained in Germany and she came up with a loaf which used rye flour (something quite prevalent in German bread). She asked to call it the Lancer Loaf because her husband was in the Royal Lancers and it has become our best seller.'

Alex explains that there are no hard and fast rules at the bakery. Her bakers follow their instincts and often bake according to events going on around them. 'For St. Patrick's Day we had a shamrock bread which had Guinness and black treacle in it, and I think things like that keep everything fresh and without routine.'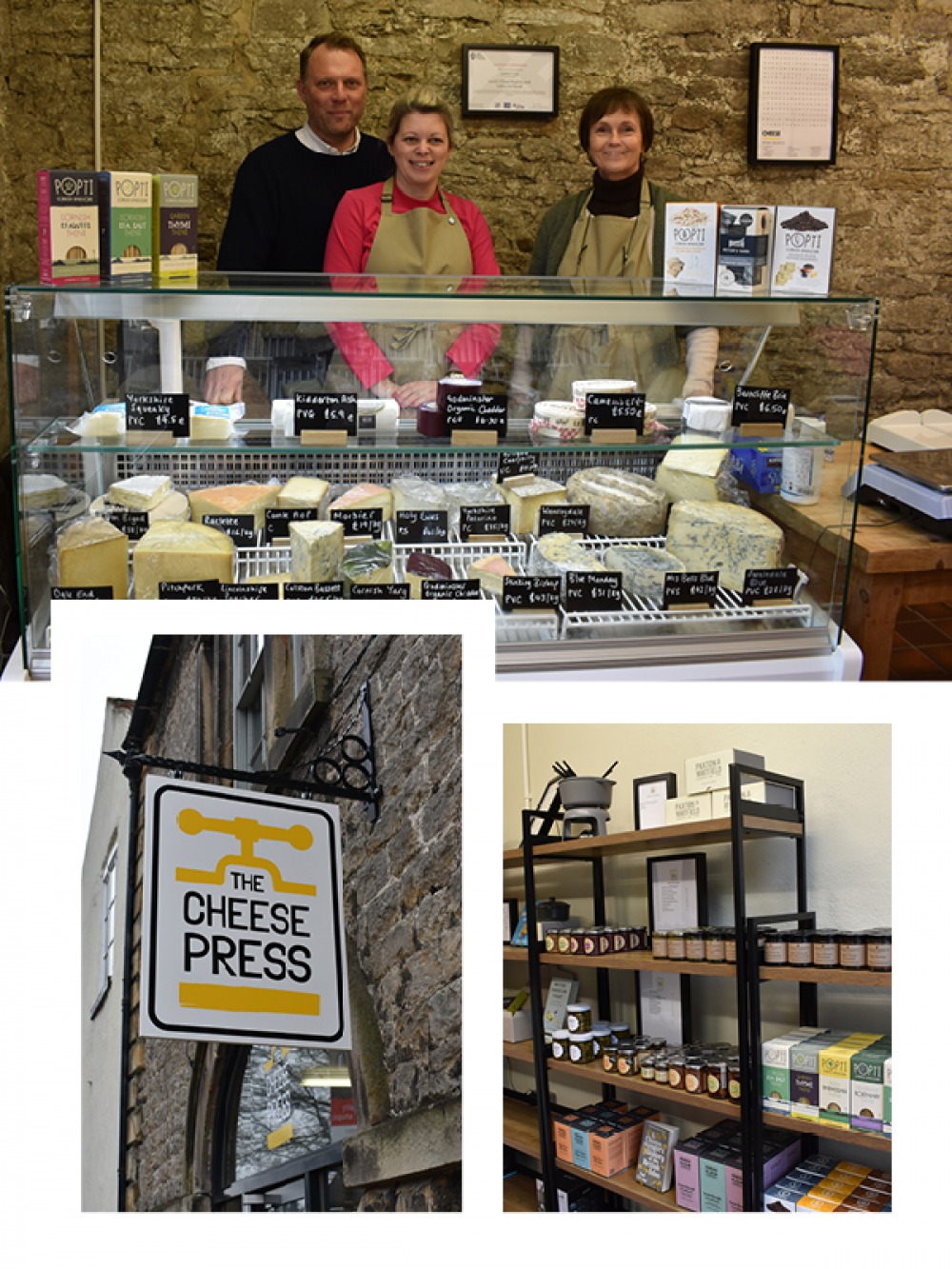 One of Richmond's newest food shops, which has only been open a few weeks, is The Cheese Press on Victoria Road. 'There are people who sell cheese in Richmond but we felt that a dedicated cheese shop was missing,' says owner Amber Lee. After becoming interested in cheese, Amber enrolled on a course at The Academy of Cheese and when the premises on Victoria Road became available she jumped at the chance to open her own store.

'You go to places such as York which has some fantastic cheese shops, in London there is the famous Cheese Bar, and across Britain there is a fantastic range of cheese, and I really wanted to showcase them,' she explains. However, Amber tells us that although she wanted to showcase a variety of cheeses from far and wide, she always wanted to ensure local producers were a key part of her new shop. 'There are a lot of Yorkshire producers making some fantastic cheeses, not just cow but sheep and goats' cheese too, and out of a range of about 20 cheeses we have right now, eight of them are made in Yorkshire.'

Originally from Cornwall, Amber moved to Richmond around 10 years ago and later bought a home here with her husband Mark. It was during an evening walk through the town that they discovered the shop was up for sale. 'The previous owner wanted something which was sympathetic to Richmond,' says Mark. 'Many people have come in and said what a fantastic addition our cheese shop is to the town.'

Although they're still finding their feet, the couple tell us that the idea is to offer cheese boxes to local holiday cottages, as well as supplying to surrounding restaurants. 'We want to host cheese and wine tasting evenings within the shop and perhaps a monthly cheese club – we've got so many ideas, we just need to plan them out,' Amber laughs.

And already locals are buying into Amber and Mark's love of cheese. 'Our most popular cheeses so far have been the local ones. The Wensleydale is made up in Reeth and the Swaledale in Leyburn. They seem to be popular from a local perspective, and further afield the Cornish Yarg is a quirky but popular one as well,' says Mark.

'Sometimes people walk in and say they won't like a particular style of cheese but it's all about getting them to try it. I wouldn't want anyone buying a cheese and going home and not liking it,' Amber says. 'We had an opening night which was a fantastic evening – and really it's all about the idea of shopping local and independent.

One person who has been really supportive – despite also selling Cheese – has been Chris from The Wilfred Deli. 'The view around here is that the more independent shops the better,' says Mark.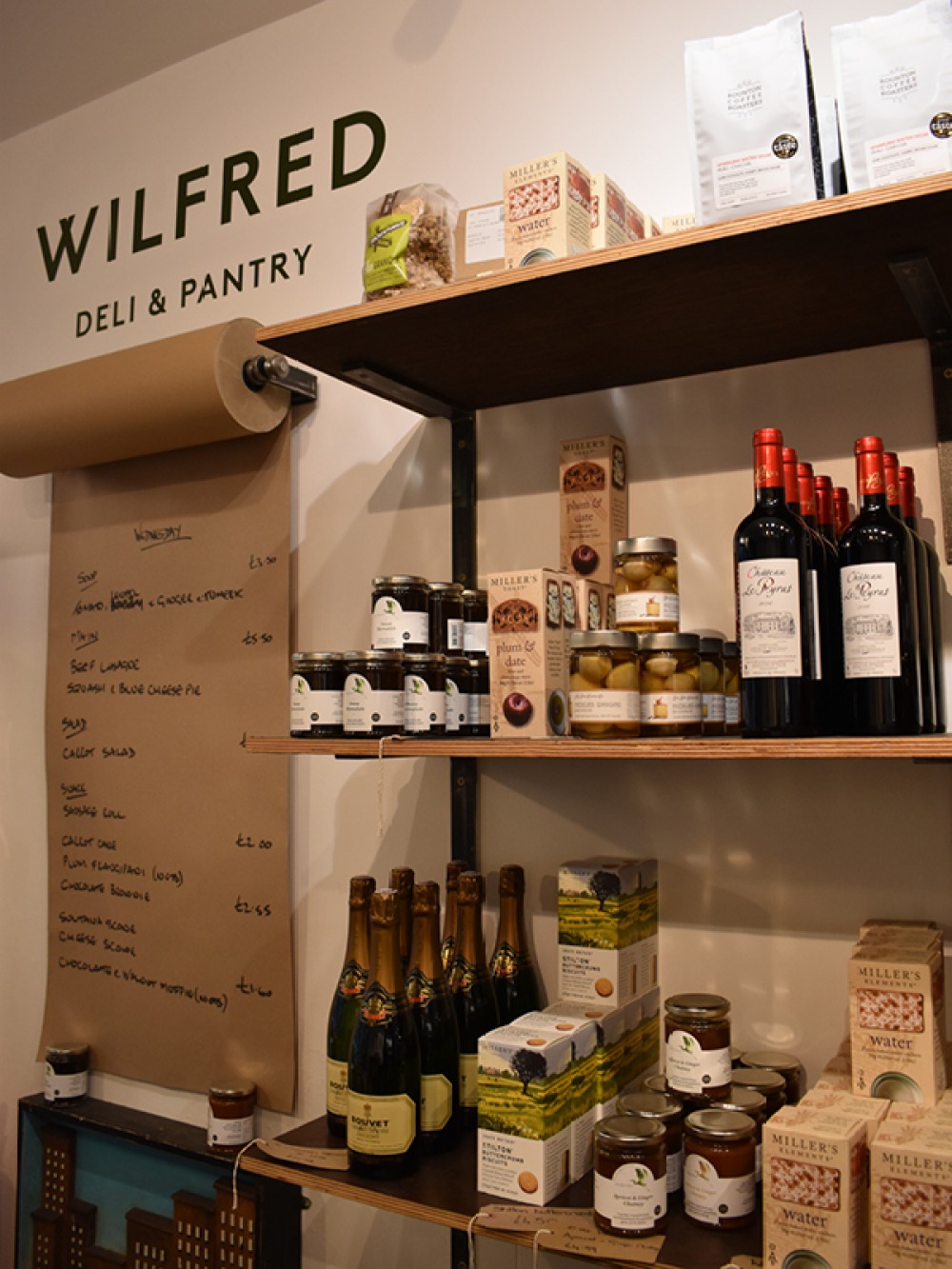 Chris Abbott opened The Wilfred Deli back in 2016 after moving away from his hectic life in London. 'I had always dreamed of opening a food shop and I really wanted to do something creative. I think Richmond is a lovely town full of tasteful people and it's been a great journey over the years, and the shop has developed from nothing to having a fantastic following of locals and tourists alike,' he says.

Just off the town square, The Wilfred Deli stocks a selected range of cheeses and organic vegetables, as well as pantry produce such as wines, gins and chutneys which all complement the store's selection. However, Chris tells us that the most popular items are the ones he bakes within the shop's quaint kitchen. 'The table at the front of the store is crammed with cakes, tarts, sausage rolls and savouries, and everything which is made in our tiny kitchen sells really well.'

When the shop isn't supplying locals, Chris hosts weekly supper evenings which have been a massive success so far. 'We're booked up until the end of July which is bonkers really. We do one a week where friends and families of up to 10 people can come into the shop and we cook them a five-course sharing meal,' he says. 'It's all about friends getting together and having a nice time, and it's great fun.'

Following the pandemic, Chris believes that many people have taken greater care to shop at their local independent retailers. 'There are certain people who come into my shop and are happy to say they go to three independent shops in Richmond, one of which is mine,' he says. Chris has a number of regulars who pop into the deli for a coffee and a chat. 'If it's not customers coming in to stock up, it's people from other shops buying lunch and wine, and it really is a lovely community,' he adds.

With recent developments within Richmond over the last few years, there has been a greater attraction for tourists and independent businesses. 'There are all these lovely independent shops which are slowly coming to Richmond and the face of the town is changing a lot. It's not about charity shops and chain stores – it's far more diverse and special,' Chris says. 'There really is something for everyone and the lovely thing about the shops that are opening is that they are quality – whether that is my shop, the cheese shop or the lovely florist which has opened around the corner, it's all about quality here in Richmond.'
Whilst you're in Richmond, make sure to stop by Trinity Menswear on Finkle Street who will have you dressed to impress with their range of brands including Bugatti and YAYA, or for interior inspiration Greys Interiors will be on hand to help you with everything from bespoke design services, to lamps, candles and home accessories. Looking for some night-time aromatherapy to help you sleep beautifully? Look no further than Kiss the Moon which can be found in the Riding School at Aske. Stop by the shop to ask the experts about getting a good night's sleep with their range of multi award-winning beauty products, and then pop next door to newly-opened chocolate specialists Mocha for a coffee and to watch chocolate makers at work.