Whitley Bay's First Ever All-Day Crime Fiction Festival
Vic Watson and Simon Bewick tell us more about the inaugural Bay Tales
If you think you've heard their names before, you may have read our chat with Vic when the North East literary event, Noir at the Bar (which was shortlisted for FutureBook's Event of the Year 2020), went virtual. Or you might have spoken to Vic and Simon at Living North's Christmas Fair, where they were joined by award winning author and good friend Ann Cleeves.
Bay Tales is their new venture, aiming to bring the very best in crime fiction to the region, celebrating the work of authors and connecting them with readers. They have had events before, but only online – until now.
Bay Tales events took place online every Wednesday evening for more than 20 weeks. 'It's a slightly different format to Virtual Noir at the Bar as it's more of a magazine-style event,' Vic explains.
'We do book reviews, host guest readings from an author and have a main feature – whether that's a spotlight on one author, a couple of authors in conversation, or a panel. Previously we've had The Fact Behind The Fiction where a journalist, a solicitor and a former police superintendent (who are all now writers) chatted about their experiences.'
It was during one of these virtual events that Ann politely put Vic and Simon on the spot – and pushed them to make their virtual venture a live event. 'She said "of course you will be doing this as a live event at some point won't you?" We had been intending to but just waiting for the right time,' Simon explains. 'Ann has been a wonderful support. Many other writers and organisations would say the same.' Ann has called the coastal town of Whitley Bay her home for the past three decades, and she's passionate about the area. 'She's willing to do anything to get Whitley Bay on the map,' adds Vic.
For their live event, at Playhouse Whitley Bay, Vic and Simon approached the biggest publishers in the UK to ask for their biggest, best and brightest titles for 2022. The writers they have on board include Sarah Vaughan whose first novel, Anatomy of a Scandal, will be adapted for Netflix next year, and Nikki May the author of Wahala, which is set to be one of the must-read debut novels of 2022. There are plenty of recognisable names involved too: obviously Ann Cleeves, but also Trevor Wood whose crime trilogy is based on the streets of Newcastle. 'It's just so lovely to have such successful and amazing writers who want to work with us,' Vic says. 'It's going to be great to see people in person.'
'We're very proud of living in the North East and there's so much history surrounding crime fiction (especially in television and movies) for people to see in person'
Having a great mix of writers means there's something for everyone. 'It means there's a real community feel to it,' says Simon. 'There's obviously been a few downsides to running virtual events, but one upside is that people who maybe wouldn't normally come to this sort of event in person (whether that's because of age or accessibility) felt they could get involved online, which is great.' Some of those audience members are even hoping to come from Canada and America to join the live audience in February.
'That community feel is exactly what you get from the businesses around here too,' Simon continues. He has been speaking to businesses close to the venue to see how he can encourage visitors to get the most out of their time there when they do come to the event. 'I moved back to the area two years ago after being away for 30 years, and it's a really vibrant area now. It'll be lovely to get visitors out there to see some of the new businesses as well as the old classics. In a lot of ways, we're promoting the area as well. We're very proud of living in the North East and there's so much history surrounding crime fiction (especially in television and movies) for people to see in person.' That includes Ann Cleeves' ITV drama Vera and BBC dramas 55 Degrees North and Spender.
Fingers are crossed that this live event will prove just as popular as Bay Tales' online offerings, and with a chance to meet authors, get signed books, win exclusive prizes and enjoy sneak peeks of new titles, we're sure it will.
Vaseem Khan, CWA winner and author of the Baby Ganesh Detective Agency series will be in conversation with Ann Cleeves, and Trevor Wood will be involved in panel discussions, but there's plenty more in the line-up too.
To find out more and to book your tickets for Bay Tales Live 2022 in association with Living North on Saturday 12th February, visit baytales.com.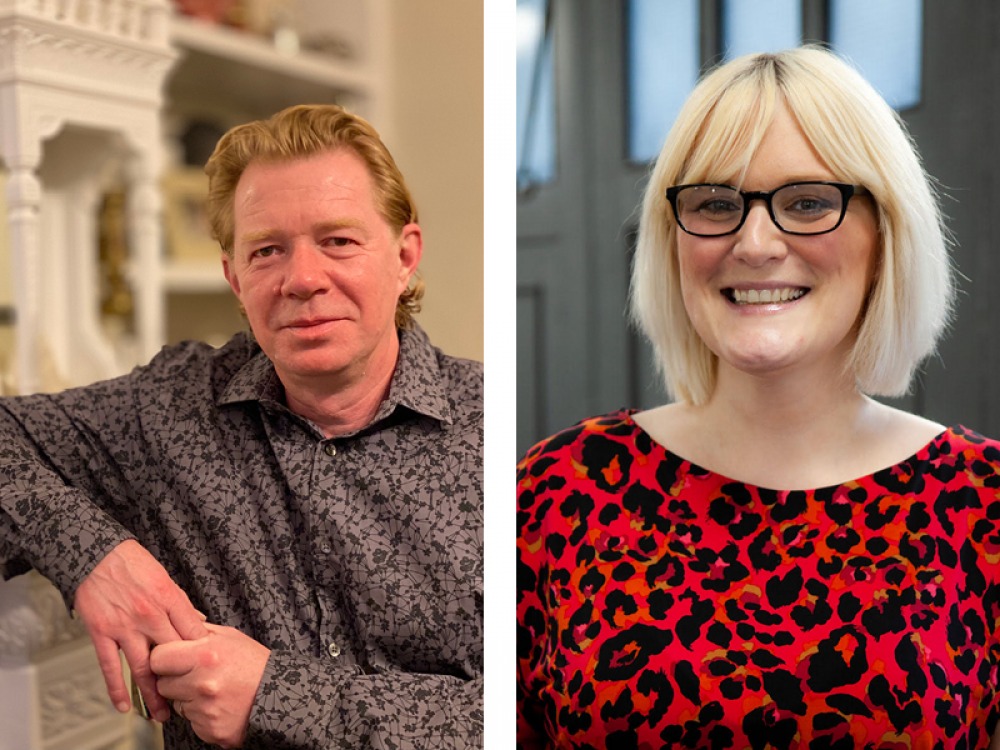 QUICK QUESTIONS
A book you're reading right now…
Vic: 'I'm reading Magpie by Elizabeth Day. It's cool. It's a psychological thriller with the tagline: "She has almost everything. The rest she'll take". It's very cleverly done.'
Simon: 'We're quite lucky with this event that the publishers have gifted us some of the books that are coming out. I've just finished reading Amen Alonge's debut, A Good Day To Die, which is coming out in February. High-octane would be the best word to describe it. I'm now reading Trevor Wood's final book in his North East-set trilogy, Dead End Street. It's starting well.'
The best place, in your opinion, to set a crime novel…
Vic: 'That's a great question! I'm a fan of locked-in mysteries. I think anywhere that has the potential to be locked, or locked down, for example a hospital, plays to the readers' fears. Vigil was very popular on the BBC which was set in a claustrophobic space they couldn't get out of. They always make for a great story.'
Simon: 'Interestingly, the book that I'm writing at the minute is actually set across our coast at Tynemouth. There's a lot of nooks and crannies around the area which make the story.'
What makes the perfect crime novel?
Vic: 'Tension, pace and compelling characters.'
Simon: 'The characters. Trevor Wood's books are a good example of that. The twist is nice to have but the characters make you remember why you love the book. With all my favourite books, whether they're British, American or Japanese, it's the characters which tend to stay with me; that's the key thing – to make the reader either love or hate them.'