An elusive artist or urban vandal?
He goes to extreme lengths to preserve his anonymity with his work appearing all over the region for nearly four years...Matthew Ketchell goes in search of the elusive Karl Striker.
Once in a while Stephen Irving will open the front door of the home he shares with his wife and children, in the quiet Teesside town of Eaglescliffe, to covertly place an envelope of cash outside before returning indoors. Shortly after he's done this a text message will flash up on his phone. It's Karl Striker confirming that he has collected the cash (owed to him for sales of his art on Stephen's website) and left in its place a fresh batch of prints for Stephen to bring inside and sell online. 'It's just the way we've worked out how to do things,' explains Stephen of the exchange. 'I've got somewhere I conceal the cash and he knows where to look.'
Stephen is an artist himself and the founder of North East Urban Art (www.neua.co.uk), an online gallery showcasing and selling original artwork and prints, all produced by local artists and inspired by the urban environment. While galleries and other websites charge up to 80 percent of the sale price to sell an artist's work, Stephen's website simply covers its costs and champions local talent. Karl Striker is one of those it champions.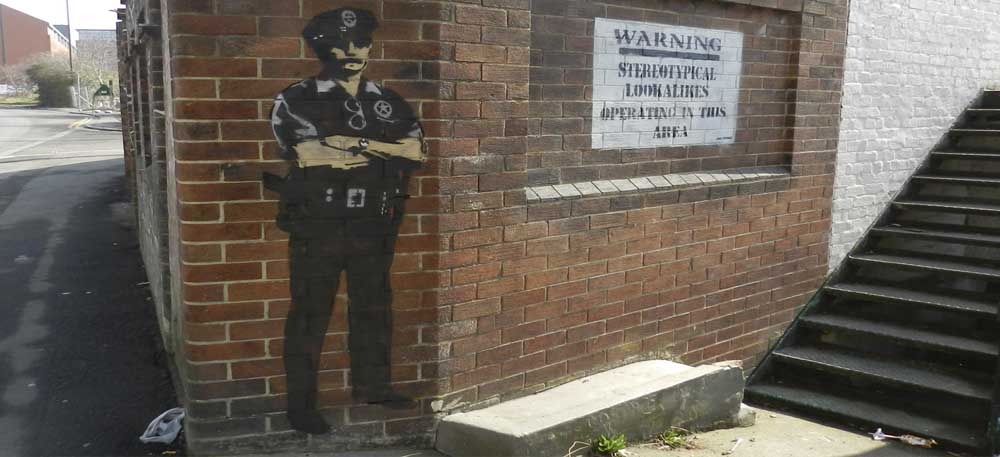 'I've never met him,' admits Stephen, 'He likes to keep his identity secret so I respect that.' Despite his clandestine existence, Karl has a habit of secretly turning up to NEUA events and exhibitions. 'The first time he did it he emailed the next day saying, "You're taller than I thought you would be." I'd been there all night and would've seen him but he didn't come and say hello. I should probably start taking photographs of the crowd and work out who he is through a process of elimination.'
It's through Stephen that I have managed to broker an interview with Karl, who declines a phone interview but offers to answer questions via email. I grill Stephen before contacting Karl. 'We email and talk on the phone but never about anything other than the art. He's not the only artist on the website who works like that, it's the nature of the beast. I imagine him as just a pair of eyes peering out from beneath a hoodie, like some sort of Sith character. Given that a large portion of what he has done hasn't exactly been legal, if he was to reveal his identity there's a good chance he'd be fined or even receive some prison time.'

With Karl spray painting specially created stencils onto public buildings, sometimes with permission but more often without, people inevitably arrive at comparisons with guerrilla artist Banksy. But as Stephen points out, even Banksy can't count himself as the original stencil artist. 'There was a French guy called Le Rat who was doing stencils 20 years before Banksy, but Banksy was the first to become famous for it.' There are also rumours that Banksy is a public schoolboy with a deep disdain for authority. Can Stephen comment on Karl's background? 'You find with a lot of graffiti artists if you look into it they have had better upbringings than you'd imagine. I couldn't tell you if Karl's working class or upper class but I like the idea of him being suited and booted during the day, working a nine to five job, then doing his art at night.'

To date Karl's street art has appeared almost exclusively in the North East but recently Stephen has noticed interest growing outside the region. 'He's had buyers from the South and a piece has gone over to Australia – he's starting to develop a name for himself outside the North East. It's great for him and NEUA.' According to Stephen, last year Karl made a significant effort to produce original prints to sell alongside images of his street art suggesting he has a commercial nous as well as a rebellious streak.
'The disclosing of my identity would have a major impact on my ability to engage with my surroundings. I tend to operate in several guises in order to do what I do, I wouldn't really want to disclose every way I do this but blending in during the day can be a lot easier than at night'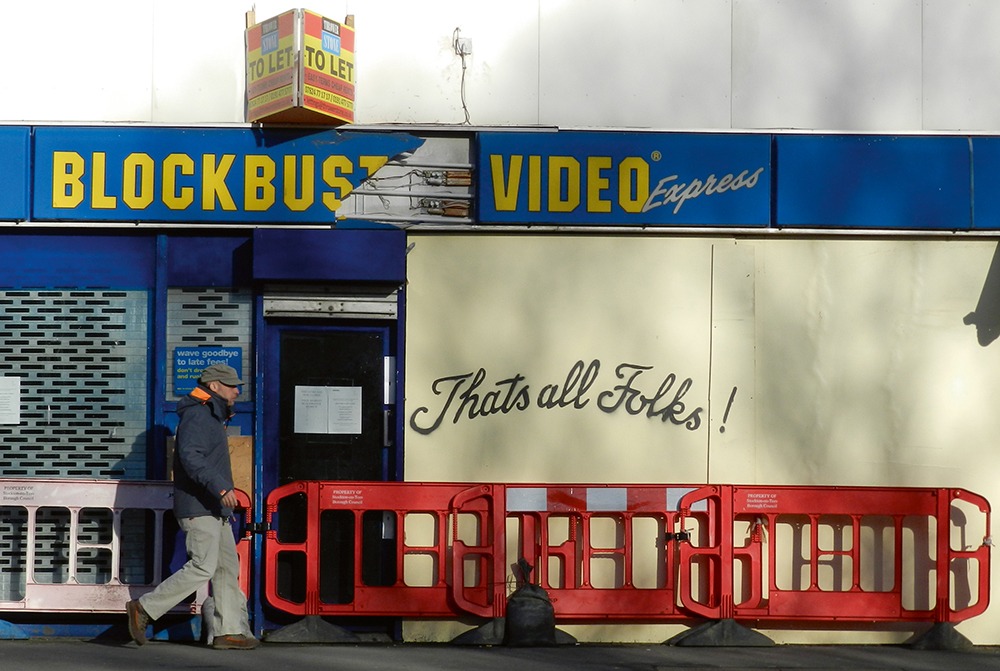 Stephen doesn't believe Karl takes the risks for fame and fortune though. 'I know why he does this. It's all stuff I agree with and support. He does it because he loves doing it. I don't ever get the impression from Karl that he's doing it to become world famous. He probably wouldn't knock the recognition back, but that's not why he does it, he does it for the love of the art.' Stephen says that street art is something that plays a huge role in Karl's life. 'He's constantly looking for places he could possibly work, once he finds a suitable space then he starts thinking of what to put on there.'

It's time to get in touch with Karl. Over email I find him extremely polite, articulate and accommodating: 'I hope you're well,' he starts every correspondence, and he nearly always responds within the hour. On a Tuesday afternoon I bombard him with almost 30 questions. They range from the inane, 'How old are you,' to more in-depth questions on the development of his style. He replies saying he'll have answers to me within six days. The next day he emails across the answers in a document containing 2,874 words.
He includes a disclaimer at the end saying, 'I don't mean to come across in this piece as a person with a load of swagger and confidence – I have neither. I think I'm unassuming as a person, but making a statement about this fact makes me feel as if I'm not.' I expected him to be more aloof, something you'd expect of a street artist dealing with the consequences of being caught. 'Street art in its true sense is not deemed a legal activity,' he explains in the email. 'The disclosing of my identity would have a major impact on my ability to engage with my surroundings. I tend to operate in several guises in order to do what I do, I wouldn't really want to disclose every way I do this but blending in during the day can be a lot easier than at night.'

Interesting. I'd imagined Karl operating almost exclusively at night. 'When was the last time you stopped a workman in the street and asked him what was he doing? The truth is you probably never have unless he was five yards from your front door.' Karl has a point but I'd be inclined to do a double take if a workman was stenciling a giant angel with wifi wings onto a wall. 'It's not as straightforward as going out in the middle of the night and expecting no one to be around. I find suspicions are heightened at night. I'm not an international diamond thief and there have been loads of near misses – that's when the real fun begins. I'm no specialist in non-detection. If I see a risk when doing a piece I don't tend to take it.'

He doesn't go into detail when I ask where exactly he's from in the region other than to confirm he's from the Teesside area where the majority of his work has appeared to date. There are a couple of things he is reluctant to expand upon: his age ('I'm over 30'); how long he's been doing street art for; ('a few years now'); and what he does for a living ('I live to paint, amongst other things. If spare time is classed as being away from art I have no spare time.'). Only one of my questions is ignored completely: 'Do your family and friends know you are Karl Striker, and is there any significance behind the pseudonym Karl Striker?'

Graffiti artists often start by tagging – scrawling a name, nickname or alias in public. It's often something people start doing at school which made me wonder if this is how Karl started, and whether or not he thrived in a classroom environment when it came to art. 'I always scribbled and doodled but never really wanted to draw a bowl of fruit. When I was at school I never classed art as a real subject. It was the easy lesson after you had just spent an hour trying to get to grips with fractions or simultaneous equations. None of my peers took art as an option. I've certainly come to appreciate art and its many forms now that I'm older but if the truth be known, I couldn't have cared less [about art] at school.'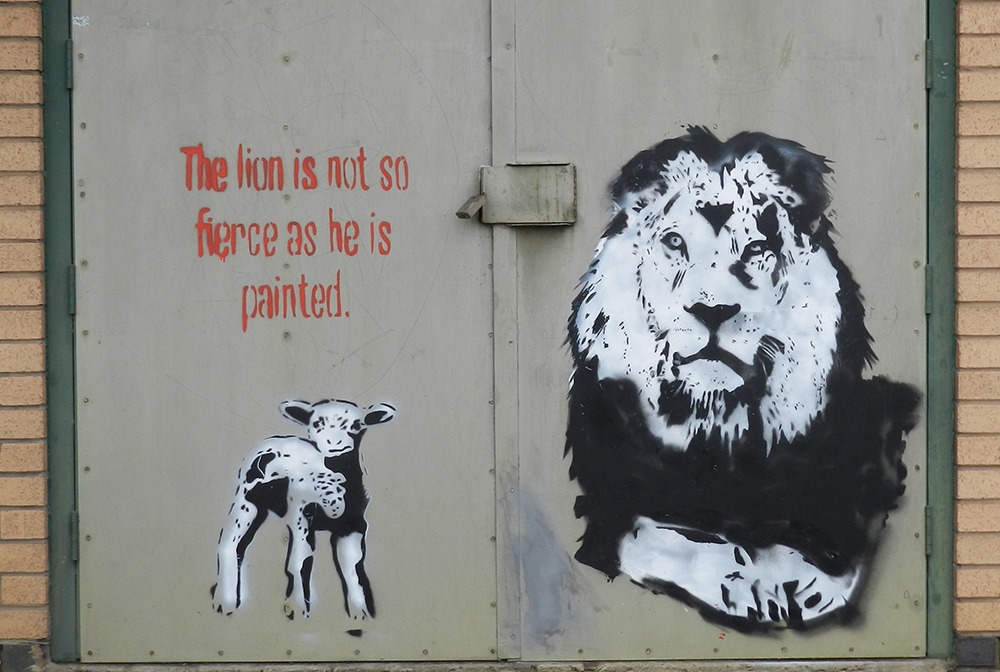 He can't recall the first street art he did under the name Karl Striker but an early piece is 'Location Location Location'. Created nearly four years ago, Middlesbrough had just topped one of those tedious 'Worst Places to Live' polls so Karl decided to have some fun. 'There was a rundown unoccupied ramshackle house in Norton, Stockton-on-Tees – to this day I've never really seen the likes of it on any estate. It's since been demolished.' Karl stenciled Location Location Location to the side of its crumbling, whitewashed wall, along with the silhouette of a Staffordshire bull terrier above which he sprayed 'For Sale'. 'I did it around midnight on a Monday. I kept my cans and stencils around the corner in a little alley which can be seen on the print image. It didn't take long at all – that's what you're aiming for. It stayed untouched until the building was demolished. I've since released a photographic print of this piece and it's been well received. In terms of how my style has developed since then I don't really have anything I can say without sounding pretentious. I think you learn from every piece you do which helps give you a little more direction in developing a new piece. Development of style in some cases can be down to sheer fluke or mistakes – apparently we are taught to learn by them.'


Karl explains that his ambitions are 'to be as passionate tomorrow as I am today,' and insists he doesn't really give fame a second thought. 'NEUA have already sold my work in Australia, USA and mainland Europe. Who wouldn't like to see their work being appreciated in as many places as possible? I guess I'm known locally as there aren't many people doing what I do in terms of application and locations.' The local press have dubbed Karl 'The South Banksy' in reference to the South Bank suburb in Teesside. Karl is not bothered by the comparison. 'Im a big fan,' he admits. 'I don't set out to copy directly but as my work is applied through stencils I design, the comparison will always be there.'
The majority of Karl's work is quickly photographed and uploaded to his website but he admits that there are a few pieces belonging to him that remain undiscovered. Once a piece is discovered there is always a mixed reaction. 'Sometimes my work is sprayed over by other graffers or by the authorities very quickly. Some pieces have remained untouched for years.' Recently a TV station did a small feature on a public piece by Karl, it's an angel on a mobile phone with a wifi symbol for wings, accompanied by the caption 'OMG!! We have such a strong connection.' Standing next to Karl's art the reporter asked four different people at random if they thought the piece was art or vandalism. Everyone said art. 'That's a reaction anyone doing this would hope for. It won't always be the case I guess but if it means something to someone and they enjoy it I couldn't ask for anymore really.'

Regardless of whether individuals see Karl's work as art, vandalism or simply a Banksy rip off, people are talking about it. I think Karl would consider that mission accomplished.

To find out more and see a further selection of Karl's work, visit www.karlstriker.com

'The disclosing of my identity would have a major impact on my ability to engage with my surroundings. I tend to operate in several guises in order to do what I do, I wouldn't really want to disclose every way I do this but blending in during the day can be a lot easier than at night'