Yorkshire's Katie Ormerod on her Snowboarding Successes
Ahead of the 2022 Winter Olympics, we spoke to West Yorkshire snowboarder Katie Ormerod as she made her comeback after missing out on the 2018 games
Katie has more than 10 world cup medals and she's an X Games medalist too. Just how did the 24-year-old from Brighouse get here? Well, it hasn't been an easy journey…
It was her mum and dad who introduced her to the sport nearly two decades ago. 'They were both really keen snowboarders and they used to go snowboarding at my local dry slope in Halifax,' Katie says. 'I got a snowboard for Christmas when I was five and I absolutely loved it, so I just kept going as much as I could.'
Keen gymnast Katie followed in the wake of her parents and started learning to snowboard on the dry slope first. 'It's perfect for training because there's always a consistent jump which never changes,' she explains. 'I would train in Halifax as much as I could after school, and on weekends, and then I really started to progress. When I was able to hit slopes with snow, I'd already learned loads of the basics from the dry slope which made a huge difference to me as a snowboarder.'
Success and plenty of hard work have taken Katie from medal to medal, but when she headed to the PyeongChang Olympic Games in 2018, things didn't go to plan. The day before the opening ceremony she fractured her heel in a freak accident coming off a rail – and naturally was totally devastated. 'It was my first Olympic games, so I was super excited to get there – and I was going there to do well,' she reflects. 'My heel ruled me out of the competition and I had to do a full year of rehab after operations.' She ended up watching the Olympics in hospital. But, did that stop her from getting back out onto the slopes? Absolutely not. 'I came back so much stronger because I was so determined and motivated to get back to snowboarding as quickly as possible,' she says. 'I've put all my energy into just working really hard over the last four years to get better and qualify for the Olympics – which I've now achieved! Going into the Beijing Olympics, I'm just so excited to finally have the full experience and be able to compete. It's going to be amazing.'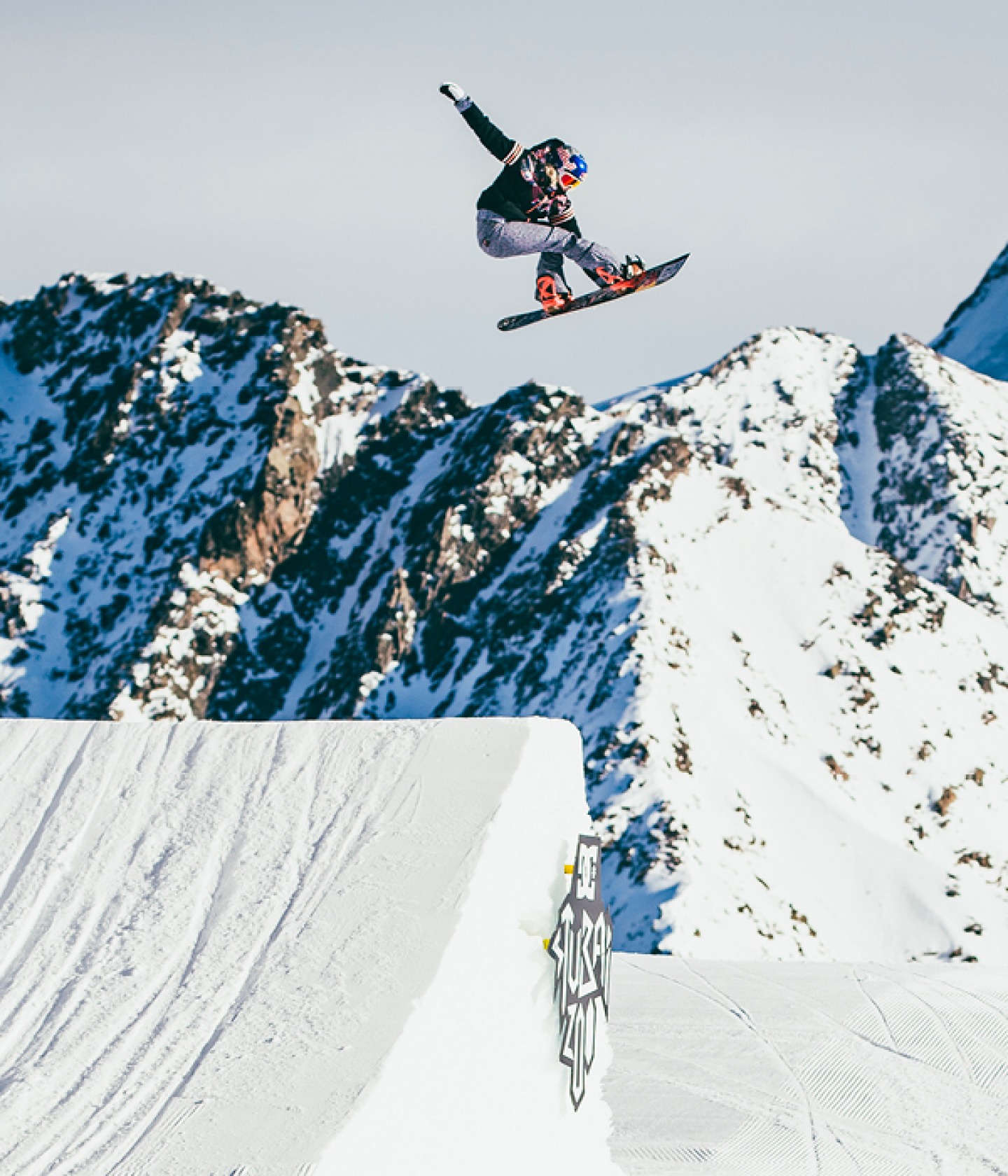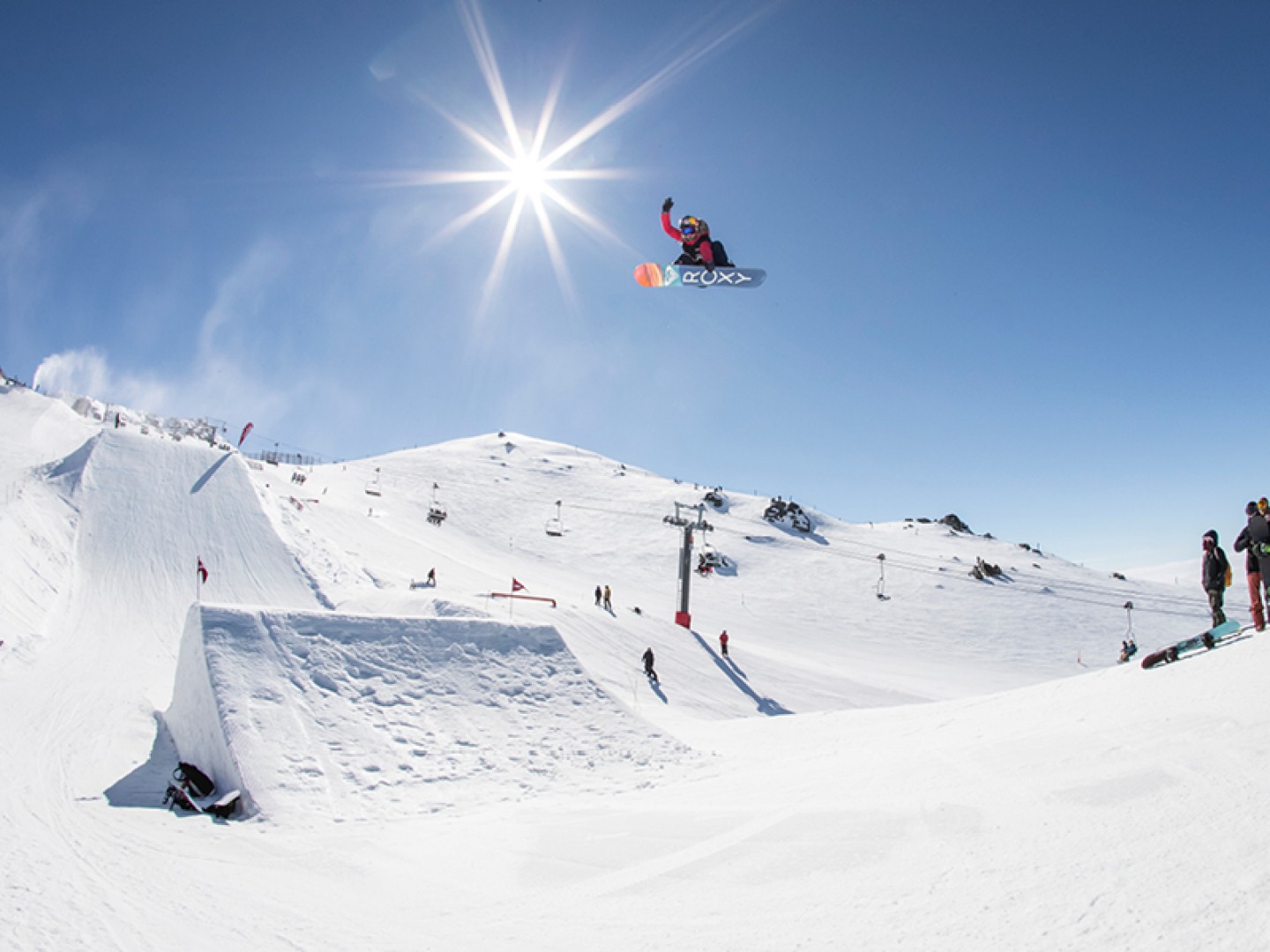 'I'm just so excited to finally have the full experience and be able to compete. It's going to be amazing'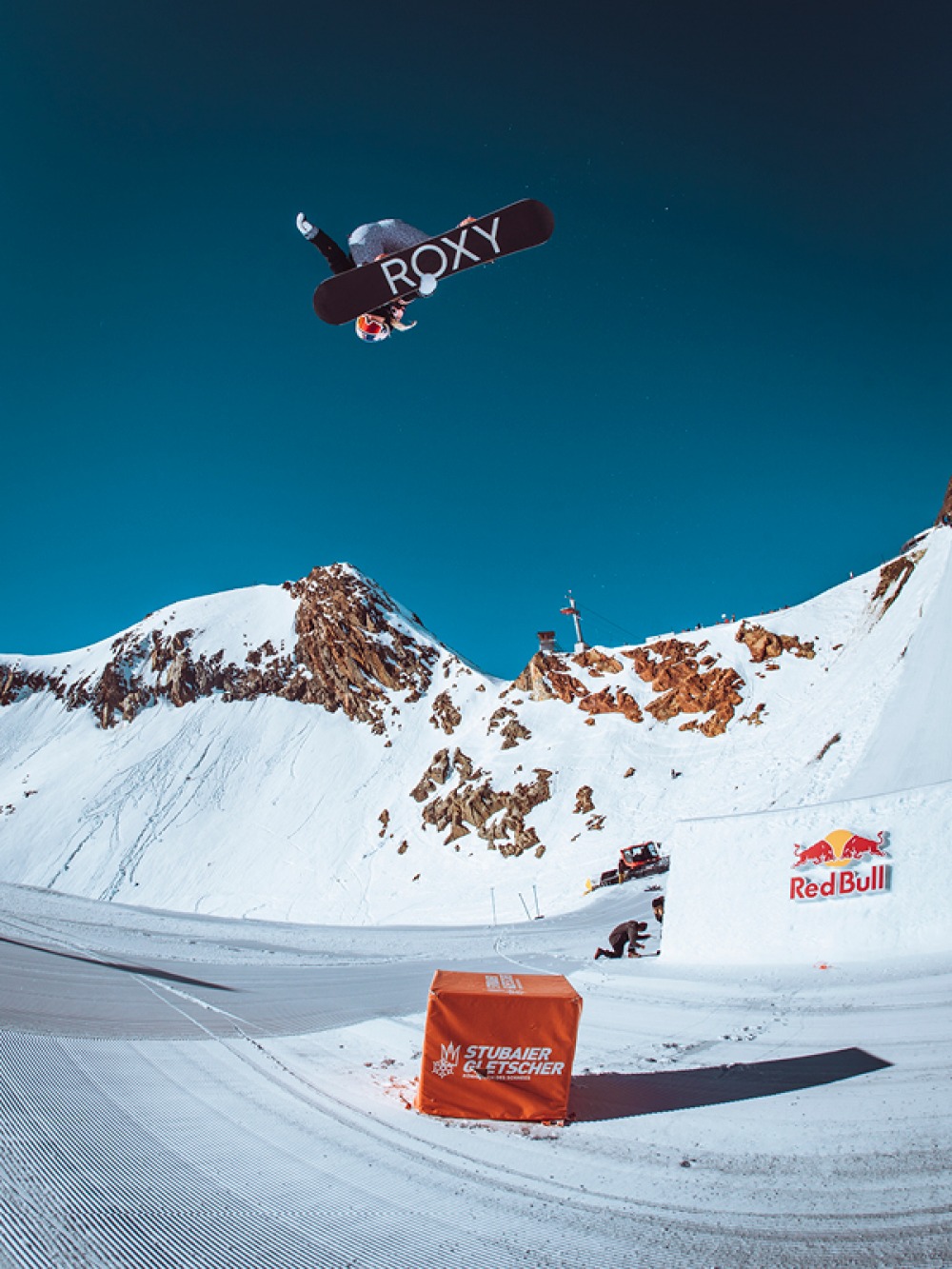 To get to this point she's had to put in plenty of training time – but that wasn't always easy. One year into her four years of Olympic preparation time, lockdown hit. 'It's definitely come with its challenges,' Katie says. 'During the first lockdown it was the same for everyone all around the world, but luckily one of my sponsors, Red Bull, sent me loads of gym equipment so I could convert my garage into a gym and keep up with my strength and conditioning. I was doing gymnastics in the back garden… just as much as I could until we were able to travel again. Things change all the time, even now, with the restrictions so it's really taught me to make the most of every day on the snow because you never know what's around the corner.'
Katie's main form of training is on snow, but she makes things work wherever she is. 'Typically a normal day would be going up the mountain at around 9am and training into the afternoon,' she says. 'Then we'd do a cool down – whether that's stretching or gym work. In the summer months, it's more dry land training in the UK – strength and conditioning and gymnastics work as well for spacial awareness.'
Being crowned by the International Ski Federation as the 2019/20 Snowboard Slopestyle Crystal Globe winner following her best ever season was a huge achievement for her, one of many that have meant she's motivated to keep going. 'Winning the Crystal Globe and my first ever Overall World Cup Slopestyle title was the most amazing feeling,' she adds. 'It's one of those achievements I think most snowboarders treasure because it's so hard to win it. It's always been on my bucket list. Even if I'd have won it without being injured in 2018, that would have been one of the biggest achievements in my career, but to have gone through breaking my heel at the Olympics and having to work so hard to get back (and then having the most successful season of my career in my comeback season) – that was just the most amazing feeling ever.'
Now Katie has even more tricks up her sleeve for the 2022 Olympics. 'My new tricks include a Crippler, which is a halfpipe trick, but we're seeing more of them incorporated into slopestyle courses,' she explains. 'Going into Beijing, I don't know which tricks I'm going to use yet because every course is different. We'll turn up, have a good look at the course and I'll see which jumps will suit which tricks. I'm looking to go to Beijing with the biggest bag of tricks that I've got so that I'm in the best shape possible.'
The disciplines she competes in now weren't even Olympic events when Katie first started snowboarding. It wasn't until she was a teenager that slopestyle became a part of the games. 'I got into it purely for the enjoyment and the sheer love of it,' she says. 'It's always been a dream of mine to compete in the Olympics. Now my dream has come true. Looking back, when I was really young, the big games at the time were the X Games and I've now actually got an X Games medal too. I'm so proud of everything I've achieved – especially coming from Great Britain, and Yorkshire, where we don't have mountains like the snow resorts do. I'm hoping that I'll have inspired and proved to other British people that it is doable if you have the passion and are prepared to put the hard work in.'
The 2022 Winter Olympics came to a close on 20th February 2022 in Beijing. Keep up to date with Katie's snowboarding by following her on Instagram @ormerodkatie.
QUICK QUESTIONS
Your favourite place to snowboard?
Laax in Switzerland. I've been going there since I was nine years old. It's got a really special place in my heart. You're surrounded by mountains and it's really pretty.
The most difficult place to snowboard?
Sierra Nevada in Spain. That was for the World Championships a few years ago. There was actually a sandstorm, so sand from the beaches had blown onto the course which was an experience!
Which is the best fuel for your training?
I'm vegetarian so all of my meals are plant based. I'm big on carbohydrates because when you're training at altitude you burn lots of calories.
Who inspires and motivates you?
My family are a huge inspiration to me because they're the ones that helped me get involved in snowboarding in the first place. They're also my biggest supporters and always have been. You really need a good support system in place as an athlete and they have inspired me to keep pushing myself and challenging myself.
What do you love most about Yorkshire?
I absolutely love Yorkshire! I love everything about it. I love the people. I love the Dales. I'm really proud to be from here and everyone knows it. I started snowboarding in Yorkshire and that's given me the most amazing life which I'm really grateful for.