10 Great Wild Walking and Hiking Adventures to Try in the North East
As spring arrives we all want to get back out and explore, and the new Wild Guide by Sarah Banks is the perfect place to find inspiration
Sometimes an easy scramble up a smaller peak is just what you need to get started (and you'll still be rewarded with incredible views). Here are 10 great ideas from Wild Guide to get you going….
When you find yourself in a beautiful landscape, there is an almost irresistible temptation to gain some higher ground to get a better view; that might be climbing a small hill or taking on a steeper, tougher ascent but once you are up there, the rewards are laid out before you.

The Cheviot understandably appeals to hill walkers who want to conquer Northumberland's highest summit. However, many other hills, such as the Iron Age hill forts of the Breamish Valley or Yeavering Bell, offer an easier, shorter climb for equal satisfaction along with spectacular views. The Cleveland Hills have several peaks to summit, and the walk-up Cringle Moor is a great adventure hike for children.

For the more adventurous, scrambling and bouldering adds an extra adrenalin-fuelled challenge, testing our strength, skill and judgment. Many of the bouldering sites here are suitable for a range of abilities, from beginners to the more experienced.
THE DRAKE STONE
Known for its healing powers, this mythical nine-metre sandstone boulder, originally known as the Dragon Stone, and reputedly used in druidic rituals, teeters on the top of the Harbottle Hills. There's a beautiful walk up with spectacular views towards the Cheviot range and a magical moorland tarn to bathe in on the other side.

From Rothbury follow the B6341 for four miles, then turn right onto Greenside Bank for four and a half miles to car park at end of village on right. Cross road and head right to footpath sign on left after a few yards. Cross field to gate and follow forest perimeter north through another gate and onto narrow track up to the Drake Stone. Adhere to signs re MOD activity here.

30 mins, 55.3338, -2.1267
ROTHLEY CASTLE
Sitting on a small hill among some impressive crags, the ruins of this 18th century Gothic folly have glorious views across beautiful countryside. Built for the Wallington Hall Estate, the central tower has two storeys, and you can climb the stone staircase to the second floor where the views get even better. There are plenty of crags here for bouldering in a magnificent setting.

From Scots Gap head north on the B6342 for just over two miles to verge parking at Rothley crossroads. Walk south along the B6342 to gate just after crags on left and follow footpath beside a stone wall on right. Near end of wall, veer left up to hilltop, where ruins will come into view.

30 mins, 55.1929, -1.9329
CRINGLE MOOR
An adventurous climb over Cringle Moor, this loop takes in panoramic views across Middlesbrough, the Cleveland plain, Roseberry Topping and Cook's Monument. Turf-roofed café-restaurant, camping pitches and pods at Country Park. Superior location.

Park at Lord Stones Country Park, Carlton Bank, TS9 7JH. Follow Cleveland Way sign, then turn left, leaving Cleveland Way by stone wall. At crossing of tracks, continue ahead, following path around Cringle Moor. Turn sharp right before stream and climb steep bank on Cleveland Way to top of Cringle Moor. Turn left at viewing seat to retrace steps down hill.

90 mins, 54.4187, -1.1740
GIMMERKNOWE
At the west end of the escarpment overlooking Rothbury, this south-facing cluster of boulders and small buttresses is great for early evening scrambles and bouldering as the sun is setting. To the immediate south lie extensive earthworks from Old Rothbury hill fort. Combine with further bouldering at Ship Crag to the north east.

From Rothbury follow high street west then take right turn before church uphill on Gravelly Bank. Turn sharp right onto Hillside East to street parking. Follow Pennystane Lane, then turn right opp walled garden onto track for 500 metres to crags on right.

30 mins, 55.3129, -1.9275
BREAMISH VALLEY HILL FORTS
This invigorating hill walk, with stunning views, visits five hill forts – or you could just visit one. Brough Law, an impressive Iron Age hill fort with a double ring of fallen defensive walls, is easily reached and makes a superb vantage point from where to admire the impressive terraces of neighbouring hills.

From the Breamish Valley car park at Bulby's Wood (NE66 4LT), west of Ingram, near Powburn off the A697. Cross road and follow signpost for Brough Law. There are waymarkers if you wish to continue to the other hill forts.

2 mins, 55.4412, -1.9892
YEAVERING BELL HILL FORT
This short, sharp scramble to Northumberland's largest Iron Age hill fort is well worth the effort for the stupendous views on the way up and from the 36-metre double-peaked summit with good views of Ad Gefrin, the 7th-century palace of King Edwin, which sits below it. Keep an eye out for the elusive feral goats.

Head north from Wooler on the A697 for two and a half miles, then turn left onto the B6351 for two miles to parking on left by track. Follow track past cottages to gate and footpath sign to Yeavering Bell.

50 mins, 55.5573, -2.1156
SHAFTOE CRAGS
This superlative Tolkienesque landscape, with its jumble of boulders, terrific crags and rock shelters spread across a mile of moorland, has sweeping views of the Simonside Hills and the coast. Salter's Nick, a gap in the sandstone, was once used by smugglers for taking salt into Scotland and bringing whisky into England. Also seek out Queen Victoria's Jubilee Stone.

Travelling north west on the road from Bolam Lake, after three-quarters of a mile turn left at a crossroads along a track for Shaftoe Crags. Continue to parking by a wall after first cattle grid. Walk up hill to crags.

15 mins, 55.1349, -1.9166
THE WAINSTONES
The largest jumble of weathered sandstone rocks across the whole of the moors perch in a spectacular location to the north east of Cold Moor. A popular place for rock climbers, this is also a great spot for a scramble, with excellent bouldering beneath the crag.

From the car park at Clay Bank, off the B1257, walk south for several hundred metres, then cross road to join the Cleveland Way onto the moor.

15 mins, 54.4245, -1.1402
ROS CASTLE
Being the highest of the Chillingham Hills (315 metres), this is one of the finest viewpoints in the area, boasting extensive views of seven castles on a clear day. A handy topograph has been built into the wall at the summit to help you locate them, and there's a 3,000-year-old Iron Age hill fort here too. It's a short climb for a lot of gain.

Follow directions for Hepburn Woods but continue for almost half a mile to lay-by parking on left at 55.5177, -1.8736. Follow footpath. Moderate climb; path uneven in places.

15 mins, 55.5216, -1.8729
SIMONSIDE, SIMONSIDE HILLS
This justifiably popular summit has magnificent panoramic views of the Cheviots and the Northumberland coastline. The spiritual importance of these wild, windswept hills to Bronze Age people is evident by the number of burial cairns on the slopes and crags. After reaching the 430-metre hilltop, continue along the ridge to explore the contorted peak of Old Stell Crag, which stands on an ancient stone barrow, then head onto Dove Crag (for fun bouldering). However, beware the Simonside Duergars, malevolent dwarves of folklore who reside in the rugged hills and lure unwitting travellers to their doom. Bivvy in Croppy's Hole to the north east of Selby's Cove.

Park at the Simonside Forestry Commission car park (NE65 7NW). Follow track through woodland to clearing before Simonside, then continue up steep stepped ascent to summit. Head along ridge to further crags.

45 mins, 55.2823, -1.9640
1 On high ground be prepared for the weather to deteriorate, faster than you can retreat.

2 On high ground be prepared with waterproofs, warm clothes, whistle, compass, map, torch, snacks and water. A 'group shelter' and GPS are also useful.

3 Always be prepared to turn back if you don't feel confident on a scramble or climb.

4 Many scrambles are in high and remote locations; be especially cautious on wet and windy days, when some scrambles will feel even more exposed.

5 Research the scramble route thoroughly before you leave – there is much information online.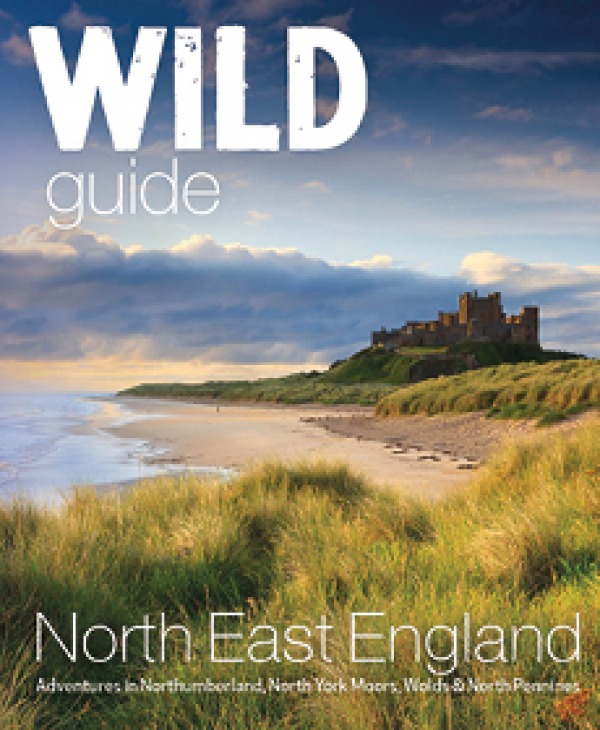 Wild Guide North East England by Sarah Banks, published by Wild Things Publishing, is out on 1st May.