5 minutes with: Hannah Bramble, Crosby Loves Cheese
We catch up with Hannah, a truly passionate cheese-lover who last year took the brave step to start her own business, Crosby Loves Cheese
Despite launching during the pandemic, artisan cheese business Crosby Loves Cheese has built a loyal following in less than eight months. One customer was so impressed with the business, and in particular its owner, Hannah, that she contacted us to recommend we have a chat with her. As we love hearing about people doing good things, of course we said yes!
Tell us a bit about yourself.
I'm so passionate about cheese I feel like it's literally coming out of my blood. When my best friend and I would go to the pub we never really had any money but we'd always have cheese so we used to swap beer for cheese. That's like my ideal world – where currency is cheese!
When did you start your business?
My background in cheese began when I started working with Paxton & Whitfield as a cheesemonger, then I moved up to the North East about five years ago and was looking for some cheesy opportunities. Always in the back of my mind was the idea that I would to set my own thing up, but it wasn't quite the right time. Then last year during the pandemic I had to isolate, so I had 11 days unexpectedly off work which gave me time to think. I decided to launch Crosby Loves Cheese in November and the name comes from my son Crosby – (who luckily loves cheese too!). I thought it was a really nice way to tie in the fact that we're a family business, and maybe one day my son might take over the empire. He certainly eats enough of the stuff!
How do you choose which cheeses you want to sell?
They must always be either artisan or farmhouse. Then I look for cheeses that look beautiful but also taste amazing. My other rule is that I don't look for cheese that comes from a specific area. I'm very much about inclusivity and that includes where I get my cheeses from. Although the taste and flavours are important, it's quite subjective, whereas stories are facts. So, I make a connection between the customer and the cheese, by bringing in the name and the story of the cheesemaker. If I was to sum up what a cheesemonger is, I would say we are passionate, we are storytellers and we eat a lot of cheese.
You also make cheese celebration cakes. Tell us a bit about them.
We don't want to limit ourselves to just wedding cakes because there's so many different ways we celebrate these days. There's a science behind it, in terms of making sure that the tiers sit nicely on top of each other and that the weight of the bottom cheese can cope with the tiers above. Then obviously you've got the aesthetic and design aspect of it as well. Customers have the choice of a having a naked cake or a dressed cake. The naked obviously being purely cheese, but for customers that want a little pop of colour, I'm collaborating with Anya from Northumberland Microgreens. Another local start-up business, she grows stunning edible flowers and microgreens. We have an ethos of no food waste, so you can eat absolutely everything on the cake!
That's what it's all about; when you buy cheese from me you're not just buying cheese – it's the whole experience and I want you to feel my love for cheese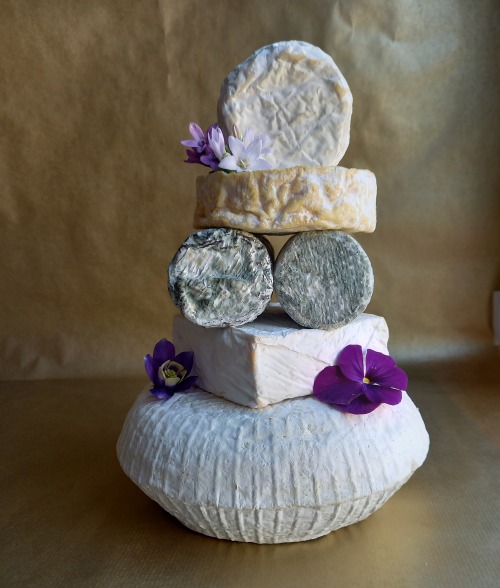 When did you become an Academy of Cheese Associate?
In 2019 I trained with Charlie Turnbull who's a 'Big Cheese' and it was a really great experience. My big takeaway was questioning what we pair with cheeses, so I started playing around and trying out new drinks with different cheeses. When a customer places an order with me, each cheese comes with tasting notes and often pairing suggestions. I will sit down, do the research and make suggestions because those are the little details I love. That's what it's all about; when you buy cheese from me you're not just buying cheese – it's the whole experience and I want you to feel my love for cheese. Being as small as I am I can tailor my business to be very, very personal.
What was it like working at Paxton & Whitfield?
It was a great experience. We had different arms to the business so one of my responsibilities was to hand deliver cheese to Prince Charles who was always really keen on knowing what cheeses he was getting. We also delivered to Michelin-starred restaurants around London, and part of that job was to make sure that the team had all the information that they needed, to educate them on how to talk about the cheeses with their guests.
How does it feel to know that one of your customers recommended we speak to you?
I'm totally floored! It feels amazing and like I'm doing something right. It means customers are seeing what I'm trying to show and the personal touches are working. I'm so grateful. Because I don't drive I offer an on-foot local delivery service and hand-deliver all of my boxes of cheese between West Monkseaton and North Shields. There are no lengths that I won't go to, to make sure that people get their cheese locally. I am my brand, it's part of me, part of my DNA!
What are your hopes for the future?
Meet more people and spread the 'cheese chat' love, whilst seeing the celebration cake part of the business develop further. Also to see customers starting to think more about having a cheesemonger at their events. Whether it be a garden party or a big celebration, just as you would hire a bartender or sommelier, why not hire a cheesemonger? People who love cheese, love to talk about cheese.
You can buy Hannah's cheese at crosby-loves-cheese.com, visit her stall at North Shields Fish Quay or find her at Middleton St George Farmers' Market on 3rd July.