Leeds Med-Tech Start-Up Has the Answer to Reducing Hospital Waiting Times (and it Includes AI)
Living North speaks to Saile Villegas, co-founder of Seeai, a Leeds-based med-tech start up that is hoping to change the game for hospital waiting times. Their AI (artificial intelligence) programme, Fraxpert can detect subtle bone fractures without the need for radiologists.
Now more than ever the public is experiencing the effects of the immense pressure our health system has been put under. Fighting a pandemic, a public health crisis, and working around the clock to keep us fighting fit – it's clear that our NHS needs all the support it can get.
A clear result of this unprecedented pressure is increased waiting times in A&E, something that Seeai's co-founder Saile Villegas is keen to remedy.
Based in NEXUS (the innovation hub in the University of Leeds), this multi-disciplinary team of experts, computer science researchers and orthopaedic surgeons are using AI to help reduce the workload of radiologists.

'We founded Seeai with the aim of helping to provide patients with affordable and accessible healthcare, and to develop a solution that can help reduce the problems caused by a shortage of radiologists,' says Saile, who founded Seeai in 2019 alongside computer science researcher and colleague, Reo Ogusu. 'We want to help people live better, longer lives, without putting too much strain on medical services.'

The inspiration to build an AI which can help diagnose fractures within minutes came from a misdiagnosis of Saile by a junior doctor – an incident that compelled the two entrepreneurial inventors to develop technology that would prevent this happening to others.
This pioneering AI technology has since been dubbed 'Fraxpert'. Fraxpert can support frontline clinicians and radiologists by using a reliable programme to examine and confirm the presence or absence of fractures in X-ray imagery, the same way a radiologist is trained to. This saves countless hours, as well as removing the possibility of human error.
'We aim for Fraxpert to become an integral part of routine practice for fracture detection, positively transforming how the NHS currently delivers its services,' Saile explains. 'Fraxpert can help clinical decision making, thus accelerating diagnosis and helping patients get the right treatment at the
right time.

'Integrating Fraxpert into A&E departments at NHS hospitals can help the NHS be more efficient,' she continues. 'Fraxpert can help reduce misdiagnosis, and improve patient outcomes.
'Clinicians will benefit from a reduction of workload and medical errors, patients will receive a timely and accurate diagnosis; reducing waiting times and, importantly, patient suffering.'

These issues have been identified through first hand research, with Seeai working with boots-on-the-ground NHS staff to gain an understanding of the problems directly from the source.

'It is important that we understand how different hospitals work, their workflows and pain points, so that we can build a product that addresses real clinical needs,' says Saile. 'It's also crucial for our technology to be developed with strong collaboration from business, academia and healthcare.'
'We want to help people live better, longer lives, without putting too much strain on medical services'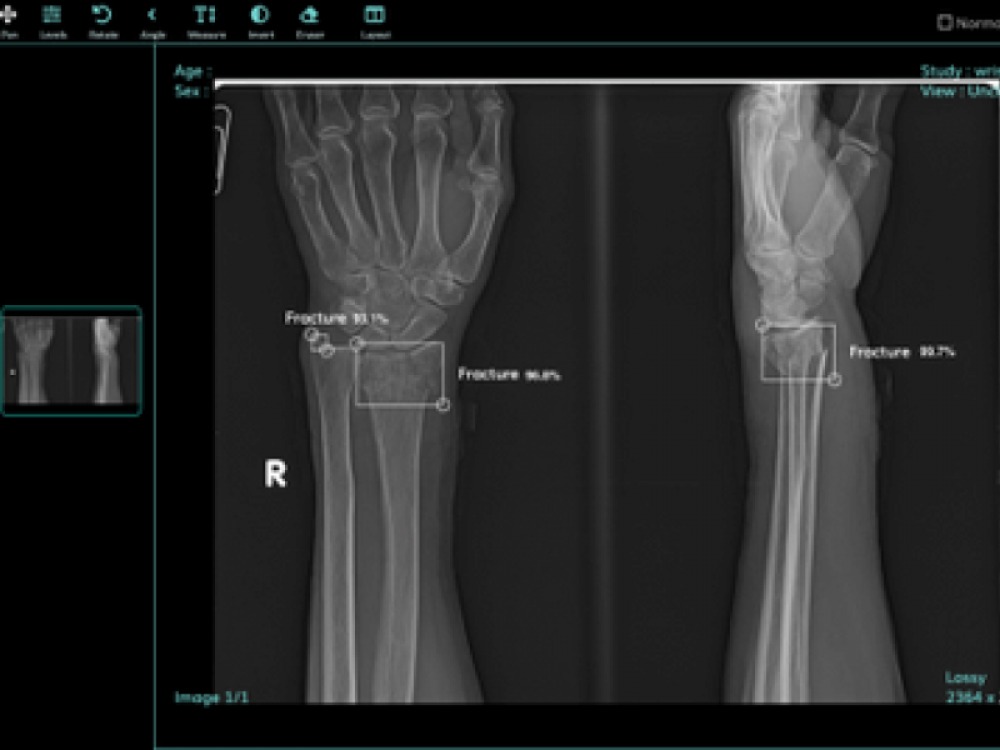 Since 2019 the team have received waves of support from the Leeds start-up community, as well as seeing success in the form of investment and innovation awards.
'We are very proud to be a Leeds-based company, the community is incredibly supportive. It's a network that really works,' Saile says.
'Since the very early stages of Seeai, the Leeds community took us in and helped us feel part of it. 'We received two rounds of funding from NHS Scotland and the Scottish government.
We have also received funding from Innovate UK, most recently as part of the Women in Innovation Awards.'

Seeai's Fraxpert is only scratching the surface of AI's potential to change the future of medicine. With talented teams of researchers, academics, and programmers on the case, Seeai represents the start of a golden age of UK-based medical technology, beginning with Fraxpert later this year.

'AI technology will play a very important role in the future of medicine, especially now that the status-quo is no longer an option to deliver safe and effective health and care services.
'The adoption of AI technology will help augment the efforts of healthcare providers to care for patients and deliver a gold standard medical attention,' Saile elaborates.
'We have completed a working prototype of Fraxpert built in collaboration with NHS Grampian and we are currently working on taking Fraxpert from a working prototype to a regulated product by the end of 2022.'
If you want to learn more about Seeai's fascinating med-tech research, go to seeai.co.uk or follow them on Twitter at @seeai.