Pudsey Farmer Robert Tomlinson Gives us the Inside Track on Yorkshire's Forced Rhubarb
Grown in the dark and hand-picked by candlelight, forced rhubarb is one of the brightest, tastiest spring vegetables, as well as the most mysterious
We spoke to Robert Tomlinson, a fourth-generation farmer based on his farm in Pudsey between Leeds and Bradford which is in Yorkshire's Rhubarb Triangle, to investigate this culinary marvel.
What comes to mind when you think about rhubarb? Boiled sweets? Bittersweet crumble with ice cream? Or perhaps you even remember that actors, when attempting to give the impression of background conversation, repeat the word rhubarb over and over again. What you probably don't think of is darkened sheds or harvesting by candlelight. Welcome to the world of forced rhubarb.
Forced rhubarb is grown from the same plant as its outdoor cousin but in very different conditions. Being grown in darkened sheds away from natural light makes the plant more colourful, sweeter and (to many people) tastier than normal rhubarb.
Robert Tomlinson's family have been growing forced rhubarb for four generations on their farm in Pudsey between Leeds and Bradford, meaning they're slap bang within what's known as Yorkshire's 'Rhubarb Triangle'. Although forced rhubarb is grown in other countries with a similarly cold climate, Yorkshire's Rhubarb Triangle is a very exclusive club to be a part of as a European Protection Status means no producers outside the West Yorkshire triangle are able to claim the title commercially.
Robert's company, B. Tomlinson and Son, produces around a quarter of the area's rhubarb. 'We produce 35-40 tonnes of forced rhubarb every winter,' says Robert. 'We're probably the third biggest producer in the triangle.' Even so, it's a lot less than the generations who came before him, says Robert. His granddad Bernard and his great-granddad, also called Robert, were producing closer to 200 tonnes. At that time there were around 200 producers of forced rhubarb in the triangle. Now, there are just 10.
Yet despite the difference in quantity, there has been little change in the way the rhubarb is grown. 'To be fair, it's very similar to when my dad and grandad were doing it,' explains Robert. 'It's very labour intensive, still picked by candlelight and the sheds are the same buildings we've always had. The traditional way is the only way to do it really,' he explains. 'What has changed is the heaters. These days we have paraffin-fired heaters, whereas before they had a coal fire box at the end of the shed feeding flue pipes. And years ago they'd start picking rhubarb at the very beginning of December, while now it's after Christmas because it's too mild.'
'It's still picked by candlelight and the sheds are the same buildings we've always had. The traditional way is the only way to do it really'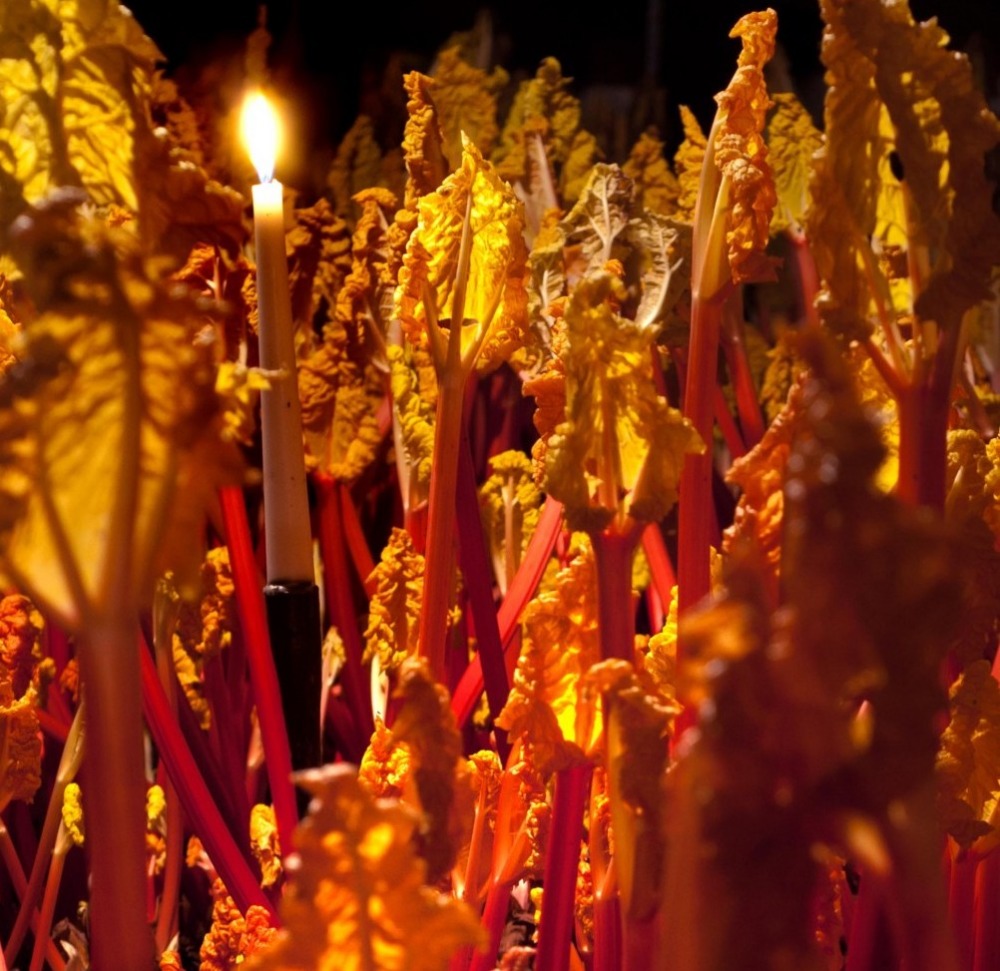 Growing forced rhubarb is a long process. It's planted between September and March, and the rhubarb spends two years being grown outside before being moved into the forcing sheds. 'We grow the roots outside in the fields for two years, then when they go dormant at the end of summer, they have to have a period of cold before they're ready to start to grow again. That's when we take them into the forcing sheds, which are pitch black,' explains Robert.
Getting the rhubarb from the fields into the sheds is heavy work. 'We have a machine that digs the rhubarb out off the ground, but after that everything is done by hand,' says Robert. 'The roots have to be forked onto trailers, taken to the forcing shed then laid out on bare soil before being bedded in. Once the rhubarb is in the sheds, it is mostly left to its own devices. It's grown in the dark with just water and heat, using the energy stored up for more than two years. We put the heater on and after about four weeks that's when we go in with the candles, as some of it will be ready to pick.'
The rhubarb is grown in the dark to stop it producing chlorophyll, which makes the plant grow tall and straight as it searches for non-existent light. It's not even safe to turn the lights on for long enough to harvest it, so it's all done by flickering candlelight. 'The dark not only helps to keep the look of the rhubarb nice and pink, it also helps with the taste. Outdoor rhubarb is green and can be stringy, tough and more acidic, but forced rhubarb is pink and tender, so there's a much sweeter flavour,' explains Robert.
Rhubarb was originally forced to use in the winter when fresh fruit was difficult to come by. 'It's a vegetable used as a fruit, as years ago there were no imports of fruit through the winter,' Robert explains. Purpose-built forcing sheds first appeared in Yorkshire in the 1880s, but the practice really came into its own during the First and Second World Wars, when thousands of tonnes of the plant were produced. Difficulties with shipping and supplies meant that there wasn't much fruit coming in from abroad, so rhubarb was in high demand, and was often mixed with other fruits to bulk-up products such as jam.
Such was the demand that the 'Rhubarb Express' that ran from Yorkshire to London used to transport around 200 tonnes a day. 'In the winter there was a train that went every night from York down to London,' Robert tells us. 'My grandparents would take it to the train station in a carriage and the rhubarb would be loaded on to the train for the journey down to London.'
Nowadays, B. Tomlinson and Son send their rhubarb to restaurants all over the world. 'About 75 percent of our produce goes to restaurants. We supply to catering companies and restaurants all over, even New York, Paris, Switzerland and Germany,' says Robert.
'We've supplied Tom Kitchin's The Kitchin in Edinburgh, Tommy Banks, Gareth Ward at Ynyshir Hall in Wales, Northcote Manor and lots of restaurants in London, and Thomas Keller's three Michelin-starred Per Se in New York. It just goes everywhere. I can't believe it to be honest. That's why I started a Twitter and Instagram, so I can connect with the chefs, to see what they're doing with it and where it's going.'
'Can I say gin?' jokes Robert, when asked his favourite way to eat forced rhubarb. 'No, I'd have to say I still like a traditional crumble with plenty of custard. Also, I'm no chef, but when I go out I like it to have it with mackerel, venison and game. They're all really good.
'The thing about rhubarb is they use it in every course now, it's not just a crumble for pudding anymore. I think it's so popular with chefs as it's still got that limited time period of about 10 weeks. Not a lot of other products do anymore as they can just be shipped in from abroad all year round, but forced rhubarb still has its own special season.'
Robert's forced rhubarb is available at stockists Yorkshirewide, and you can keep up with the rhubarb on his Instagram and Twitter @RhubarbRobert