Behind the Scenes of New Emily Brontë Film that was Shot in Yorkshire
Sex Education's Emma Mackey plays Emily Brontë in a new film shot in Yorkshire. To find out just how inspiring the local landscape really is, we go behind the scenes
Also starring Line of Duty's Adrian Dunbar and Gentleman Jack's Gemma Jones, the film tells of the imagined life of one of the world's most famous authors – Emily Brontë. The story follows Emily as she finds her voice and writes the literary classic Wuthering Heights – her only novel, which she initially published under her pen name Ellis Bell.
Without Emily, there would be no Cathy or Heathcliff – the recognisable characters whose story, set on the windswept Yorkshire moors, is celebrated throughout literary history and popular culture (if you haven't read the book or seen the films, you'll have heard the Kate Bush song).
Before taking on the role, Emma, who studied at University of Leeds, knew about the Brontës and had read Wuthering Heights and Jane Eyre years ago, but knew very little about Emily. That's not surprising. Plenty has been written about the Brontë family (thanks to the popularity of Charlotte Brontë's Jane Eyre and Anne Brontë's Agnes Grey), but relatively little has been recorded about Emily's own short life. That's why writer-director Frances O'Connor wanted to explore this in her screenplay.
The second youngest of the Brontë children, Emily was born in 1818, and lived with her family in Haworth – so the moors were right on the doorstep. The death of Emily's mother in 1821 was followed by the deaths of the two eldest Brontë siblings, Maria and Elizabeth, in 1825 – both died from tuberculosis. As they grew older, the surviving siblings Charlotte, Anne and Branwell, like Emily, all became writers, and the three Brontë sisters published their first novels in the same year.
Piers Tempest, an award-winning film producer and founding partner of Tempo Productions (based in both Yorkshire and London) read the script for Emily in September 2019 on the plane home from the Toronto Film Festival, and was instantly impressed with the world Frances had created. 'There was absolutely no question I wanted to make it,' he says. 'Being local to Yorkshire, I knew Wuthering Heights very well. It was such a unique and interesting script and I definitely wanted to go on that journey with Frances. It's been a passion project for us from the beginning and I'm really delighted with how the film has turned out.'
The film is Frances' interpretation of how she thinks Emily could have found the inspiration to write Wuthering Heights. 'But it's not a documentary,' Piers argues. 'It's an imagined inspiration of Emily, building on some truths of what happened in her life but also including lots of references from Wuthering Heights, which people who know the book will get. It's a story of creativity and a story of a woman finding her voice at a time when there weren't many female authors.'
Filming amidst Covid-19 wasn't easy, but Piers says the cast and crew found their way. 'In a strange way I think it helped because we had to put the Brontë family in a bubble – so the actors were all staying in one house,' Piers explains. 'That really helped all the actors bond and create a family dynamic.'
Luckily a lot of this film is set outside and this was the fourth film Piers made during the pandemic. 'We went to very remote places,' he continues. 'We were filming at the back of Whernside, for example – difficult locations to access in order to get those stunning vistas which so inspired Emily. She had such an affinity for the moors and the weather. That comes across in all of her work and had to be really clear, present and thematic throughout the film. Hopefully these aspects will inspire a lot of people to visit Yorkshire.'
Making sure the setting and characters were true to Brontë Country, production designer Steve Summersgill created the iconic parsonage and Emma and the cast playing her family worked on their accents to make sure they had a soft Yorkshire lilt.
Piers hopes audiences are moved when they watch the film. 'There are some funny moments and some tragic moments – you feel a whole range of emotions,' he says. 'I think that's how cinema is going to survive, by having these really great character pieces that are so engaging and different and stay with you for days afterwards. The great thing about Emily is that it really does stay with you (I still think about it a lot), which is a real tribute to Frances' direction, the screenplay and the actors' performances.
'One of the reasons we wanted to make the film now is to re-engage audiences (specifically younger audiences) with Emily's work. That's one of the reasons we're so happy Emma Mackey plays Emily – because she has such a large, young following. It's about finding your voice and proving it's okay to be different. That's a really important message for the younger demographic.'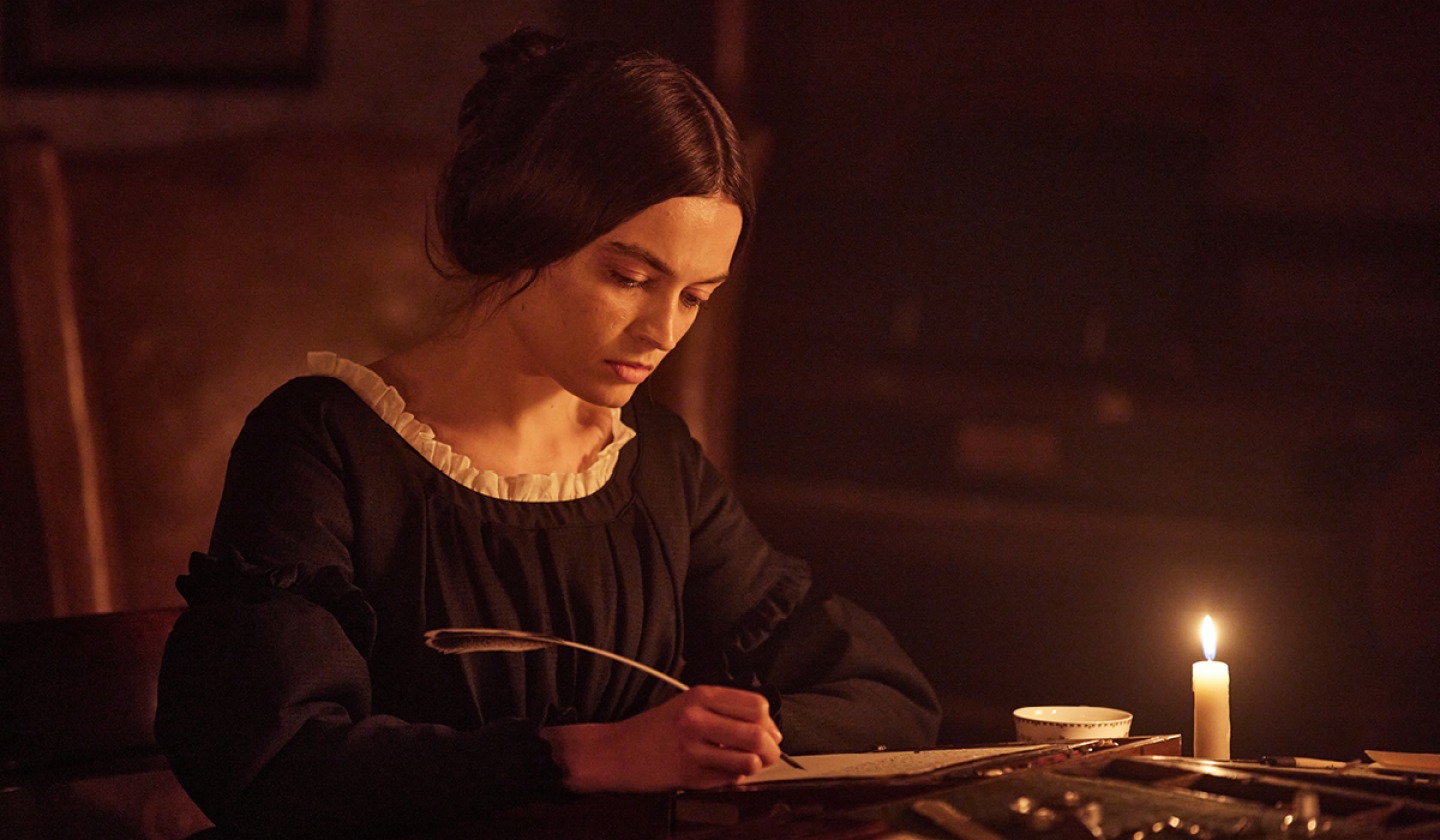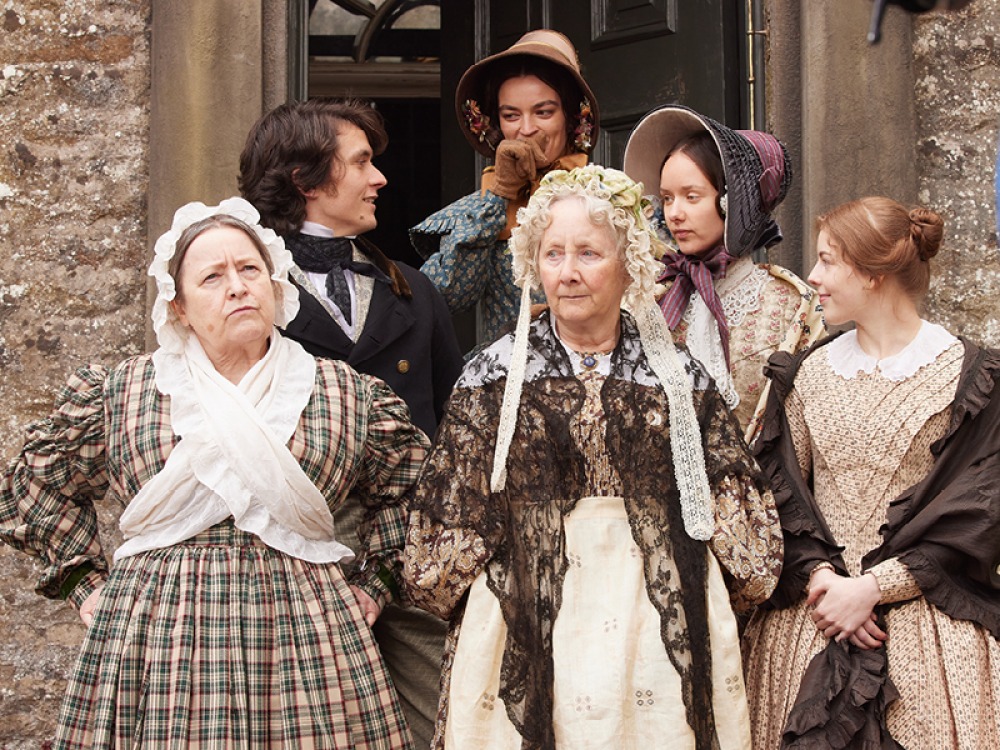 Multi-arts venue Skipton Town Hall has launched a new immersive exhibition (Every Leaf Speaks Bliss to Me: Emily, the moors, and the landscape of creative Craven) exploring film, literature, photography, music, visual arts and dance created in, and inspired by, the Craven Dales in Yorkshire. At the heart of this exhibition is a central display showcasing exclusive items from Emily – including the iconic dress worn by Emma (made by Academy award-winning costume designer Michael O'Connor and gifted to their collection by Piers) as well as film stills and behind-the-scenes interviews with cast and crew.
'The dress actually inspired us to take a deeper delve into our own existing collection,' explains Megan Hickes, arts and cultural development officer for Craven District Council. 'We wanted to explore how people are inspired by the surrounding landscape. We knew that Emily, as well as writing, loved music and painting, so we looked at more of her work when we were doing research for this exhibition. She portrays the local landscape in such a vivid, accurate way, and when we saw the film we all said they'd got that bang on. It was so atmospheric and so reminiscent of the moors. They really nailed that aspect of it.'
Megan is excited to have Emily's dress as part of their collection because it's been a few years since they've had a costume on display in the gallery. 'We talked about how it's such a bold, iconic dress that mirrors the local landscape where Emily was filmed,' she says. 'It's sort of a catalyst and it's enabled us to bring out so many other art forms that have been directly inspired by the landscape.'
'It's a story of creativity and a story of a woman finding her voice at a time when there weren't many female authors'
As well as the addition of artefacts from the existing collection, visitors can also expect to see a projection showing footage taken from around Craven. 'What I really like, which I think brings it all together, is the soundscape,' Megan adds. 'Our lead technician went up to Gordale Scar and Ingleborough Cave and collected recordings, and we had someone narrate excerpts of the poetry in the collection – that's been made into a whimsical, abstract soundscape which you'll hear while in the exhibition. We're trying to show that the Craven landscape has been a constant source of creative inspiration for people for thousands of years, from intricate carvings of Stone Age flint axe heads to the contemporary filming of something like Emily. We want people to go out into the landscape and be inspired themselves.'
Emily is in cinemas now and available to own or rent digitally from 14th November.
Every Leaf Speaks Bliss to Me: Emily, the moors, and the landscape of creative Craven will run until 23rd December.
How will you be celebrating Christmas?
Piers: Quite traditionally. I'll be in Wales with my family and my wife's family so I'm hoping for a turkey and all the trimmings.
Megan: I think it's going to be decided literally on the week of Christmas! I'm expecting a great nephew to arrive and we're not sure when.
The gift you'd most like to find under your tree this Christmas?
Piers: A time machine.
Megan: More good books.
Yorkshire puds on Christmas dinner. Yes or no?
Piers: Gosh, yeah! Yorkshire puddings all the time. I can't get enough.
Megan: Yes!
Your favourite Christmas character?
Piers: The three wise men.
Megan: I'm a sucker for Love Actually – maybe Hugh Grant's character.
Your favourite Christmas memory?
Piers: I've got four kids so I love watching them opening their stockings on Christmas morning.
Megan: When I was younger and spent Christmas with my siblings. There's nothing quite like the magical nature of Christmas when you're young and still believe in Santa.