The best Agapanthus to grow at home
Synonymous with so many holiday destinations, globe-headed agapanthus remind us of sunnier climes but can be grown here at home too
These sun-loving border plants with their large flowerheads come into their own from midsummer. Swaying on tall stems, often lording it above their neighbours in the garden border, they are also perfect container plants, especially if you live in an area prone to frosts. Agapanthus love full sun and a well-drained soil and are not averse to coastal gardens, where they will tolerate sea breezes and salty air. Their South African origins mean they are drought-tolerant but flower better if their roots are restricted – hence why you often see them growing in pots.
Agapanthus vary in height from as small as 20cm to the giant 1.5 metre tall varieties. The most common colour for agapanthus is blue, in varying shades, but they also come in inky purple, and white. Deciduous types are the easiest (and hardiest) to grow, the more tender evergreen varieties will need to be protected from frost and over-wintered in the greenhouse.
This is a good time to be planting agapanthus but if you are buying established plants ensure you water them well over the summer to keep them happy. If you are planting in the border plant them to the same depth as they are in their pot. If you are planting bulbs cover with approximately five centimetres of soil. They will need regular watering during the growing season but once established are fairly self-sufficient. If it is very dry keep them watered in late summer to ensure good flowering next year.
Border plants will need feeding when they start to grow, ideally with a balanced fertiliser, and for container plants, use a liquid fertiliser and feed fortnightly from now until the flowers begin to colour.
Deadhead agapanthus once the flowers have faded, cutting back to their base, and remove the flowered stems and yellow leaves of any deciduous plant in autumn. Evergreen agapanthus, and the more tender hardy varieties, may need protection over winter. Wrap in horticultural fleece, move to a greenhouse or conservatory or, if in borders, add a layer of mulch around the plants in early winter and remember to remove in spring.
Divide any congested clumps every four or five years. This can be done by lifting the plants and carefully dividing the crown with a sharp spade, making sure each clump has at least two growing points.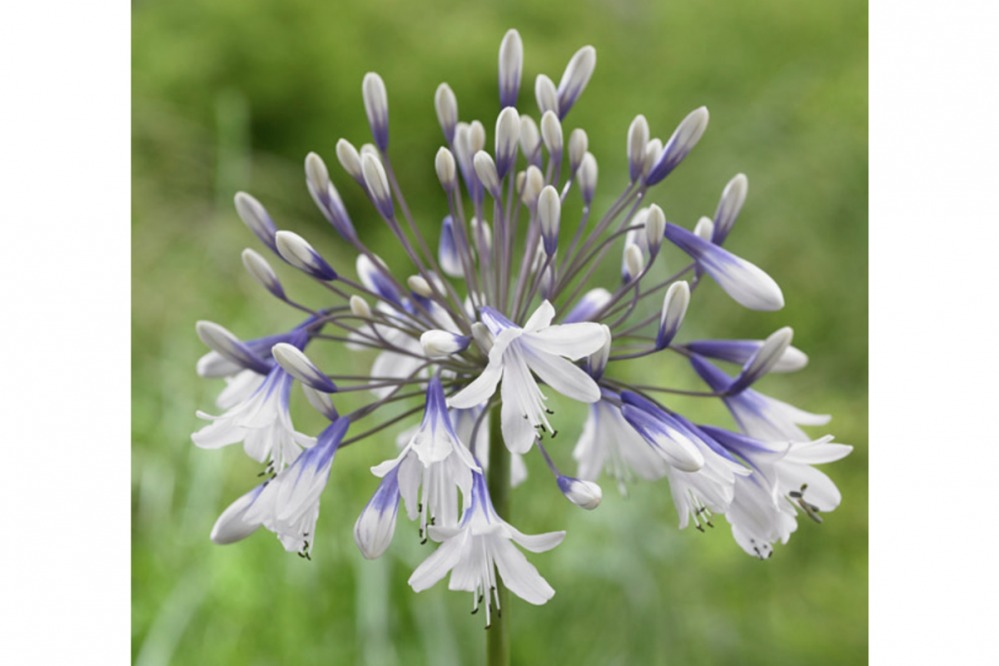 Agapanthus – Fireworks
This hardy perennial has big, two-tone flowers which will bloom from July well into late September. It is a hardy variety which can withstand lower temperatures and loves containers, and will grow up to 60cm.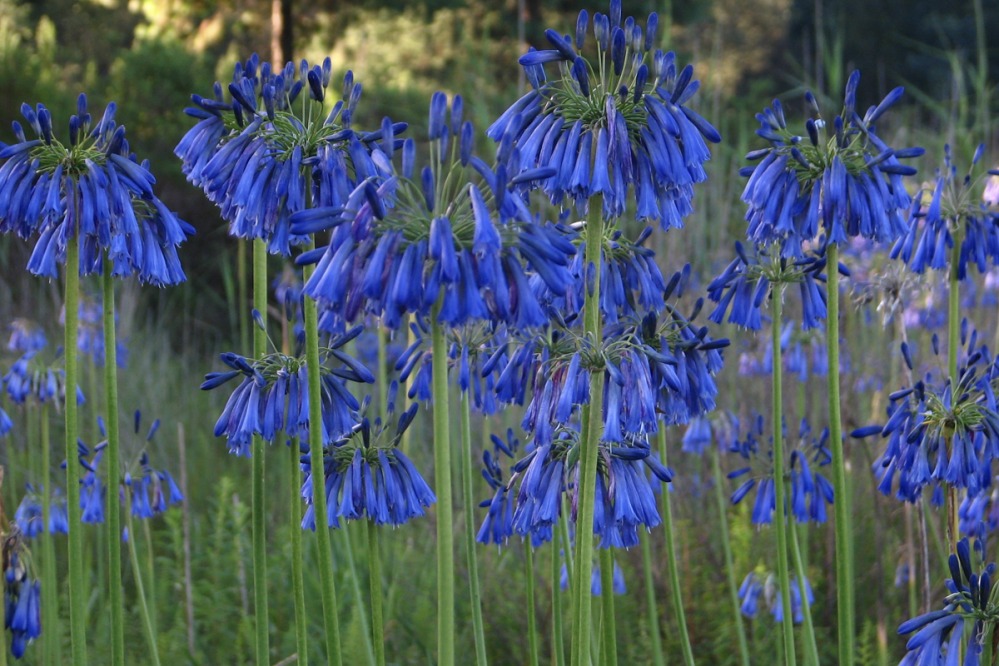 Agapanthus inapertus – Midnight Cascade
Beautiful dark blue tubular-shaped flowers between August and September and deciduous strap-shaped leaves. Can reach a height of 70cm and will winter outside if sheltered.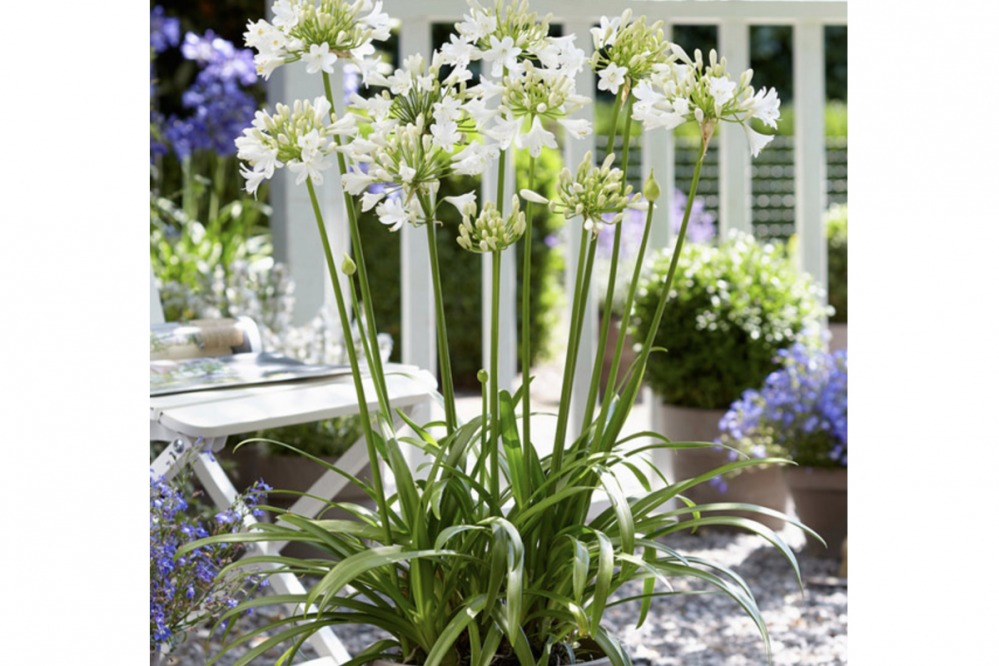 Agapanthus – Ever White
With thin, dark green leaves, this stunning white Agapanthus will happily grow in a container on the patio. A hardy perennial, it likes sun or semi shade, flowering between July and September, and will reach a height of 60cm.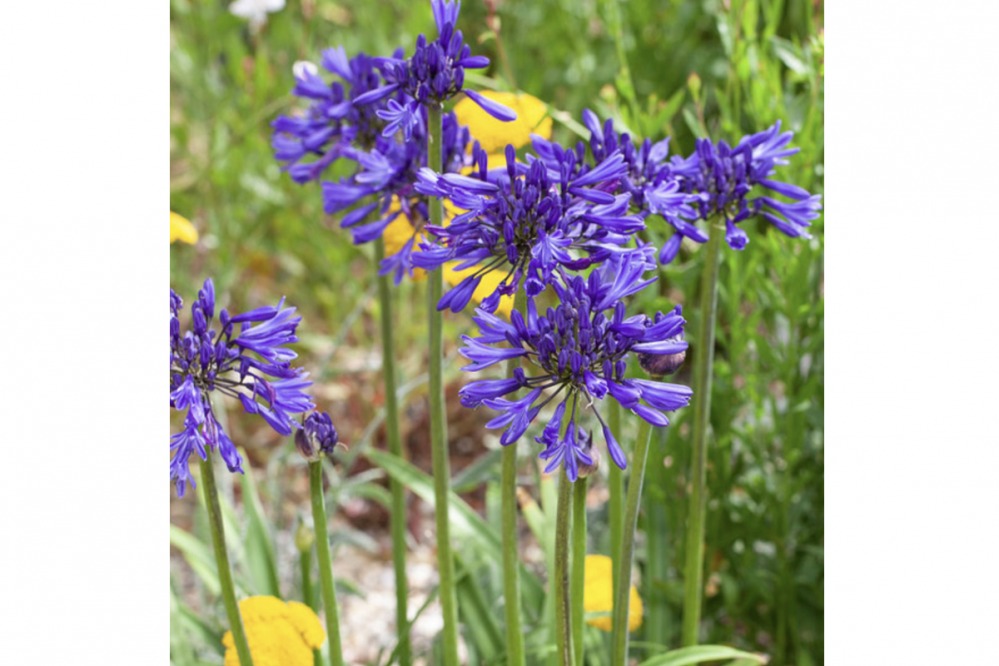 Agapanthus – Navy Blue
With clusters of darkish blue trumpet-shaped flowers, this compact hardy variety is happy in borders and pots and will grow up to 50cm, flowering from July to September.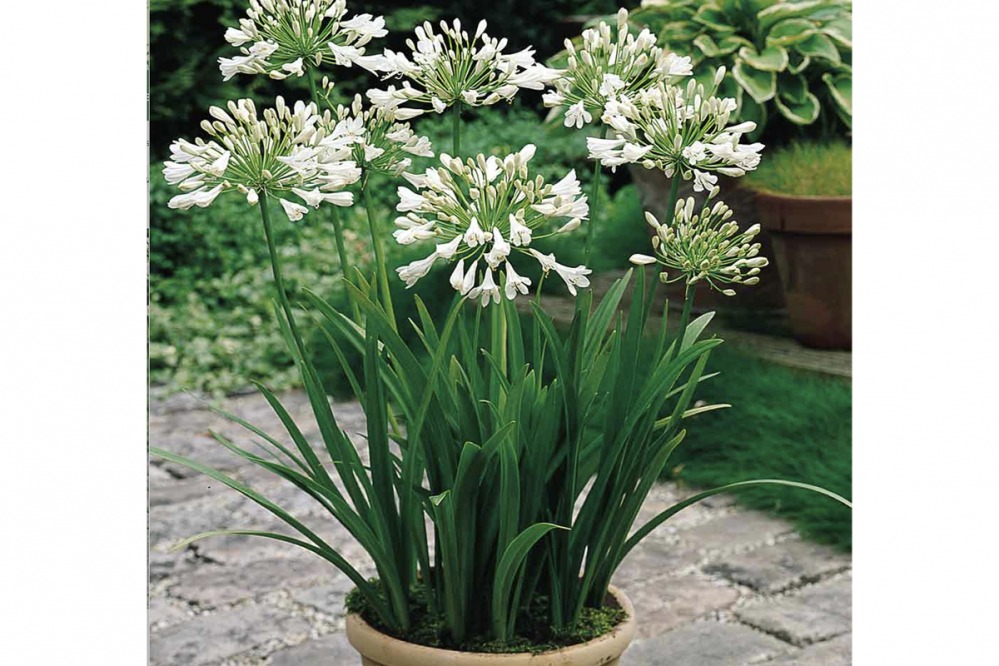 Agapanthus Africans – Albus
An evergreen perennial with stunning white flowers from August to October, and narrow, erect leaves. They will winter outside if kept in a sheltered, sunny spot.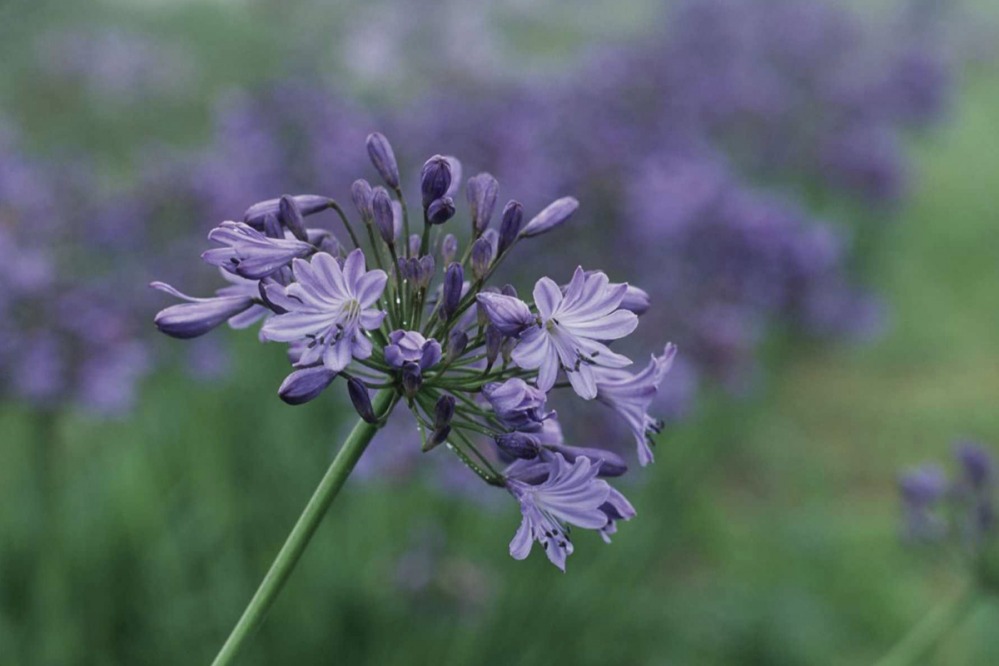 Agapanthus – Jacaranda
An early flowering variety with lovely blue mop head flowers from June to August at a height of up to 90cm.