Our exclusive behind-the-scenes tour of the base revealed there is much more to Boulmer than simply Search and Rescue
The bright yellow Sea King helicopters operating out of RAF Boulmer have been part of the Northumberland skyline for decades but are scheduled to make their final flight in 2015.
As I set the sat nav and tune the radio ahead of a 40-minute drive from Newcastle to RAF Boulmer, the sound of a helicopter becomes audible in the sky above me. The St Jude storm (which luckily failed to live up to its cataclysmic billing) is dominating the news so I assume the helicopter belongs to Northumbria Police. Joining rush hour traffic I look skywards and see a canary yellow Sea King helicopter. Two hours later it is back at the base in Boulmer and I am sitting in its cockpit.
'There was an RTC (Road Traffic Collision) at Powburn,' explains Deputy Flight Commander Campbell Blake, a Pilot who is one of the first people I meet during my guided tour of the station. He's just clocked on for a 24-hour shift so wasn't at the controls of the Sea King I saw circling above Newcastle hours earlier. The outgoing crew, who are completing paper work inside the 1970s-style operations building, have filled him in on the job. 'Two cars crashed about 10 miles west of here at high speed. There was a woman who was six months pregnant and she was trapped. The ambulance service requested we help, so the on-duty crew went over, our Winchman assisted at the scene, and we flew her to Newcastle's RVI.'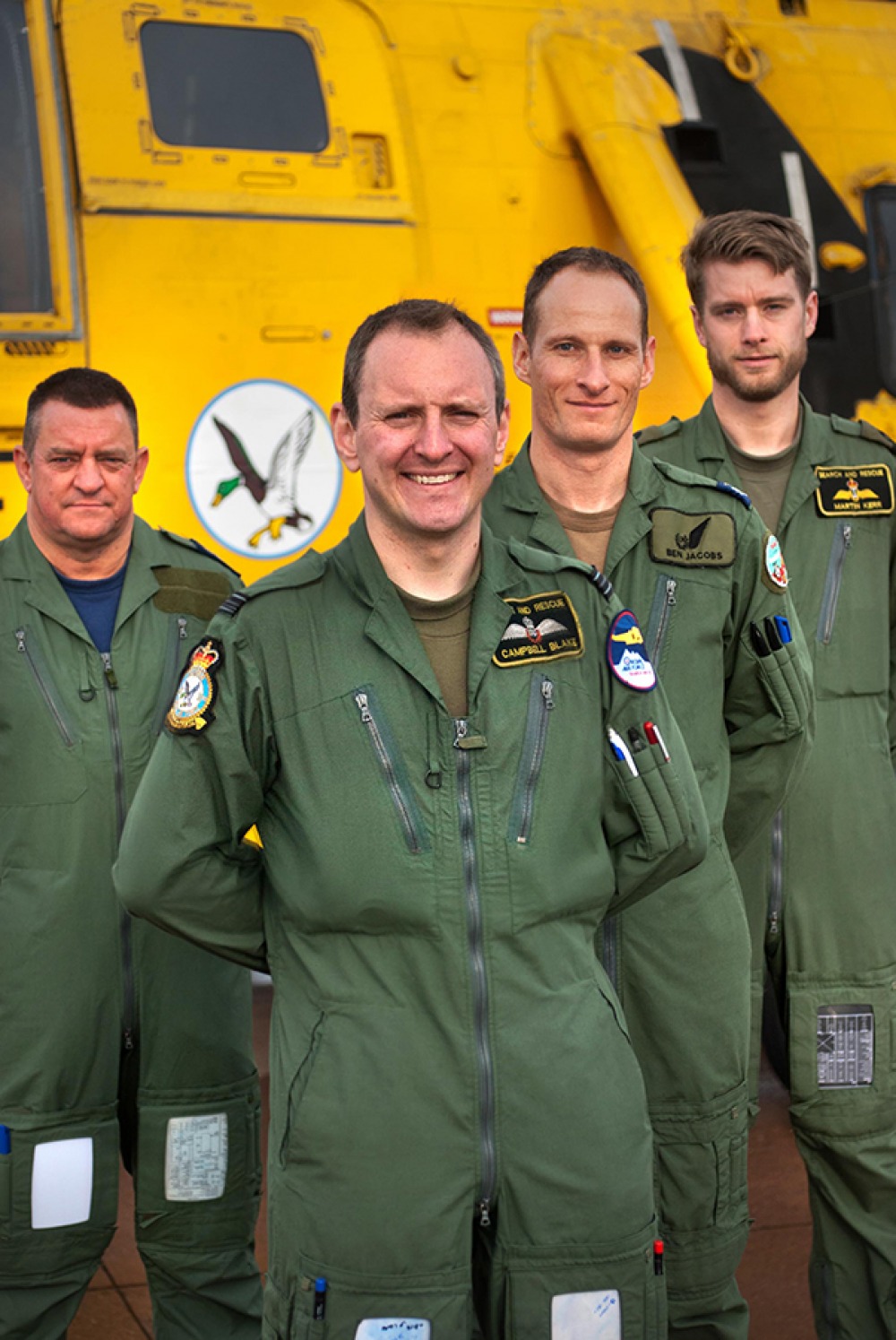 Campbell is managing today's shift. He'll fly the aircraft and captain a crew that comprises three other people: Winchman Ben, Radar Operator Rick and co-Pilot Martin. Chatting with the crew, they recount some of their memorable rescues. 'There's a couple that stick out for me,' explains Winchman Ben, a trained paramedic who is winched as much as 250 feet down below the aircraft to treat and collect casualties. 'You can go weeks without anything then you get something that keeps you smiling for months. One particular day we were training with a boat and got a call to a lost windsurfer. We arrived on scene literally five minutes after the call. Our RadOp [Radar Operator] had a quick scan and immediately saw the chap who was about to go underwater. He'd been separated from his board for about 30 to 40 minutes. When I got down to him he had eyes the size of dinner plates and had lost the ability to stay above the surface. The RadOp lowered me, I had to reach into the water, pull his head out, put the rescue strops over him and bring him straight up into the aircraft.'
Back on board, Ben administered oxygen and within five minutes the windsurfer had turned from grey to pink and was apologising between bouts of vomiting. 'He wasn't doing anything he shouldn't have done. He was just caught out by an awkward situation, and on that occasion we definitely did save his life. That's something I'll remember for the rest of my life.' As the reclining chairs in the crew room suggest, there is a lot of waiting around while working on the Search and Rescue (SAR) flight, but the crew fill time by operating two training flights per shift. 'We practise rescuing people from the water, on land, taking people from boats – we have to practise all the different skills that involves,' explains Campbell. 'We have a big list of stats that we have to tick off every month.' The crew show me a map detailing their rescues for the year. It's late October and there have already been over 100 – the little red dots which represent each job are primarily clustered around the Lake District and out in the North Sea.
Campbell invites me onboard a stationary Sea King, one of two currently stationed at Boulmer. I clumsily clamber into the cockpit where I'm faced with a mind-boggling series of dials, switches and controls. The crew give me a run down of the aircraft. It weighs eight tonnes, is 72 feet (and 8 inches) long, can fly up to four hours, has room for 10 casualties and four crew, and is capable of flying at around 120 knots (135mph).
'This quiet corner of Northumberland countryside may be a long way from the epicentre of the Ministry of Defence in London, but the region should be very proud of what is happening here.'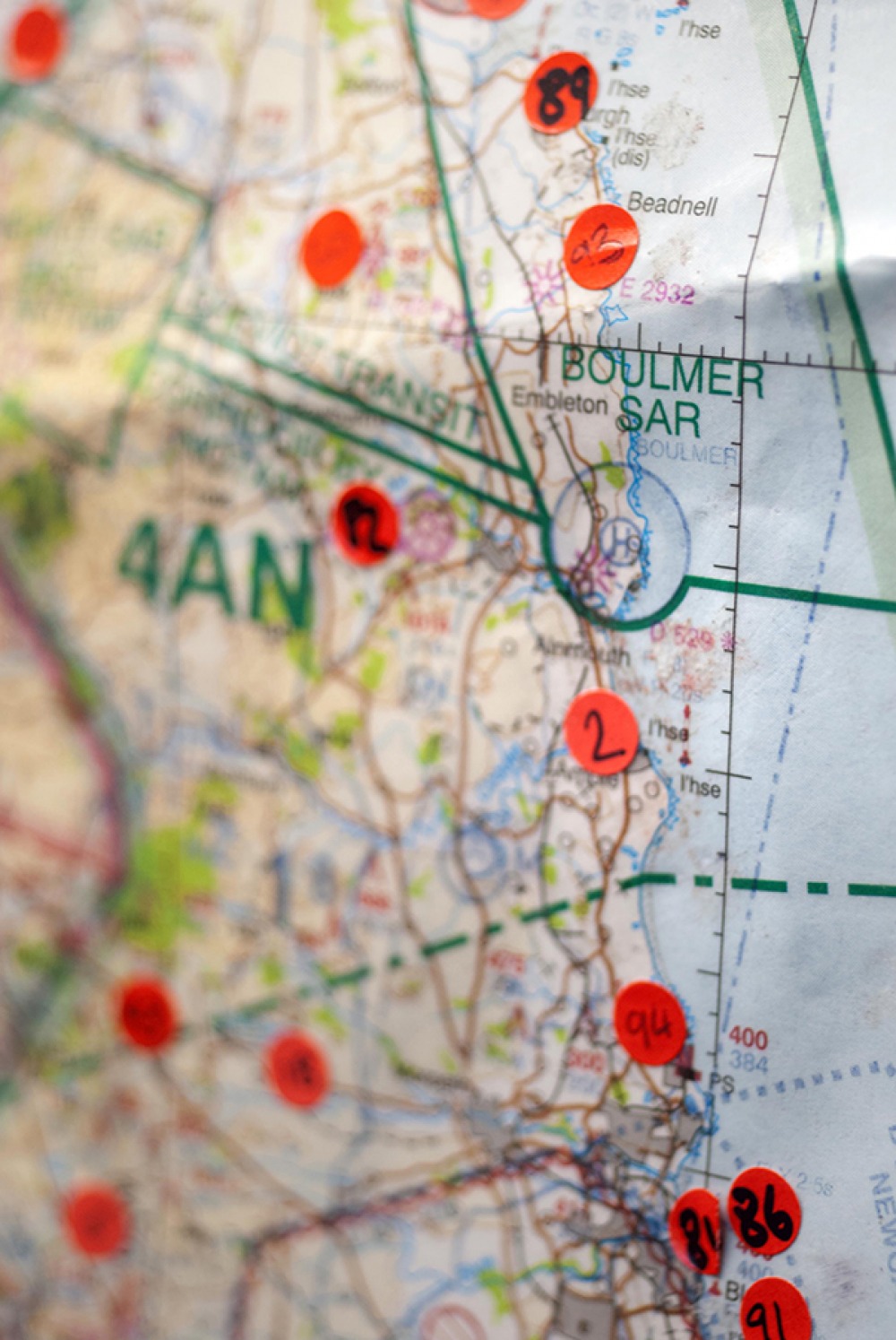 The aircraft is approaching its 50th birthday and was designed around the same time as colour TV. Campbell likens it to a Volvo estate, a car he coincidentally drives himself. 'The Sea King is a lovely aircraft but she's quite bumpy and the wind can make it uncomfortable, but she's reliable and will fly through most things. The weather is not a show stopper for us, it's what we're here for.'
After my tour of the SAR Flight I'm taken to meet the Station Commander, Group Captain Paul Atkinson, who's able to give me the official line on the the Sea King's future at Boulmer. In 2011 the announcement that the Sea King helicopters would be replaced by a new fleet arrived, the SAR operation would move away from Northumberland. It had been on the cards for a while. 'Search and Rescue across the whole of the UK is being contracted,' explains Paul. 'It will transfer from a military function to a civil one sometime during 2015.' With only 40 people out of 900 at Boulmer directly employed by SAR, the impact shouldn't make too big of a difference. Instead its focus will shift solely to the vital air command and control mission which Boulmer has been successfully operating since the station officially opened in June 1953.
You might not realise, but Boulmer is the UK's main location for air defence monitoring, where RAF Aerospace Battle Managers identify and monitor every aircraft that enters the UK's airspace. 'One of the main roles of a defence force is to defend your own country and we're a very important part of that here at Boulmer. On 9/11 the game changed. Things happened that we hadn't seen before and we had to have a rethink about how we do air defence. The basic principle is to create a Recognised Air Picture. You work out what's going on in the air space above your own country and the approaches to it. We have to classify every aircraft that's flying, then work out the ones we're not sure about and do something about them.' Most of the time the Identification Officers (IDOs) can identify every aircraft, but if anything arouses suspicion there is a direct line to RAF Leuchars in Fife and RAF Coningsby in Lincolnshire, where Typhoon fighter jets wait for the alert. One call from Boulmer and they're in the sky within minutes to check out any aircraft that have aroused suspicion.
Boulmer is responsible for monitoring a sizable chunk of European airspace too, reporting to NATO staff in Germany. Paul says they still sometimes see Russian planes on the radar flying over to have a look. 'Typically during the Cold War, and occasionally now as well, we see Russian long-range reconnaissance aircraft flying into that airspace, probing around to look at what we're doing. They're perfectly entitled to be there. There's nothing particularly worrying or offensive about it. We expect to see that and we will react as required to make sure they're met when they come into our airspace.'
Originally from Shropshire, Paul has been Station Commander for 18 months. Though typically a post that lasts for two years, he admits he's in no rush to leave. 'I'm really enjoying myself,' he admits. 'If you're in my line of work, to come here and do this job as the Station Commander at Boulmer is just the absolute pinnacle of your career. My predecessor will say the same. It's great. I don't want to go!'
I leave Paul's office and am driven 10 minutes down the road to the Control and Reporting Centre where the air defence functions Paul has been telling me about are based (the most secret of which take place in an underground bunker). I meet Squadron Leader Sean Gell, an exchange officer from Australia who's 22 months into a three-year tour and The Executive Officer in the CRC. As we arrive, the rattle of ammunition can be heard in the distance. Boulmer has a firing range used by RAF personnel to maintain their live firing skills – 'Warfighter first, specialist second,' is the Royal Air Force ethos.
In the bunker I'll be exposed to some of the more classified operations that take place at Boulmer, so before I go down there Sean gives me further briefing about what happens down there. There are 230 operators based at Boulmer, who work around the clock from the bunker. Here they produce the Recognised Air Picture from information supplied from civilian and military radars dotted around the UK and from other sources. 'A civilian radar requires there to be a transponder in the aircraft to see it. It's a cooperative system of detection. A military radar does not require cooperation from the target. We can see it regardless of whether or not they want to be seen – this is used in times of combat when you might want to detect an enemy without them knowing.'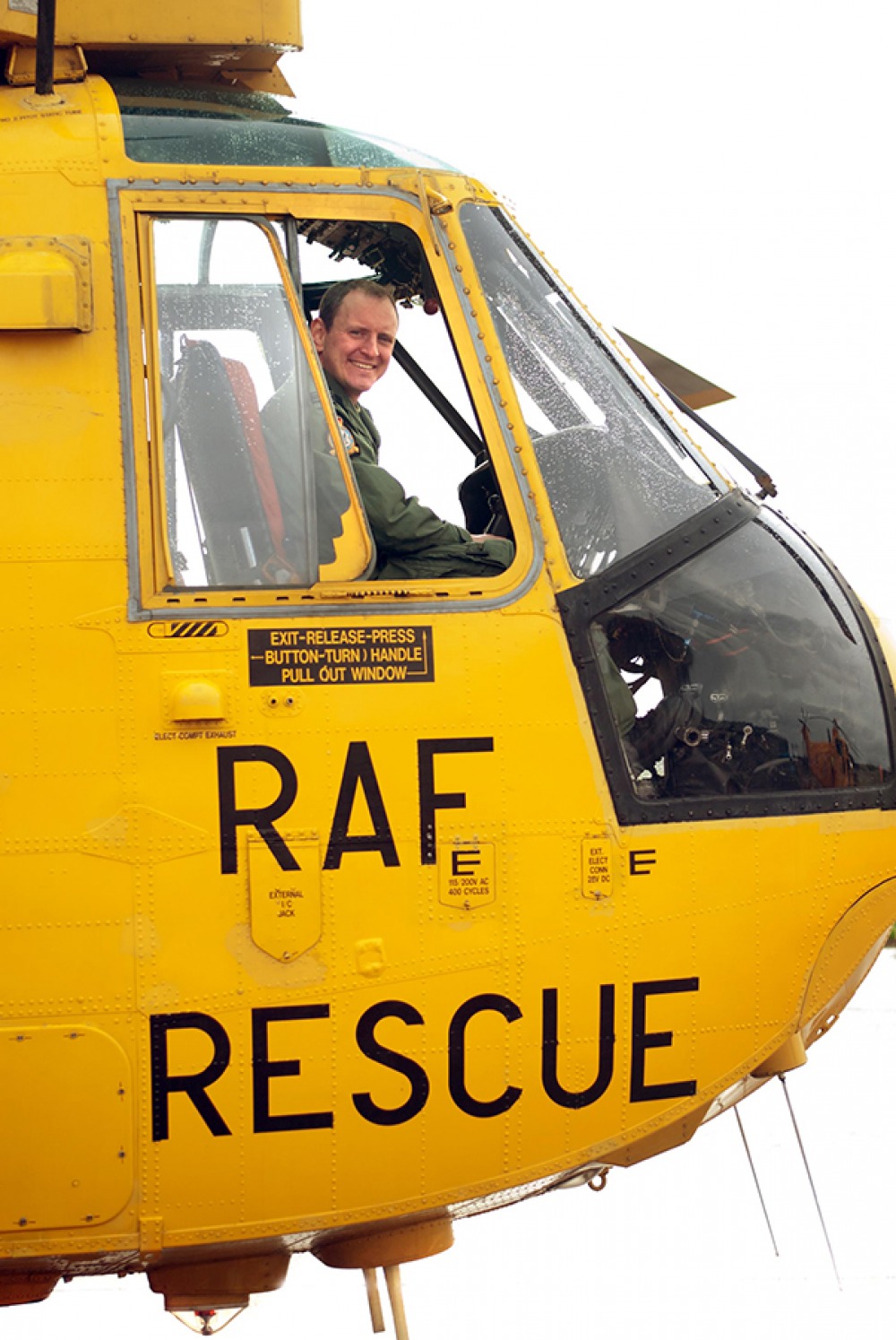 The UK is home to lots of aviation traffic; herein lies the challenge. 'We've got a lot of civil aircraft. Heathrow has the most number of civil aircraft movements in the world. There's light aircraft that you don't need to file a flight plan for and we need to work out who they are. Same with light helicopters. We've then got the military. There's a lot of military aviation that doesn't need to speak to us. They'll just transit through the airspace, perform their function and then go home – all low level stuff, but we do need to identify who they are. It's just part of an air policing posture we adopt to make sure everyone knows we're there and we're watching. We might launch to find out who they are if we can't work it out from the the Control and Reporting Centre.'
To see what Sean means by a launch I'm taken to a training simulator where I put headphones on and watch a simulation of what is also known as an intercept. This procedure will happen for real if the Surveillance team can't identify an aircraft that has been picked up on the radar. It involves launching a Typhoon fighter jet from an airfield in the UK and directing it to the unidentified aircraft. Using a combination of maths, visual judgement and precision timing, the instructions should allow the Typhoon Pilot to fly within sight of the target and conduct a visual identification so the team in the CRC can find out who they are.
After the demo it's finally time to visit the bunker and watch some live operations. Making our way on foot we approach what looks like a village hall. I walk in half expecting to see the WI playing bridge. Instead I'm given a security pass and my mobile phone is confiscated. After descending two flights of stairs we begin walking down a series of sloping corridors. I'm told the bunker is fixed on giant springs to negate the pressure of any nuclear blast. Folding bunks are fixed to the walls in case the bunker needs to be sealed. A suite of decontamination rooms is available to handle a full range of biological and chemical threats. It's completely self-sufficient.
We're now 80ft below the ground and directly outside the ops room. Our entrance is delayed by five minutes while the room is swept for classified information. I expect to find a dimly lit room and an atmosphere of hushed seriousness. Instead, it's like a call centre with IDOs calmly speaking into headsets while concentrating on what's unfolding on their screens. We're allowed to watch over some of the IDOs' shoulders as they apply green data to yellow circles (referred to as tracks) which represent the aircraft and inch around the black screens like ants. Sean zooms in on London to show me a line of triangles queuing to land at Heathrow. Of the thousands of circles on the screen Sean explains that his team is only interested in about 400. For five minutes I'm mezmerised, but begin to understand why operators shifts in front of a console is restricted to no longer than two hours at a time.
We leave the bunker to make a final stop at the School of Aerospace Battle Management, another fairly ordinary building (it looks like a small Sixth Form College), but the significance of what happens inside cannot be underestimated. I'm introduced to Wing Commander Grant Philip who is in effect the Battle Management School's headmaster. He's been in the role for 17 months having studied here himself 23 years ago and he was also an instructor here as a Junior Officer. He oversees a staff of 95 instructors who, every year, teach around 700 students including RAF, Army, Royal Navy and military personnel from other foreign countries in various aspects of complex battlespace management. 'There's a huge variety of courses,' he explains. 'We get everyone from students straight out of officer training to postgraduate officers who come back throughout their careers to enhance their skills.'
So how do you train someone to manage an aerospace battle? 'What they need when they get here is an ability to take on complex situations and prioritise. The ability to take multiple injects while speaking on a radio, listening to aircraft and assimilating a great deal of information from radios, telephones and screens at the same time is key. We use simulators to show how busy it can get and that allows us to assess whether students are going to be able to do the job or not.' Unsurprisingly, the courses are extremely intensive and certain standards need to be met in order to pass. 'If people can't reach those standards, and it happens, we have to then find another route for them in the RAF.'