Bradford-based Blind Therapy Cat Wins Blue Cross Medal after Search for Britain's Most Heroic Pet
The only blind therapy cat in the UK, Carrots from Bradford, has been awarded a Blue Cross medal following a nationwide search for Britain's most heroic pet
We find out why…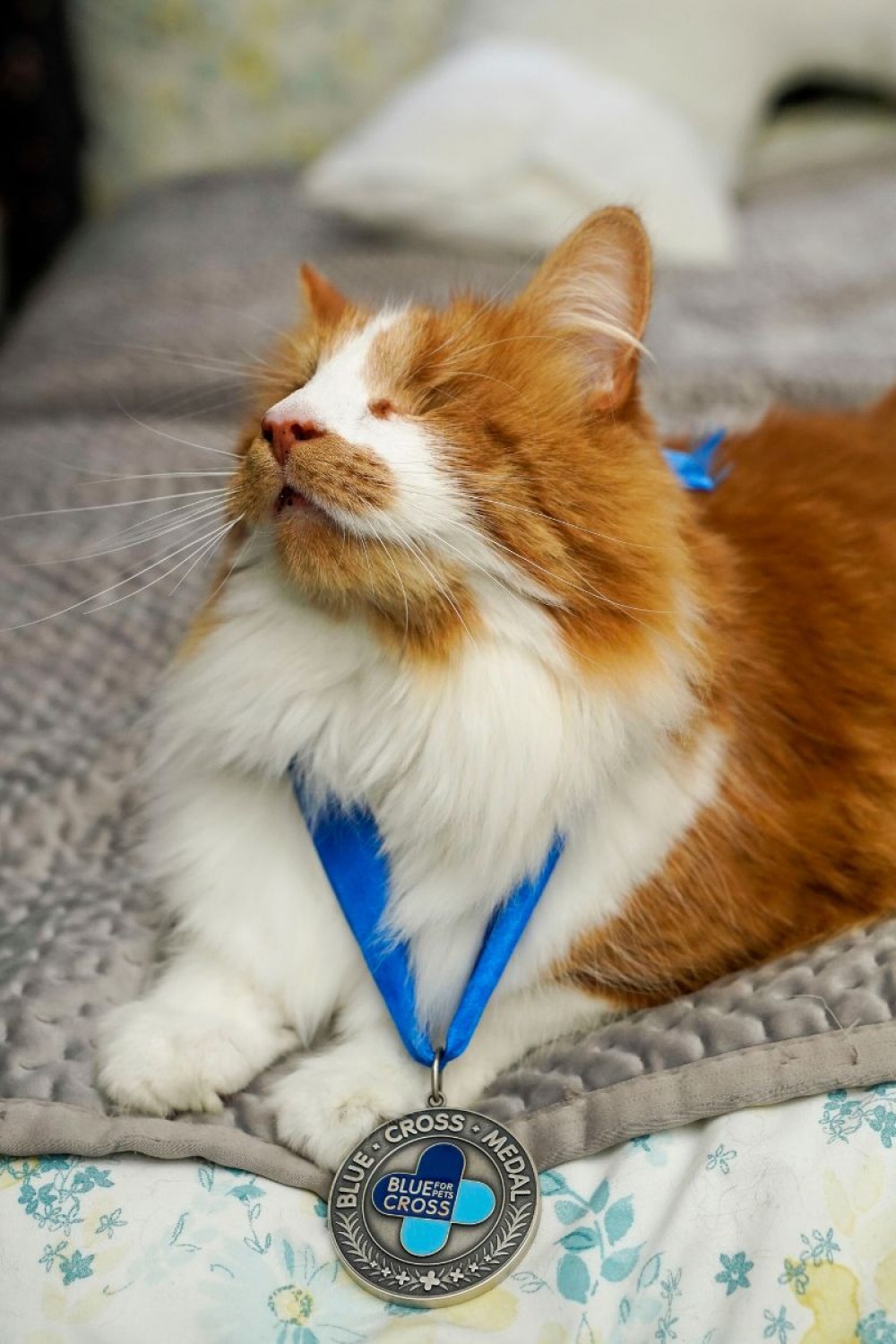 Blue Cross is a national charity that has been helping sick, injured, abandoned and homeless pets for more than 120 years. They help thousands of pets in need every month by providing veterinary care, expert behaviour help, and by finding loving homes for them. They also offer education for current and future pet owners as well as pet bereavement support for those who have lost their loyal companion. So, while pets change our lives for the better, Blue Cross change theirs.
Set up by Blue Cross during World War One, the Blue Cross Medal celebrates heroic pets who are changing or saving lives across the UK – with one pet being awarded the winning medal each year.
The idea of the Blue Cross Medal first came about in 1917, and was given to people who helped rescue animals. However, the first time it was presented to an animal specifically was in 1940, to a dog called 'La Cloche' who saved his owner from drowning after a German torpedo hit their ship. Last year's medal winner was self-taught assistance dog, Lily-Rose – an eight-year-old papillon-cross who saved her owner from choking and alerted the owner when her mother collapsed after a heart attack.
'With the Blue Cross Medal, we want to celebrate the extraordinary things pets do for us and how they change our lives,' says Julia Mckecknie-Burke, Blue Cross Director of Fundraising, Marketing and Communications, and one of four judges on the panel.
Of the 143 nominations submitted this year, a panel of judges were impressed with the four-year-old ginger tom cat, Carrots, and his amazing therapy work with unwell and dying patients, and he was awarded the medal on the occasion of the 80th anniversary of the prestigious award.
Carrots plays an important role in helping to bring happiness and comfort to patients and their families at a Marie Curie Hospice in Bradford. When he's not chasing after his favourite ball, he's a familiar face at the hospice on Maudsley Street, where he brings joy to those receiving palliative care. Carrots first started visiting the hospice almost three years ago when his owner, Katie Lloyd, was diagnosed with an Anaplastic Astrocytoma, but he ended up transforming many more lives there.
He was brought into a local cat rescue as a tiny kitten with serious eye injuries. Sadly, he lost them both due to a congenital eye defect, but that hasn't stopped him visiting twice a week to carry out his therapy. In fact, he is the only therapy cat within Marie Curie Hospices throughout the UK, and the UK's only blind therapy cat.
On one particular evening at the hospice, an older gentleman was facing difficult circumstances and was distressed and agitated and was requesting a visit from Carrots – so Carrots and his owner Katie Lloyd travelled to the hospice right away. When he saw Katie with Carrots, he immediately relaxed. Shortly after, Carrots snuggled down on the bed with him and the gentleman fell asleep. It's that sort of work that Carrots is being commended for.
'We're honoured to award him the Blue Cross Medal on its 80th anniversary, placing him alongside a long list of extraordinary pets that have transformed or saved human lives,' Julia says.
During lockdown, Carrots has missed seeing his friends at the hospice, so he's been busy writing letters (with his paw print) to some of the lovely people he's met through his therapy work. 'I'm so incredibly proud of Carrots for winning the 2020 Blue Cross Medal,' Katie says. 'I'm really humbled and didn't expect Carrots to get this kind of recognition.'
To find out more about the medal visit www.bluecross.org.uk/medal