Bronzers To Give You That Sun-Kissed Glow
A speedy way to give skin a warm, healthy glow
Whilst we know the sun will come out tomorrow (or sometime soon), we all appreciate the value of a good bronzer to mimic that sought-after, just sun-kissed glow
The sun might be slower to make its appearance here in the North East, but luckily a good bronzer is a speedy way to give skin a warm, healthy glow. Not only that, they can add definition where you need it. Create cheekbones where there aren't any, narrow the forehead when you think it's too wide, slim a nose, it can define a jawline, enhance collarbones and even slim arms and legs when applied carefully.

A lifesaver then… but how to find your perfect bronzer? First of all work out your skin tone. A gold bronzer on a warm skin tone looks great, but on a cooler tone it can look rather sallow and tacky. Cooler skin tones suit peachy hues better and pink is a universal flatterer. Alway go for a bronzer which is one or two shades darker than your natural skin colour and apply where sunlight hits the face.

With every type of bronzer available, from gel, cream and liquid versions to powders and bronzing serums – they all have different benefits so it's really down to what you prefer to use and what effect you want to achieve.

It's important not to confuse a sculpting bronzer with a bronzing highlighter as they do different jobs. The idea of a highlighter is to draw attention to certain areas for added definition and extra glow: top of cheekbones, temples and bridge of the nose. Lighter in colour than a bronzer used for contouring, it tends to be more pearlescent, with a built-in shimmer.

Pick a darker shade if you want to use a bronzer to contour. To contour cheekbones, sweep the bronzer from the top of the ear down to the corner of your mouth, then buff in at the same angle from the outer corner of the eye to the temple for perfectly defined cheekbones. Don't make the mistake of going too dark, or not blending and buffing the bronzer in sufficiently or you'll end up with more dark stripes than the preverbal zebra. Use under the jaw to define the jawline, and around the temples for continuity. Carefully sweep down the outside of the nose if you want to slim it down a little – but always blend, blend, blend.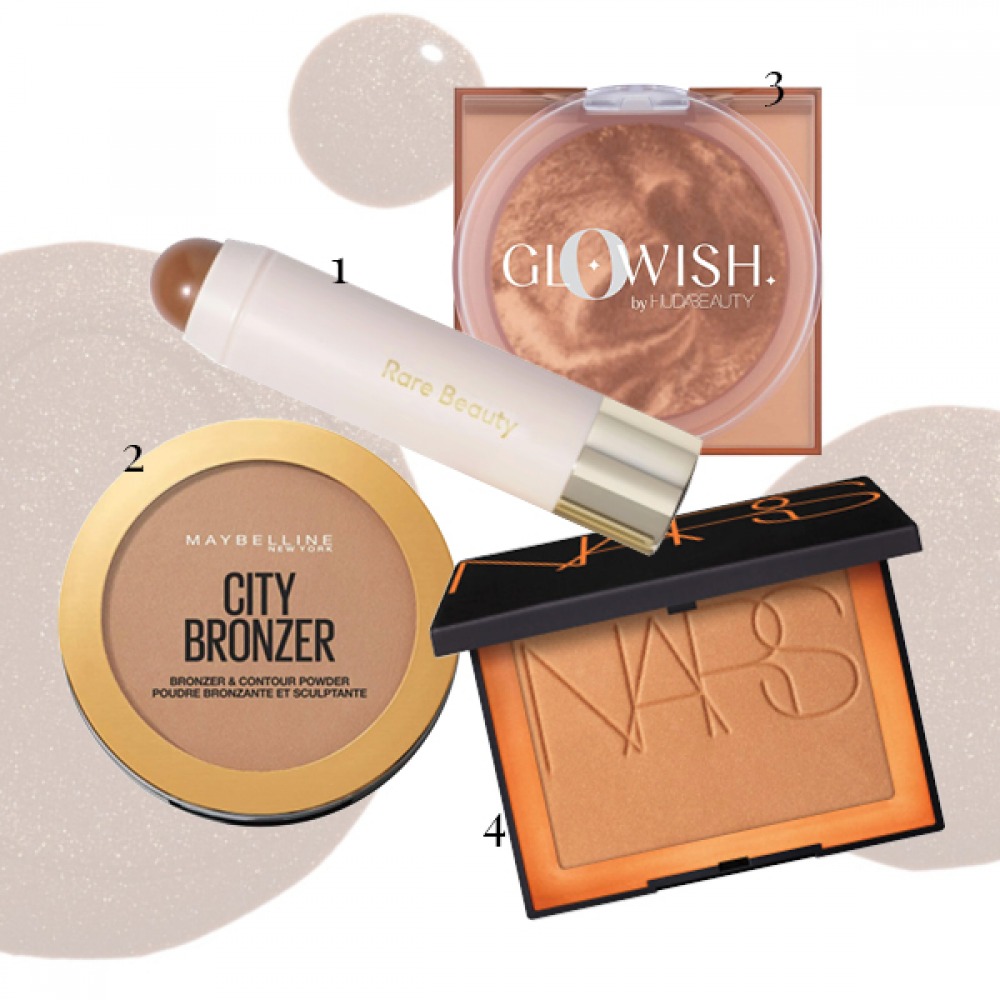 1. This new cream bronzer has a liquid-like consistency. Water resistant and weightless, swipe onto cheekbones, forehead and chin for a natural, healthy glow.
Warm Wishes Effortless Bronzer, £22 Rare Beauty

2. This brilliant budget bronzer is great for sculpting, but has enough glow to dust on as a highlighter too.
City Bronze Bronzer, £7.99 Maybelline

3. A dewy skin tint, with just the right amount of coverage, this marbled bronzing powder gives an instant warmth and healthy glow to every complexion. Glowish
Bronzing Powder in Tan Light, £27 Huda Beauty

4. The subtle golden shimmer of this bronzing powder adds a natural warmth. Sweep along the cheek and jawline for subtly tanned skin. Thanks to its buildable and bendable colour you can also use it to contour.
Bronzing Powder in Casino, £31 NARS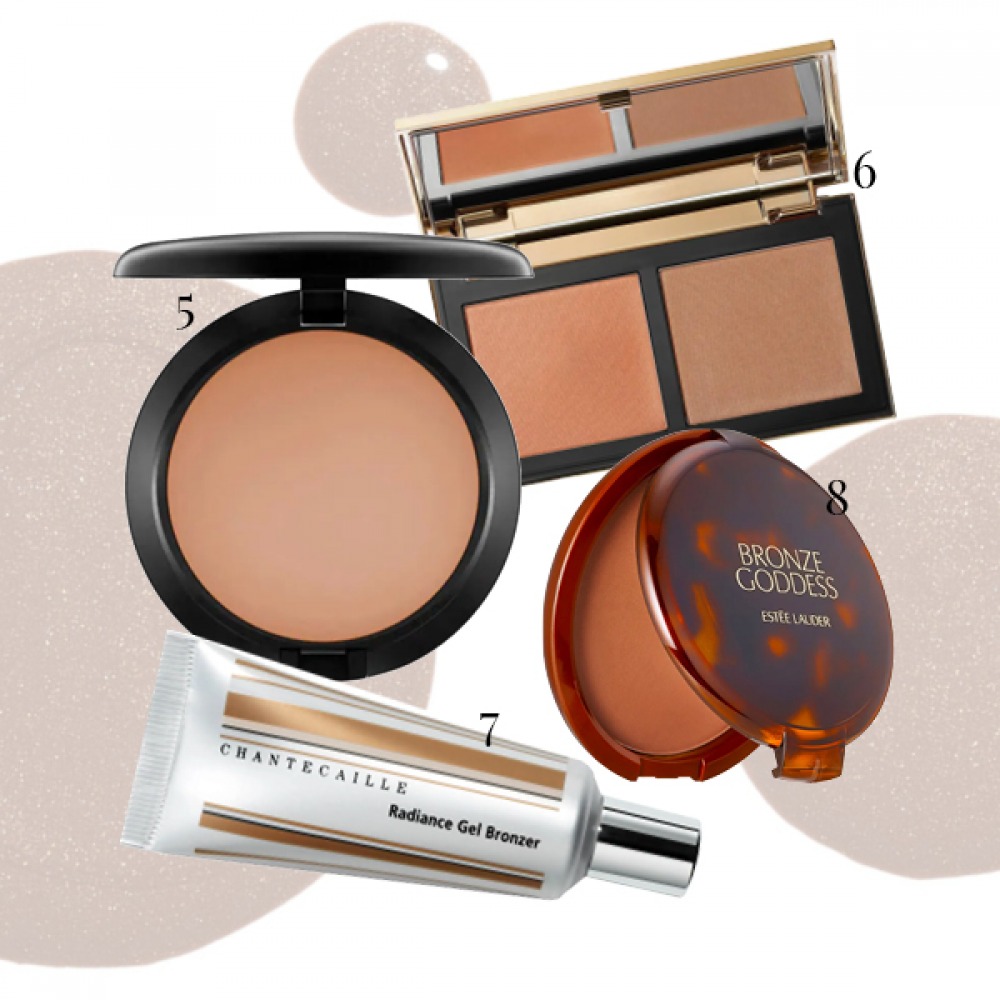 5. This bronzing powder has a creamy texture and is number one choice for easy contouring.
Matte Bronzing Powder, £23.50 MAC

6. With an oil-control formula to keep skin shine-free, this palette is perfect for achieving delicately sun-kissed skin.
Bronze Goddess Powder, £34 Estée Lauder

7. This clever gel bronzer can be worn under make-up or over foundation to alter the intensity as it melts into the skin for a flawless, sun-kissed finish.
Radiance Gel Bronzer, £36 Chantecaille

8. With two shades, this palette is perfect for anyone on holiday, or whose skin tone changes at the first sight of some sunshine.
ModernBronzer, £31 Vieve
Skincare that gives you a natural glow – what's not to love?

Left to right: Hyaluronic acid and sea kelp help hydrate, whilst lemon fruit water boosts radiance in this great illuminating bronzer. Add a few drops to your daily moisturiser or massage directly on to skin. The Impossible Glow Bronzing Drops, £29 Pai

This bronzer is a 90 percent natural hydrating nbronzer with a mushroominfusednformula for a long-lasting finish that is sheer and glowy all over. Bionic Bronzer, £23 Milk Makeup

Along with a gentle hint of colour, these bronzing drops are enriched with blackcurrant seed and marula oils, as well as vitamins F and D for antioxidant protection. D-Bronzi Antipollution Drops, £30 Drunk Elephant