Traditionally, the meat for gyros is cooked on a vertical rotisserie and then carved very thinly before adding to warm pita with sauce, fries and salad. It's easy to recreate this at home if you follow our recipe. Although it takes a while to cool, the hands-on time is minimal.
Ingredients
4 boned, skinless chicken thighs
1 boned chicken thigh, skin on
½ white onion
4 pita breads
8–12 tbsp tzatziki
a few crisp Cos (romaine) lettuce leaves, shredded
4 ripe tomatoes, sliced or coarsely chopped
1 medium red onion, thinly sliced
oregano
potato fries or French fries
chopped flat leaf parsley, for sprinkling
smoked paprika, for dusting
Marinade
2 garlic cloves, crushed
1 tsp dried oregano
1 tsp smoked paprika
1 tsp freshly ground black pepper
½ tbsp sea salt
½ tsp ground cumin
½ tsp ground coriander
½ tsp grated lemon zest
juice of 2 lemons
2 tbsp olive oil
Method
Mix all the marinade ingredients together in a bowl until well combined. Add the chicken thighs, turning them in the marinade. Cover the bowl and leave to marinate in the fridge for at least two hours or, better still, overnight.

When you're ready to cook the chicken, preheat the oven to 130C/gas mark ½.

Remove the chicken from the marinade and place the skinless thighs on top of each other in a stack. Cover with the remaining chicken thigh, skin-side up, and then place the onion half on top. Secure with four bamboo or wooden skewers, inserting them through the onion and all the chicken layers. Transfer to a baking tray and cook in the oven for three hours until the chicken is very tender.

When the chicken is cooked, place the stack on a board and, with the skewers in place to secure the meat, slice down through it very thinly with a sharp knife to 'shave' it and create the gyros effect.

Warm the pita breads in the oven or on a hot griddle (grill) pan. Spread the tzatziki over them and pile the sliced chicken on top.

Add the lettuce, tomato and onion together with the oregano potato fries or French fries. Sprinkle with parsley and dust with smoked paprika, then fold the pitas around the filling and roll up in some baking parchment or kitchen foil to hold the filling in place.

Alternatively, arrange the shaved chicken, warm pita breads and fries on a serving board or platter with a bowl of tzatziki and another of tomato, red onion and lettuce. Sprinkle with parsley, dust with smoked paprika and serve, allowing people to help themselves.

Variations: Use souvlaki sauce instead of tzatziki.
* Add some crushed chilli flakes to the marinade.
* Sprinkle the cooked chicken with dried oregano before serving.

Tip: If you're in a hurry, you can cook the chicken at 170C/gas mark 3 for two hours, although it will not be so tender. The longer it's cooked, the softer it gets.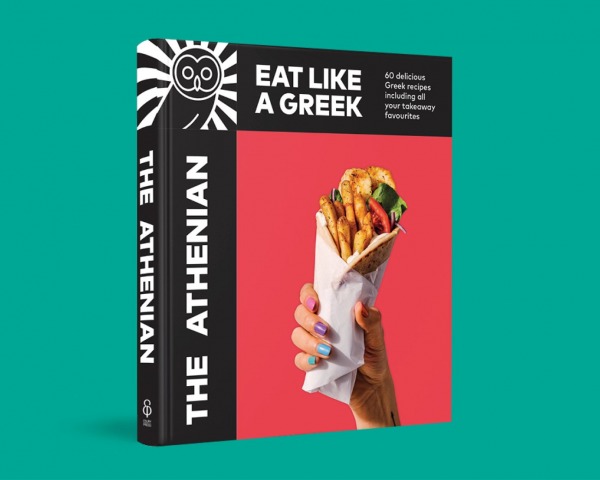 The Athenian: Eat Like a Greek by Tim Vasilakis (£14.99, Ebury Publishing)
This article contains affiliate links. We may receive a commission for products that are clicked on through our website.