Chris Baber's Easy Recipes Will Have You Cooking Up a Storm in the Kitchen
Hexham-born chef Chris Baber has complied a brand new cookbook, Easy, which brings together a collection of his favourite home-cooked recipes to encourage even the most novice chefs to cook more at home
We chat to Chris to find out more about his culinary journey.
Growing up in Hexham, Chris had always had an underlying love for food. He remembers watching his grandfather cook for his family, and how much joy he took from it, something Chris believes has been instilled in him ever since. However, he also admits that there wasn't too much culinary influence surrounding him growing up, and it wasn't until his friends persuaded him to share his recipes on social media that Chris truly discovered his passion for cooking.
'I never thought I would work in food, but I guess there was never the scope or opportunities in my town. After some pressure from friends when I was around 24, I got myself on social media and started sharing my recipes. I wasn't really into social media back then, but I thought I would give it a go and just started taking pictures of my dinner every night, wondering what I was even doing,' Chris jokes.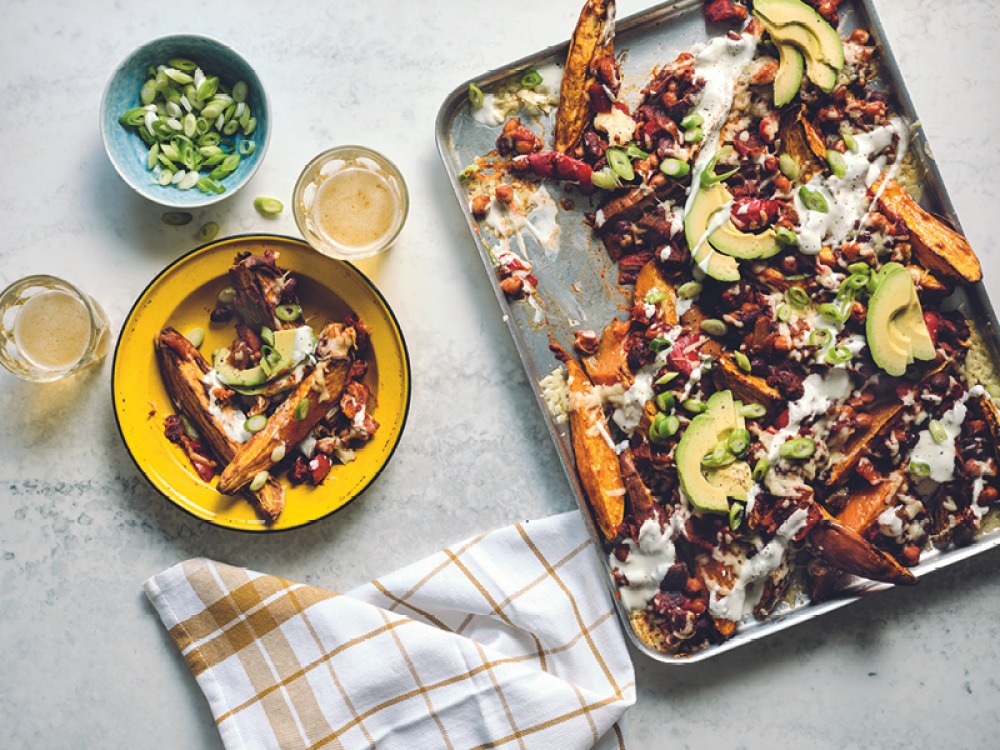 After gaining an audience on social media, Chris was approached by the BBC who were looking for contestants to compete on new daytime TV show called Yes Chef. Sceptical at first, Chris rang the producer to find out more before heading to Manchester for filming. Out of the thousands of other entrants Chris managed to win the show and land his first proper cooking job. 'One of the judges on the show was Michelin-starred chef Atul Kochhar, and after I won he told me if I wanted a job cooking I could move down to London to work with him in his restaurant in Mayfair. It was one of those surreal moments, and because he was one of my favourite chefs and at the time I was frustrated with my life and current job, I knew I just had to go for it,' Chris says.
After working under Atul for six months developing and enhancing his home-taught cooking skills, Chris realised that although he had always loved food, his real passion was to inspire others. 'I had learnt an incredible amount, and had gone from being a home cook to working in a Michelin-starred kitchen – which in turn made me realise that my passion was actually to inspire others at home to cook, rather than serving people in a restaurant,' he explains. Chris made the decision to leave the restaurant but stay in London to pursue his career and soon got involved with Blue Peter where he developed the BBC's Blue Peter Cooking Club, an online initiative which encourages children of all ages to try new recipes. He was then offered the role as resident chef for Marks and Spencer where he encourages cooking from scratch at home. 'For me, it's the perfect partnership. It's such a great outlet to talk about home-cooked food and using top quality ingredients, which is really what I stand for,' he says.
Like most of us, Chris was stopped in his tracks when the pandemic hit and he was stuck at home in London. 'I live in a one-bedroom flat in London and I felt incredibly isolated and lonely,' he explains. Taking to social media once more, Chris decided to host live cook-alongs and was joined by many families who wanted to learn some tips and enjoy meals during the time they had to spend at home. 'My live cook-alongs took place three nights a week for kids and parents to cook together, and through the power of social media, I felt like I was enjoying food with other people again. I was getting messages from families saying it was the first time they had all cooked together, it was great.'
The pandemic was a time which brought him an even greater emotional connection to food than he had before. It also showed him some of the barriers which recipe books and cooking can have for some families. 'People who had never really cooked before lockdown were put in a situation where they had to and it made me realise just how important cooking from scratch is. We should be cooking more at home, although it has to be accessible,' Chris says. That's why in his latest cookbook he has written the recipes in accessible everyday language. 'If a total novice opened a book and read sautée or the instructions to Julien a carrot, there is a barrier already. We've taken that out and simplified it all,' he explains.
Easy is all about fuss-free and delicious meals which showcase proper home cooking, and of course Chris has included some of the North East's most famous recipes such as a pan haggerty. 'There is a recipe in there for this classic North East dish, made with leftovers, gravy and potatoes, and I do try and keep the classics going because there is such a foodie influence now from all around the world which is amazing, but I don't want these North East delicacies to die out.'
As well as traditional recipes, Chris explains that being surrounded by a range of incredible cultures and culinary influences in London inspires him to create new recipes and dishes. 'I've become friends with people from all around the world and I get to try new things which I hadn't had before in the North East. I always think of how I can make these things accessible to everyone because London is a bit of bubble, and I always think back to my friends and family in Hexham and how they would love to try these ingredients or dishes, which in turn helps to give me ideas on how to create these dishes easily at home.'
Chris acknowledges the changes within the food industry over the last few years – he fell in love with cooking when he used to watch Rick Stein's television shows where he would cook in countries like Thailand. 'I never had access to food like that, so for me I needed to make it myself if I wanted to taste that cuisine,' he says. Although, when Chris comes back to the North East he can't help but notice the fantastic food scene which has grown here. 'Every time I come home it just seems to be evolving more and more. I love the North East and miss it dearly, but it's so nice to see the evolution of food. Last year I was at Seaham Food Festival and just to see the volume and range of foods and cultural cuisine available now is amazing – it's worlds apart from what it was when I was growing up,' he continues.
At home, Chris also tells us that he loves a home-cooked meal from his mum. 'You can't beat a bit of home cooking,' he says, and with the selection of his favourite simple, yet delicious recipes he will no doubt inspire more people to cook at home more often, and to build their confidence in the kitchen.
Here, Chris shares three of his favourite, easy-to-make recipes which are real crowd pleasers.