Clare Edwin Impresses with her Treasure Trove of Jewellery
Handmade by LollaMac, offers a range of contemporary jewellery, all handcrafted by Clare using traditional silversmithing tools and techniques
Swapping the classroom for a workshop, teacher-turned-silversmith Clare Edwin is teaching others the tricks of the trade – and continuing to impress with her treasure trove of jewellery.
Before Clare became a maths teacher, she studied a degree in aeronautical engineer.ing, so it's fair to say she's had a varied career. But now she's happiest with her tools in hand, creating stunning jewellery in the heart of Northumberland.

Clare's business, Handmade by LollaMac, offers a range of contemporary jewellery, all handcrafted by Clare using traditional silversmithing tools and techniques. She works with sterling silver, copper and brass to create a mixed-metals aesthetic in her minimalist pieces.

Clare is always inspired by her surroundings. 'I like looking out of the window and admiring the textures and colours in the skyline and trees and incorporating those ideas into my work. I use silhouettes of trees which I see when we go out walking. We have a lovely landscape in Northumberland. It's not replicated exactly in my work, but it gives me the inspiration to create.

'I practiced with copper and brass when I was learning because they're cheaper materials to work with. If you get it wrong, it hasn't cost you much,' she says. 'I really liked the different colours of the gold and coppery tones mixed with silver, so when I started making jewellery commercially I wanted to keep that aesthetic of mixed metals. Metal is such a lovely medium to work with; as you hammer it and it takes on texture and form it becomes malleable. You can turn it into something that has a pleasing feel to it. You can get a lot of pleasure and it's something that will last.'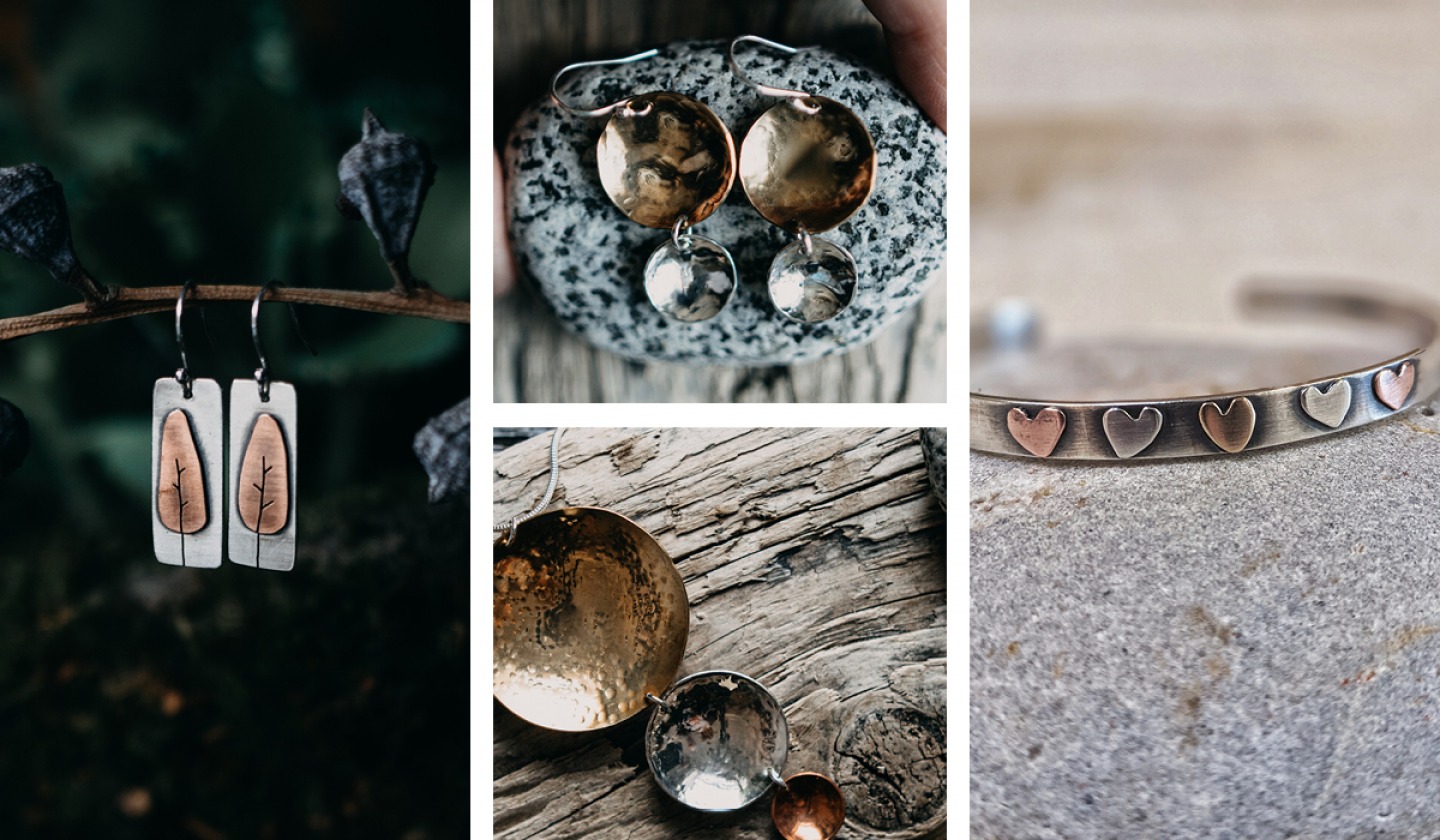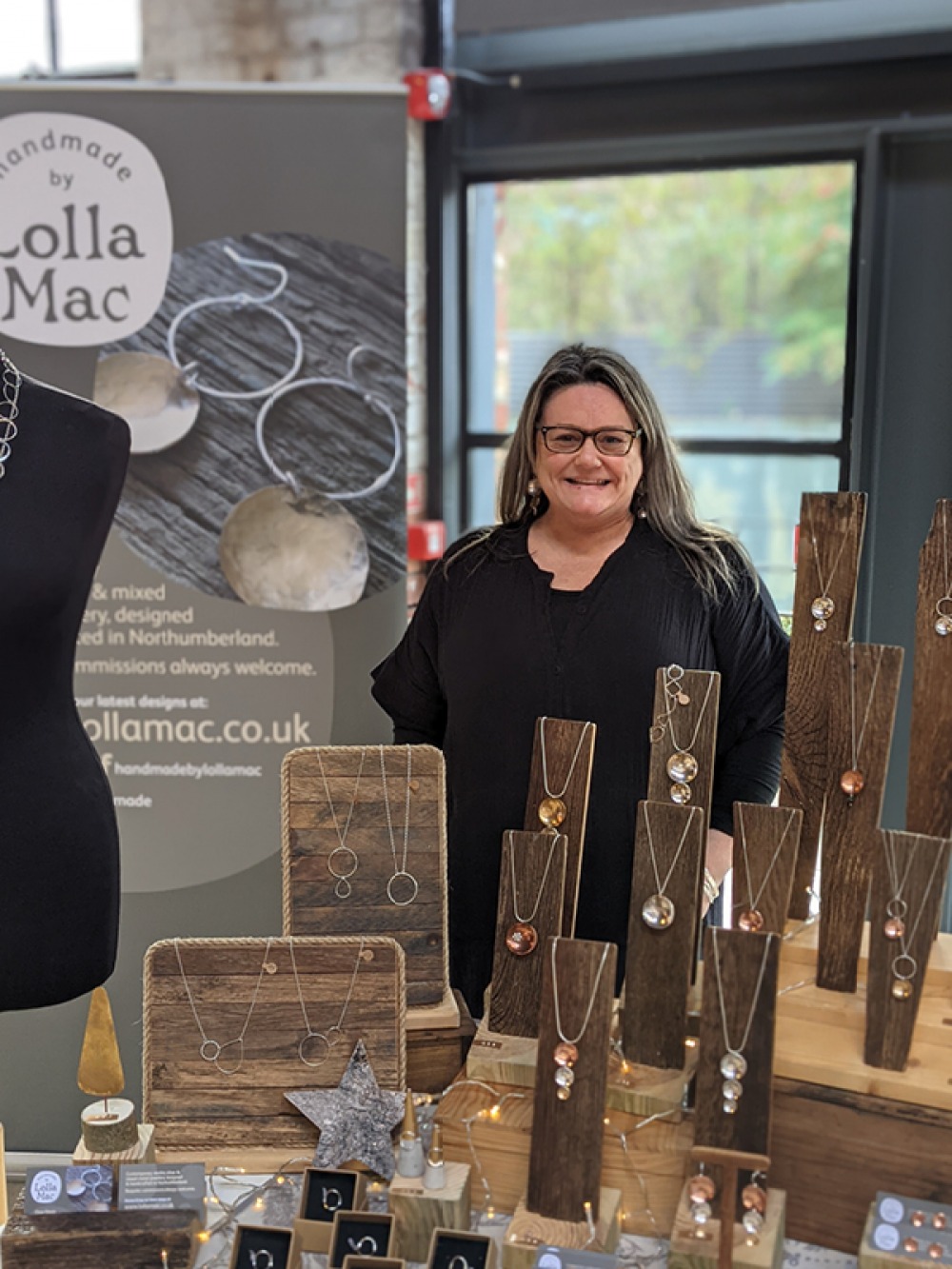 It was in 2016 that Clare found her passion for silversmithing. She was seeking a creative escape after leaving her job and suffering with her mental health. 'I didn't really know what to do but I started making jewellery as a hobby,' she says. 'I decided to try for a few markets and set myself up as a sole trader to see where it would take me. It wasn't great at first, I was making beaded jewellery and it didn't really excite me very much. Then I started silversmithing classes and really enjoyed that technique.'

Clare was taught the basics of silversmithing at Bensham Grove in Gateshead, an adult education centre that holds night classes and weekend taster sessions. 'I started buying basic tools myself and things were quite rudimentary to start with,' she admits. 'I was working from my garage which wasn't ideal because everything was freezing in the winter but as I made a little bit of money, I bought more tools to be able to refine things and achieve more of a professional finish. I used YouTube and Facebook forums and found a wealth of information and advice, and picked it up as I went along over the course of a couple of years.'
Clare began to attend more markets with her silver creations and set up an Etsy store online. 'I moved house and out of the garage and into the kitchen, but eventually you realise you're running out of space,' she says. 'I joined Allendale Forge Studios where I became a member of their craft shop cooperative and ended up renting a studio there. It was a bit of a gamble. All of a sudden you're committing to a rent every month, and hoping that you're going to be able to pay those bills, but it was exactly what I needed. It was never really just a hobby that paid for itself, I'd always tried to run it as a business, but this certainly gave me the next step I needed and I suddenly felt more validated. It felt a bit more real and professional.' It was then that Clare began hosting workshops to help people make their own jewellery.

One of the most popular workshops is stacking rings, but she also offers workshops where you can make your own bangles and pendants. 'You do the whole process yourself, from measuring out the metal to forming the ring, soldering it, texturing it, filing, polishing and refining,' Clare says. 'The whole thing is very hands-on and you come away with a lovely set of rings at the end of it. You can play with lots of different techniques and get really creative.'

Coming full circle in her career, Clare says it's nice to be able to use some of her teaching background. 'What I missed about teaching was passing on my knowledge and I really get that sense of satisfaction when someone makes something and sees the end result,' she reflects. 'It's really rewarding to help people make these things. They take time out to do something different and it's really nice to be able to facilitate that.'
As well as at lollamac.co.uk, you can find the Handmade by LollaMac collection in a number of stockists across the North East including Allendale Forge Studios, The Sill, and Field & Fodder in Durham. Clare is registered with the London Assay Office, where her larger pieces are sent for hallmarking.
How do you spend your downtime?
'We've recently got a dog so a lot of our time now is spent walking. But we've always been keen walkers and we like getting out and about in Northumberland. Two years ago, I'd have said travelling is my reason for living, but that's been curtailed a bit recently. I would love to get back into that and discover more of the Far East and see a bit more of Africa. I like to spend my downtime enjoying experiences.'

Is there a walk you enjoy most?
'You can't beat a walk along Hadrian's Wall, the route from Housesteads to Steel Rigg is pretty special. If I could recommend anything for visitors to do, it's to put their boots on and walk that stretch of the wall.'

A quote that inspires you...
Brene Brown: 'Joy comes to us in ordinary moments. We risk missing out when we get too busy chasing down the extraordinary.'

Your advice for those looking to get into silversmithing?
'Have a read about my workshops and take a look at what people have made in the past, then come along and let your creativity flow. Anyone who wants to have a go at setting up a business themselves should head to the internet and look for tutorial videos; there are lots of things you can do with rudimentary materials to get started. Get yourself some copper wire, some cutters and a pair of pliers and it's amazing what you'll be able to make as a starting point. Find a business club. I'm in Mint Business Club and I don't think I could have done what I did without them – they had so much advice and support for me. It's a great community too because it can be quite lonely working on your own. You can seek free funding and free training from the likes of Business Northumberland who are a great support too. Don't try and do everything on your own.'

What's next?
'I'm doing my first trade show in April and I'm looking for more stockist opportunities across the country. I have my first solo exhibition in October at the Allendale Forge Studios too. I'll be doing lots of work to prepare for that.'